Calves are the most noticeable parts when you wear a pair of shorts. These are generally located at the back of your lower legs. Fat gets accumulated in calves due to low strength and high pressure on the legs. To make your legs look perfect, include calf slimming exercises in your workout regime and flaunt your toned calves. Here we enlisted 5 simple and best exercises to reduce calf fat at home.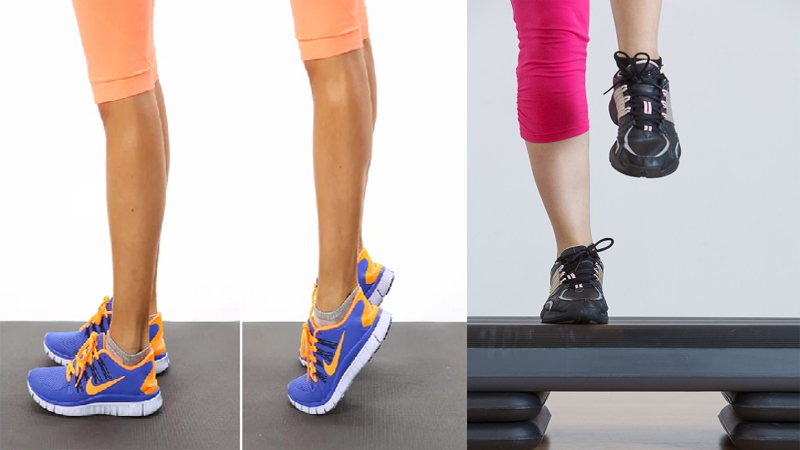 Effective & Best Calf Slimming Exercises At Home:
Here are our 5 simple and best exercises to reduce calf fat quickly at home. Let's have a look at them.
1. Step Ups: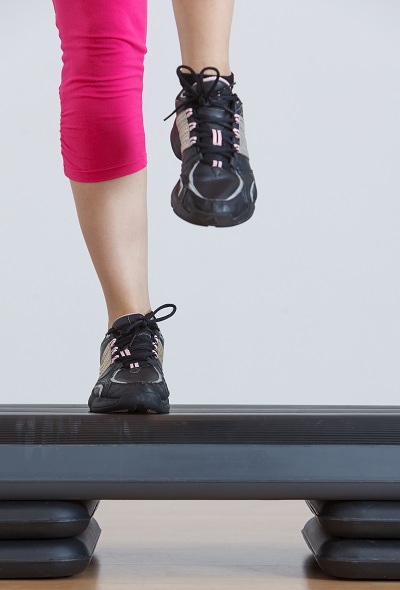 This workout primarily targets your calves, hamstrings and core.
Steps To Perform:
This can be done using the staircase at home.
Climb up and go down the stairs at a moderate pace.
Instead of your feet, use your toes for moving to work on your calves.
Increase your stepping speed gradually for an effective result.
2. Lunges:
Lunges are the best calf fat reduction exercise, strengthening your complete lower body like thighs, core muscles, and glutes.
Steps To Perform:
Stand on your feet hip-width apart.
Step forward with your left leg and move out until the thigh is parallel to the ground.
Keep your upper body straight and shoulders back.
Push your left leg back to the starting position and repeat the movement for 20 seconds.
Perform the lunge by switching the legs.
3. Calf Raises:
These are the easiest exercises to lose calf fat and strengthen them.
Steps To Perform:
Stand on your feet hip-width apart and place your hands on your waist.
Raise your heels and balance your body on the balls of your feet.
Pause this position for a while, and then lower your heels tack to the ground.
Repeat this for few seconds and do 3 sets of 20 reps each.
4. Calf Stretches:
This is the basic strengthening exercise to slim down calves and thereby tones them.
Steps To Perform:
Start in a high plank position with your hands directly under your shoulders.
With the help of your palms, shift your weight back and bring your butt to the roof such that your body forms an inverted V shape.
Press your heels toward the ground for the deeper calf stretch.
Hold this movement until you feel the burn.
5. Squat Calf Raises: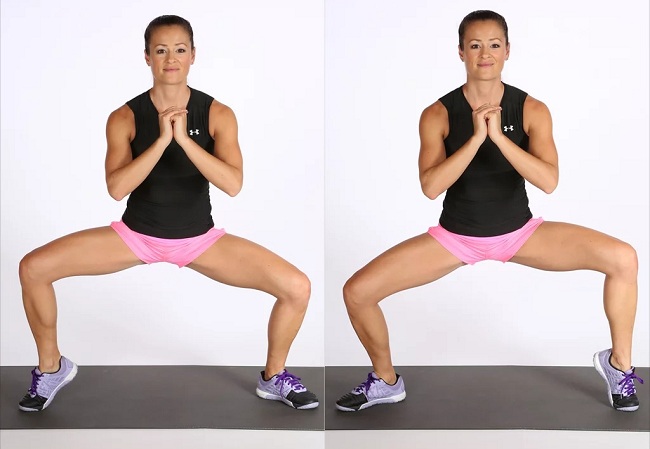 Squat calf raises effectively burns both thigh fat and calf fat at a time.
Steps To Perform:
Stand with your feet slightly wider than hip-width.
Get into a basic squat position so that your thighs are parallel to the ground.
Raise your heels and squeeze your calves.
Hold this pose for 5 seconds before coming into a standing position.
Perform 3 sets of 10 reps each.
This is a list of 5 simple and best exercises to reduce calf fat at home. Perform these workouts daily along with a proper diet to achieve the best results quickly. I hope you find this information useful. If these calf fat-burning exercises worked well for you, don't forget to share your result below!