Hips are the most attractive parts of a women's body. Many of us dream of having smaller fatless hips. Fat gets accumulated due to a lack of physical activity and an unhealthy diet. In this write-up, we listed out the 9 easy and best exercises to reduce hips fat quickly at home. Continue reading to explore!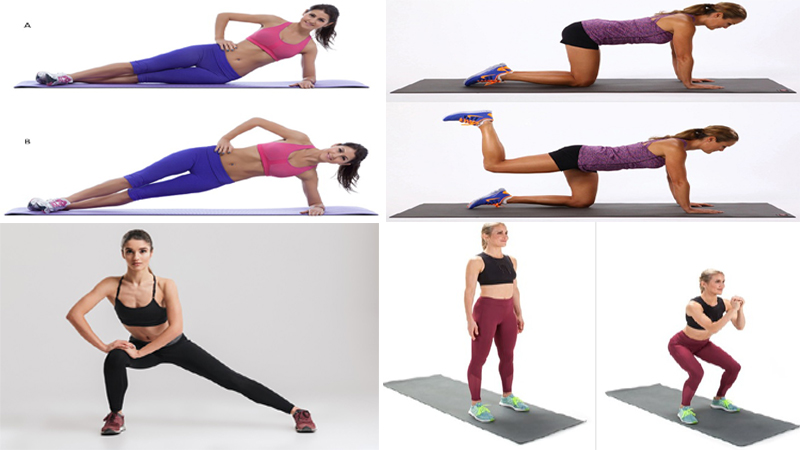 Longing to get perfectly toned and shaped hips just like celebrities have? Most of us suffer from a common concern of fat getting accumulated near hip areas. This fat is stubborn and difficult to lose, yet not impossible. Who does not want perfect-shaped and well-toned hips? The sculpted curve is envisioned by all, so let's not forget that dream can become true!
In most cases, high estrogen can make fat accumulate around hips, thighs and pelvis areas. Since the fat in those regions is stubborn in nature, most women suffer from shifting and reducing the fat around those areas, so we are here to help you. Read this article to know the best exercises and lifestyle tips to get rid of the fat around the hip areas in days.
Simple & Best Hip Slimming Exercises:
The following are the 9 easy and best hip fat exercises pictures. Swipe up to try out!
1. Squat:
Squats are the basic form of hip fat-burning exercises that also targets the thighs as well.
How To Do:
Stand straight on your feet slightly wider than shoulder-width.
Bend your knees and lower your hips till they are parallel to the floor.
Ensure your abs are tight and inhale while you lower down.
Keep your spine upright and exhale as you get back to the standing position.
Repeat the process until you feel the burn.
2. Side Lunges:
This is an easy and effective exercise to reduce hip fat at home.
How To Do:
Begin with standing on your feet hip-width apart.
Take a wide step out to your left and bend your left knee as you push your hips back.
Hold for a moment and bring back your left leg to return to standing.
Perform 10 to 12 lunges on the left side before changing to the right.
3. Side Plank Hip Raises:
The easy and best workout to get rid of hip fat is this side plank. It also works on thighs, butt, and legs.
How To Do:
Lie on your side with your elbow, legs, and hips resting on the floor.
Keeping your body in a straight line, lift your lower body up off the ground into a straight plank position.
Pause for 20 seconds and get your hip down without letting it touch the floor.
Repeat the movement by switching sides.
Do 3 sets of 10 reps each.
4. Donkey Kick Backs: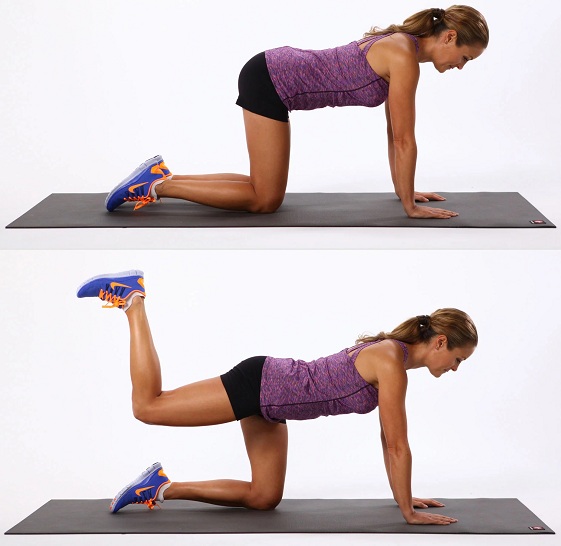 Here is the most targeted exercise to reduce the hip size and helps in strengthening the hip muscles.
How To Do:
Kneel down and place your arms under the shoulders.
Lift your left leg and kick backwards by keeping your core straight and parallel to the floor.
Pause for a moment and get back to the initial state.
Repeat the process for 20 reps before switching the legs.
5. Bridge: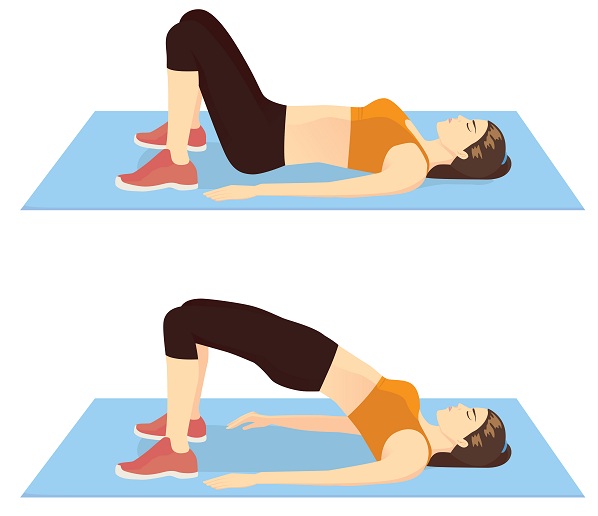 The bridge is one of the effective and best exercises to reduce hip fat.
How To Do:
Lie on your back and bend your knees.
Raise your hips up till your back is in a straight line with your knees.
Pause the pose for a few seconds and gently lower your hips to the initial state.
Repeat the movement 15 times to complete a set.
6. Side Jumping:
A side jump is an effective form of workout to reduce the lower part of the body focusing on the hips and thighs. They help tone down the muscles and shape them by strengthening them inside. Further, they help improve stamina.
How To Do:
Stand still on the ground.
Hop three feet at least to your left side, land on your left foot and your left knee bent.
Bring right foot down the floor.
Repeat the same to the right side.
Continue alternating on both sides equally.
Do not forget to inhale and exhale deeply.
Do 15 reps separately to both sides.
7. Hip Raise Exercises:
This is a popular and best workout known for many to focus on not only abs but also hips. They help to strengthen the muscles and tone them down. It suits best those with back pain as it is less stressful with the back. It strengthens the main core and helps improve the posture of the body. It also stabilizes the movements.
How To Do:
Lie down flat on the ground still.
Pull your navel in towards the spine.
Inhale deeply.
Exhale slowly as you lift your hips a few inches above the floor.
Make sure your legs are straight-up pointed.
As you push your legs above up your hips should leave the floor.
Make sure your head is resting on the ground.
Focus more on hips and the moments.
Inhale slowly as you lower your hips down the ground and while your legs are returning to the position.
Repeat 12 times.
Make sure you are gentle with your neck and hips while performing the exercise.
8. Rolling Up: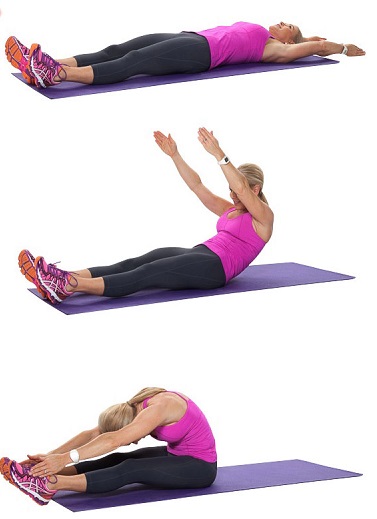 This exercise has several benefits. It helps improve your abs, and tone down thighs and also hips. It strengthens the muscles near the hips and tones them down by helping you get back to a curvy shape. They also help to improve the stamina and posture of the body.
How To Do:
Lie down on your back
Make sure your hands and legs are placed straight
Extend your arms overhead
Lift your arms and head slowly off the ground and begin to roll up through sitting
Focus on the abs pulling towards the spine
Roll back on the ground slowly and make sure again your hands reach overhead
Do not rush up. Moving slowly will control your abs work out
Do ten to fifteen reps a set and do two sets.
9. Jumping Rope:
Skipping or jumping rope is a very common yet very effective form of exercise which can be undertaken and inculcated in workout routine regularly. It works wonders to work on muscles and promotes posture and stamina. Although they are old school but are a favourite for sportspersons for a reason! It's a great method to work on the overall fat loss out strategy and helps the muscles by strengthening the core and building physique. It helps improve stamina and build muscles.
How To Do:
Get a skipping rope.
Make it a habit to perform a session of skipping for fifteen minutes.
Do it at least four times a week minimum.
This gives us a full-body workout.
Lifestyle Changes – What are the Do's and Don'ts:
Women especially are prone to gain fat near the hips and thighs a lot as age increases. This is a result of several things like hormonal changes, unhealthy lifestyle and food habits along with a sedentary lifestyle. However, it is not difficult to get rid of the fat near the hips through some healthy lifestyle tips and tricks along with the above-mentioned exercises. Here are a few of them.
Calories Count: You should start making smart guesses about the number of calories you are having in a day and skip all the unhealthy foods with high calories. Fruits, vegetables, and green tea should be taken instead of packaged juices, sodas and alcohol, and baked and junk items.
Drink a lot of Water: Drinking 4-5 litres of water every day can make a lot of difference in your body.
Start the day by having warm water with lemon and honey. It helps boost up the metabolism and immunity and also helps as a simple detox drink.
Include Healthy Fats in the Diet: Do not be afraid to have ghee, almonds, walnuts, sunflower seeds, chia seeds, olive oil, and similar foods.
Reduce Snacking on Road: Try having fruits which are healthy and homemade juices.
Cut down on Sugar: This is most important to aid weight loss and fat loss. There is nothing more harmful to your body than excess sugar compared to other foods.
The above-mentioned exercises and lifestyle changes can be a start for habituating a healthy lifestyle.  A well-curved bottom is desired by all and you can achieve it in no time with these balanced habits and lifestyle. Start taking care of your body now to achieve that dream and not lose hope. You can achieve your results by reducing fat near the hips naturally at home quickly in no time.
These are the 9 simple and best exercises to reduce hips with pictures. Also, follow these exercises regularly with protein-rich foods to get quick results. I hope the content is informative. If you have any doubts regarding hip fat workouts, share them with us below!
FAQs:
1. What is the best exercise to reduce the hip size and slim them down?
Cardio exercises like running along with sidekicks, bridges, jumping rope and so on are useful for reducing hip. They help strengthen the core muscles down in the hip areas and tone them by reducing fat accumulated in those areas. All you need is a daily exercise routine and you can achieve your goal in no time.
2. Can I make my hips smaller?
Do a variety of exercises to reduce the hip size and get them smaller. Fat accumulated around the hips is stubborn and needs a variety of exercises regularly instead of following only one or two exercises. The fat can be reduced quickly through the best exercises to reduce hip fat at home.
3. Is it possible to reduce fat in hips naturally at home?
Yes, it is entirely possible to reduce hip fat naturally at home. All you need is a healthy and balanced lifestyle, dietary habits and regular habit of exercise to be done in order to shape the hips and tone them.