Hips are the most attractive parts of a women's body. Many of us dream of having smaller fatless hips. Fat gets accumulated due to a lack of physical activity and an unhealthy diet. In this write-up, we listed out the 5 easy and best exercises to reduce hips fat quickly at home. Continue reading to explore!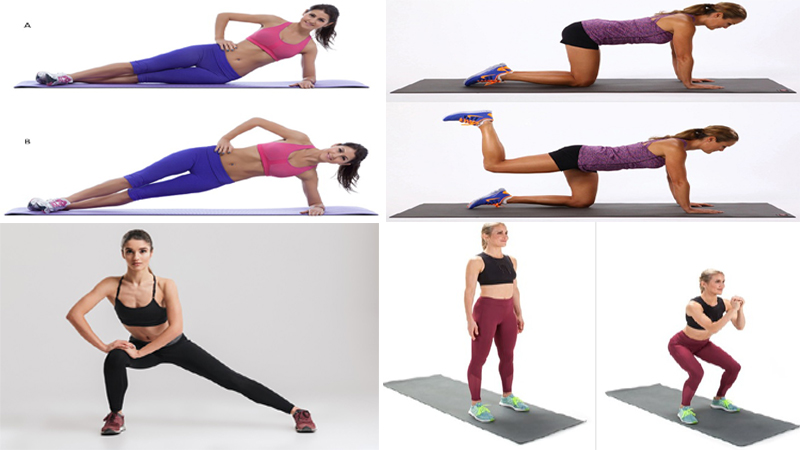 Effective & Best Hip Slimming Exercises:
The following are the 5 simple and best hip fat exercises pictures. Swipe up to try out!
1. Squat:
Squats are the basic form of hip fat-burning exercises that also targets thighs as well.
How To Do:
Stand straight on your feet slightly wider than shoulder-width.
Bend your knees and lower your hips till they are parallel to the floor.
Ensure your abs tight and inhale while you lower down.
Keep your spine upright and exhale as you get back to the standing position.
Repeat the process until you feel the burn.
2. Side Lunges:
This is an easy and effective exercise to reduce hip fat at home.
How To Do:
Begin with standing on your feet hip-width apart.
Take a wide step out to your left and bend your left knee as you push your hips back.
Hold for a moment and bring back your left leg to return to standing.
Perform 10 to 12 lunges on the left side before changing to the right.
3. Side Plank Hip Raises:
The easy and best workout to get rid of hip fat is this side plank. It also works on thighs, butt, and legs.
How To Do:
Lie on your side with your elbow, legs, and hips resting on the floor.
Keeping your body in a straight line, lift your lower body up off the ground into a straight plank position.
Pause for 20 seconds and get your hip down without letting it touch the floor.
Repeat the movement by switching sides.
Do 3 sets of 10 reps each.
4. Donkey Kick Backs: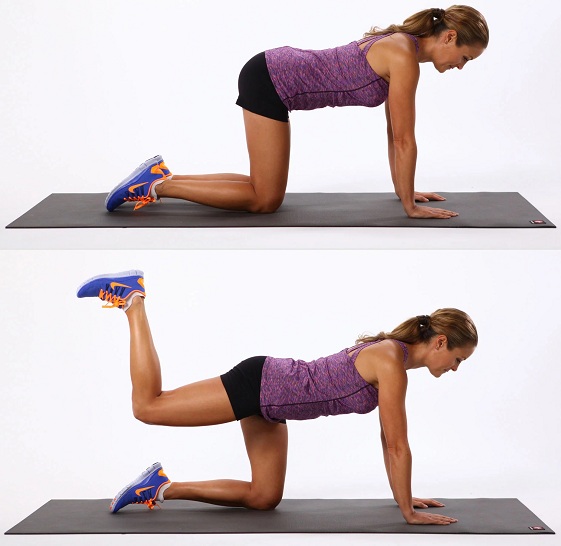 Here is the most targeted exercise to reduce the hip size and helps in strengthening the hip muscles.
How To Do:
Kneel down and place your arms under the shoulders.
Lift your left leg and kick backward by keeping your core straight and parallel to the floor.
Pause for a moment and get back to the initial state.
Repeat the process for 20 reps before switching the legs.
5. Bridge: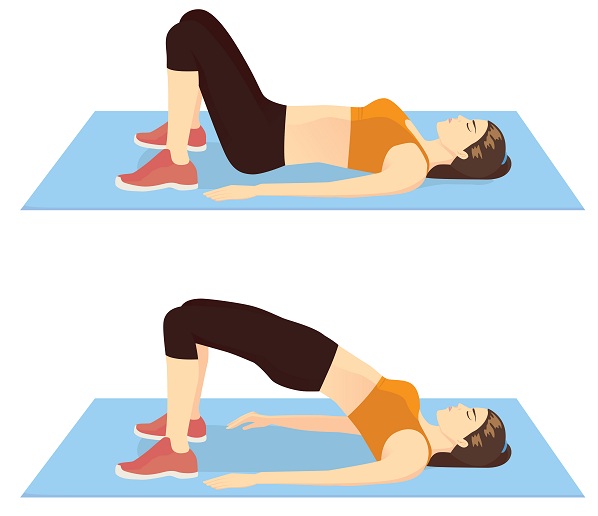 The bridge is one of the effective and best exercises to reduce hips fat.
How To Do:
Lie on your back and bend your knees.
Raise your hips up till your back is in a straight line with your knees.
Pause the pose for few seconds and gently lower your hips to the initial state.
Repeat the movement 15 times to complete a set.
These are the 5 simple and best exercises to reduce hips with pictures. Also, follow these exercises regularly with protein-rich foods to get quick results. I hope the content is informative. If you have any doubts regarding hip fat workouts, share them with us below!