Every Indian wedding function tells a fun story, but the Haldi function is by far a one-of-a-kind experience with all the bright yellow shades of hue, the playful mood, and beautiful Haldi ceremony decorations everywhere. Make your Haldi party the talk of the town with a beautiful Haldi decoration that will never go out of style. Check out these perfect Haldi function decoration ideas, whether you want to have a small function with your close ones or a big Haldi party bash.
Latest and Best Haldi Ceremony Decoration Ideas In India 2023:
This article lists the most budget-friendly and simple haldi decoration ideas for you. Stick with us till the end to know about all of them.
1. Simple Haldi Decoration At Home: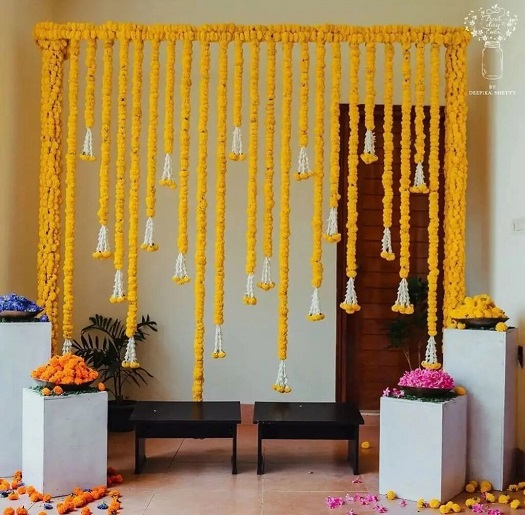 Are you having a small haldi ceremony at your house? Then you can use this pretty Haldi ceremony decoration in a living room to keep the Haldi decoration simple. The bride and groom's seat looks quite simple, with a yellow marigold-covered two-pillar mandapa in the background. You will love how the white pillars on the sides are decorated with colourful flower baskets, making the whole place look more lively.
2. Haldi Mandapa Decoration: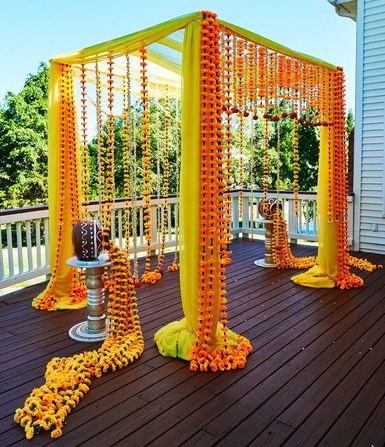 Haldi ceremonies are small, private events to which only a few people are invited. So for your Haldi ceremony decoration, it's best to set up a temporary mandapa on your home's terrace or balcony. Doing it this way can save a lot of money on your Haldi decorations. The setup comprises four pillars with yellow curtains and orange Genda flowers hanging from the top to the bottom.
3. Handmade Simple Haldi Decoration At Home: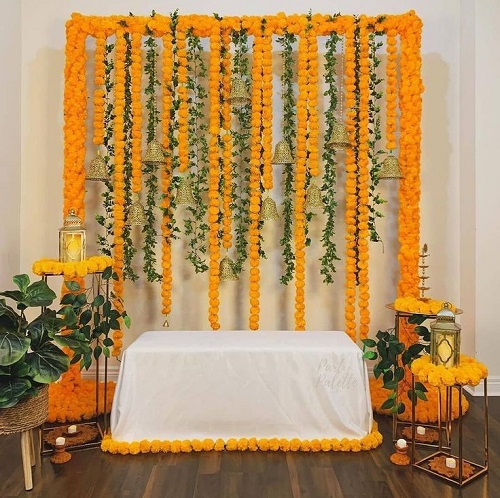 An effortless and elegant indoor Haldi decoration setup that gives off a lively vibe. A wooden path leads to the bride and groom's seats draped in white cloth. In the background, a standing mandap is decorated with hanging Genda flowers. A few lanterns with dim yellow lights are used to make this haldi ceremony decoration theme more attractive. Yet another beautiful design for an indoor haldi ceremony decoration that won't be heavy on your wallet.
4. Background Haldi Ceremony Decoration: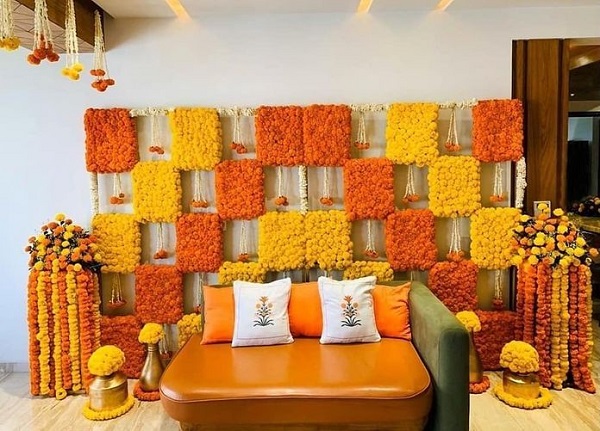 Here's another idea for a haldi decoration at home that you can also use for an outdoor event. Extravagantly, agenda and marigold flowers were used to make a square-shaped backdrop, with a string of mogra flowers between each to create the separation. Several brass pots surrounding the orange sofa add to this Haldi ceremony decoration.
5. Latest Haldi Ceremony Decoration:
This outdoor haldi decoration in two different shades of yellow with slight hints of white is beautiful and pleasing to the eyes. The purple couch in the middle of the scene stands out against the white garlands in a zigzag pattern on the backdrop. Since a lot of natural beauty is in the background, there isn't much need for decorations in the area to create the perfect relaxing atmosphere for the event.
See More: Best Bride To Be Decoration Ideas
6. Indoor Haldi Function Decoration: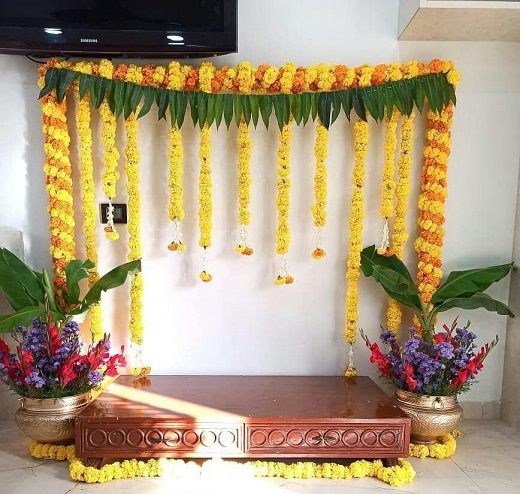 This mandapa is the perfect addition to your haldi ceremony decorations if you want to have your haldi ceremony inside with close friends and family. Choose any wall in your house and make a small two-legged mandapa with a wooden seat draped with marigold and Genda flowers and a string of mango leaves right above them. You can also put a few silver pots on each side with flowers of different colours, which will look amazing in photos.
7. Outdoor Haldi Decoration: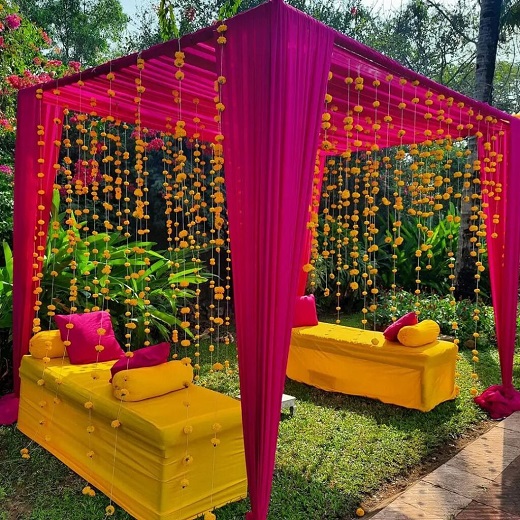 After a long day of haldi celebrations, your guests would want to relax and enjoy the rest of the ceremony. So after all the chaos of haldi ceremony celebrations, give your guests cosy cabanas like this to sit in peace around natural greens. Make 8–10 cabanas by covering them with pink and yellow sheets and hanging marigold flowers from the roof. The colours in this haldi decoration design add more essence to the traditional yellow colour of haldi.
8. Haldi Function Decoration For Groom: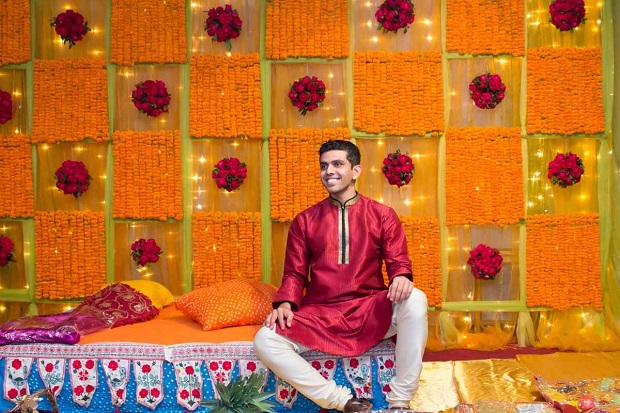 The sizeable floral backdrop in this haldi function decoration is created using vivid shades of yellow, made of agenda flowers strung together to make a square and separated by yellow drapes with tiny rose bouquets. It's perfect for sitting background right as it will make your pictures look beautiful. Since this haldi decoration for the groom is based around a single-colour theme, it's best to use the other colours in the rest of the decorations so that the whole haldi function looks good.
9. Haldi Decoration For Bride At Home: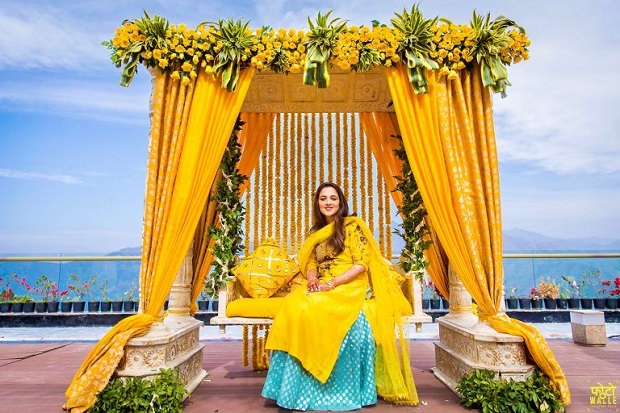 Want your bride to feel like a princess? This bright yellow and orange outdoor setup of a swing is an excellent choice if you have a large open space for your Haldi program decoration. To brighten up the entire place, drape the pillars in sheets of gold and yellow and compliment the ceiling with a collection of marigold and banana leaves in a straight line. The natural blue mountains in the background are enough for this Haldi decoration to be complete.
10. Haldi Rasam Decoration:
Here's another beautiful idea for an outdoor haldi ceremony decoration. Yellow cabanas with a touch of white are decorated to make the decor look even better and give guests a beautiful place to sit and relax. The vibrant sunflowers wrapped around the top of this haldi function decoration are arranged to charm the aesthetics of the environment. Add colourful tablecloths and pillows that go well with the entire them and you are all set.
See More: Simple Ganpati Decoration Ideas
11. Haldi Tray Decoration: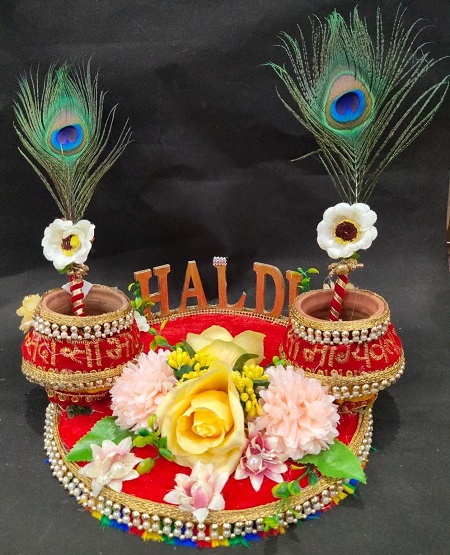 A prayer thali is an integral part of every Indian wedding ceremony. At any Haldi ceremony decoration, you must have a beautiful Haldi thali with a lot of bling. For a traditional look, choose a copper thali. Use coloured wooden sticks and stones to make your decorations. Drape the entire perimeter in shiny silver ornaments and finish off the design by adding some flowers and a few pots with peacock feathers.
12. Haldi Function Decoration With Balloons: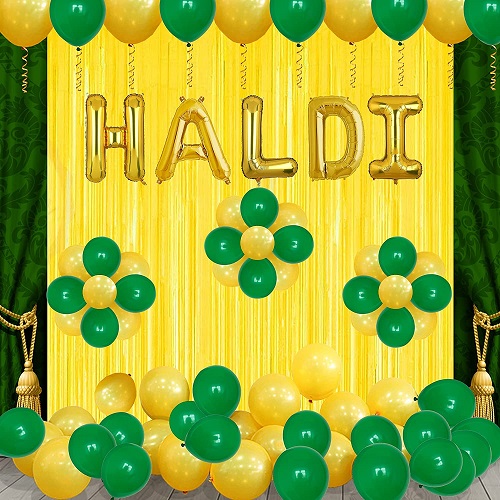 Balloons are no longer just used at birthday parties. They have found their place in Haldi decorations as well. For example, adding green and yellow balloons to a yellow wall as part of your Haldi ceremony decorations will make a bright backdrop for some beautiful pictures. In addition, the alphabet balloons can be used to write the names of the bride and groom, a wedding hashtag, or just a simple haldi.
13. DIY Haldi Decor:
For a dazzling yet simple haldi decoration, try to make a DIY haldi decor arrangement for the bride and groom as elegant as this one. With copper pot arrangements draped with marigold flowers, the backdrop wall appeals with a contrast of green banana leave to create a picturesque setup. Highlighted with several white mogra flowers, this indoor haldi decoration can be accomplished within a budget.
14. Best Haldi Decoration On Terrace: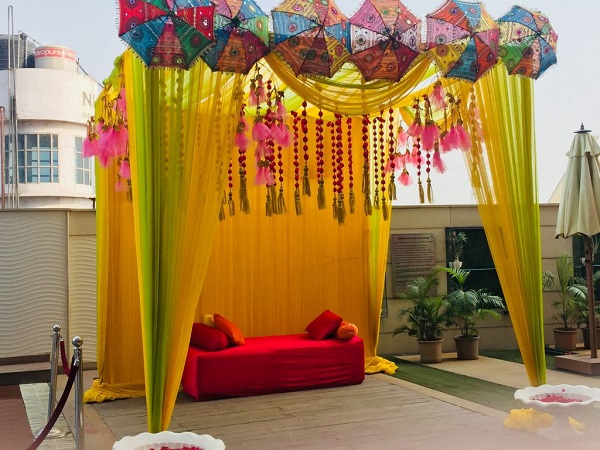 The Haldi celebration is usually a small gathering and is often held at the modest home of the bride or groom. Here's a beautiful way to accomplish Haldi function decoration on the terrace. Because it looks like a tent, you'll need a lot of room to fit its four pillars, which are covered in yellow cloth with a touch of green. Adding these colourful umbrellas in Rajasthani style can make your haldi decorations more interesting.
15. Haldi Ceremony Stage Decoration: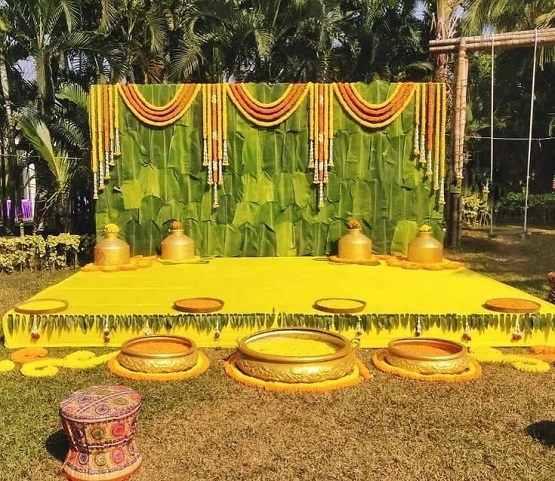 If you want your status as a bride or groom to go up a notch, make a stage like this for Haldi and enjoy your newfound importance because you deserve it. When you create the Haldi ceremony stage decoration so well, with a bright yellow floor, a green banana leaf backdrop, and lots of Genda and marigold flowers, you don't have to decorate other areas as much because the stage will be the main focus. Add a few brass pots full of haldi colours to the scene, and you're haldi function decoration is parred excellence.
See More: Modern Wedding Anniversary Decorations
16. Wall Decoration For Haldi Ceremony: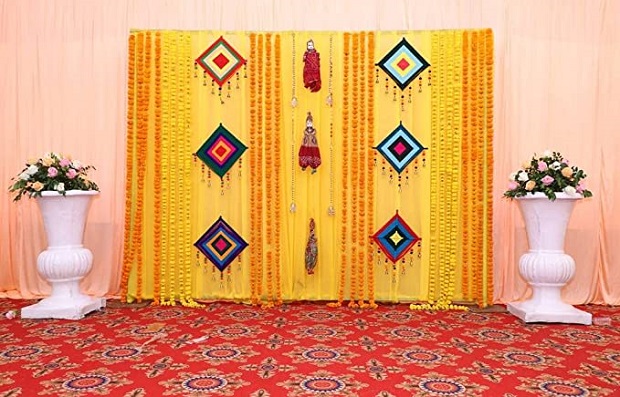 The Haldi decoration is all about bright colours and lots of glitter. Put a colourful yellow curtain and some fancy wall hangings on any wall in your home. Add colourful, elegant dolls over the background to make it more fun and Instagram-worthy. Add some odd things, like traditional kites with square shapes. Even though the backdrop is yellow, the highlights of this Haldi wedding decoration are two huge white flower vases with flowers of many different colours.
17. Haldi Function Decoration In Hall: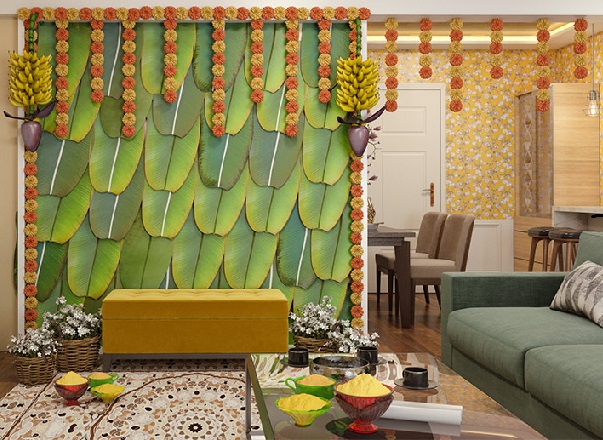 Traditions say banana leaves promote growth, fertility, and wealth. So, it's a great idea to include them in your concept for haldi decoration in the hall. They don't just look good, but they are also suitable for Haldi. Add some fresh flowers, like a string of marigolds, and some banana branches to the decor and you have something simple, inexpensive, and beautiful all at the same time.
18. Haldi Decoration With Flowers: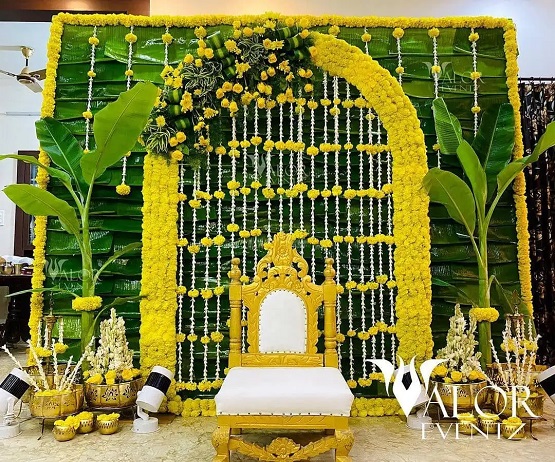 Yellow and green are the two colours that stand out most in any Haldi function decoration idea. This elegant and lavish haldi decor has a throne in the middle for the bride and groom and a backdrop of the gates of heaven covered with marigold flowers. This haldi decoration also has green banana leaves as a second backdrop and tiny brass pots, and fancy LED lights.
19. Low Budget Haldi Ceremony Decoration: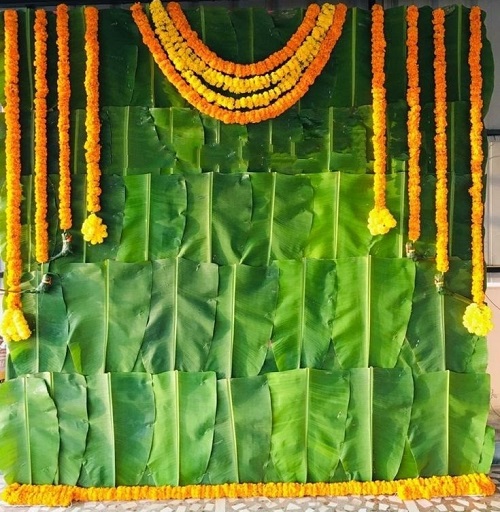 Make a seated area by placing some mats in front of this magnificent board of lushness of greens to create a seating space. To increase the allure of this exquisite haldi decoration, arrange the classic marigold blossoms on the board in the appropriate patterns. Because the great backdrop will already make the space more appealing, you won't even need to invest much time or money to produce this background haldi ceremony decoration.
20. Indian Haldi Ceremony Decoration:
Another way to set the stage for the bride and groom in this haldi function decoration is a full-fledged mandap with four pillars wrapped in yellow cloth. The backdrop is made of two bright pink sheets hanging from top to bottom, with three flower-covered wheels in the middle. Brass pots of different sizes are spread across the floor in this beautiful haldi decoration to add to the intensity of this traditional haldi ritual. Put together this beautiful decor with lots of greenery and flowers to set the mood for happy celebrations.
Some of these simple and best haldi function decoration ideas may work best in bigger spaces if you are planning a big haldi party, but others are great for a small home garden or a terrace. We have also added some cost-friendly ideas that will fit into your wedding budget yet make your haldi function a memorable one. We hope this article gave you the perfect haldi decoration ideas for your big day that will not only make everyone spellbound but will look great in pictures too!