Becoming a bride is one of the most awaited moments in a girl's life and one of the best ways to show your appreciation for the bride-to-be is to throw her a bridal shower. A good bride-to-be decoration does not require spending unnecessary money on extravagant backdrops. You can curate a beautiful bridal party decoration in your budget that complements the affection between the bride and her friends. To help you plan a memorable bridal shower, we have curated a list of some of the most gorgeous and beautiful bridal party decorations.
Latest and Best Bride To Be Decoration Ideas At Home 2023:
Women are creative and feel happy when doing something special for them. So if you're looking for bride-to-be decoration ideas for someone who's soon tying the knot, go through this list to make the big day for your friend a lot more special.
1. Bride To Be Decorations At Home: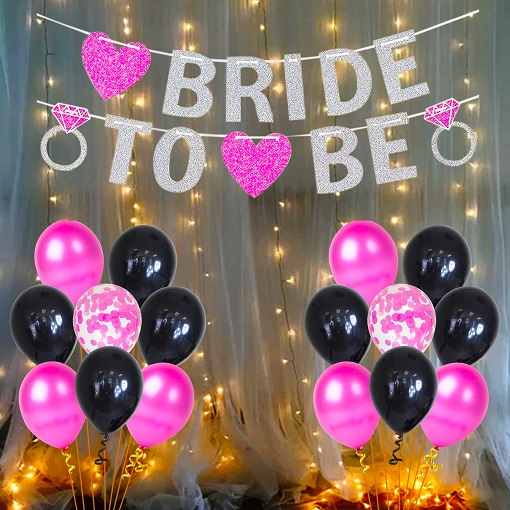 Balloons are one of the most effective elements of any bridal shower decoration since they take up a lot of visual space. The backdrop of this Bride to be decoration is draped in a white net curtain decorated with golden lights. You can use either LED strips or Diwali lights to create the illumination. Either side of this decoration includes a bunch of pink and black balloons, which compliments the pink hearts on the roof. You can even use glittering silver sheets to cut out alphabets and suspend them along the roof.
2. Bride To Be Decoration With Lights: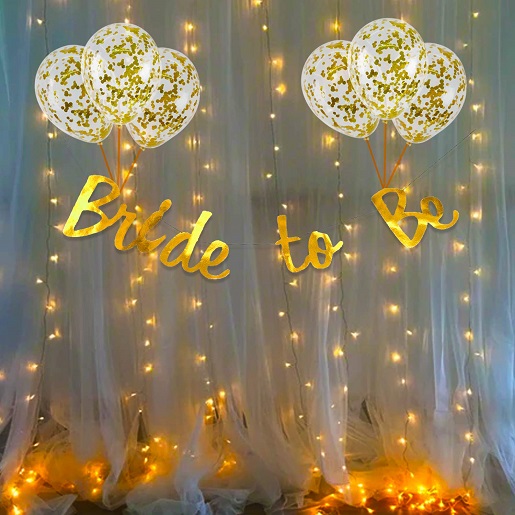 When the Bride is glowing, why shouldn't her Bride to be decoration set? A shimmering gold bridal shower decoration that can be accomplished in an indoor setting with a backdrop draped in white curtains highlighted with yellow LED lights. Step up your decoration game by crafting 'Bride-to-be' alphabets out of yellow golden sheets and suspend them by a thread against the white curtains. You can also add a bunch of white balloons with golden dots on them or use artificial paper cut-outs to accomplish the same look.
3. Decoration For Bride To Be Party: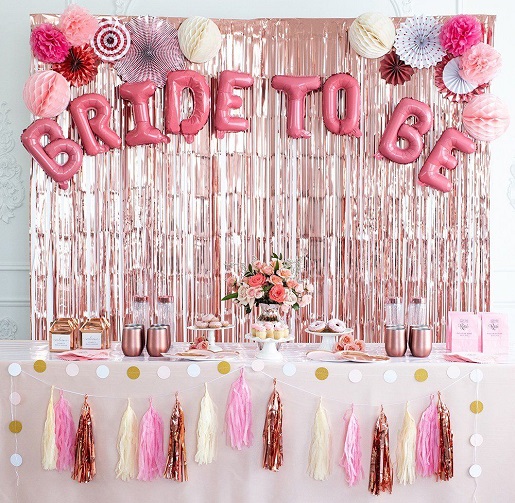 The backdrop of this bride-to-be decoration is a shimmering pink curtain complimented with 'Bride to be' alphabetical balloon foils as the main highlight. The edges of this decoration set are adorned with numerous articles on either side. At the front is a table adorned with a similar pink theme, followed by various aesthetic utensils and food items. To finish off with a party look, a string of pink, white, and golden pom-poms has been suspended alongside the white table.
4. Bridal Shower Decorations At Home: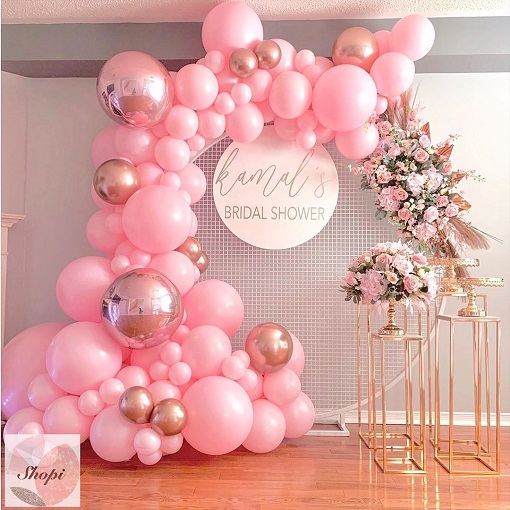 This Bride to be decoration set is more appropriate for a banquet or party hall. The backdrop is a big white metal circle with a shiny centrepiece embellished with the event's name. The inflated pink and golden balloons are knotted along with each other to create the shape of an arch starting from the floor all the way up to the ceiling. Additionally, two lavish flower bouquets complimenting with the pink theme are adorned on top of four golden stands to complete this bride-to-be decoration setup.
5. Gold Bridal Shower Decorations: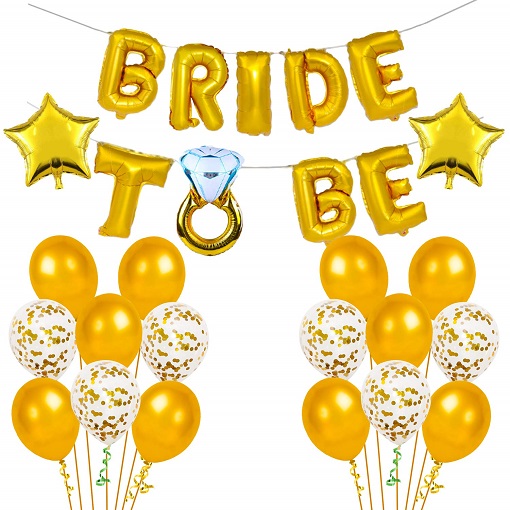 Embraced in colours of gold this bridal shower decoration includes inflatable balloon letters used to craft 'Bride-to-be' suspended along with white strings against the backdrop wall. In addition, a bunch of golden-white balloons are adorned on either side of this home decor. To enhance the golden theme of this bride-to-be decoration, two stars crafted out of inflatable balloon foils are complemented across the alphabet.
See More: Ganpati Decoration Ideas At Home
6. Pink Bridal Shower Decorations: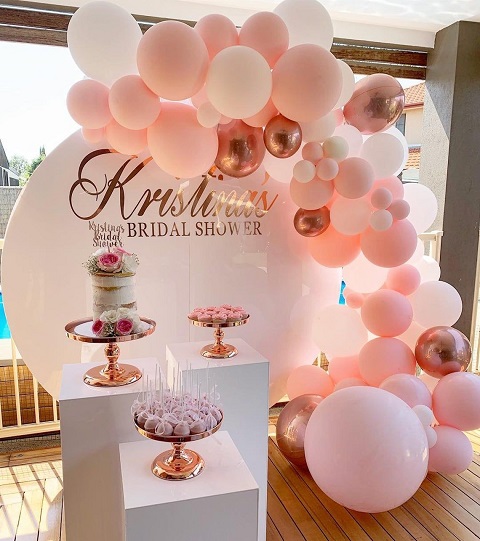 A balloon ring is a great addition to all outdoor bride-to-be decorations. You would need a restaurant corner or a lovely banquet hall to accomplish this exquisite set. A massive spherical backdrop imprinted with the event's title is adorned with a thread of giant balloons, all shades of pink in a semi-circular shape. The frontal area is lavishly decorated with food items, including a delicious cake, pastries, and other delicacies.
7. DIY Bridal Shower Decorations: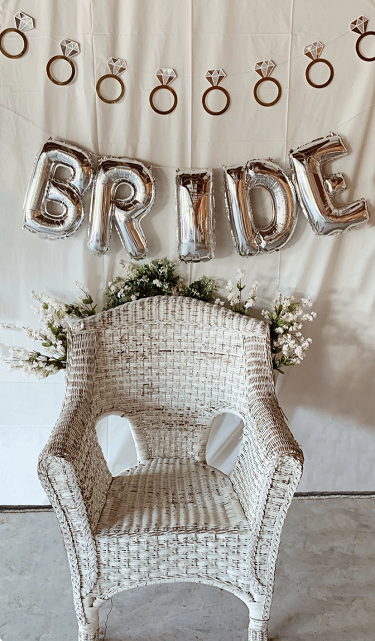 A bride-to-be decoration based entirely around an off-white theme with the backdrop sheet draped in silver balloon foils and adorned with a suspended string of paper diamond figures. At the heart of this bridal shower decor is a white casket chair crafted in a hobo design to accomplish a seating arrangement for the bride-to-be. Compliment the back of the chair with garlands of white and green ferns to amplify the theme of the setup.
8. Simple Bridal Shower Decorations: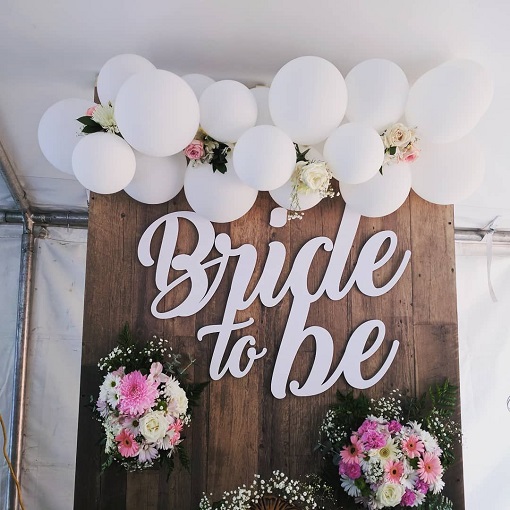 When you look at this stunning Bride-to-be decoration, your eyes are likely drawn to the beautifully crafted wooden name board, emblazoned with the words "Bride to be" in bold and eye-catching letters. The vintage appeal of the board is accentuated by the addition of white balloons and delicate hanging flowers at the top. Completing the picture-perfect scene are two vibrant bouquets of artificial flowers, adding pops of colour to the overall design. This decoration is an actual work of art designed to make the bride-to-be feel special and loved on her big day.
9. Best Bridal Shower Decorations: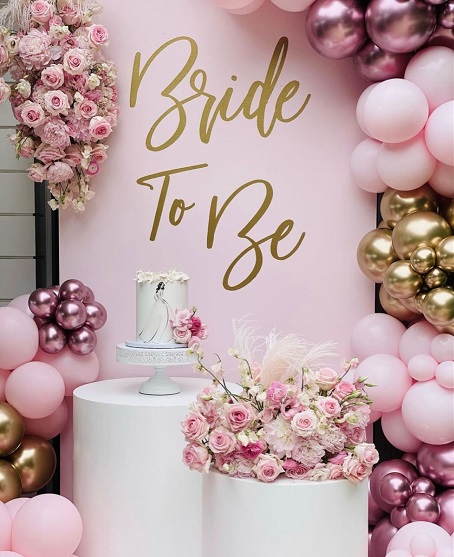 With an exquisite backdrop featuring a bright pink wall and the words "Bride to Be" elegantly displayed in gold foil, this decoration will surely make the bride-to-be feel special. The use of balloons throughout the design adds a playful touch. The centrepiece, featuring two round tables with a delectable cake on one and a breathtaking bouquet of pink flowers on the other, perfectly ties the entire look together. Whether you're the bride-to-be or the event planner, this decoration will bring joy and excitement to the bridal shower celebration.
10. Modern Bridal Shower Decor: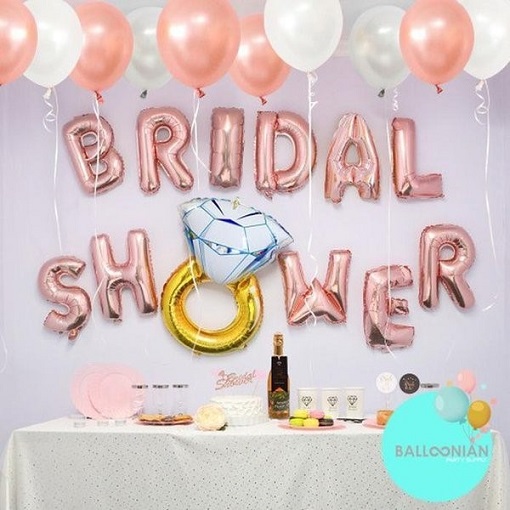 Adorn your walls with grace, inspired by a beautiful pink theme. The focal point is a stunning white wall with a "Bridal Shower" inscribed in elegant, inflatable balloon letters. The ceiling is adorned with a lovely string of pink and white helium balloons, creating a whimsical and festive atmosphere. To complete the look, a gorgeous centre table is beautifully styled with delicious treats and sweet treats, including an array of cookies, cupcakes and other delicious pastries.
See More: Wedding Anniversary Decoration Ideas
11. Bride To Be Bridal Shower Decorations: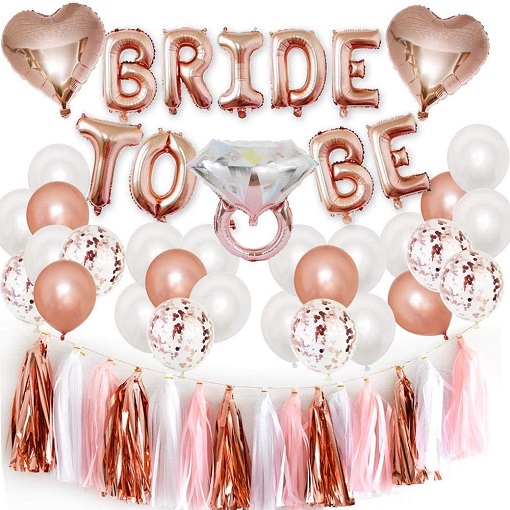 By using artificial accessories to the best of its advantage, create this home-based bridal shower decoration. A completely balloon-based decor including'Bride to be decorated including inflatable foil letters at the centre of the plain white backdrop, adorned with two heart-shaped pink balloons at the top. The diamond-ring foil element at the heart of this decoration perfectly represents the theme of the event. Create a combination of multicoloured balloons and hang a bunch of those by a thread with additional pink and golden pom-poms suspended at the bottom,
12. Bride To Be Decoration Set:
This setup is the epitome of bachelorette party decorations for the bride-to-be! The centrepiece is a dazzling display of yellow inflatable letters spelling out "bride to be," beautifully set against a warm brown curtain. Suspended from the ceiling are playful white balloons with bright yellow dots, creating a festive atmosphere. Consider incorporating unique elements such as shimmering inflatable champagne bottles and sparkling foil glass rings to truly elevate your decoration game.
13. To Be Bride Decoration:
If you're planning to throw a bachelor party, then this bridal shower decoration is precisely what you should be looking up to. The backdrop is a white home wall inscribed with inflatable 'Bride to be' letters and a bunch of balloons forming a cloud above it. The centrepiece is a wooden table featuring a shiny diamond ring foil decorated with hanging pompoms and a few other balloons on the floor.
14. Decor Bride To Be:
An astounding bride-to-be decoration served around a mushy pink theme is perfect for a bridal shower gathering. Two different shades of pink balloons combined with multiple blue ones are put together to adorn this beautiful backdrop with an arch-like structure. The white wall is enhanced with a 'bride-to-be' impression created out of inflatable foils. In the midst of this decor lies a sophisticated glass table perched with champagne bottles, soda cans and some other elements.
15. Bride To Be Decorations Outdoor: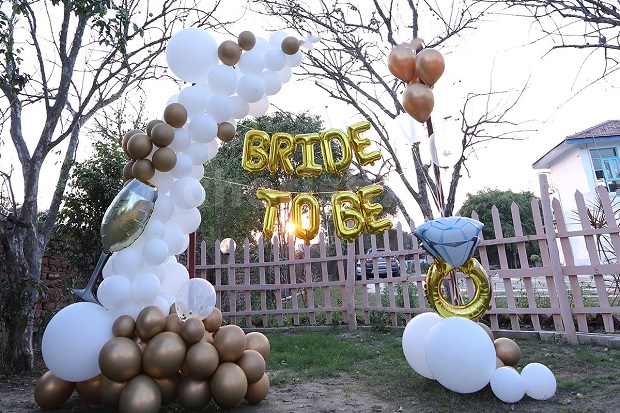 Elevate your outdoor space into a whimsical paradise with this breathtaking balloon arrangement. The "Bride to Be" inflatable letters, suspended by delicate threads from the branches, create a playful and romantic atmosphere. The white balloons, anchored by brown balloons, form an elegant arch and are beautifully accented with glittering champagne foil on one side and a sparkling inflatable diamond ring on the other.
See More: Haldi Function Decoration at Home
16. Bachelor Party Decorations For Bride: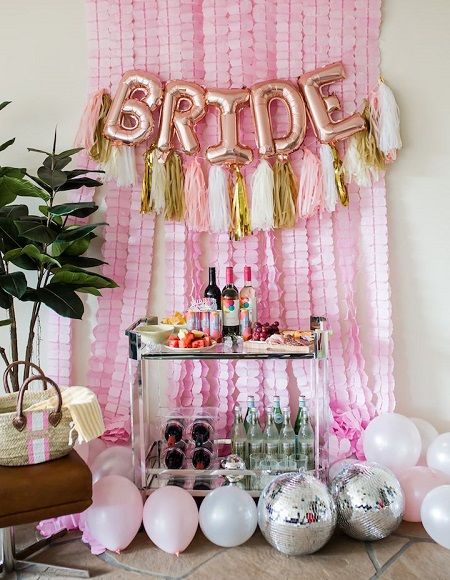 The backdrop of this Bride to be decoration is perched with a unique pink curtain. Established in an indoor setting, the pink backdrop is adorned with inflatable foil letters reading out 'BRIDE'. But, of course, the best part of this modern bridal shower decoration idea is the liquor trolley with fantastic wine bottles and a few edible items. But don't forget to notice the silver disco balls along with white and pink balloons scrambled on the floor, adding to the party mood of this modern bridal shower decor.
17. Bride To Be Balloon Decorations: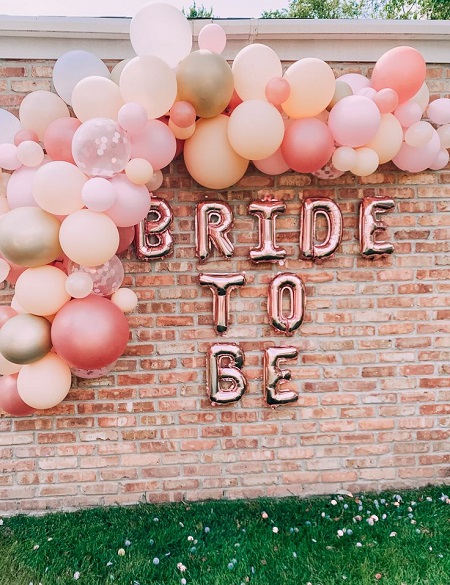 Established in an outdoor setting probably a home lawn, this Bride to be decoration set includes a red brick wall as the backdrop, with 'Bride to be' spelt on it in pink inflatable foil letters. You can also see a string of balloons in multiple shades of pink, decorated on the wall to form an arch from the bottom left corner to the top of the other side. These bridal shower decorations are mostly balloon centric and can be easily achieved without any fancy elements.
18. Bride To Be Table Decorations: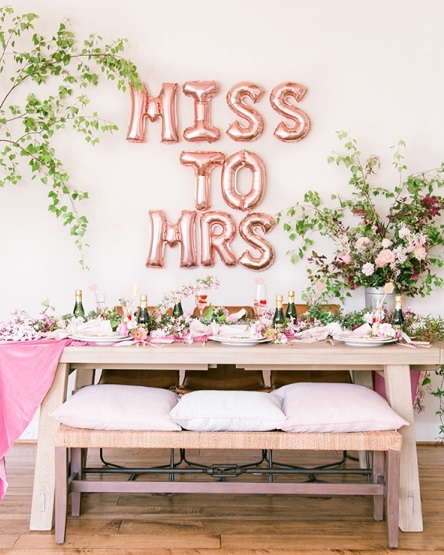 From Miss to Mrs, your friend's bride-to-be decoration has to be a celebration fulfilled with lovely flowers and champagne bottles. This bride-to-be decoration wall is decorated with pink inflatable balloon letters surrounded by artificial flowers and leaves in the frame. A table for the feast is set at the heart of this Bride-to-be decoration, which includes several eatables and drinking items.
19. Bride To Be Wall Decor: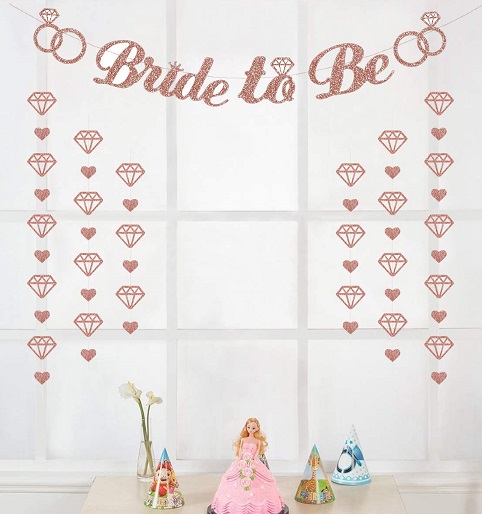 If simplicity is creativity, then this Bride to be decoration idea is the perfect example to justify it. Setup in an indoor setting, the backdrop of this bridal party decor is perched with a white curtain adorned with hand-crafted sparkling letters that read' Bride to be. The same sparkling paper is used to cut out little shapes of diamonds and hearts to complement both sides to make a symmetrical design. You can also add a few other elements like dolls and paper hats that go well with the bride's taste.
20. Bride To Be Decorations Black and White:
If shiny pink and golden colours aren't your thing, go with this black and white Bride to be a decoration which involves a Greybackdrop with 'Bride to be inscribed over it in white ink. A thread of small diamonds and other shapes is also crafted using the same ink. Considering the needs of the bride and her guests, a table with multiple food items and a beautiful bouquet complimented with green leaves is established as the centrepiece.
From elegant centrepieces to whimsical backdrops, the options for decorating for your bride-to-be are endless. So embrace your creativity, have fun, and let your decorations reflect your love for your friend. Remember, the little details make a decoration memorable. So feel free to get creative with your bride-to-be's decorations. Take suggestions from the above ideas, and create an indoor and outdoor bridal shower that fits your budget.