Whether you are celebrating your first anniversary or your 15th, anniversaries are a time to reflect on your journey together and appreciate the love you share. With the right decorations, you can create a memorable and romantic atmosphere to make your anniversary celebration even more special. This blog will take you through some of the most beautiful and creative anniversary decoration ideas that you can use to make your day truly unforgettable. From DIY projects to stunning table settings, we've covered everything you need to know about anniversary party decorations.
Simple and Beautiful Marriage Anniversary Decoration Ideas 2023:
These pictures range from beautiful ideas for outdoor anniversary decorations to the newest images of simple home anniversary decorations.
1. Happy Anniversary Decoration At Home: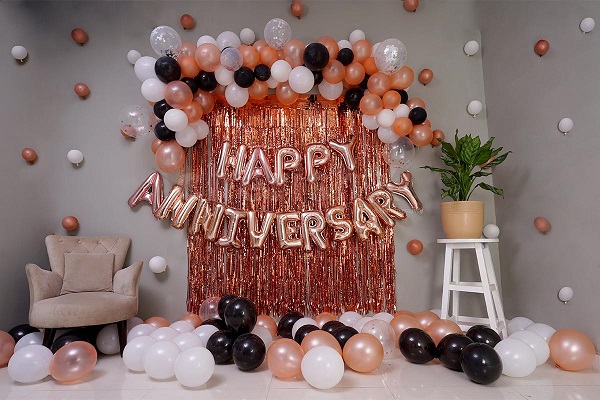 Recreate this balloon decoration by draping a shimmering gold backdrop over a matte grey wall. Add a pop of colour with a string of balloons in black, white, orange and silver, creating a dynamic contrast against the golden backdrop. The same balloons are tangled on the floor, and a few more are on the roof. The central part of this design is the "Happy Anniversary" message crafted out of inflatable foil letters. With a small budget, you can do this wedding anniversary decoration at home by complementing a few pieces of furniture.
2. Romantic Anniversary Decorations: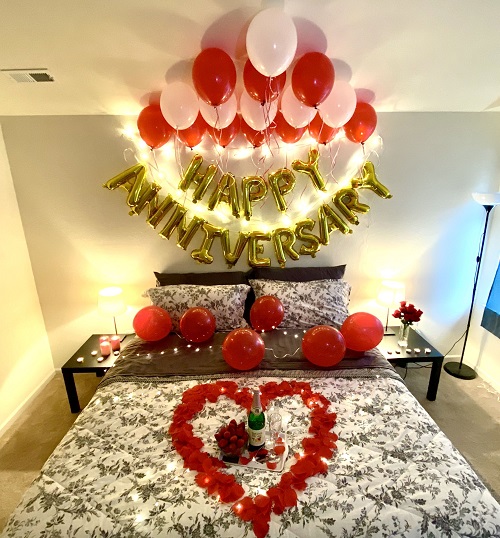 Immerse yourself in a sea of red and white as the room is transformed into a picturesque anniversary decoration. The backdrop is a white wall adorned with foil letters that read "Happy Anniversary," complemented by red and white balloons on the ceiling. Furthermore, the double bed is decked with shimmering red balloons and rose petals, forming a heart shape with a champagne bottle and strawberries in the centre. Lastly, led lights on the wall and table lamps on either side of the bed light up the wedding anniversary decorations.
3. Wedding Anniversary Balloon Decoration: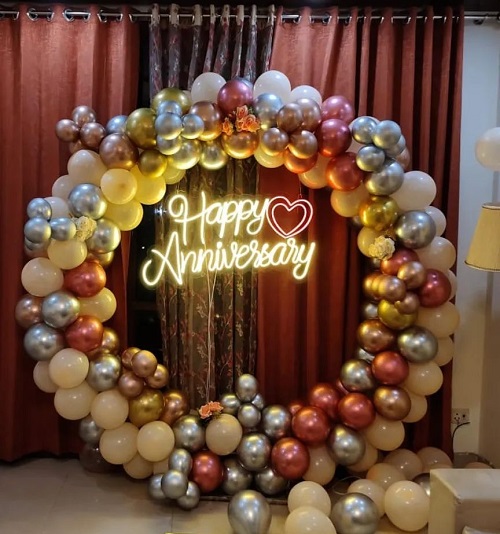 A balloon ring decoration is an exciting addition to any anniversary decoration. Complement the home curtains with yellow LED strips to craft a 'Happy Anniversary' design. The spectacular balloon ring against the maroon draperies in the backdrop is made up of a multitude of balloons in various colours of pink, white, and silver that are embellished together to create multiple layers.
4. 25th Anniversary Decorations: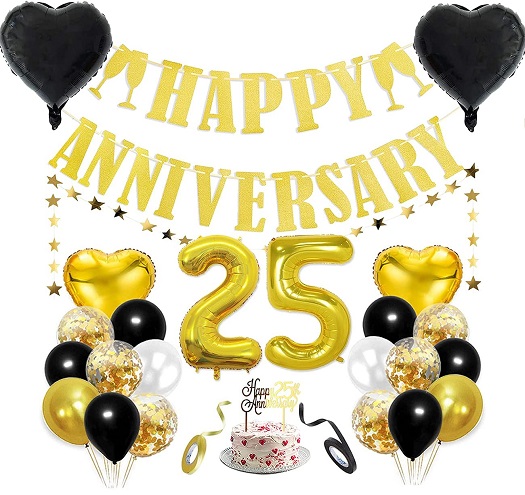 A 'Happy Anniversary' cut out from a shimmering golden sheet suspended on a thread on the white home wall serves as the backdrop for this Silver-Jubilee anniversary decoration. Number 25 is embellished in the centre with inflatable foil letters, with a cake directly underneath. Both sides of this decor are decorated with various coloured balloons, while two distinct heart-shaped black foil balloons adorn either of the upper corners.
5. 50th Wedding Anniversary Decorations: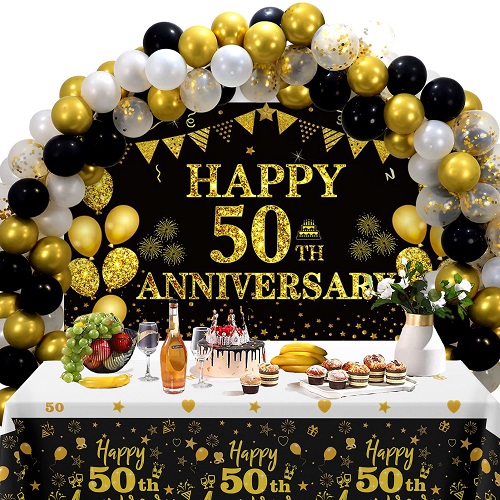 Perch your home in black and golden colours with this 50th-anniversary decoration design. Drape the living room wall in a black backdrop carved with gold ink to craft out the event title and various other shapes. Make a semi-circular arch out of countless black and white balloons paired with a few golden balloons to enthral the exquisiteness of this design. At the centre stage, we have fruits, sweets, and a bottle of juice with a delicious cake for the guests.
See More: Modern Bride To Be Decoration Ideas
6. First Anniversary Decoration: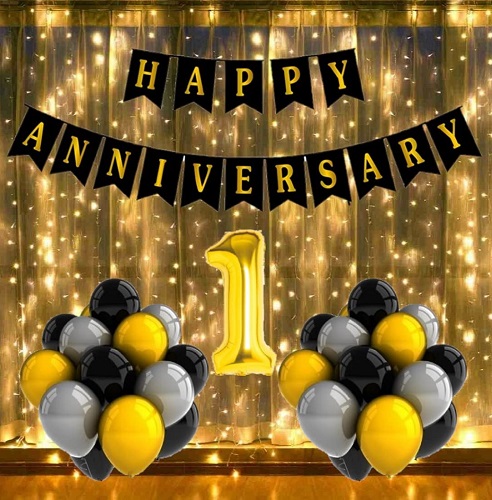 Use this anniversary decoration idea with a black and yellow theme to guide your first-anniversary celebration. A golden drape is a backdrop, illuminated by LEDs from ceiling to floor. The event's motif is a black curtain with an inflatable number 1 foil in the middle, suspended by 'Happy Anniversary' flags from one corner to the other. Additionally, various balloons coloured yellow, black and grey are knotted together to decorate either side of this decor.
7. 30th Wedding Anniversary Decorations: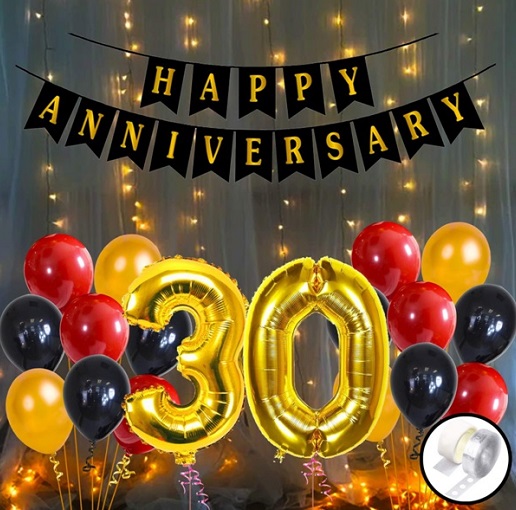 Draped in a translucent white curtain, the backdrop of this wedding anniversary decoration is adorned with gleaming golden LED lights next to a hanging 'Happy Anniversary' cut out from a black sheet suspended at its centre. To give a more tonal experience, use inflatable numbers for the number 30 and finish your anniversary home decoration with various coloured balloons on either side.
8. 10th Anniversary Decorations:
Celebrate a decade of companionship with this Happy Anniversary decoration draped in a stunning silver curtain that serves as a perfect backdrop. The warm yellow LED lights add a cosy and intimate ambience. The elegant black letters spell out "Happy Anniversary," creating a focal point that is impossible to miss. The lovely arrangement of red, black, and yellow balloons enhances the decoration, including the bold "10" in the centre. This simple yet beautiful display is a perfect way to commemorate your special day and celebrate your commitment to each other.
9. 20th Anniversary Decorations: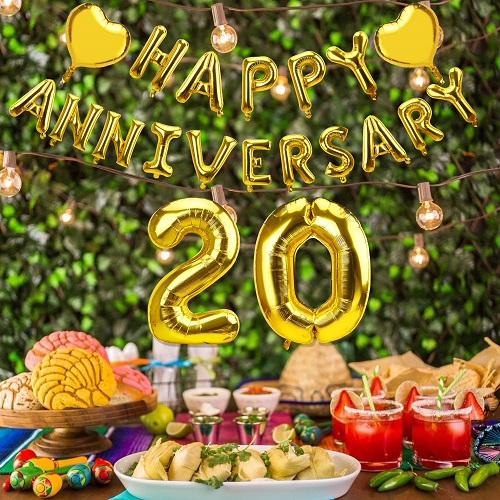 A 20th-anniversary decoration concept influenced by an outdoor setting to achieve a natural green backdrop. The centrepiece of this decor is a table set for a feast featuring various delicacies such as dumplings, mocktails, sweet dishes, and some bakery items. In addition, the setup is decorated with some aesthetically pleasing house bulbs hung across, complemented by some inflatable foil letters that say "Happy Anniversary."
10. 5 Year Anniversary Decorations: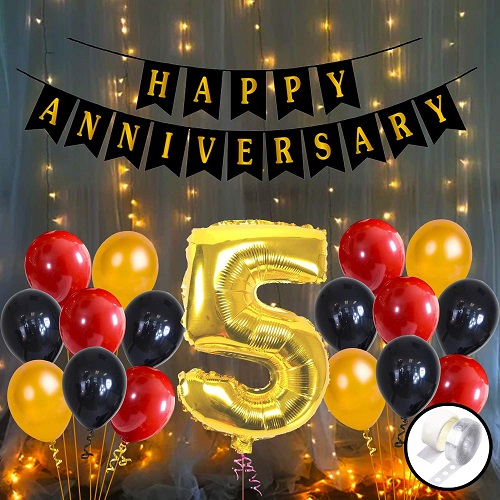 This 5th anniversary black and gold decor is perfect for a low-key, at-home celebration. The centrepiece of the decorations is the number '5', encircled by two rows of brightly-coloured balloons on either side and a white curtain embellished with golden LED lights. Furthermore, a flag-based "Happy Anniversary" crafted out of black sheets with golden highlights is hung on the wall.
See More: Simple Ganpati Decoration Ideas
11. Terrace Decoration For Anniversary:
This anniversary terrace decoration features a square-shaped board draped in a shimmering backdrop with the words 'Happy anniversary' carved out of LED outlines. In addition, extensive use of pink and silver balloons, matched with little golden balls, is draped around the board's edges to create a dreamlike arch. Finally, for a 25th-anniversary celebration, you can lavishly decorate the metal numbers decked in small LED bulbs with a golden cake stand summoned at the centre of this ensemble.
12. Anniversary Cake Decorations:
Almost every marriage anniversary decoration includes a lovely cake to add sweetness to the event. But, unlike standard cream cakes, you won't see cream on this one. Instead, on a white platter, red fondant letters spell out "happy one-month anniversary" on the base of this anniversary cake. The round white structure is encircled with a red fondant ribbon, which is meant to look like a knot of love. The unique part is the top decorated with red fondant roses and white heart sticks, all edible.
13. DIY Anniversary Decorations: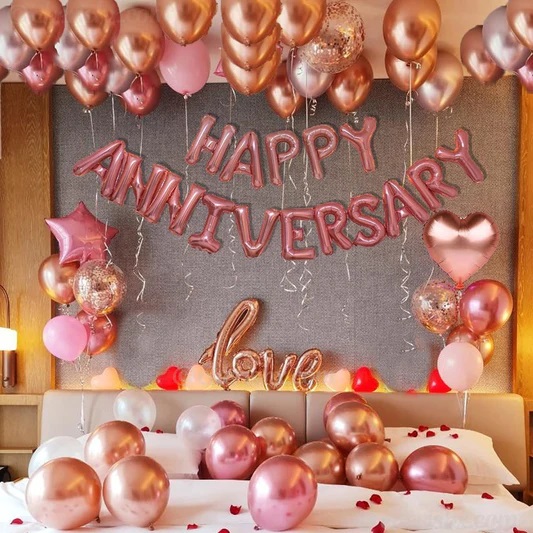 Recreate this concept with a golden-pink-coloured theme to give your anniversary decoration a more romantic touch. The entire ceiling is draped in golden and silver helium balloons while some scrambled on the bed. The Grey backdrop behind the bed acts as the base against which 'Happy Birthday' is crafted using pink foils. Complementing the lampstands, either side of the bed is adorned with multi-coloured balloons knotted together.
14. Black and Gold Anniversary Decorations: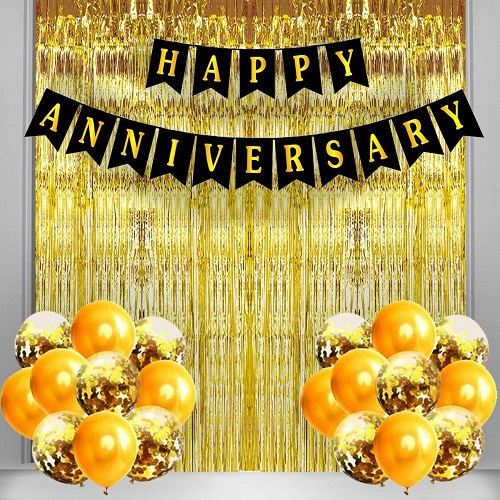 Celebrate your special day with a stunning anniversary decoration concept featuring black and gold as prominent colours. A beautiful golden drape adds a touch of glamour to the backdrop, while "Happy Anniversary" flags in black provide a bold contrast and add a festive touch. Finally, adorn the room with clusters of shimmering golden and yellow balloons that elegantly complement the overall look.
15. Red and Gold Anniversary Decorations: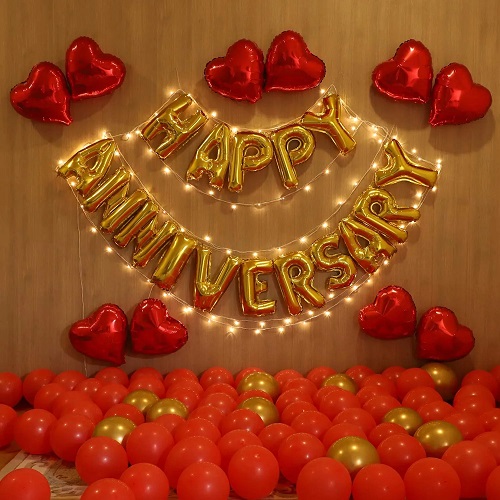 Red is the colour of love, something that represents a romantic bond. This marriage anniversary decoration revolves around an enticing concept in which the entire floor is mainly covered with red balloons with a few golden ones interspersed. The 'Happy Anniversary' foil decoration in the centre of this decor is embellished with yellow LED lights and encircled by five pairs of red heart-shaped foil balloons.
See More: Latest Haldi Function Decoration Ideas
16. Blue Anniversary Decorations: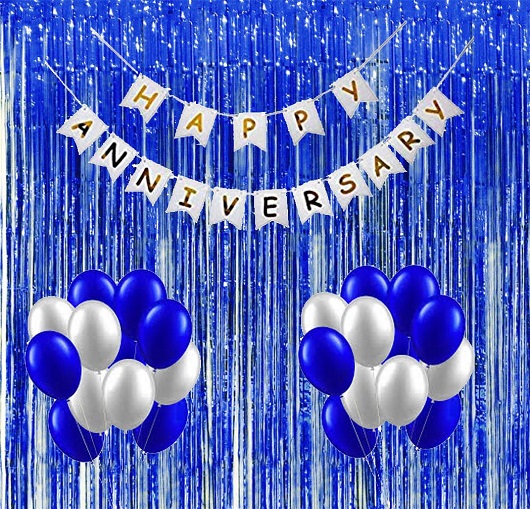 This is one of the very few blue anniversary decorations featuring a subtle design consisting of a dazzling blue sparkling wall as the backdrop, along with 'happy anniversary' flags suspended against the wall from one end to the other. In addition, this marriage anniversary decor features additional elements, including a bunch of blue and white balloons, which stand on either corner and give the design its final touch.
17. Outdoor Anniversary Decorations: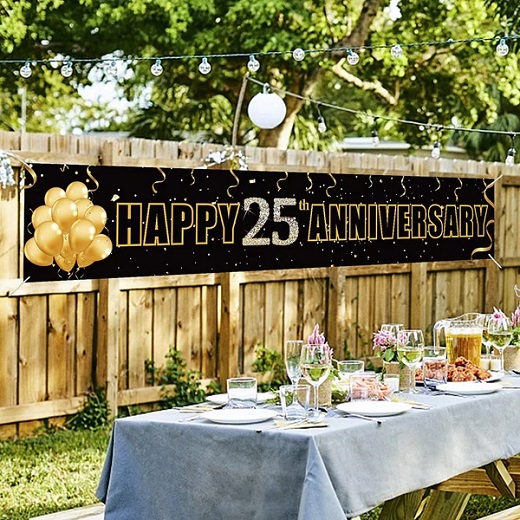 This outdoor marriage anniversary decoration is a great way to honour your parents' 25th wedding anniversary. The background is a wooden fence adorned with a black slate that says the event's name in gold and silver outlines. A string of fancy blue bulbs is hung across the lawn for better light. The centrepiece is an afternoon lunch table with wine glasses and various delicious foods.
18. Indoor Anniversary Decorations: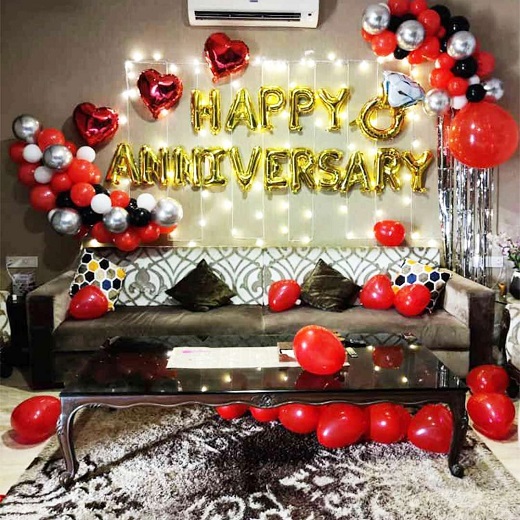 Adorned with shiny red balloons, this anniversary decoration includes artificial elements to create this perfect attire. The backdrop is decorated with inflatable balloon foils complemented by silver LED lights. A bunch of red, white, silver and black balloons are adorned diagonally along the 'Happy Anniversary' on both sides. Add a romantic essence to this wedding anniversary decoration by draping three heart-shaped red balloons in the top left corner. Amplify the decor by randomly scrambling numerous other balloons on the couch and floor.
19. Simple Decoration For an Anniversary: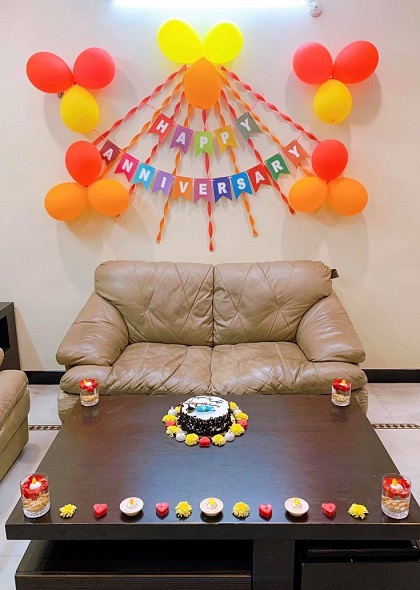 This simple anniversary decoration features a few key pieces, including a cluster of balloons in three complementary colours. The words "Happy Anniversary" are written in various fonts and colours on a white background adorned with vibrant strips decorating the border and threads hanging in the centre. Lastly, candles are set up on the centre table where the cake will be placed for the couple.
20. Best Anniversary Decoration: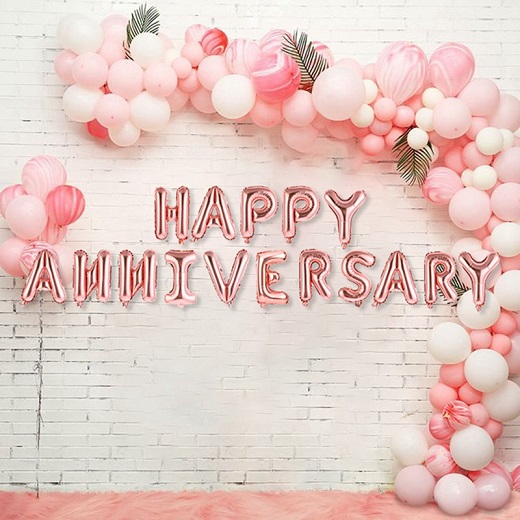 When it comes to anniversary decorations, a pink and white theme is always a good choice. The centrepiece of this anniversary decor is a white brick wall adorned with pink balloon lettering spelling out "Happy Anniversary." A long strand of balloons in a pink and white theme extends uninterrupted right from the ground up to the top of the wall, contributing to the overall attractiveness by making it more beautiful.
These simple and best Anniversary decorations are essential to celebrating the milestones in your relationship. With the right combination of creativity and thoughtfulness, you can create a memorable and romantic atmosphere for your special day. Whether you opt for balloons, candles, flowers, or a combination, the key is to make it personal and meaningful to you and your partner. So, start planning your marriage anniversary decorations, and make your special day one to remember forever!