Ganesh Chaturthi is celebrated by people all over India to mark the arrival of Lord Ganpati. Devotees begin making preparations months in advance of the festival; after all, Lord Ganesh is admired and adored by everyone. Decorating the house and the place of worship are two of the most important parts of this festival. So, if you are planning to do Ganpati decorations this year, we've got you! Below, we have compiled some of the traditional and beautiful decoration ideas for Ganpati, ranging from the most basic to the most extravagant, in case you plan on elevating your decoration game.
Latest and Creative Ganpati Decoration Ideas For Home In India 2023:
Are you also planning to bring home Ganpati Bappa this year? These natural and modern Ganesh decoration ideas will give you exactly what you're looking for.
1. Simple Ganpati Decoration: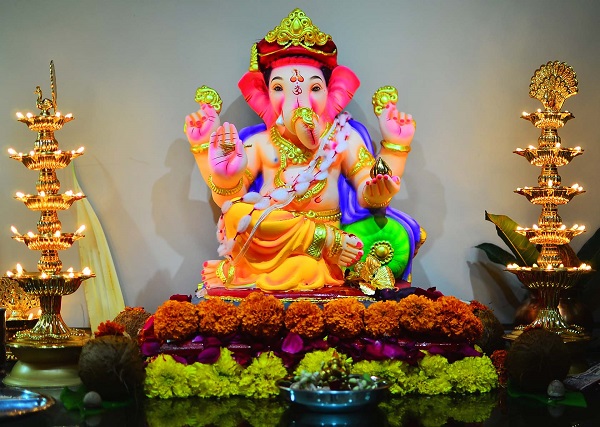 Even a simple Ganpati decoration like this one can look graceful if you add a few diya stands on either side, illuminating the entire decor. The colourful Lord Ganesha statue is set up on a handmade mandapa decorated using strings of Genda and marigold flowers around the edges. To add more aspects to this easy Ganesh decoration idea, place a couple of coconuts to be used during prayer rituals.
2. Creative Ganesh Chaturthi Decoration: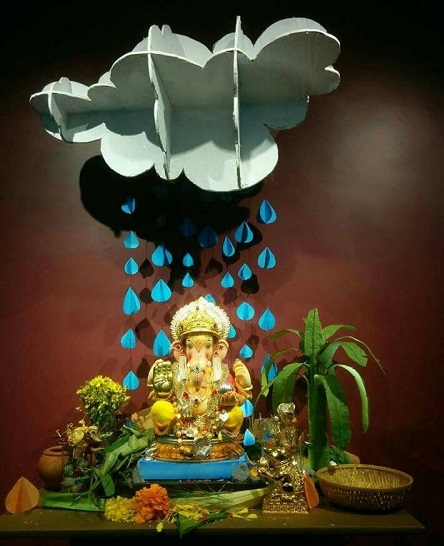 Recreate this creative Ganpati decoration idea with a thermocol made cloud and rain element. The blue thermocol droplets are streaming from the top, with the Ganpati statue sitting on a wooden slate, surrounded by green foliage, wooden baskets, and a pair of Genda and marigold flowers. To complement this Ganpati house decoration, a small statue of Mushak ji made of brass is arranged right at the front.
3. Small Ganpati Decoration:
A small Ganpati arrangement complemented by humble marigold flowers is an ideal setup for bringing Ganpati Bappa into your home. This outdoor Ganpati mandap arrangement is centred on a yellow and green colour scheme. A green pallet covers the platform used to set up the colourful Ganpati statue, followed by a floral arch in the background.
4. Homemade Vinayaka Chavithi Decoration:
If you cannot arrange fresh flowers for whatever reason, you can make paper flowers out of origami paper to make a handmade Ganpati arrangement. The stage, draped in a crimson sheet, serves as the foundation for the Ganpati statue, which sits atop a colourful flower vase surrounded by pearls and paper flowers. The white backdrop in this DIY Ganesh Chaturthi decoration is accented with yellow and blue paper flowers suspended with white ribbons.
5. Ganesh Chaturthi Decoration Background: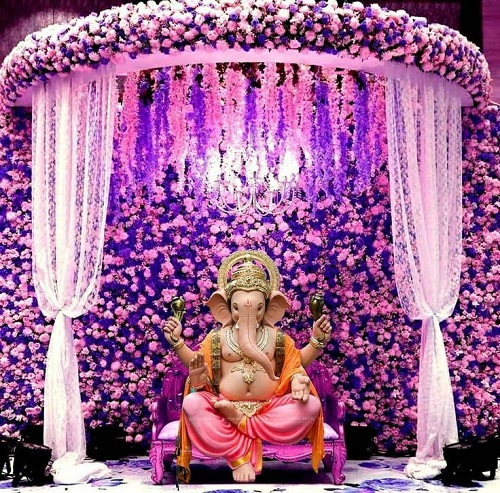 This Ganpati mandap decoration is an ideal setting for planning a lavish Ganesh Chaturthi event. The throne for Lord Ganesha's statue is positioned at the heart of this mandap, with a spherical roof and a massive wall as a backdrop. To successfully achieve the purple and lavender motif, an extravagant use of colourful flowers blended together can be observed on the wall. Likewise, the same decoration can be kept on the ceiling with complimentary white drapes and floral strips.
6. Flower Decoration for Ganpati at Home: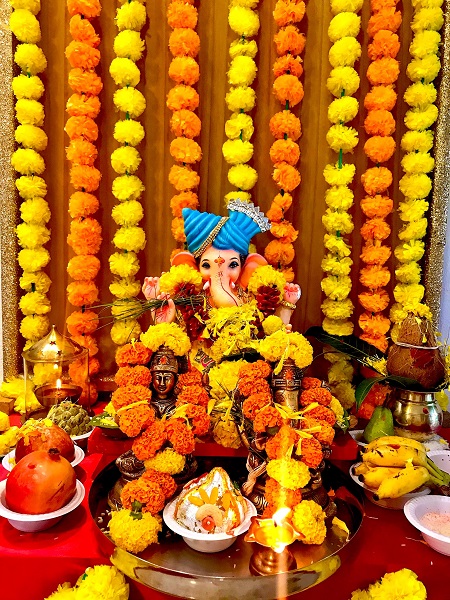 If you don't have many Ganesh puja decoration items, you can make this by putting together Marigold and Genda flowers. In the middle of this Ganesh decoration is a statue of Ganpati Bappa, along with other essential things like fruits, lamps, platters, pots, etc., and a very subtle wooden background complimented with garlands hanging on it. Find a spacious corner in your home with enough natural light to set up this Ganpati decoration.
7. Simple Thermocol Decoration for Ganesh: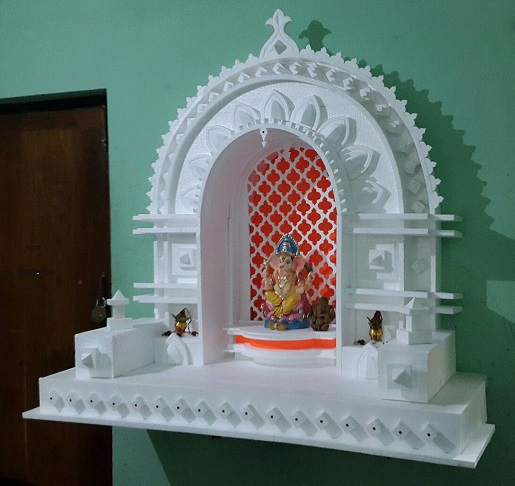 When it comes to inexpensive and easily accessible Ganpati decoration items, thermocol is at the top of the list. The colourful figurines of Lord Ganesha with a complementary orange background are at the core of this magnificent white thermocol Ganpati mandap decoration. Of course, you may always experiment with adding more colours to this thermocol setup that matches the rest of the design.
8. Ecofriendly Ganpati Decoration: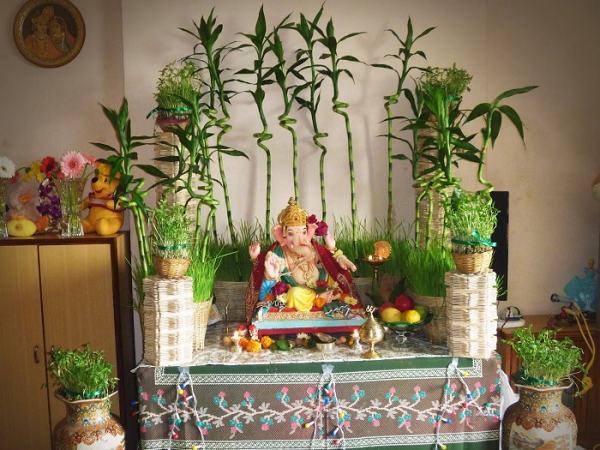 This eco-friendly Ganesh decoration is not only beneficial for the environment but also allows you to exercise your creativity while making a beautiful Ganpati mandap decoration. Install a homemade chowki and surround Lord Ganpati's shrine with natural fruits and flowers. Go green and use your plants to accommodate this realistic backdrop.
9. Artificial Flower Decoration for Ganesh at Home: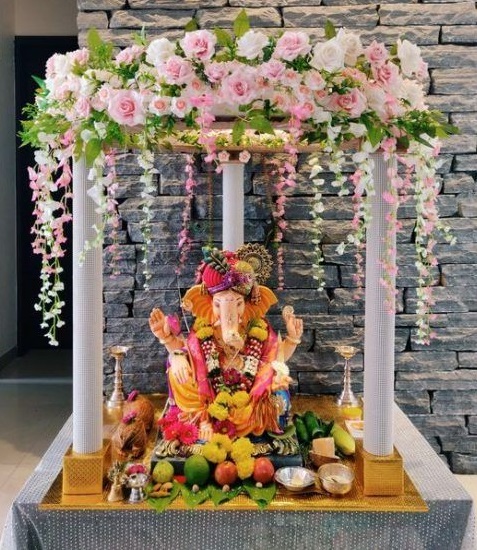 If you like flowers for Ganpati decorations but don't want to use real ones because they decay quickly, this artificial flower Ganesh decoration is for you. Our Ganpati Bappa is seated at the centre of this magnificent mandap with white pillars and a gold foundation. Shiny silver kitchenware, as well as natural fruits, complement the elements of this theme. Artificial flowers in pink and white with a mix of green leaves are strung from the roof to add to the attractiveness of this design.
10. Peacock Decoration for Ganpati: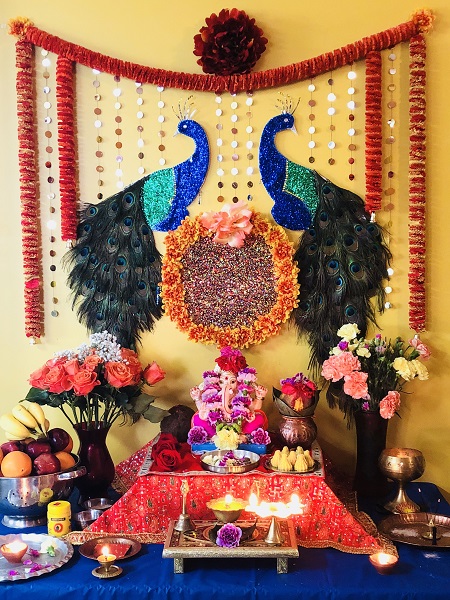 When it comes to Ganesh's decoration models, you can observe how magnificently peacock feathers add to the overall appeal of this decor. Peacock feathers are readily available in the market and look great with the other flowers in the setting. So, instead of covering the entire background with colourful flowers, make a peacock tail out of genuine feathers and finish the backdrop with a marigold flower wreath in the centre.
11. Saree Decoration for Ganesh Chaturthi: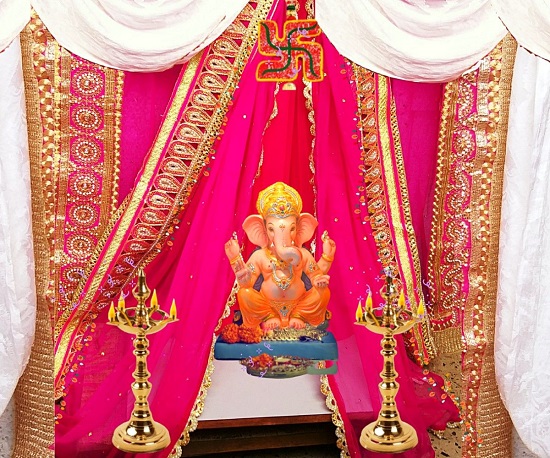 Everyone has lovely sarees around the house that could be used for Gauri Ganpati decoration ideas. This bright pink saree with gold-satin strips on its edges is draped brilliantly around the white backdrop used for Lord Ganesha's statue. Along with the brass-made Diya holders and a Swastik made of beads, this design is perfect for a Vinayaka Chavithi decoration at home.
12. Ganpati Stage Decoration: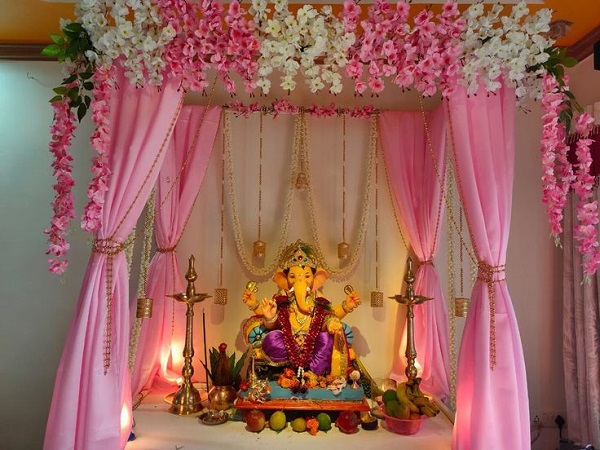 To create this lovely Ganpati stage decoration, arrange white mogra to create reverse arches on your accent wall. You can put some hanging golden lanterns to amplify its appearance. Avoid using too many colours and stick with this pink and white theme for your Ganpati mandap decoration. Drape the four pillars with pink sheets and compliment the ceiling with a combination of pink and white lilies.
13. Paper Decoration for Ganesh: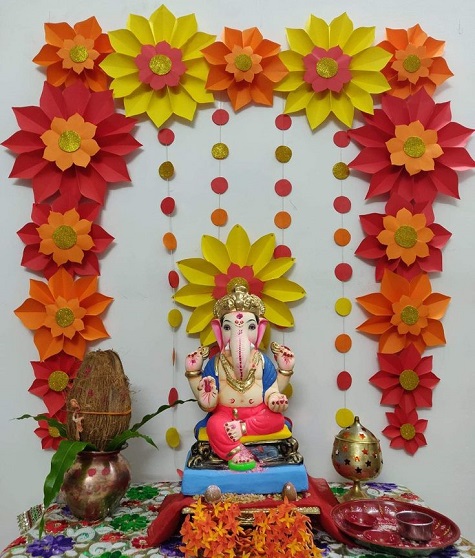 These paper flowers make a unique Ganesh decoration for your home. Using origami paper, make gorgeous flowers in a variety of colours and arrange them around Ganpati Bappa to form an arch in the background. You can also use glitter papers to cut out round beads and construct unique hanging threads to add more definition to this paper decoration for Ganpati.
14. Banana Leaf Decoration for Ganpati: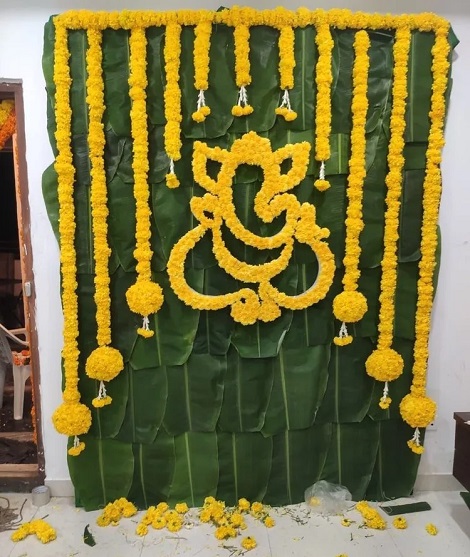 Banana leaves can make an attractive backdrop for a flower-based Ganpati arrangement at home. To make the contour of the environment, arrange multiple garlands of varying lengths. Once you've achieved symmetry on both sides, finish this banana leaf decoration for Ganpati by putting a unique spin on marigold garlands to make an outline of Lord Ganpati on the green wall.
15. DIY Vinayaka Chavithi Decoration: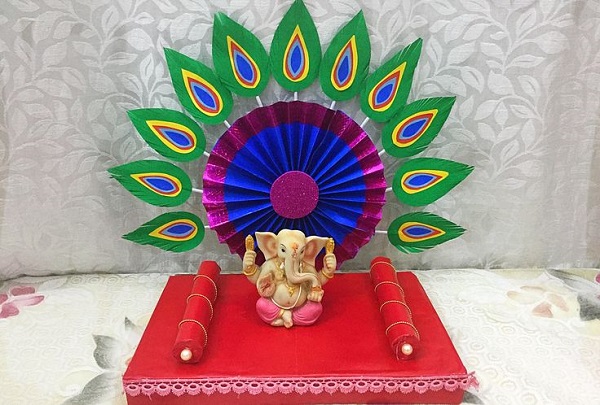 DIY Ganpati decorations are a fun and inexpensive way to show off your artistic side. For example, create an arch of peacock feathers by taping together sheets of contrasting colours; this will complement the glittering sphere in the background. A handmade platform draped in a crimson pastel sheet would be a nice finishing touch for your Ganesha home decor.
16. Readymade Ganpati Decoration: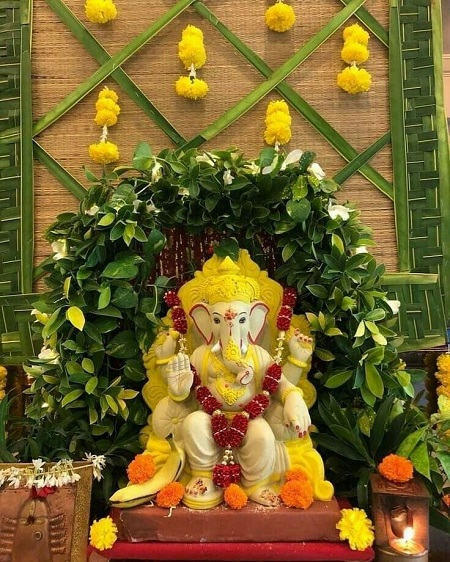 Celebrate Ganesh Chaturthi by putting up this readymade Ganesh decoration. Bring home this stunning statue of Lord Ganpati, painted in white and yellow and perched on a brown marble throne adorned with a lavish usage of artificial mango leaves. The contour in this Ganpati decorating background is a bohemian wall with yellow marigold flowers and banana leaf suspensions.
17. Moon Decoration for Ganesh: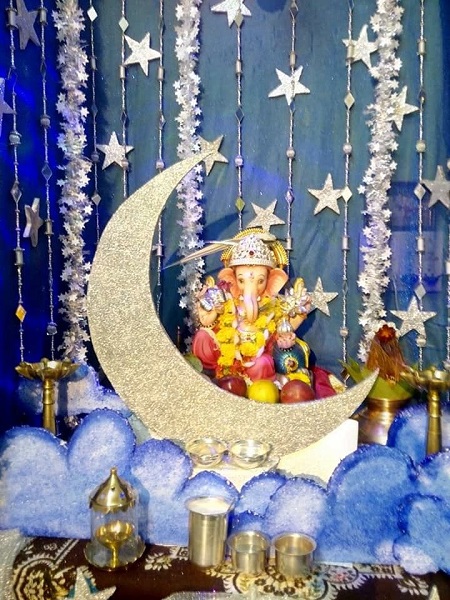 A moon-based theme idea for a Ganpati decoration at home is not widely used, but it can look like this if done correctly. A blue backdrop adorned with strings of silver-coloured stars and ferns draped against the roof creates the ideal setting for this Ganpati moon decoration. The silver moon next to the Ganpati statue is unquestionably the highlight of this Makhar Ganesh decoration.
18. Mountain Decoration for Ganpati: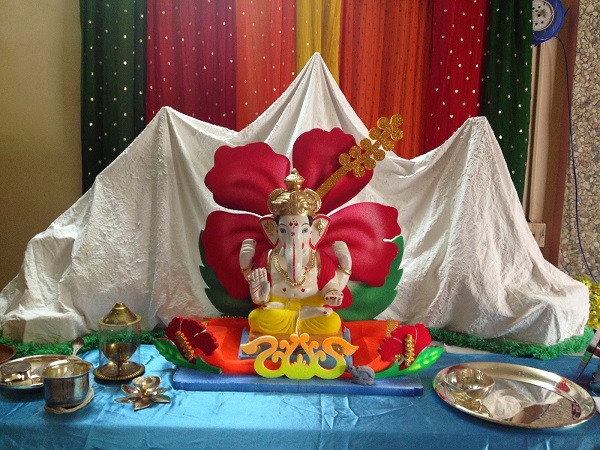 In Ganesh Chaturthi decorations, white backdrops are very popular. The inclusion of the white sheet to form a snow-capped mountain-like structure in reference to Kailash, however, adds an element of surprise. The complete Ganesh home decor revolves around the astonishing Ganpati statue at the centre of this setting, embellished with an artificial lotus at the back of its head.
19. Coconut Decoration for Ganesh Chaturthi:
You've probably seen coconuts used in Ganesh decorations before, but have you ever seen a coconut decoration for Ganpati? A one-of-a-kind representation of real coconut fruit, ideal for traditional Ganpati decorations. The entire construction is a massive cracked coconut composed of grass on the outside and white sheets on the interior, at the centre of which stands our Lord Ganesha.
20. Marigold Flower Decoration for Ganpati:
By stringing traditional brass bells at the end, this Ganesh decoration puts a modern spin on marigold garlands. The garlands, which are infused with natural green ferns, are used to accent the overall structure of the background. The overall appearance of the marigold garlands complements the yellow-draped platform of Lord Ganpati's throne, making it an ideal marigold flower decoration for Ganpati.
21. Waterfall Ganesh Decoration: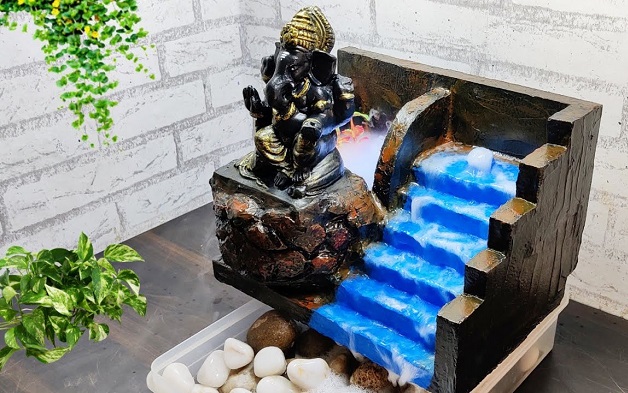 A stunning waterfall Ganesh decoration is created in the above design. The entire waterfall construction is carved out of a solid brown wooden block with a black Ganpati statue affixed to it. To give this Ganesh Chaturthi decoration a more realistic appearance, a combination of white and brown pebbles is utilized to build the waterfall's base, and a fine white greasy material is used to simulate the water on top of the blue-painted stairway.
22. Tree Decoration for Ganpati: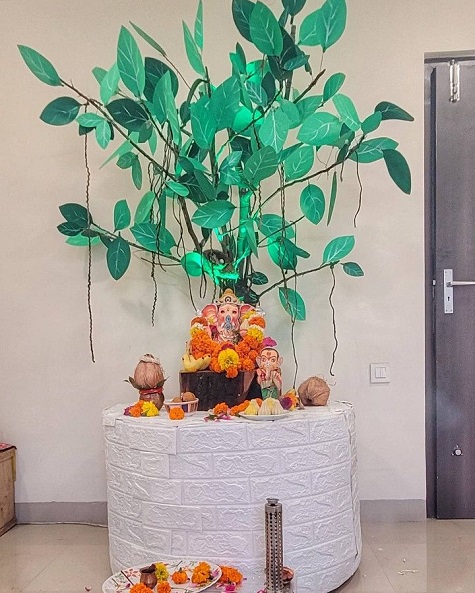 This Ganpati tree decoration is an expression of the original Tulsi tree structure utilized for morning devotional routines back in the day. For the concrete structure for this Ganesh decoration, use an artificial green tree that grows out of the spherical white base. Finish by complementing an actual statue of Lord Ganesha with natural flowers and fruits to give it a more authentic look.
23. Grass Decoration for Vinayaka Chavithi: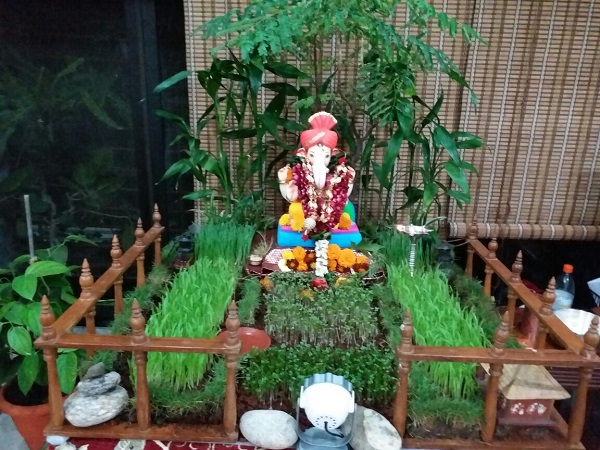 It's not hard to make a Ganpati decoration out of only green things. Even though this grass Ganesh decoration isn't entirely natural, it's a great way to cut down on the number of artificial stuff you use. This Vinayaka decoration is set around a farm theme which includes different types of grass planted in mud to represent crops, surrounded by a wooden fence.
24. Bamboo Decoration for Ganpati:
An outstanding Gauri Ganpati decoration concept is to place the Ganpati Statue in an embellished rural hut made of bamboo poles, straw, and grass. The roof of this Ganesh decoration is readily made by binding dry grass together and attaching it tightly against bamboo poles. Then, the perfect village look is accomplished by lighting diyas, hanging lanterns, and making an artificial grass floor.
25. Lotus Decoration for Ganesh Chaturthi: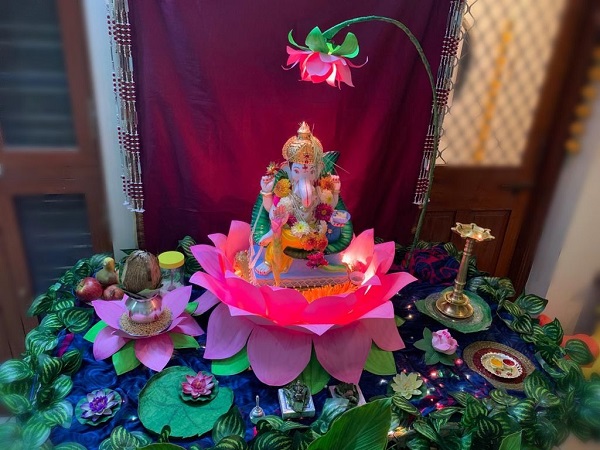 This Ganesh Chaturthi decoration idea will undoubtedly result in a gorgeous arrangement. The position of the giant lotus is used to house the statue of the deity surrounded by other elements. The goal of this lotus decoration for Ganpati is to resemble a natural marsh, which is accomplished by overlaying a foundation layer of blue cloth with neatly placed floating green leaves.
Decorating your home for Ganpati can be as simple or elaborate as you like. Flowers such as lilies, orchids, roses, and marigolds are commonly used to adorn Ganpati. You can also use colourful lights or be extra creative and make decorations out of cardboard and paper. Now that you have an idea about different ways that you can do your Ganesh decorations, have fun adorning your beautiful home for Ganpati Celebrations this year.