The best steel gate design ideas for your home with photos are featured in this post from a wide range of steel gate design patterns. We trust it will be useful to you for finalising the design of your steel gate. You probably spent a lot of money building your dream home, and since the front gate design sets the tone for the entire property, it is crucial that you pick one that fits your needs in terms of aesthetics, location, and price.
Benefits of Steel Gate Designs:
Superior Strength: If the security of your home is the most important consideration when choosing the primary gate design for your home, using steel in your front gate design is always a great idea.
Durability: Steel is resistant to corrosion, making it more durable than timber or iron gates in terms of longevity.
Flexibility: Steel is adaptable, so you can incorporate a variety of designs and patterns in the layout of the primary gate.
Elegance: Steel has a gleaming shine that gives your front gate design a sheen and an air of refinement.
Simple and Best Stainless Steel Gate Designs For Home In India 2023:
Here are our 10 latest and modern steel gate designs for home. Let's have a look at them.
1. Modern Stainless Steel Gate Design: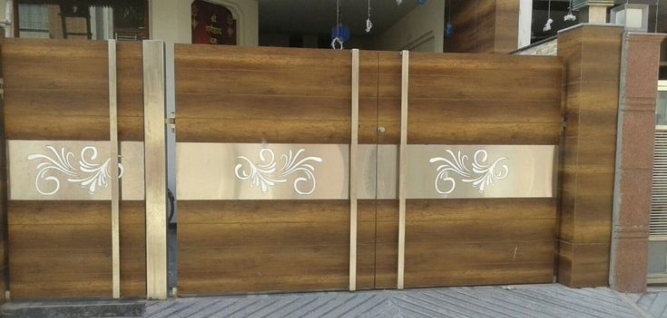 This steel gate is the most reliable choice available among the many alternatives currently available on the market because of the hinged mechanism. At your home or place of business, you can install it as an extra security measure. This modern steel gate can be physically opened and closed. There are many colours available for it, and one of them is black. This sort of steel gate costs between Rs 200 and Rs 300 per square foot.
2. Contemporary Stainless Steel Gate Design For Home: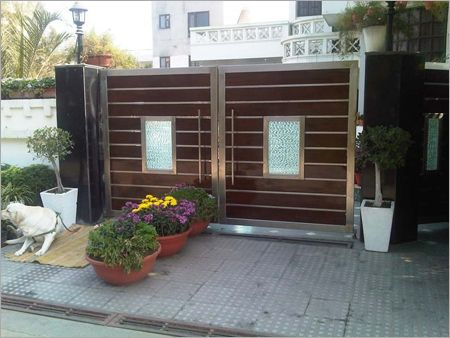 If you're looking for a steel gate with a modern design, this one is a great option because it has a customizable framework and a polished surface that won't rust. It is an attractive addition to your home because it has a mechanism that enables it to swing. This sort of steel gate costs between Rs. 850 and 950 per square foot.
3. Swing Steel Gate Design:
Steel gates can be made in a variety of ways. The swing gate is one of the most well-liked. This kind of gate often has a metal arm attached to it from above by a hinge and from below by an axle as the mechanism. It is simpler for people to enter and exit thanks to the ability of this type of gate to open at any desired angle by the owner.
4. Steel Driveway Gate Design:
A unique driveway gate is required if you have a car and want to park it inside the building. These gates are made to let you drive without being concerned about collisions. Look at this steel swing gate that opens up so that your automobile can drive right through it. Also, keeping them automated saves a tonne of time and work.
5. Sliding Steel Gate Design: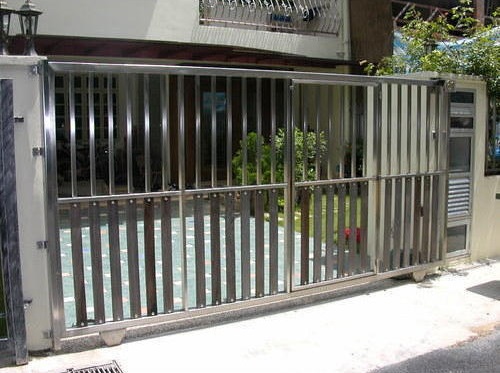 Commonly utilised in both residential and commercial structures, sliding gates have also been modified to offer a more dependable method of traffic management. A system that either a person or any kind of robot can use with ease should be used. As a result, there is no longer a chance of human error-related accidents.
See More: Latest Pop Ceiling Designs for Hall
6. SS Steel Gate Design:
When it comes to securing your home, don't cut any corners. This sturdy steel gate guards your property against the outside environment. Due to its enormous size and menacing spikes, it can serve as a deterrent to intruders. The elegance of this gate lies in its open layout, which allows everything to be seen without opening it.
7. Fancy Steel Gate: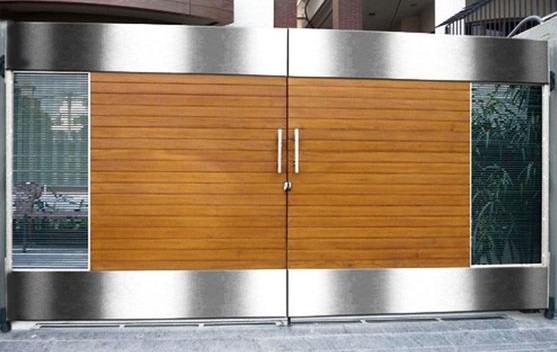 The steel gates are made of steel, a pricey, heavy, and long-lasting metal. The elegant steel gates, on the other hand, look good and may be made to resemble a variety of things. There is no need to be concerned about the metal exterior being rusted or damaged because it is simple to maintain and clean.
8. Steel Railing Gate: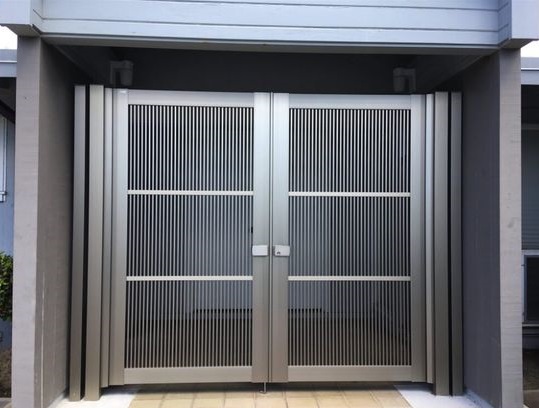 The design of a steel railing gate is ideal for parking, security, or aesthetic reasons. This design is crucial because it increases the amount of privacy in a house or apartment by limiting access to the backyard or residence. The layout also provides the house with an upscale appearance and feel.
9. Steel Main Gate Design For Home: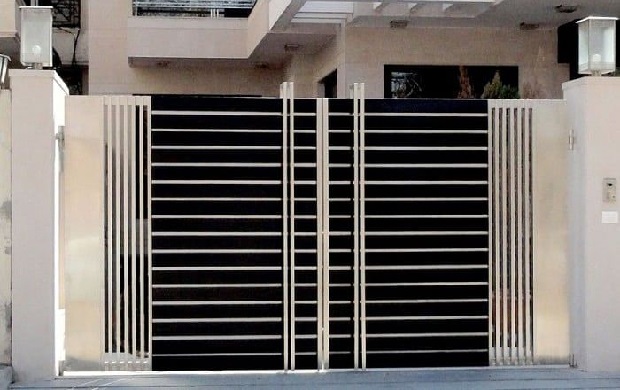 Here is a contemporary design that will leave a lasting impact on your visitors. Your personal style and taste are reflected in the basic steel gate design. Even large vehicles can fit through the double open, swing gate, which opens up widely. There is a safety latch inside to stop unauthorised entry.
10. Front Steel Gate:
You may definitely attempt the city black style for a front steel gate; it is sleek and modern but also quite attractive and secure. This style of the gate will provide you with the privacy you require without detracting from the outside theme of the property if there is a lot of pedestrian activity outside your front gate because it will contribute to the softness and blend in nicely with the surroundings. The steel gates come in a variety of lasered designs as well.
See More: Modern Tiles Designs for Hall
Steel is a malleable substance that can be shaped and formed into a variety of forms. Additionally, steel fences protect your house from break-ins. Find the ideal steel gate using our advice, whether you need one for protection, fashion, or both!