False POP ceiling designs can be used to hide central air conditioning units or to cover plain ceilings in any room of the home, including the living room, bedroom, dining room, or kitchen. False ceilings can be customized in various colours, shapes, and sizes to make your living room appear opulent and grand, with options ranging from contemporary to intricate traditional designs. Here are instructions for installing plaster of Paris (POP) ceilings in your living areas, as well as a catalogue of POP ceiling designs for hall. Check out these 10 simple and best POP ceiling designs for hall with images in 2023.
Simple and Modern Pop Ceiling Designs For Hall Photos 2023:
Here are our 10 latest and best pop ceiling designs for hall pictures 2023. Let's have a look at them.
1. Curved False Ceiling Design For Hall: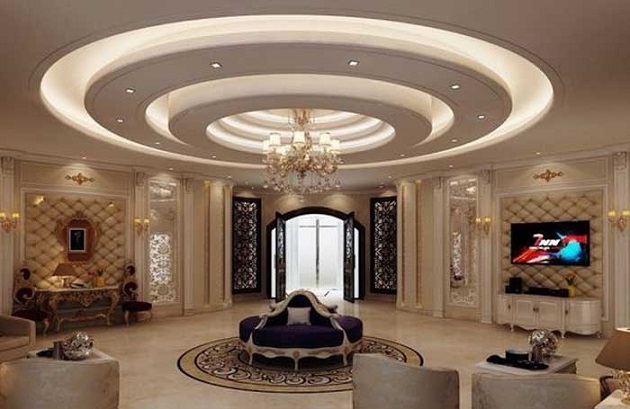 Although square and rectangle POP ceiling designs are no longer popular, you are not required to use them. So you can use this plus minus pop design for your gallery or create a lovely and modern look for your home's hall with circles, curves, and arcs.
2. Central Pop Ceiling Design Ideas For Living Hall: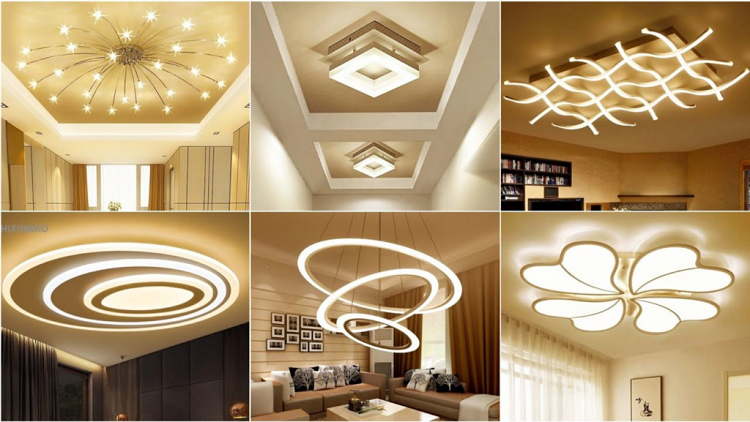 You can make a single centrepiece if you don't want to work on the ceiling as a whole. Consider it to be your POP chandelier. It can be as large and intricate as you like. If it's more convenient for you, you may also put a fan or even a light in the centre.
3. Simple POP Ceiling Design For Hall: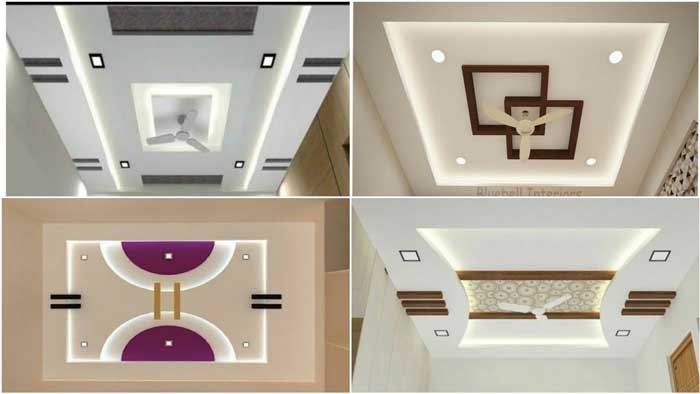 The appearance of your faux ceiling and home will be significantly brightened by choosing an attractive lighting fixture. A pop false ceiling design for the hall is one of the easiest ways to improve the appearance of your living space. Making use of LED lighting in the POP design will make your area appear more upbeat and welcome to guests. The good news is that you can always experiment with alternative forms and colours that contrast with your current décor by adjusting the suspended ceiling to your liking.
4. Latest POP Ceiling Designs For Living Room: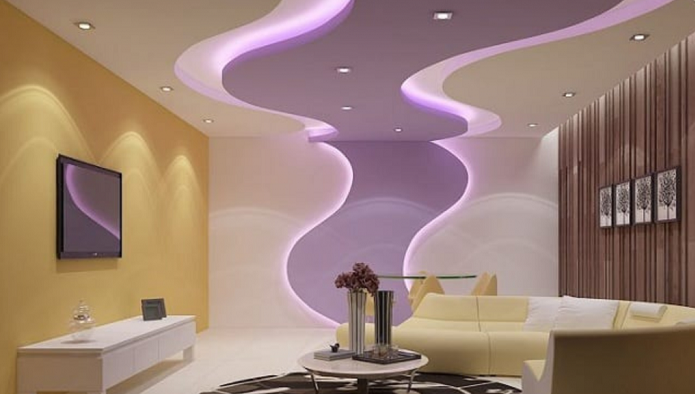 A suspended ceiling can add some variety to a drab room. It must, however, blend in seamlessly with the walls. Rich patterns in living room POP design ideas can produce believable and alluring sensations. To add some drama and provide the illusion of more space, hang spotlights from the ceiling.
5. Contemporary Pop Ceiling Design For Hall:
Tall ceilings that are ornamented with light fixtures, artwork, and other intriguing aspects are a common feature of contemporary POP ceiling design. They can give a space a sense of openness, which is ideal if you want to create a welcoming atmosphere. The ideal designs for both tiny and large-sized rooms are contemporary POP ceiling design concepts.
See More: Tiles Designs For Hall
6. Home Pop Ceiling Design For Hall: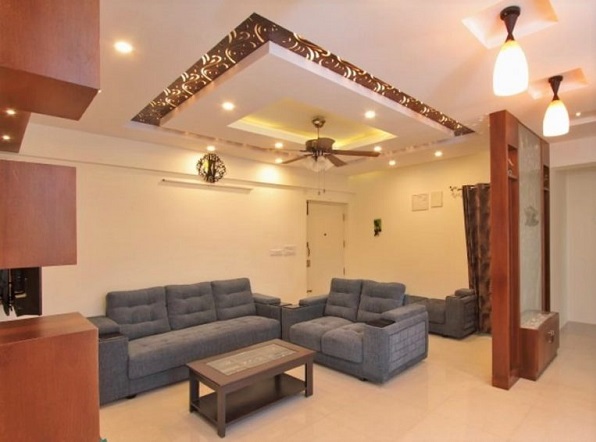 There is no reason why you cannot combine your POP patterns with additional materials to enhance the overall appearance. And lattice is a popular design, whether it be used for false ceilings, door designs, or even room divider screens. Just look at this specific design, which features a suspended and recessed tray ceiling set against metal latticework. Your POP designs for hallways will benefit from this!
7. Best Pop Ceiling Design For Hall: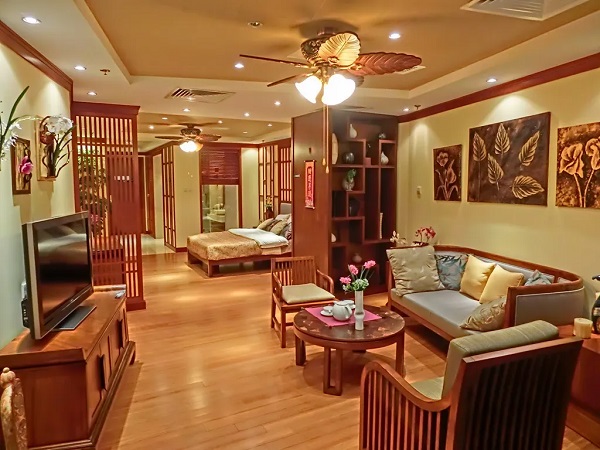 One of the easiest ways to give your living space a sense of beauty and elegance is by installing numerous mood lighting fixtures in your POP ceiling. The biggest advantage of a POP false ceiling is that it can easily hide the wiring for lighting fixtures while also giving your ceiling a clean appearance.
8. Modern POP Ceiling Designs For Hall: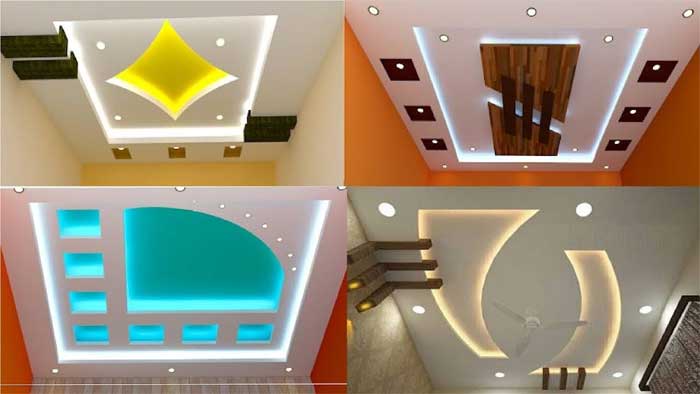 The first thing that comes to mind when considering living room ceiling designs is a white faux ceiling. But why limit yourself to white when you can add colour to your POP ceiling designs? Consider incorporating these POP colour schemes into your pop hall design for a fresh and appealing look. Your choice of colours for your false ceiling design may be influenced by your home's colour scheme or general décor.
9. Wooden POP False Ceiling Design For Hall:
False ceilings made of wood are suspended ceilings that are either made of real wood or have a wood-like appearance. Laminates, veneer, or paints can be used to create the exterior hardwood imitation. These ceilings consistently succeed in bringing warmth and flair into your house.
10. POP Ceiling Design For Square Shape Hall:
This is a square-shaped hall's modern and most recent POP false ceiling style. With the white shade at the POP's borders, it looks fantastic. With a square shape, brown shades in the middle, and white colour POP, it is the ideal ceiling hall design. This POP false ceiling style has a very low cost, making it very simple to use.
See More: Steel Gate Designs For Home
You can spend time with your loved ones virtually in locations like your home. False ceiling designs can give your living area a chic and appealing appearance. These low-cost, straightforward POP design ideas for hall can help you increase the area's aesthetic attractiveness. Don't neglect to try new things and use your creativity to give it a more unique flair.
The POP ceiling can be used in a variety of ways, whether it's in your hallway, bedroom, or any other area. Always pay careful attention to your POP design concepts to make sure they blend seamlessly with the rest of the home's furnishings and decor.