Mehndi is an Indian ritual that plays a prominent role on many occasions. Finger mehndi is one such aspect that helps in enhancing the beauty of hands. In recent times, women are much interested in finger mehndi designs. These designs vary from the most simple to elaborate type and keep on changing every year.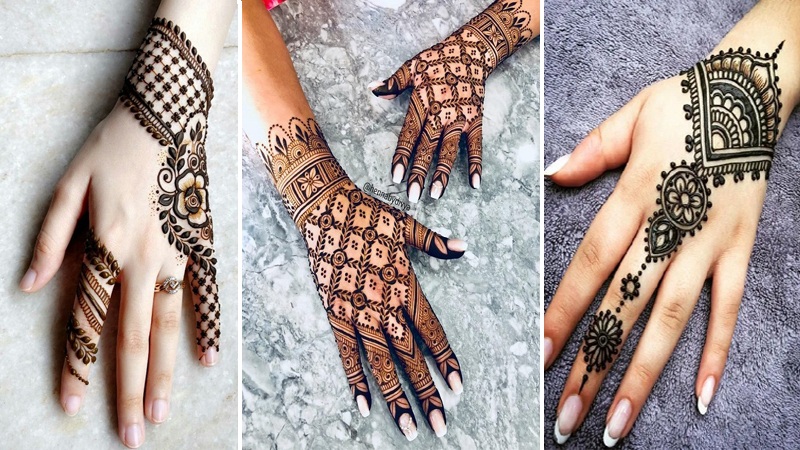 Simple & Modern Finger Mehandi Designs Images:
The list of 15 beautiful and stylish finger mehndi designs pictures gives a stunning look to your hands below.
1. Simple Finger Mehndi Design: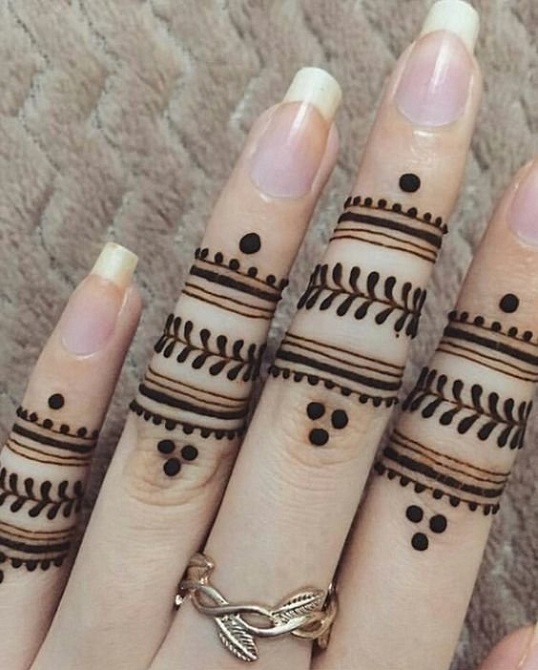 This is the basic finger Mehandi pattern which is simple yet pretty. Easy patterns can involve flowers, leaves and dots as well to give a minimalist look. Here we used only lines and dots for a very casual look. These simple designs go well with casual wear.
2. Floral Finger Mehendi Design: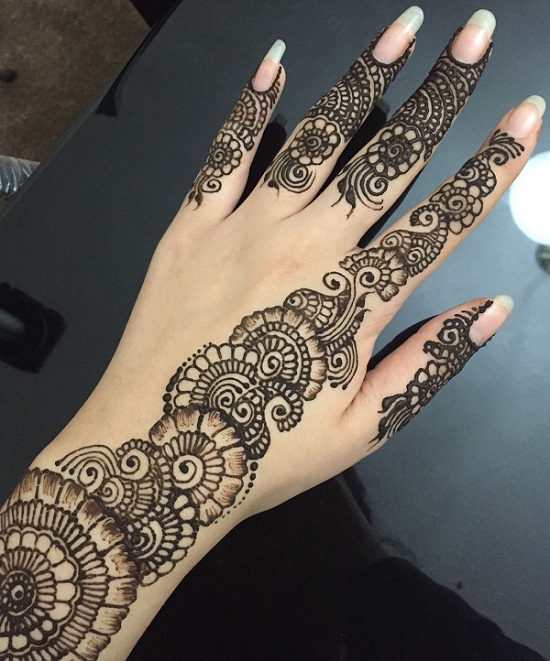 Floral is the most chosen pattern in finger mehndi design. These come in different motifs along with leaves, lines and dots. Floral patterns are evergreen and never go out of trend. It can be paired up with any ethnic wear to get a stunning look.
3. Middle Finger Mehndi Designs Latest:
Middle-finger Mehendi designs are similar to jewellery patterns. These designs come in many variations like rings, floral and many more. Here the design started from the fingertip and continued towards the wrist, thereby forming a bracelet at the end. These patterns give a great look when paired with casual outfits.
4. Jewellery Pattern Finger Mehndi Design: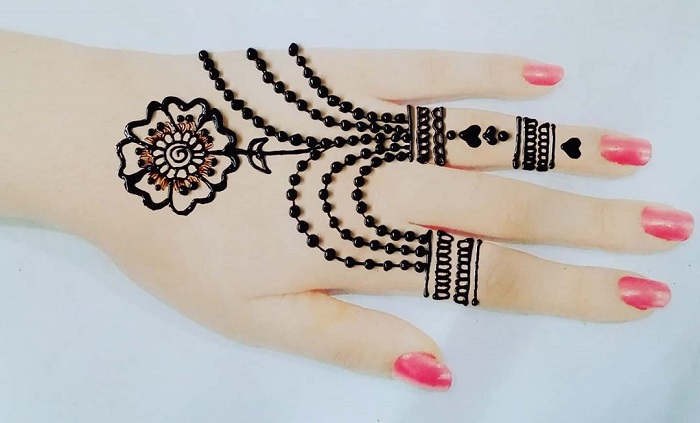 This design pattern has been named under its appearance as an ornament. It is created using a chain connecting the ring finger and index finger. Jewellery style designs are trending in a fashion that gives traditional attire.
5. Easy One Finger Mehandi Design: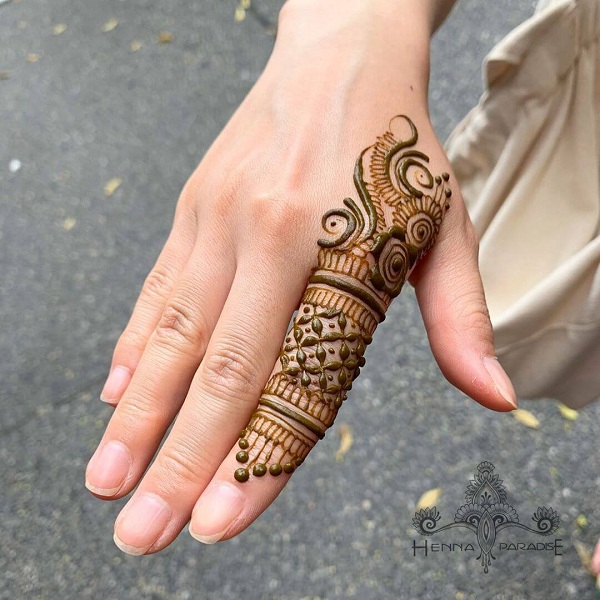 This depicts the simple form of Arabic mehndi. Here the pattern starts with the index finger and runs towards the wrist. These come in many variations with a bold finish, thereby giving a chic look to the hand. One-finger patterns go well with casual outfits.
6. Simple Ring Finger Mehandi Design: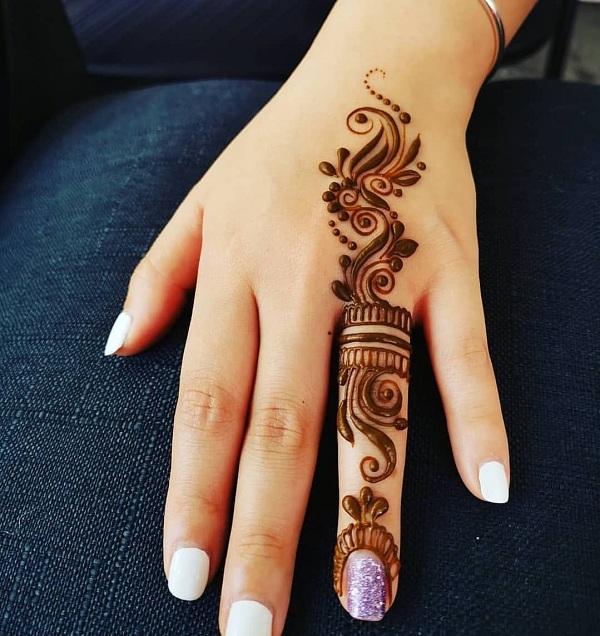 As the name itself suggests that this pattern is designed for the ring finger itself. Ring finger designs can be of various motifs like flowers, lines and bands. These give a very simple and classy look for hands. It looks best when paired with ethnic outfits.
7. Criss-Cross Mehndi Design For Fingers: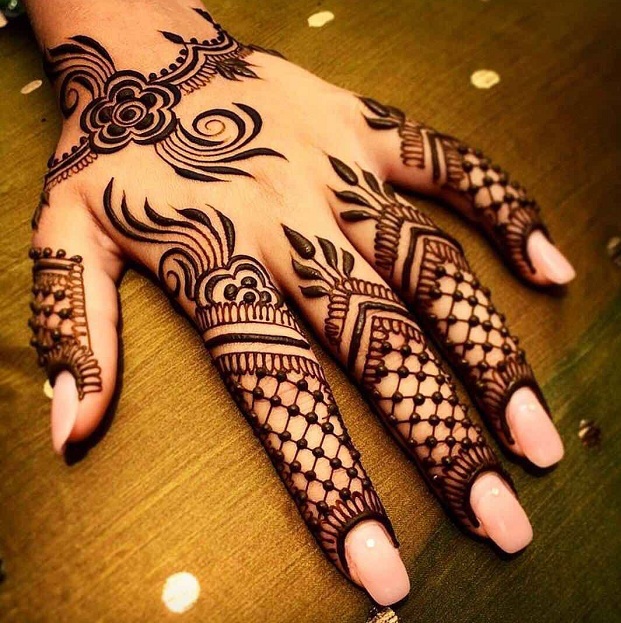 Desi women mostly prefer the criss-cross pattern in Mehendi designs. This is a different pattern as the spaces are filled with criss-cross lines and dots at the end. The criss-cross design resembles a net by its appearance. This can be paired up with any indo-western or traditional outfit for a gorgeous look.
8. Little Finger Mehendi Designs Simple:
Little finger mehndi designs have been trending in recent times. Here the pattern consists of leafy bands and small blocks. This particular pattern looks like an ornament and gives a gorgeous look to the entire hand. Little finger Mehandi goes well when teamed up with any ethnic outfit.
9. Finger Mehandi Designs Arabic: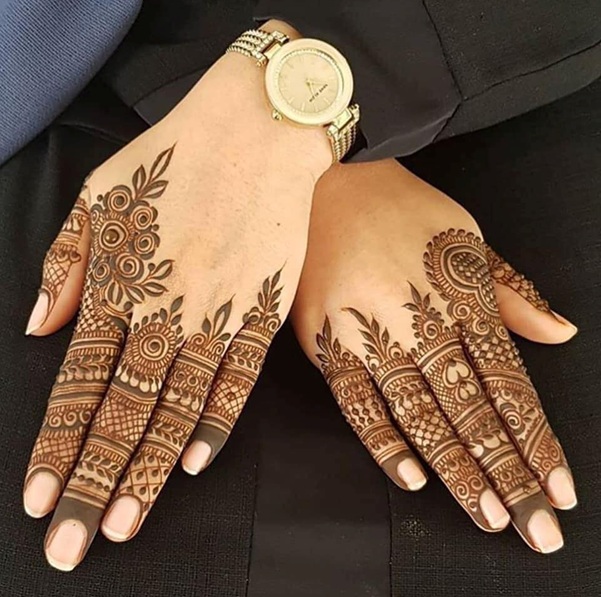 Arabic style of finger Mehendi has been most popular for many years. This particular style uses bold finishing and sharp edges, which can be easily applied on both hands and feet. We also have various patterns under Arabic Mehandi designs. Arabic patterns are well suited to casual outfits.
10. Front Finger Mehndi Design Easy:
Mehendi designs on the front side of fingers look beautiful for everyone. Here we have the pattern with bands and flowers on fingers with closed fingertips. This particular style is recommended for a minimalist, traditional attire.
11. Khafif Finger Mehndi Design New: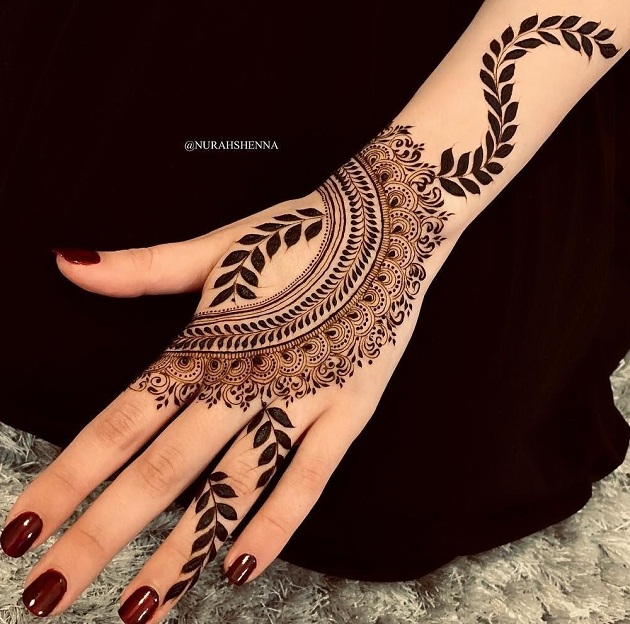 Khafif is an Arabic word that means intricate and complex. These designs provide a more detailed view of motifs. Khafif designs are filled with bolder strokes and use different patterns. These designs consist of variations like blocks, swirls, floral elements and shading. Brides prefer mostly khafif style for a heavy look.
12. Kashee's Finger Mehndi Design: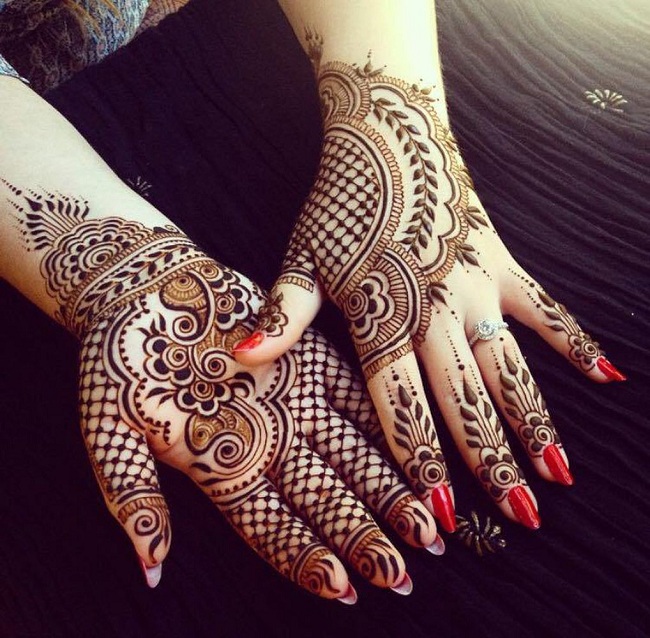 Kashee's finger mehndi is one of the popular designs in Pakistan, which is also trending worldwide these days. These designs look more stunning by adding various patterns like swirls, floral motifs and glitter. Here we used a criss-cross pattern and leafy floral with a bold stroke which gives a pretty traditional look.
13. Symmetrical Finger Mehandi Designs: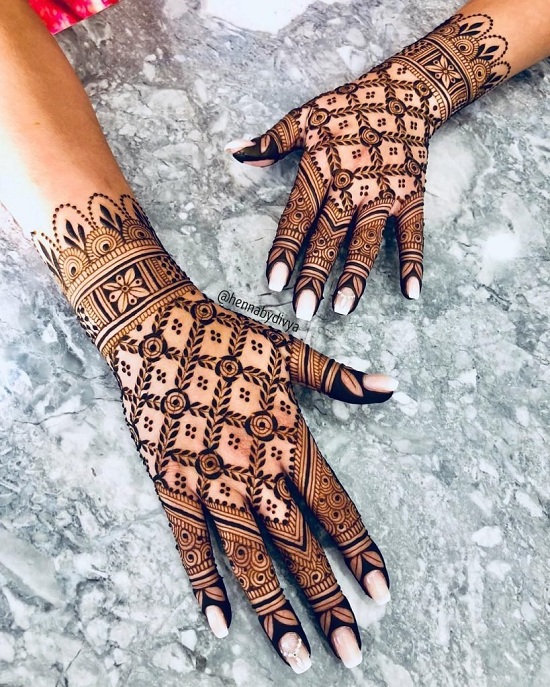 Symmetric Mehandi uses the same design on both hands to give an identical look. These designs look great when joining your hands to show off Mehandi. The designs are maybe both simple and heavy. Symmetrical patterns are perfectly suitable for brides and are also trending these days.
14. Bridal Finger Mehendi Design Beautiful: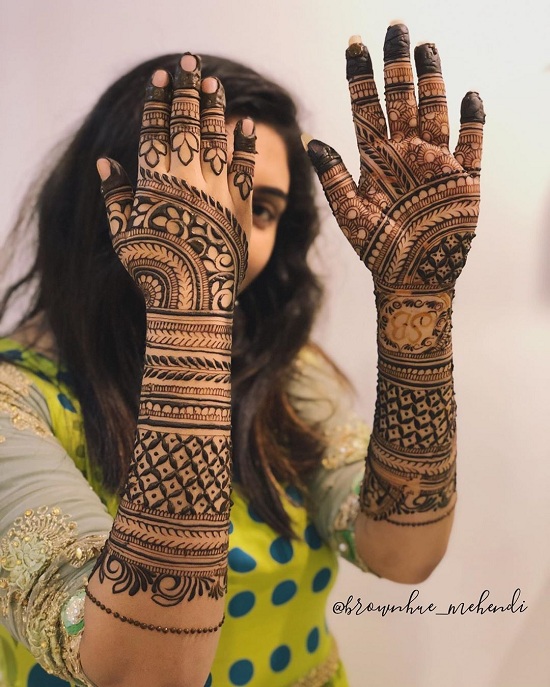 Finger mehndi plays a crucial role in weddings, especially for brides. Bridal Mehendi must be heavily designed to enhance the beauty of the bride. These patterns also come in many variations, including florals, Arabic and many more.
15. Leg Finger Mehendi Design Stylish: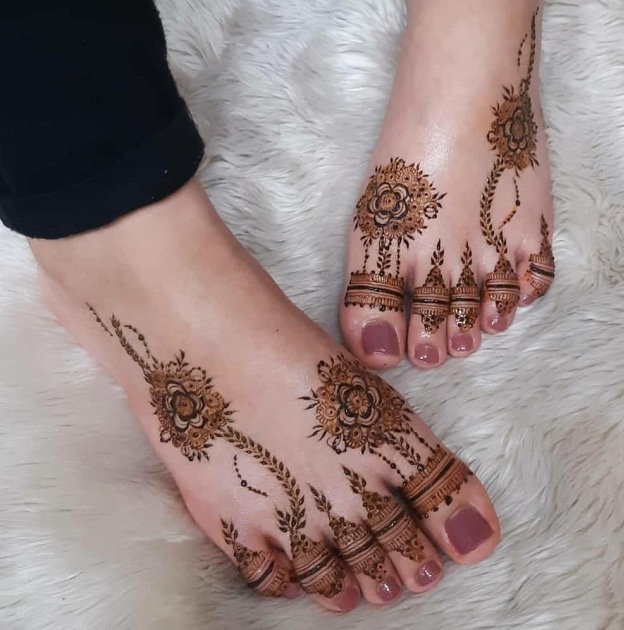 Mehndi for leg fingers is also trending these days. Likewise, hands and legs also have various Mehandi patterns. Here we have the design with bands for each finger connected to a flower on the feet. These patterns look well with any traditional wear.
These are the 15 easy and best finger mehndi designs pics. I hope this article provides you with useful information and helps you find the inspiration for your next mehndi look. Let us know your favourite design among these. Comment us below.