A bouquet is more than just a bunch of blooms; it's a carefully crafted composition that tells a story. From the selection of the flowers to the way they're arranged, each bouquet has its unique personality. Whether it's a special occasion or just a simple gesture of appreciation, a beautifully arranged bouquet of flowers can brighten someone's day and convey emotions that words cannot. From delicate roses to cheerful sunflowers, this article has flower bouquet designs to suit every occasion and taste. Join us as we delve into the art of creating your own floral arrangements.
Unique and Best Flower Bouquet Designs In 2023:
Below is a specially curated list of the best 20 floral bouquet combinations to get inspired. So stick with us till the end to know all about it.
1. Beautiful Bouquet of Flowers:
Indulge in the luxurious beauty of lavender with this regal flower bouquet of pink and white tulips. The delicate blooms are nestled amongst lush white ferns, artfully wrapped in a sumptuous lavender shroud. The flower arrangement is elegantly finished with a coordinating ribbon and a charming message card at the base, making it the perfect gift for someone special.
2. Simple Flower Bouquet Design: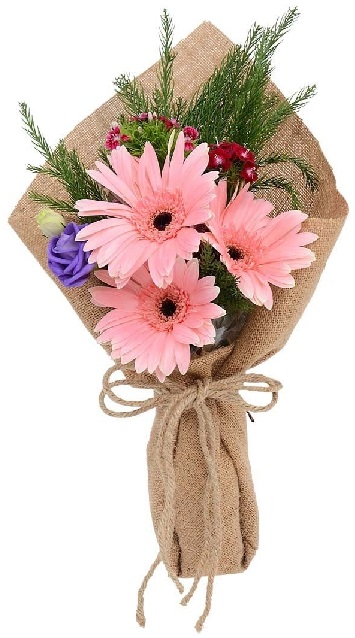 A beautifully arranged pink daisy bouquet is a stunning sight to behold! Tied with a sack thread, this flower bouquet exudes a charming bohemian and rustic aesthetic. However, the soft pink hues of the daisies create a striking contrast against the rustic sack holding this arrangement. This simple and easy DIY project is perfect for adding a touch of natural beauty to your home or gifting a loved one.
3. Small Bookey of Flowers: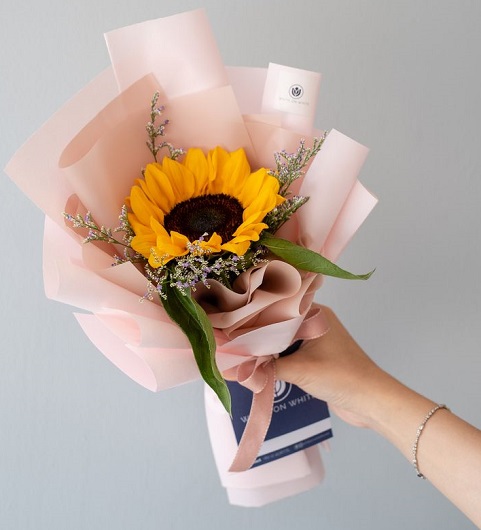 One of the unique flower bouquets is this single stalk of sunflowers with green leaves and purple ferns wrapped with a light pink sheet in Korean open stalk style. This is an affordable flower bookey perfect for graduation or Thanksgiving because sunflower signifies a bright future and vibrant energy. Additionally, the bouquet has a hollow stalk, which means it isn't supposed to have any cotton or water source. It has to be put in water once you get it.
4. Rose Flower Bouquet Design: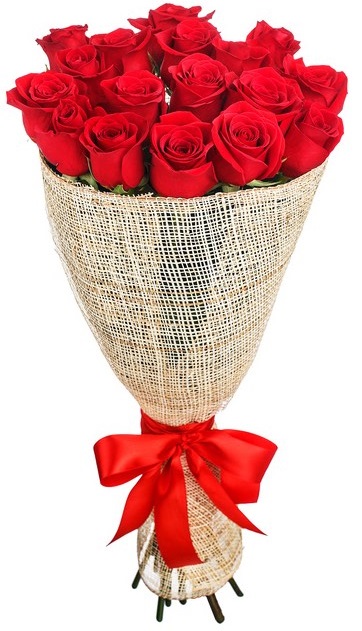 This stunning bouquet of long-stemmed red roses exudes bohemian charm with its rustic and romantic appeal. Comprising almost a dozen blooms, each rose is carefully placed in a charming brown bag, delicately tied with a bold red ribbon to enhance the colour scheme. Roses are a timeless symbol of love and passion, making this beautiful flower bouquet the perfect gift for that special someone.
5. White Floral Bouquet Design: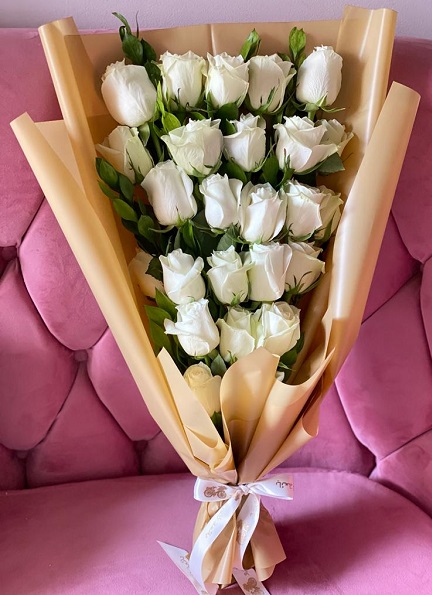 White flower bundles exude timeless elegance. Comprised of perfectly arranged blooms, a rounded bouquet of carefully selected flowers all trimmed to a uniform style and length. The flower bouquet is then tightly bound with a rich brown ribbon, complementing the look. Ideal for intimate and romantic occasions, these classic white flower bundles are the perfect addition to any minor indoor celebration.
See More: Simple Flower Decoration Ideas at Home
6. Lily Flower Bookey Design: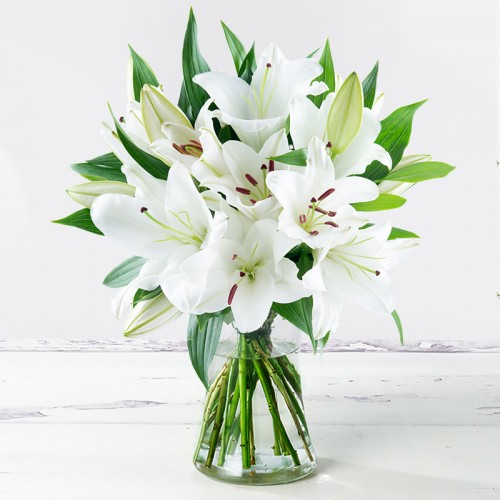 A flower bouquet of white oriental lilies is a beautiful and considerate gift for a loved one or friend who is passionate about flowers. These fragrant blooms feature long stems and lush green leaves, creating a stunning display that will add a touch of sophistication to any show.
7. Sunflower Bouquet Design: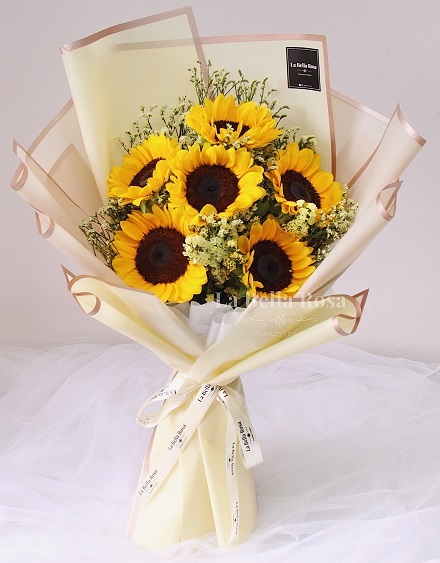 Sunflowers symbolize hope, vitality and a bright future ahead. This exquisite flower bouquet of 6 long-stemmed sunflowers, beautifully complemented by lush white ferns, is the perfect way to send best wishes to someone embarking on a new journey. The bouquet is elegantly presented in a luxurious cream-coloured cotton sheet, adding extra significance to the already stunning arrangement.
8. Lotus Flower Bouquet:
A posy flower bouquet is a timeless and cherished option among brides. This charming flower buke features a delicate arrangement of beautifully round pink lotus blooms, tastefully tied together with a ribbon. The petite bouquet size makes it perfect for brides who prefer to carry just a few stems of the same long-stemmed flower, such as the graceful pink lotus of the valley.
9. Tulip Floral Bouquet Design: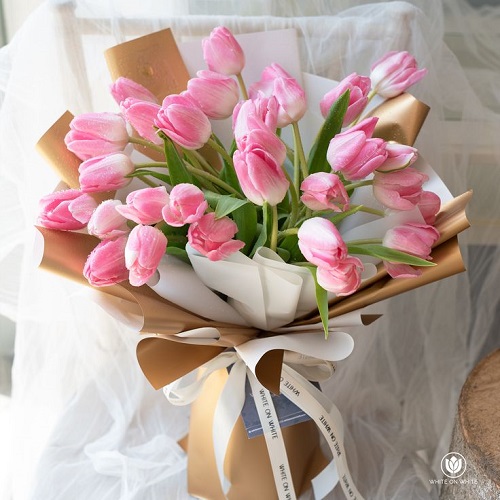 With dreamy pink tones, this Pink Paradise Tulip flower bouquet is every girl's favourite! These lovely hand-tied bunches of green leaves wrapped in a shiny brown sheet are the perfect gift for any occasion. If you want to impress the woman of your life, just find a bunch of these tulips, wrap them up with a suitable brown sheet and tie them up with a white ribbon and there you are with the perfect flower bookey.
10. Lavender Flower Bouquet:
Wrap a bunch of these beautiful natural lavender sprigs making a bouquet of flowers for a lovely gift idea that is great for weddings, hostesses, or just to let someone know you were thinking about them. Freshly picked lavender sprigs have long green stems with little buds inside their leaves that give off the smell. You can make a similar bouquet by squeezing a few flowers and wrapping them in fabric.
11. Wedding Bouquet Flowers: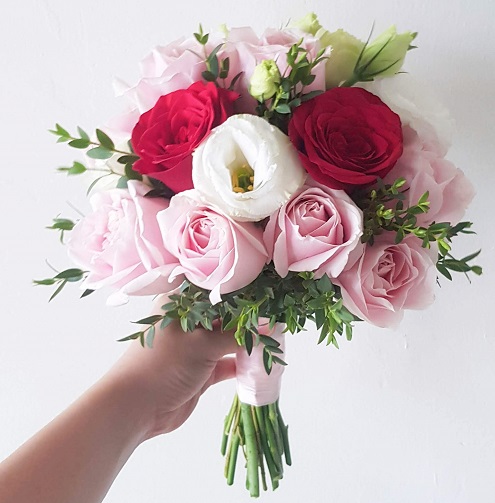 A mix of bright pinks should do the trick if you want a flower bouquet with less traditional cream colours. This beautiful Bridal bouquet flower combines three types of wedding roses in shades of blush, mid-pink, and magenta. Roses, lilac Timonium, scented rosemary, and eucalyptus Parvifolia are mixed to create a natural look. This style usually goes well with sleek wedding dresses.
12. Birthday Flower Bouquet Design: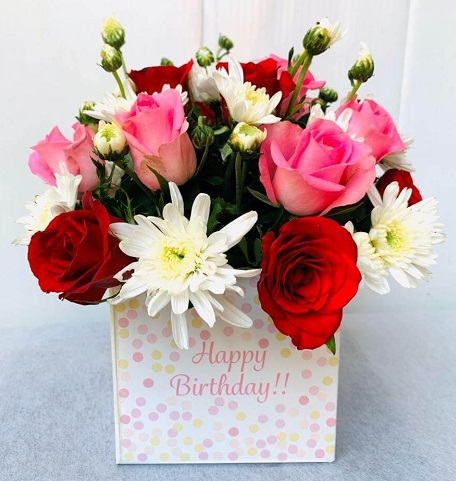 This box, which contains a small bouquet of flowers mixed with pink roses, red roses, and white chrysanthemums, is the perfect birthday present for a ladyfriend. Unlike many modern gift ideas, this flower bouquet won't take much time to make. Just pick a bunch of flowers with some green stems that are starting to grow leaves and put them in a square box with a Happy Birthday slate.
13. Bridal Bouquet Flowers: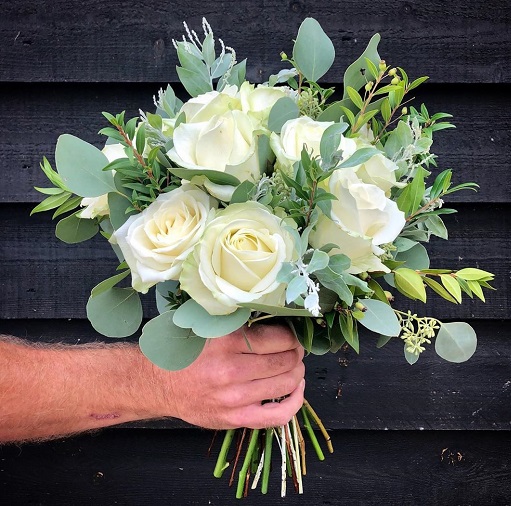 A flower bouquet is a centrepiece of any wedding ceremony and choosing one that complements the bride's dress is essential. This simple yet elegant bouquet features white roses combined with Israeli and Italian Ruscus, creating a timeless look. In addition, the delicate arrangement is tied together with a charming satin ribbon, elevating the overall look.
14. Anniversary Flower Bouquet Design:
Celebrate the essence of true love with this stunning flower bouquet of 12 long-stemmed red roses. Expertly arranged in a Korean style, this breathtaking arrangement exudes sophistication. The roses are carefully nestled among delicate white ferns wrapped in sleek black and brown paper. The bouquet is tied together with a bold red ribbon, ideal for all occasions.
15. Engagement Flower Bouquet: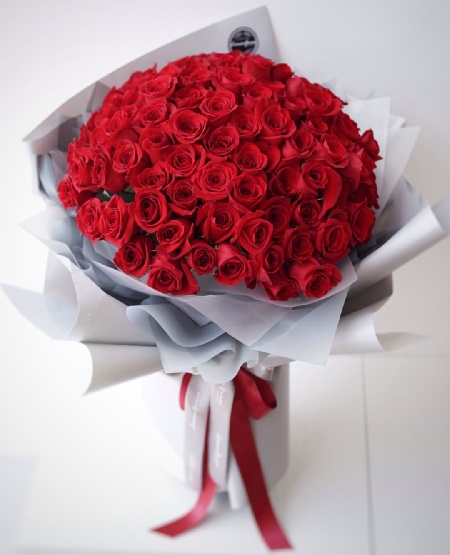 The aroma of these gorgeous fresh roses is sure to brighten the day of your special someone. To create the ideal rose flower bouquet, this bunch is made up of 50 freshly picked, stunning red roses with long branches that have been carefully tucked within fine, shiny white sheets and then fastened with a lovely piece of red ribbon.
16. Red Flower Bouquet Design: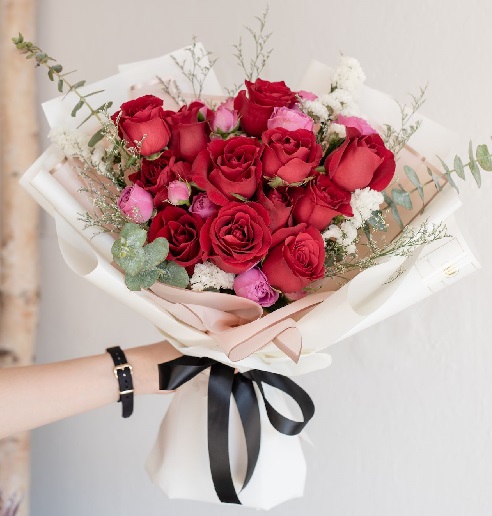 Spark the romantic senses of your special someone with this breathtaking flower buke of radiant red and blush pink roses paired with delicate white carnations. Adorn the entire arrangement with a fragrant cream cloth and finish it off with a sleek black ribbon, adding a touch of modern flair. This is an excellent gift for anniversaries, birthdays, Valentine's Day, Mother's Day, or any other special occasion.
17. Yellow Flower Bookey: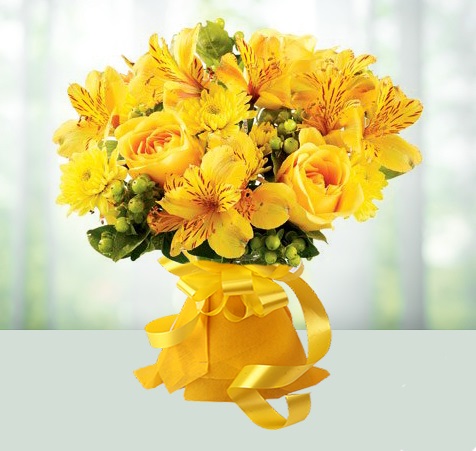 A stunning bouquet brimming with vibrant yellow roses, cheerful daisies, delicate lilies, and verdant green carnations makes for the ideal present to offer someone you've just met. Yellow flowers embody positivity and happiness, qualities which everyone desires in a companion. Furthermore, the type of flowers one chooses can reveal much about their character. So, if you find yourself in a similar situation, opt for a bouquet of sunny yellow blooms elegantly arranged and wrapped in a bright yellow ribbon.
18. Pink Flower Buke Design:
Keep an eye out for this beautiful floral bouquet of 15 Pink roses that will warm the hearts of everyone who receives them. With thick green leaves and long stems, this pink flower bouquet is beautifully wrapped in cellophane and topped with a matching ribbon bow for modern bliss. This big bunch of flowers can be a nice gift for occasions like Diwali, Bhai Dooj, weddings, and anniversaries, among others.
19. Blue Flower Bouquet:
The hydrangeas and anemones complement each other in this gorgeous flower bouquet. On top of that, long green stemmed leaves and ferns are added to this arrangement to make this stunning blue flower bookey even more beautiful. Additionally, this bunch is wrapped in a blue-and-white translucent sheet that is held together with a white ribbon.
20. Purple Flower Buke Design: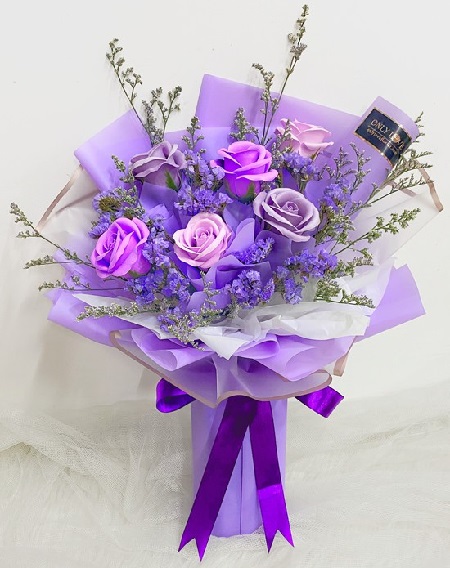 Although small, this floral bouquet of blue and purple blooms will significantly impact the bride's appearance when she walks down the aisle. The gorgeous arrangement comprises purple and lavender roses complemented with blue hues and ferns. With a translucent purple wrap and an indigo ribbon, this flower bouquet is the perfect way to bring shades of purple together.
A flower bouquet design is a timeless gift that can convey a wide range of emotions. Whether you want to show appreciation or sympathy, a well-arranged bouquet of flowers can do the trick. From traditional orchids to exotic succulents, the possibilities are endless when it comes to choosing suitable blooms for your bouquet. So next time you want to express your feelings, consider sending one of these flower arrangements.