Flower decorations are one of the first things that come to mind when we think of ways to adorn anything. Flowers offer a multitude of options in terms of colour, variety, aroma, and appearance when it comes to decorations. You can elevate anything and everything, using flower decoration ideas. Flower arrangements meet the needs of people from all walks of life, from minimalists to extravagance seekers. Putting flowers around the house is a fail-safe way to decorate.
Beautiful Flower Decoration Ideas at Home In 2023:
Below is a list of the 20 simple and best flower decoration designs for people who love the creativity with their event decoration ideas.
1. Main Door Flower Decoration: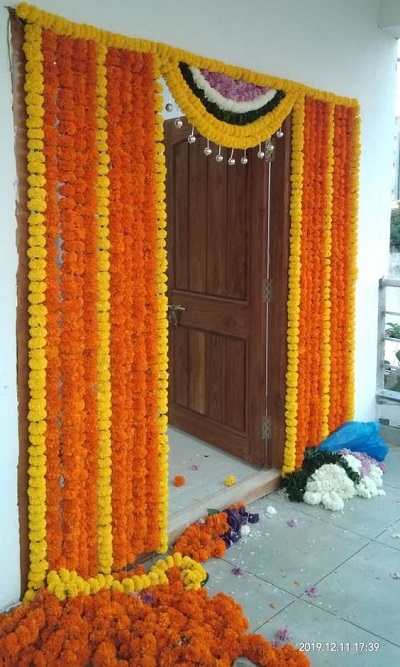 This main door flower decoration is enhanced by a DIY mango leaf toran, orange and yellow marigold flowers hung in a row on each side, and a few pink and white flowers on top that make an inverted arc to add some colour combination. As you can see in this picture, the main floral decoration at the entrance of a new house is mango leaves and marigold flowers because it's believed to bring luck to the home and its residents.
2. Simple Flower Decoration at Home: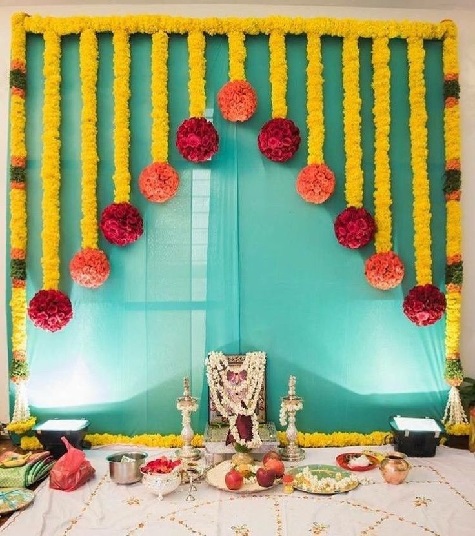 Isn't this flower-decor-at-home idea perfect for your indoor ceremonies? With garlands of yellow marigold flowers hanging in straight lines, each one ending in a small bouquet of roses, forming an inside arch, it is a beautiful sight that makes the blue background even more vivid. Whether it's a prayer ceremony or a mehndi ritual, you can keep this flower decoration out the whole time. No changes are needed!
3. Car Flower Decoration: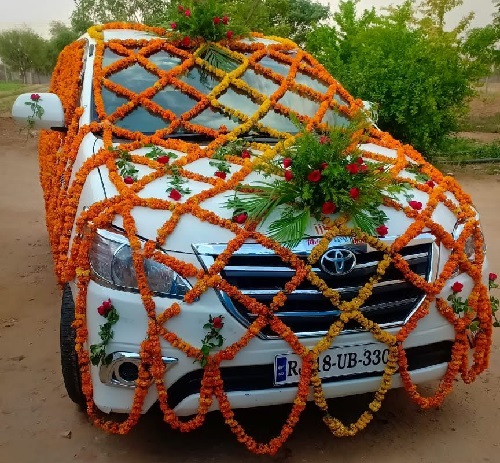 This is a representation of a traditional Indian car flower decoration method involving extensive use of orange and yellow marigold flowers to create a zig-zag pattern all over the vehicle's body, as shown in the picture. The floral decoration is finished with the addition of two freshly selected rose bouquets, one placed at the edge of the bonnet and the other placed on the sunroof.
4. Wedding Flower Decoration: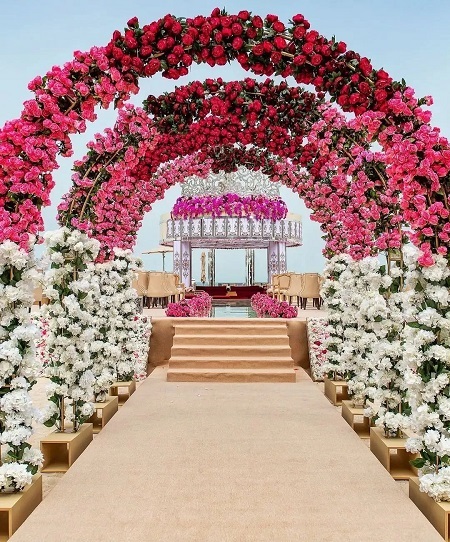 Most individuals go for bright carpets to walk down the aisle. But this, without a doubt, is the most appropriate source of inspiration for wedding flower decorations, and it manages to be both sophisticated and refined simultaneously. This floral decoration appears like a dream come true and is perfect for an engagement ceremony during the day. The brown floor mat and chair cover are the ideal complements to the contrast, created by a floral piece in the manner of a canopy consisting of pink and white flowers affixed to the arching pillars.
5. Bed Decoration with Flowers: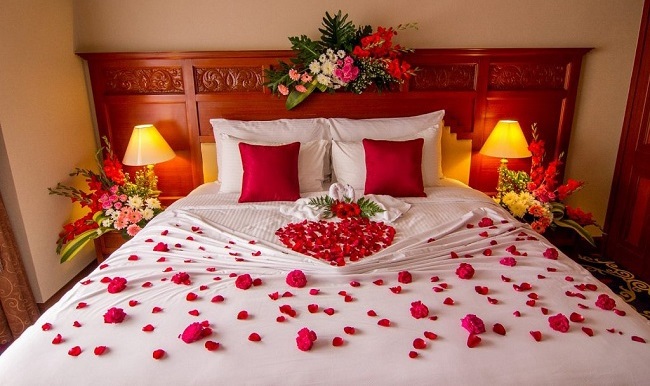 Towel Swans along with red roses is a simple but beautiful way to make your bedroom flower decoration look more romantic on the first night. The red rose petals strewn all over the white bed sheet and the flower bouquets on either side of the bed create the perfect setting to fill the room with love. Adding dim illumination to this floral decoration will make the ideal atmosphere for affection.
See More: Janmashtami Decoration at Home
6. Birthday Flower Decoration: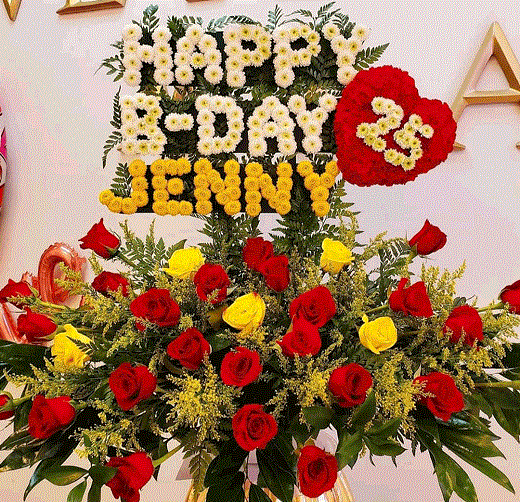 You can never go wrong with a combination of marigolds and daisies. If you want your birthday flower arrangement to be as lovely as this one, you will need a row of daisies and marigolds to form the letters. To provide an additional definition, a bouquet of fresh roses in various colours, such as red, yellow, and green, along with ferns, is used to enable the presence of natural vitality to spread throughout the environment. This flower decoration at home can be carried out on several occasions, such as mehendi, haldi, or any other daytime wedding traditions.
7. Ganesha Flower Decoration: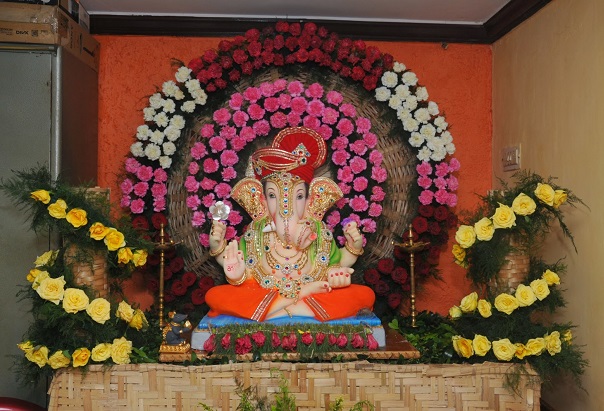 In addition to the customary Ganpati statue located directly in the centre of the structure, this floral decoration holds a pair of wooden pillars on each side to be decorated with vivid yellow roses and corn grass. The backdrop of this Ganpati flower decoration is accented with red, white, and pink daisies producing two large circular wheels over a wooden foundation. This helps to bring vibrancy and colours to the overall design.
8. Flower Decoration for Engagement: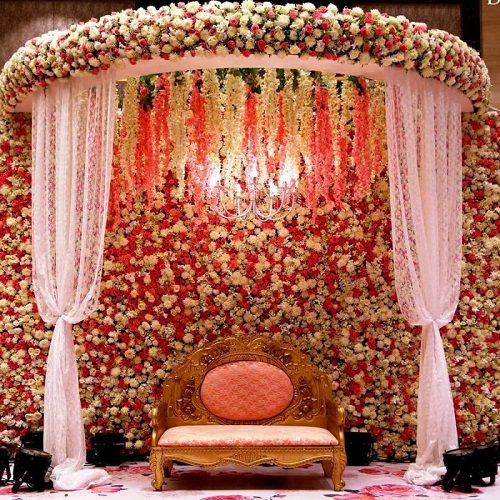 Cascading ceiling flower decorations are a lot more than just hanging drapes. They can be used to decorate the ceilings of the entrance, a mandap or stage, or the walkways. And These gorgeous floral ceilings are one of the newest ways to use floral decorations for engagement purposes. The same white, red, and orange daisies used to decorate the ceiling structure are also used heavily to complete the wall in the background. These look great and work for both daytime and nighttime weddings.
9. Floral Mandap Decoration: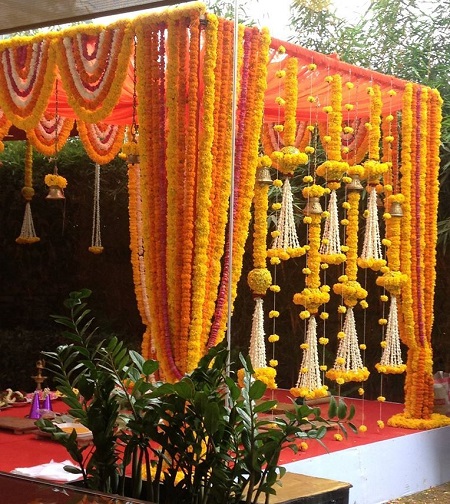 Whether you go for a mandap in the manner of a canopy or a more traditional one, decking it up with fresh floral decorations can give it that extra something. A smart strategy would be to drape the pillars with simple and traditional marigolds or mogas. This would be an excellent approach to go about it. As an additional component in this marigold flower decoration, dazzle up the ceiling of your wedding room by suspending some beautiful flower arrangements from the top.
10. Welcome Flower Decoration: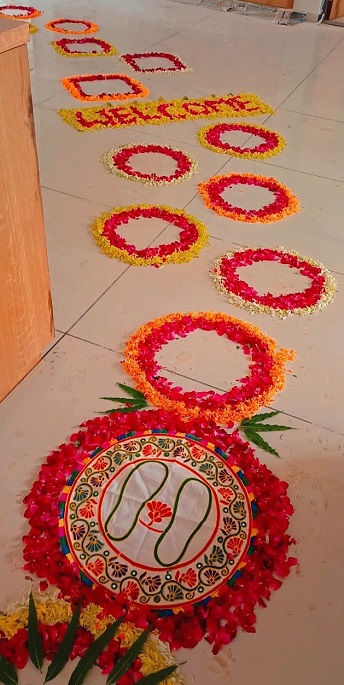 If you don't believe in extravagant flower decorations, rose and marigold flower petals would also work for a decent flower decor at home. Make your floor bloom by outlining these round and square structures with different coloured flower petals. Also, bring together flower petals of contrasting colours to highlight letters like "Welcome" and "Happy Diwali," etc.
See More: Best Christmas Decoration Ideas
11. Reception Floral Decoration: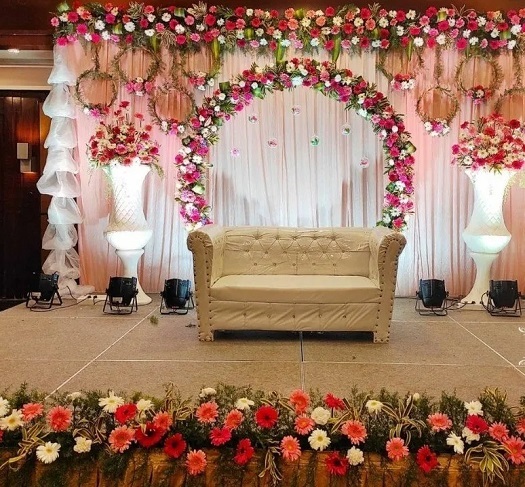 This is a simple, royal stage background that you should look at and save in your gallery for future reception flower decoration ideas. The pink and white colour scheme gives a beautiful view of flowers arranged in an arch, which makes an excellent background for your photos. From a decorating point of view, pink flowers show innocence and gentleness. Also, how the green foliage wreaths add to this floral decoration's background as a whole is absolutely astonishing.
12. Housewarming Flower Decoration: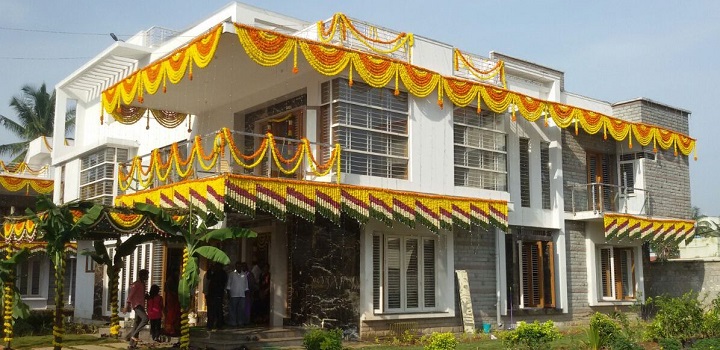 It's obvious to not think about the magic of marigold flower decorations. But look at this fantastic housewarming flower decoration made with traditional yellow and orange marigold flowers to highlight the edges of the house. Yellow signifies warmth and new beginnings, which goes perfectly well with the white walls of this house. To add something extra to this floral decoration, a small wooden mandap is also set up using green banana leaves with some additional marigold strings on the roof.
13. Seemantham Flower Decoration: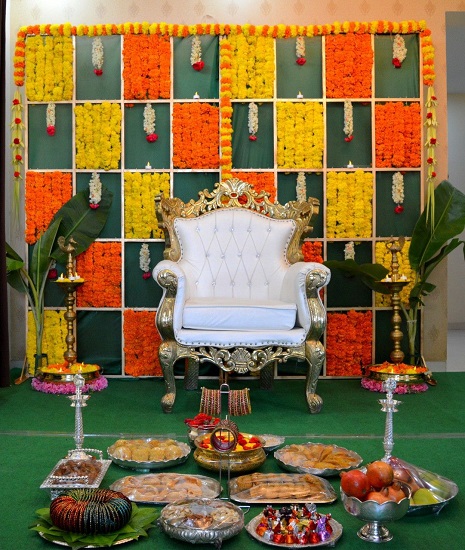 Flower walls are becoming a popular way to decorate weddings with flowers. With this flower decoration idea, you can go beyond the traditional methods of using Mogras and marigolds. Adding a bunch of short strings of marigolds and decorating them on the back wall between white custom squares makes the Seemantham flower decoration look clean and leaves room for the Mogras to be decorated in the rest of the area.
14. Cradle Decoration with Floral: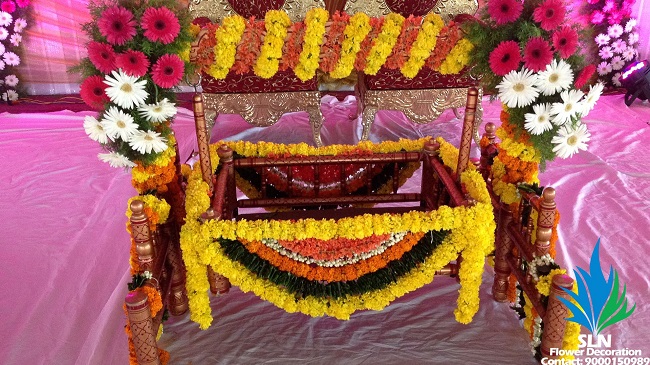 Recreate the look of Lord Krishna's cradle with this traditional flower decoration made of marigolds, mango leaves, and flowers of different colours. The top of this wooden cradle is decorated with spirals of marigold flowers, and the bottom has a string of mango leaves wound through semi-arches made of marigold flowers. Some fake pink and white daisies are at the top of the column that holds up this cradle.
15. Flower Decoration for Anniversary: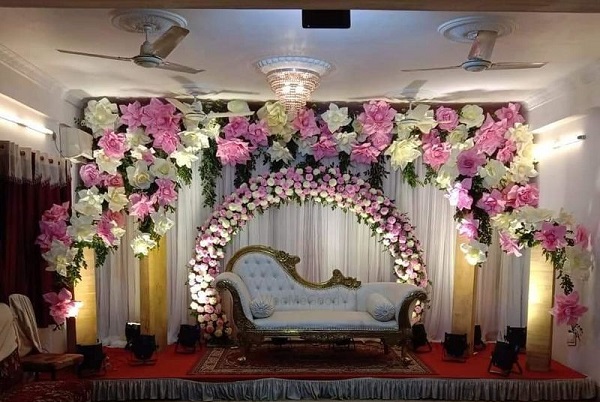 One of the sophisticated flower decorations for the anniversary stage is presented here. The backdrop, comprised of white drapes, is adorned with fairy lights, enormous flowers in white and pink tones, and green ferns. The white sofa is an excellent complement to the background arch created by the combination of pink and white roses. In addition, a chandelier at the very top of this flower design adds elegance.
See More: Beautiful Flower Bouquet Designs
16. Artificial Flowers for Decoration: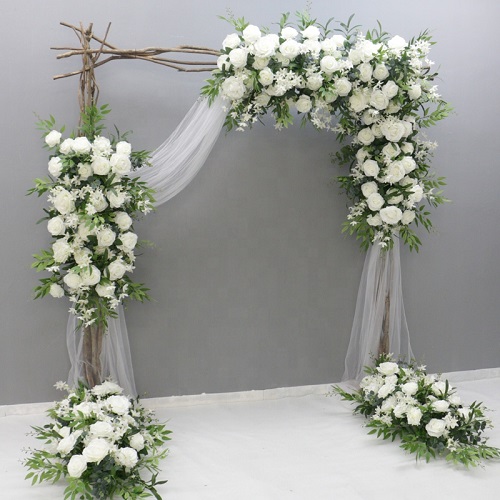 Artificial flower decoration ideas are very trendy these days, just like this picture, where the wooden structure is draped with a white translucent curtain and complemented with a bunch of white roses, daisies and green ferns at multiple positions. The saying "elegance comes from simplicity" is perfectly represented by this flower decoration, which can be used at a wedding or engagement ceremony more often than others.
17. Paper Floral Decoration:
This simple paper flower decoration with green and white flowers is just what you need if you want something easy to make. It has just the right amount of colour, with two different shades of green combined with white roses making it eye-catching. This simple flower decoration is perfect for a photo booth because it has a white background and a bunch of paper flower leaves. This makes it easy for everyone to take beautiful pictures.
18. Hanging Flower Decoration: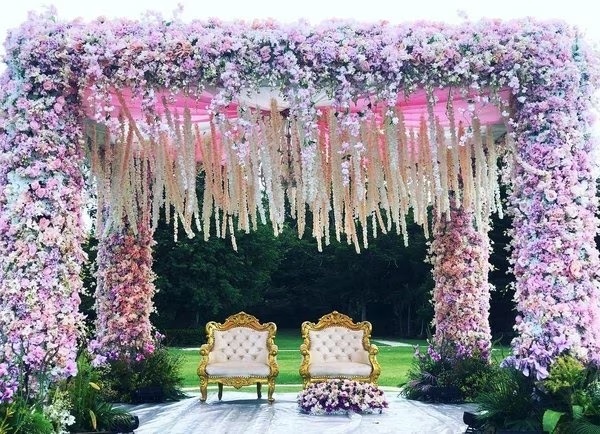 Floral setting and hanging flowers go pretty well together. If you want a beautiful and unique floral decoration, a hanging flower backdrop like this one is perfect! This flower decoration is set up in an open area so that the purple and white flowers on the pillars can draw in natural light, while the white and cream-hanging garlands supported by pink drapes on the roof add volume to the look.
19. Plastic Floral for Decoration: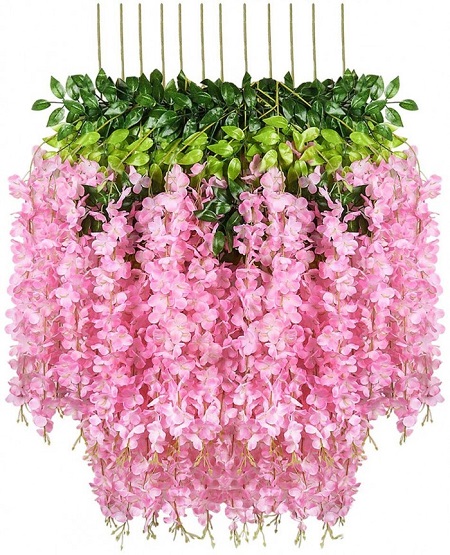 Plastic flowers or Artificial flower decorations have become much more popular recently. This bundle of pink flowers, which almost look like natural pink lilies, are complemented with mango leaves on top hung by a thread on the white wall. These flowers are best suited for daily use in a home or office decoration setting.
20. Flower Decoration Stage: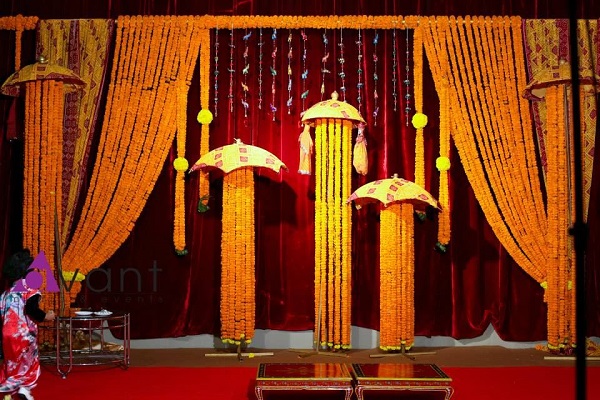 This flower decoration of the stage featuring marigold flowers works well in both indoor and outdoor environments. The entire scene has a red backdrop and is lavishly decked with marigold strips. Everything in the centre, from the pillars to the umbrella stands, is covered in these typical orange marigold blooms. Artificial birds strung from the ceiling have been put as a last touch to this flower arrangement before it is ready for display.
Floral decoration ideas can enhance any setting, from birthday parties to wedding ceremonies. Flowers can be arranged into simple chains of marigolds, or you can create extravagant canopies of flowers using various varieties of flowers such as lilies, orchids, and roses. The options are endless when it comes to flower decorations. With this article, we have covered the simple yet best flower decoration ideas ranging from fresh flowers to artificial flowers that you should definitely use at your next event.