One of the favourite things about the holiday season is decking the halls and turning your home into a winter wonderland. And what could be a better way to do so than with some festive Christmas decoration ideas? From classic ornaments to modern takes on holiday decor, there's a world of possibilities when it comes to dressing up your home for the holidays. This article will take a deep dive into the world of Xmas decorations and provide you with ideas, inspiration and tips for creating the perfect holiday ambience in your home.
Simple and Unique Xmas Decoration Ideas For Home 2023:
As you go through this list of the latest and modern Christmas decoration ideas, you'll find all the inspiration you need to light up every corner of your home. Let's dive right into it.
1. Homemade Christmas Decorations: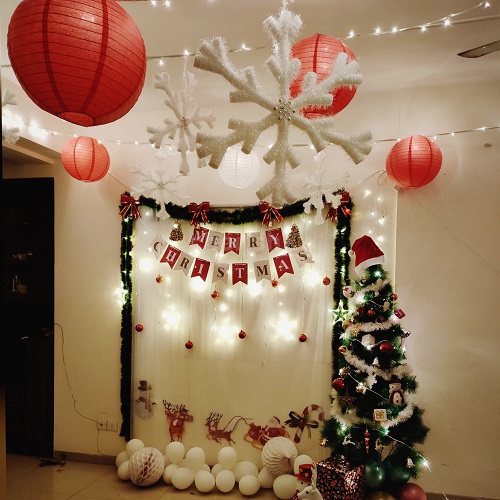 Bring the holiday spirit to your humble abode with this classic Christmas decoration. A festive wall display which features red and white "Merry Christmas" banners, green fern leaves, and cutouts of reindeer, snowmen, Santa Claus, and more. Twinkling starlights add a touch of magic to the room, while red candles and cotton stars adorn the roof. The highlight of this decoration is a beautifully decorated Christmas tree complete with ornaments, gifts, garlands, and more.
2. Simple Christmas Decorations: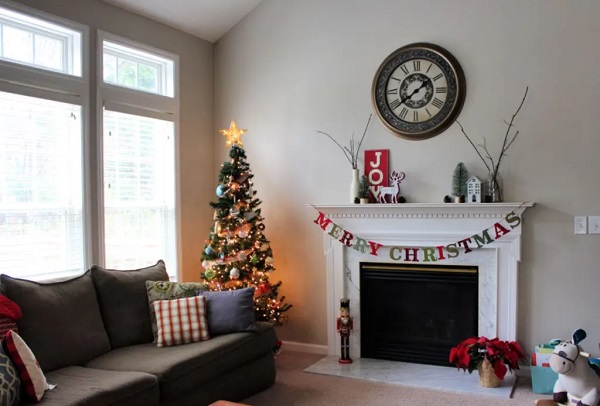 This minimalist Xmas decoration idea will transform your abode into a warm winter wonderland. The elegant banner featuring vibrant "Merry Christmas" greetings provides the perfect centrepiece for your mantle. At the same time, the charming corner tree adds a touch of holiday magic with its tasteful decoration of LED lights, gleaming Christmas balls, festive fern gifts, and a shining star. A simple basket of red flowers serves as a cheerful finishing touch to complete the look. With its thoughtful blend of simplicity and charm, this Christmas decoration will surely bring joy to your home.
3. Xmas Decorations Indoor:
Add a cosy touch to your Christmas decoration with a candle set at the bottom of the fireplace and red woollen socks hanging from the mantle. To evoke a wintry feel, drape a white carpet on the ground. The room's centrepiece is the tall, beautifully decorated Christmas tree adorned with gleaming ornaments, ferns, wrapped gifts, and a shining star. Top off the festive ambience to this Xmas decor by adding a comfortable couch, perfect for enjoying a solo holiday season.
4. Outside Christmas Decorations:
Deck your porch with one of our fancy outdoor Christmas decorations. Santa speaks Christmas more than anything else, so hang a string of fern leaves around the door and paint a cute Santa face. The show's topper is the word "MERRY CHRISTMAS," written in red blocks and highlighted by yellow light. But we must remember the other essential things, like Santa's wagon full of gifts and the big grey wooden dog with pretty lights on it.
5. White Christmas Tree Decorations: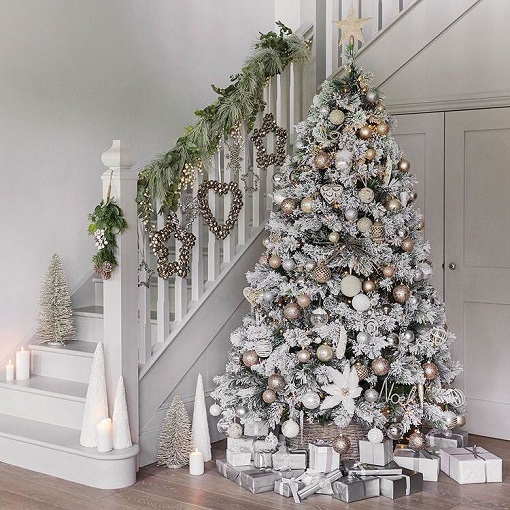 Adorn your holiday home with this stunning white flocked Christmas tree, showcasing a beautiful snow-themed Christmas decoration. The tree is adorned with shimmering snowflakes in warm golden and silver hues, paired with teal glass ornaments for a pop of colour. Embrace a rustic charm with forest-themed decorations such as pinecones, sphere ornaments in green, gold starbursts, copper glass ornaments, and heart and star shapes. Instead of a traditional tree skirt, opt for woven wicker baskets that resemble natural tree trunks, maintaining the enchanting woodsy theme of your Christmas home decor.
See More: Krishna Janmashtami Decoration at Home
6. DIY Christmas Decorations: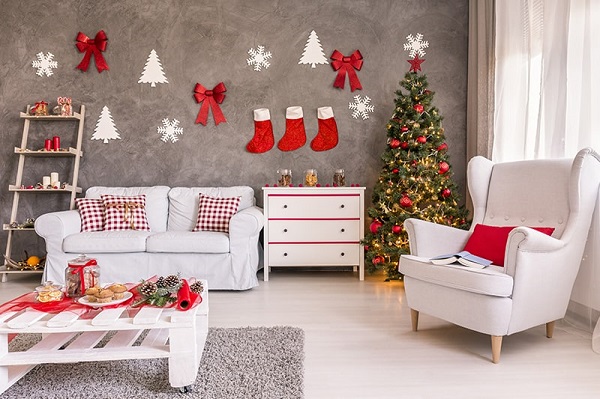 With this do-it-yourself Xmas decoration, you can simultaneously make the holiday more personal and save money. Say no to plastic and make these sticks, canes, trees, and socks out of white paper. Fill the colours in the right places to decorate the grey wall. To stick to the strict red, white, and green theme, replace the covers on your couch and sofa with white ones and add some red pillows. With bells, stars, balls, lights, etc., the corner Christmas tree is an essential part of the Christmas decorations in the house. You can also find a small rack to hold things that add to the decor.
7. Xmas Door Decorations: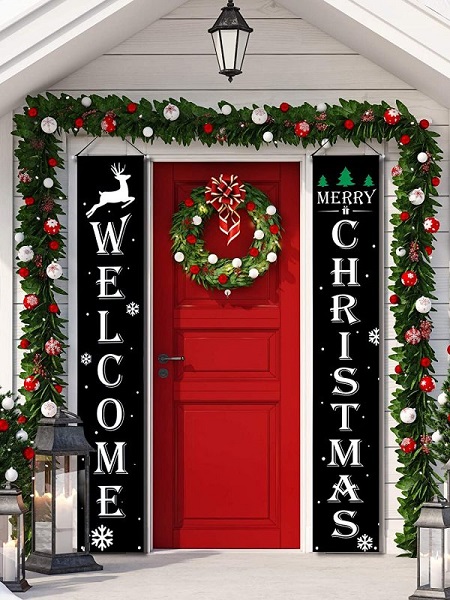 This holiday season, decorate your entryway with this beautiful black and white MERRY CHRISTMAS banner for a bold statement with a touch of class. This classic Christmas door decoration features a lush green wreath with intricately detailed elements such as elk, snowflakes, gifts, Christmas stockings, and candies, all elegantly arranged along the edges. The stark contrast of black and white against the bright red door makes for an eye-catching display sure to add glamour to your Christmas decor.
8. Christmas Cake Decorations: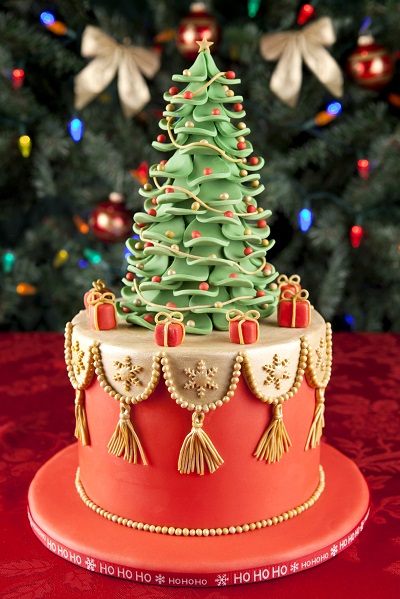 With this beautiful Christmas cake decoration, bring the spirit of festivities to your dessert table. The cake is decorated with cute tree-shaped palettes made of marzipan set on top of royal golden and red icing. Small fondant balls in various colours adorn each green leaf palette, while stars, bubbles, and small gifts add a bit more holiday cheer. This cake decoration is excellent for people who have previously used fondant because it makes a smooth surface and tastes delicious.
9. Christmas Wall Decor:
Bring the charm of the holiday season with these stunning hanging wooden Christmas signs. This Christmas wall decor features rustic Christmas tree frames with festive wishes adorned on the white wall. The red-weathered reindeer horn frame and other decorative elements are combined to create a charming Christmas atmosphere. With a focus on minimal space consumption, these Xmas-inspired signs offer a festive touch to your living room and can be displayed all year round, making it a versatile and timeless addition.
10. Paper Xmas Decorations:
If you are short on a Christmas decoration budget this year, don't worry; we have you covered. With a few origami skills, you can transform these white stars into beautiful lanterns by draping them with colourful paper such as blue or red. Combine these lanterns with other paper-crafted decorations like miniature snowmen to create an enchanting display. Then, simply hang them from the branches of your Christmas tree with a string, and your unique, budget-friendly paper Xmas decorations will be complete.
See More: Simple Flower Decoration Ideas
11. Christmas Light Decorations: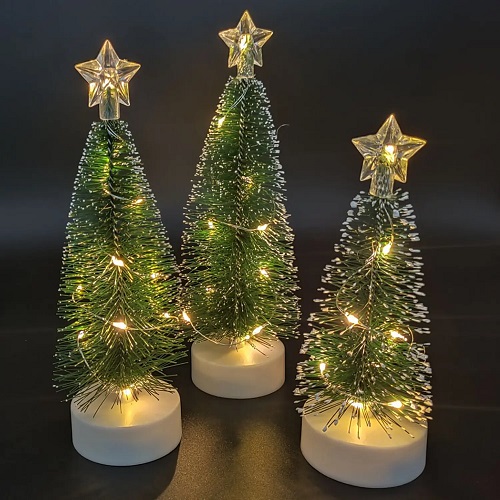 This dazzling Christmas light decoration brings the magic of the holidays into your home. The image showcases three beautifully crafted artificial fern trees of varying sizes adorned in a sturdy white base. Illuminated with warm LED lights that create a mesmerizing ambience, this Christmas decor is finished off with a sparkling crystal star perched atop each tree. Find the ideal spot to display this festive decoration and get ready to enjoy the season of joy.
12. Office Christmas Decorations:
Transform your workplace into a winter wonderland with this office Christmas decoration idea. All you need is plenty of cottons to create a cosy snow-like effect on desks and floors. Then, add some playful charm with a balloon-made Santa Claus figure. Finally, craft a stunning Christmas tree on the wall using red net cloth and accessorize it with whimsical elements such as green socks, a paper fireplace, and cardboard gifts. This budget-friendly Christmas wall decor will surely bring the holiday spirit into your workspace and joy to your colleagues.
13. Hanging Christmas Decorations: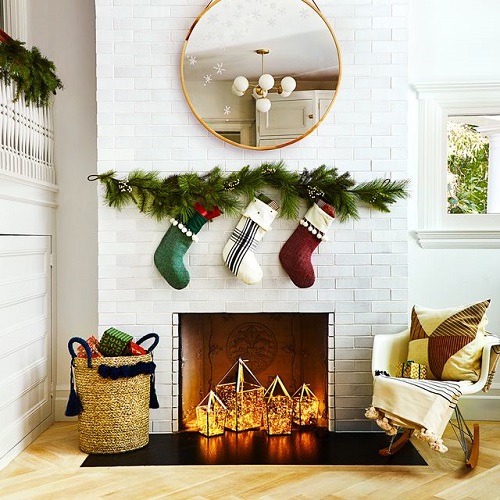 Approach the festive season with this enchanting hanging Christmas decoration set. The design features delightful Christmas-colored socks hanging from a tree branch against a crisp white wall, creating a charming ambience. The warm glow of the yellow glitter lights on various-sized glowing boxes acts as illumination for the fireplace. A little macrame basket filled with presents is set by the fireplace to keep the minimalistic aesthetic.
14. Christmas Star Decorations:
Stars and Christmas balls are the two most essential items whose absence will leave any Christmas decoration incomplete. Bring a touch of sophistication to your Christmas decor with these elegant balls and colourful stars complimented with silver glitter suspended gracefully from the branches of a Christmas tree. Even the stems are decorated with LED lights to highlight the aesthetic appeal of this Xmas decoration.
15. Church Christmas Decorations:
Transform your church into a holiday haven. Adorned with classic staples like sparkling lights, lush Christmas trees, and cheerful candy canes, the church creates a warm and inviting atmosphere. The pristine white curtain is a beautiful backdrop, featuring elegantly woven wreaths and garlands of green leaves with crimson ornaments tucked in between. A flat base filled with vibrant red flowers, twinkling lights, and shimmering ornaments enhance the joyful Christmas vibe. Look no further than this beautiful Church Christmas decoration for timeless and elegant inspiration.
16. Christmas Balloon Decorations: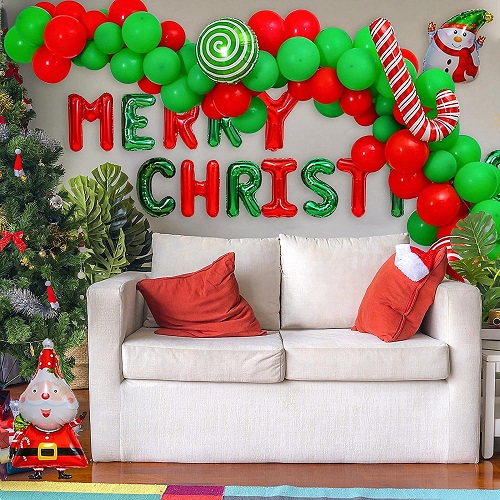 One of the most festive Christmas Balloon decorations for children, with lots of red and green balloons in numerous shapes. The lively design features a multitude of red and green balloons in various shapes and sizes. Balloon foil letters spell out a cheerful "Merry Christmas" on the wall, surrounded by an arch of vibrant red and green balloons. The addition of twigs and straws adds a touch of brown to this display, while a jolly red Santa Claus balloon completes the look, perched at the bottom of a pristine white sofa set.
17. Xmas Table Decorations: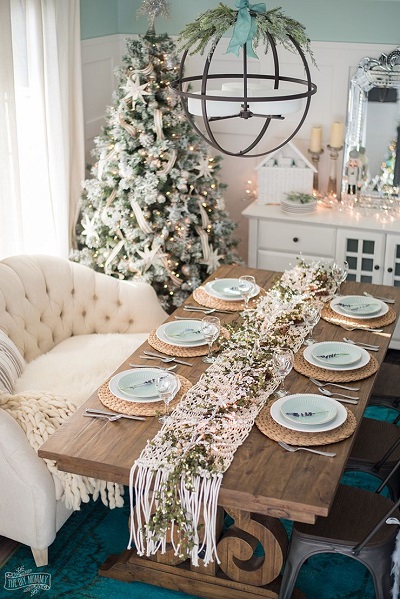 This Boho decoration with macrame on the dining table perfectly resembles an aesthetic Christmas home decor idea. The entire theme is set around white and green to coordinate with the colour of the walls and represent the festive season's winter feel. The backdrop has a beautiful Christmas tree decorated with white glitters, ornaments and bells with mild lightning to give a more pleasing appeal. The centre stage of this Christmas decoration is the dining table with a macrame cloth across the table, all set to serve the Christmas feast.
18. Christmas Window Decorations:
Perfect for those who prefer to avoid heavy decorations in their cooking area, this design utilizes a white window as the backdrop. Cut out silver-dotted stars from cardboard and hang them using threads attached to a rustic wooden log. Add wreaths or grass for a touch of nature, and you'll have a charming and inviting holiday space. Whether you're cooking up holiday treats or simply relaxing with family, this Christmas window decoration will keep the holiday spirit alive in your kitchen
19. Balcony Christmas Decorations:
This balcony Christmas decoration is the perfect solution for those living in apartments or flats with little room for festive decorations. First, transform your balcony railings into a festive wonderland with twinkling LED lights, lush green ferns, and sparkling ornaments. Then, add a touch of traditional Christmas charm by suspending jingle bells in a bold red hue. This beautiful Xmas decoration will give your home an indication of the holiday spirit without taking up much space.
20. Christmas Cupcake Decorations: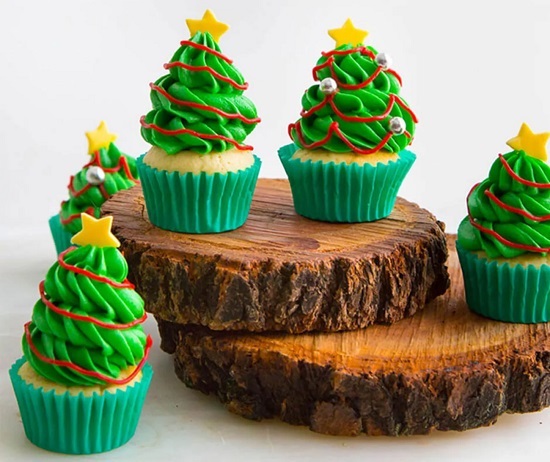 For some reason, cupcakes on a Christmas evening always taste better than on any other day. Doesn't it? If you want something unique to your Xmas decoration, this green tree-shaped cupcake blends perfectly with the Christmas theme. The base pudding is elegantly covered with a green palette that goes well with the dark green frosting at the top, finishing with a star. A few of these are a perfect treat on a Christmas evening, adding to the green Christmas decorations theme.
In conclusion, decorating for the holidays is a timeless tradition that brings joy and warmth to homes worldwide. Whether you prefer classic or contemporary styles, there's an endless array of Christmas decoration ideas in this collection. So why not start planning your holiday makeover today? Deck the halls, hang the lights, and let the holiday spirit shine bright!