Balloon decoration is a fun and festive way to add extra magic to any occasion. Whether it's a birthday party, wedding, or corporate event, balloons can transform any space into a lively environment. From classic balloon bouquets to creative balloon sculptures, the possibilities are endless. With a wide variety of colours, shapes, and sizes available, balloons can be used to complement any theme or colour scheme. In this blog, we'll explore the world of balloon decoration, showcasing some of the most popular and innovative techniques and designs. So, whether you're an experienced decorator or just looking for inspiration, this guide sure has something for you!
Multicolor and Latest Balloon Decoration Designs:
Here's a list of the best balloon decoration ideas for the modern generation who love hosting parties now and then. Have a look!
1. Simple Balloon Decoration at Home:
This confetti balloon decoration is a beautiful addition to any party and is sure to make the atmosphere lively and fun. As the picture shows, the balloons are filled with various bright colours, such as pink, gold, black, silver, and white. This makes the arch a versatile decoration that can be used at multiple events. Also, the few glitter balloons in the bunch add to the style and elegance of the whole thing. This balloon decoration on a wall makes the perfect choice for anyone looking to elevate the atmosphere of their celebration.
2. Balloon Decoration for Birthday at Home:
This beautifully designed set of pink, grey, and rose gold confetti is the perfect addition to any girl's birthday party balloon decoration. The shimmering unicorn balloon arch decoration serves as a stunning focal point and adds a touch of elegance to the party. The balloons, arranged in a visually appealing arch formation, are guaranteed to impress your guests and bring a celebratory atmosphere to the event. In addition, the theme of the party is beautifully set around a table, complete with a delectable birthday cake and an array of mouth-watering baked goods.
3. Anniversary Balloon Decoration: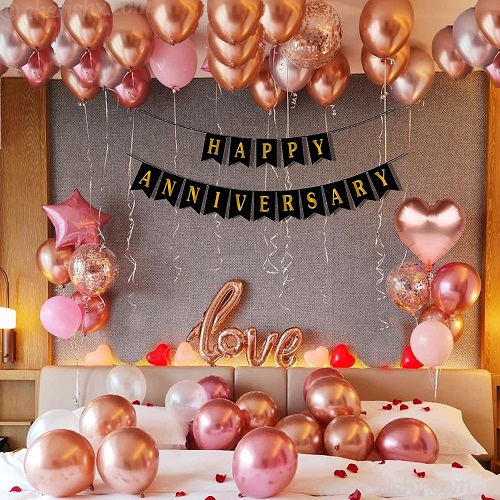 This stunning anniversary balloon decoration is a beautiful representation of love and affection. The soft, romantic shades of pink confetti balloons create a warm and inviting atmosphere. However, the highlight of this decoration is the magnificent pink and gold balloon suspended from the ceiling. This eye-catching feature will leave a lasting impression on your loved one. Whether for a special anniversary or just as a surprise for your partner, this charming balloon decoration design will surely bring a smile to your loved one's face.
4. Wedding Balloon Decor:
This unique balloon decoration is truly one of a kind, as every aspect of it, including the pink champagne bottle, black kites, and letters, is made entirely of balloons. The backdrop is elegantly adorned with a shimmering black wall, while a playful string of "Bride-to-be" letters is suspended from the roof. The addition of a scattered array of multi-coloured balloons on the floor adds an extra touch of excitement to this already impressive multicolour balloon decoration.
5. Engagement Balloon Decoration:
This wedding engagement balloon decoration is a charming set of five foil balloons that each says "I do love you" on their faces. The picture shows how they can be attached to a wall or tied to a sturdy object, giving the party a playful and romantic touch. This one-of-a-kind and eye-catching balloon decoration will bring excitement to any wedding event.
See More: Wedding Car Decoration Ideas
6. Simple Balloon Decoration on the Wall: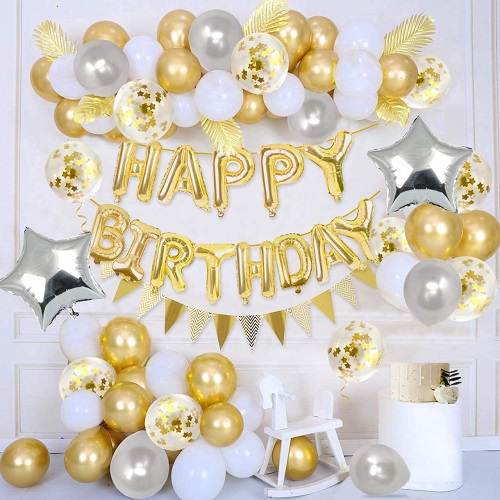 Celebrate your child's upcoming birthday with a stunning balloon decoration combining golden, white, and silver. Create a festive atmosphere with a white wall as the backdrop, showcasing balloon letters arranged in an eye-catching display of gold, brown, and silver balloons. Complement the balloon décor with coordinating balloons on the floor, creating a playful and joyful ambience. To complete the celebration, place a round white table with a delectable birthday cake at the centre, making it a memorable day for your little one.
7. Balloon Arch Decoration: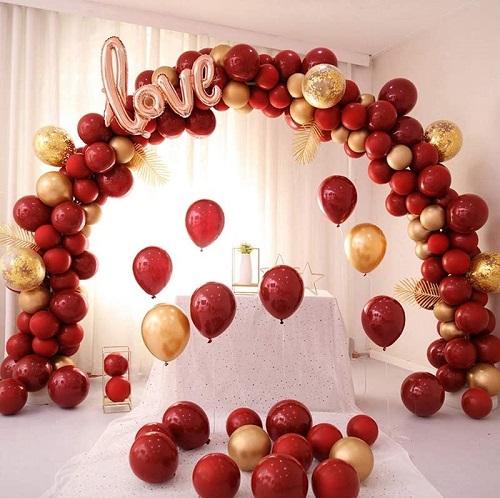 Unwind after a hectic workday with a relaxing drink with your loved one under this breathtaking balloon decoration. The image showcases a magnificent arch structure created using an array of red and gold balloons, topped off with a shimmering inflatable love foil balloon. Add a touch of fun with balloons on the floor and a few more filled with helium, gracefully floating in the air, creating a mesmerizing atmosphere perfect for unwinding and enjoying a moment of peace.
8. Heart Shape Balloon Decoration: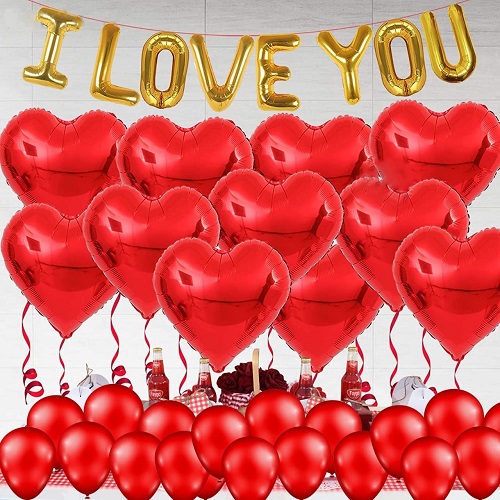 Celebrate love with this enchanting "I Love You" balloon decoration made from stunning heart-shaped foil balloons. Durable and reusable, these balloons can add a touch of romance to any event, hanging from walls or ceilings for extended periods without falling. The colour scheme centres around the intense hue of red, making it an ideal choice for special moments such as Valentine's Day, anniversaries, and other romantic occasions. With its timeless appeal, this heart-shaped balloon decoration will make any extra celebration special.
9. Rainbow Balloon Decoration: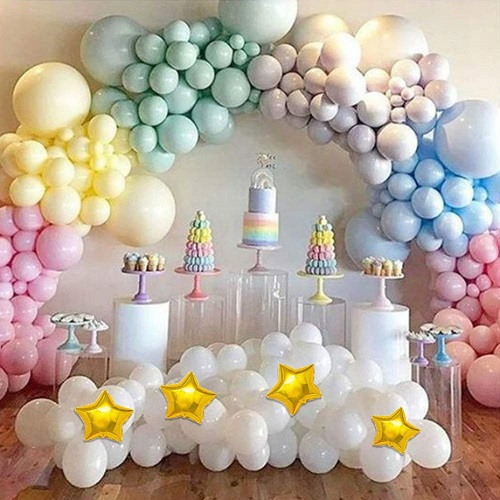 This vibrant rainbow balloon decoration brings back the joy of childhood, perfect for kids' birthday parties and girly kitty parties. This modern twist on balloon decorations features an arch of variously sized balloons in multiple colours, creating a lively backdrop for the celebration. While the rainbow-themed cakes and cookies are sure to be a hit, don't miss the playful addition of white balloons on the floor, adorned with cheerful yellow-starred balloons, making it an unforgettable celebration for all.
10. Christmas Balloon Decorations:
Experience the magic of this holiday season with this charming red and white Christmas balloon decoration. This festive display features a range of colours, including red, white, and green, making it the perfect addition to your holiday decor. The balloon arch is accented with whimsical touches like balloon candies, hearts, and balloon gifts, adding extra fun to the decoration. The cherry on top is the delightful balloon snowman in the centre of the display, completing this charming and merry outdoor.
See More: Latest Diwali Decoration Ideas At Home
11. Teachers' Day Decoration with Balloons: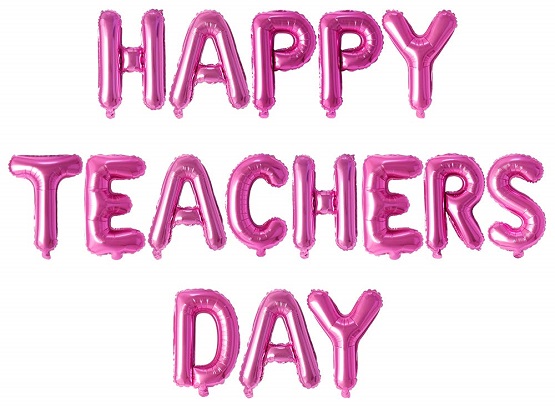 Make your Teacher's Day celebration unforgettable with this charming balloon decoration featuring the message "Happy Teacher's Day" spelt out in foil letters on a crisp white background. The bold and vibrant purple balloons instantly transform the previously unremarkable wall into a visual feast, drawing attention and spreading cheer. Elevate the decoration further by adding other elements like gifts, lights, and more to make it an even more memorable celebration for your beloved teacher.
12. Independence Day Balloon Decoration: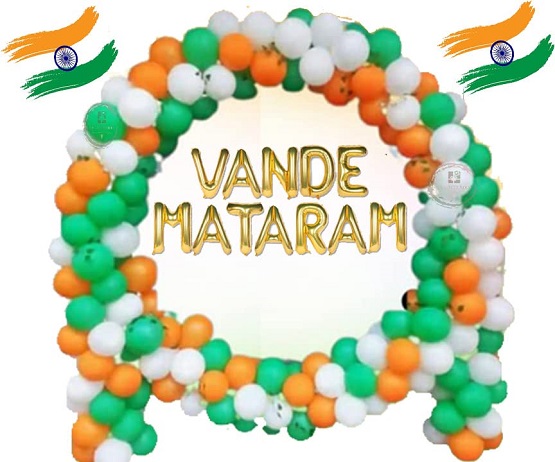 Celebrate the spirit of independence with this spectacular tricolour balloon decoration. Featuring a large 3D circular design crafted using orange, white, and green balloons against a crisp white background, it adds a touch of patriotism to your celebration. The centrepiece of the design is the proud message of "Vande Mataram", written in gleaming golden balloon letters, symbolizing the nation's unwavering spirit. This subtle independence day balloon decoration is perfect for schools, offices, or any gathering celebrating Independence Day.
13. Welcome Balloon Decoration: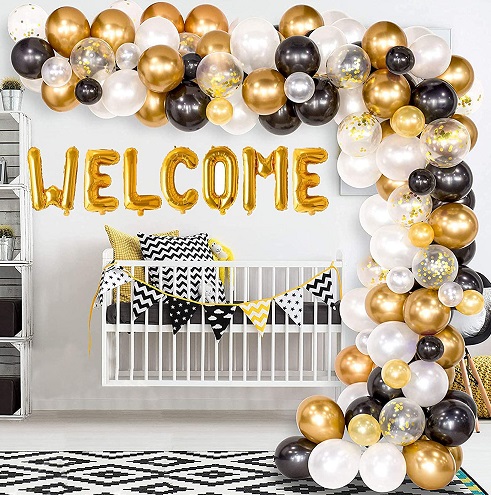 Host a memorable welcome for the newest addition to the family with this gorgeous golden-black and white-themed balloon decoration. The design features a stunning arch of balloons creating a cosy atmosphere for a new bundle of joy. To mark the occasion with significance, the design includes "Welcome" spelt out in foil balloons, serving as a backdrop to the celebration. This beautiful decoration is the perfect way to kick off the new journey with a heartfelt and memorable welcome for the latest addition to the family.
14. Jungle Theme Balloon Decoration: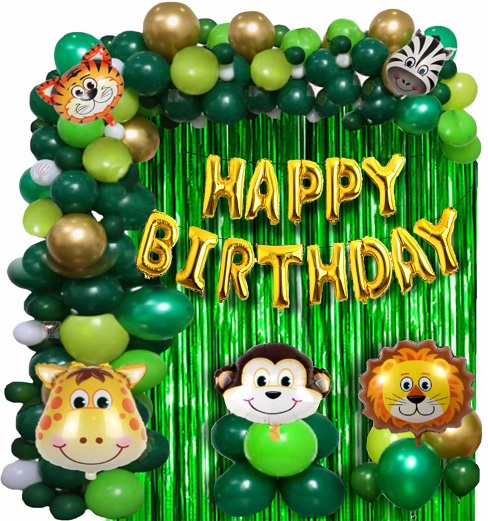 Bring the excitement of a jungle safari to your celebration with this playful jungle-themed balloon decoration. A glistening green screen serves as the backdrop, while an arch of balloons in various shades of green creates a lush jungle atmosphere. In addition, adorable animal foil balloons, including a giraffe, lion, and monkey, are strategically placed on the stage, adding to the whimsical look.
15. New Year Balloon Decoration: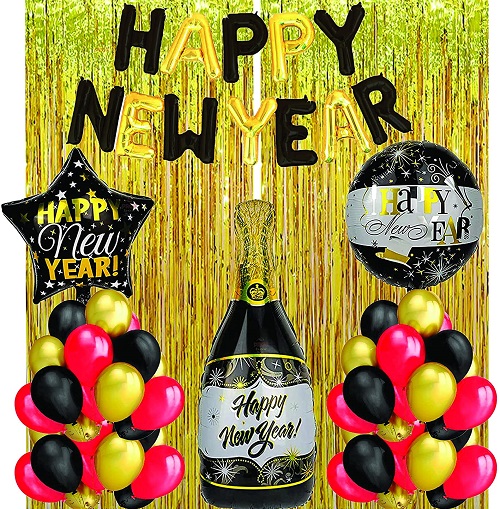 This decoration will be a sparkling addition to your new year's party, featuring a radiant blend of gold, pink, and black balloons. The centre of the display is highlighted by a champagne balloon foil with a glittering star and ball element. At the same time, the edges feature an arrangement of balloons standing tall. The finishing touch of this glittering display is the "Happy New Year" message spelt out with gleaming balloon alphabets, adding a touch of elegance to the overall decor.
16. Haldi Balloon Decoration: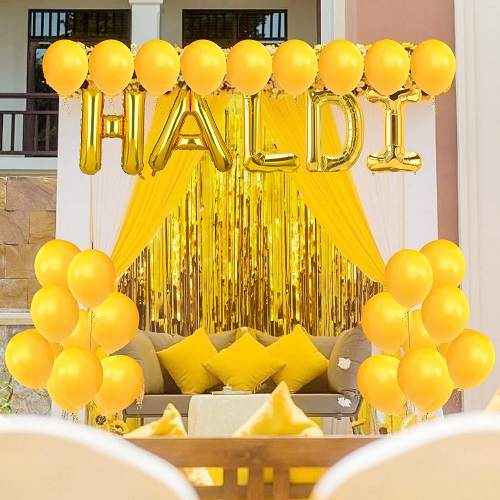 Celebrate your haldi ceremony with this cheerful yellow balloon decoration against a gleaming golden wall. The picture showcases a vibrant backdrop arranged by several yellow balloons in a beautiful pattern. Personalize this decor by using alphabet foil balloons to spell out the names of the bride and groom, a unique wedding hashtag, or simply "Haldi." This balloon decoration is a fresh and fun take on traditional haldi decorations using flowers, making for a memorable and photo-worthy celebration.
17. Black and Golden Balloon Decoration: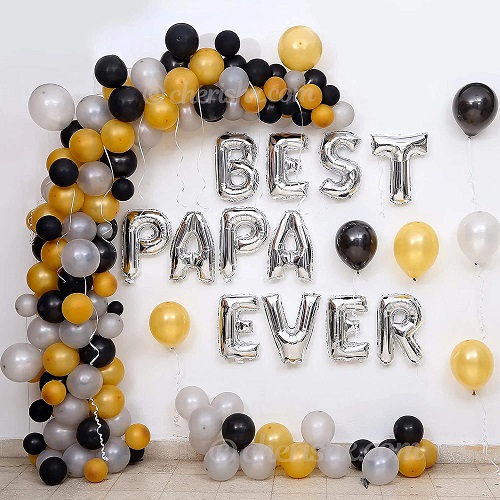 Honour the fantastic Dad in your life this Father's Day with a sophisticated black and gold balloon decoration. First, create a stunning display by arranging black and gold foil letters to spell "Best Papa Ever" against a crisp white wall. Then, add an extra touch of elegance by attaching bunches of black, silver, and gold balloon flowers to form a grand arch that perfectly accents the bold yet understated design.
18. Red and White Balloon Decoration: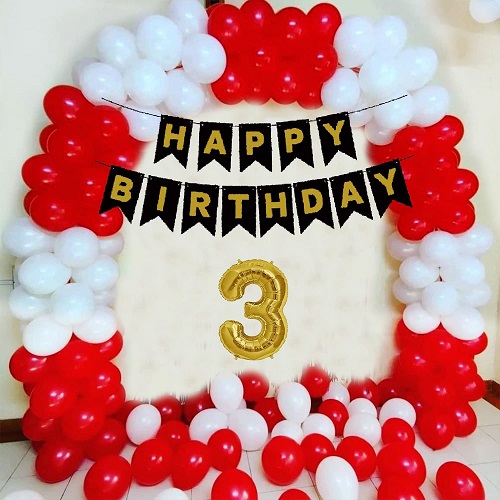 Celebrate your child's third birthday in style with this heartwarming red and white balloon decoration. The vivid red and crisp white balloons form a beautiful arch on the wall, creating an inviting atmosphere for your little one's special day. The centrepiece of the decoration is the bold numbered foil balloon, highlighting the significance of this milestone occasion. Add additional elements to this charming decor to create an even more impactful celebration.
19. Blue and White Balloon Decoration: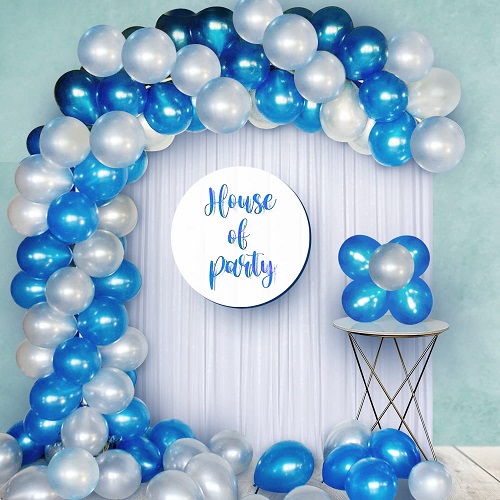 This gorgeous blue and white House of Party balloon decoration will add a touch of class to your next party. The elegant arch, made of blue and white balloons that shimmer, stands against the white wall. A stylish bunch of five balloons artfully arranged on a corner table completes the design. This simple decoration will make your event stand out whether you're having just a few friends over or a big party.
20. Pink and White Balloon Decoration: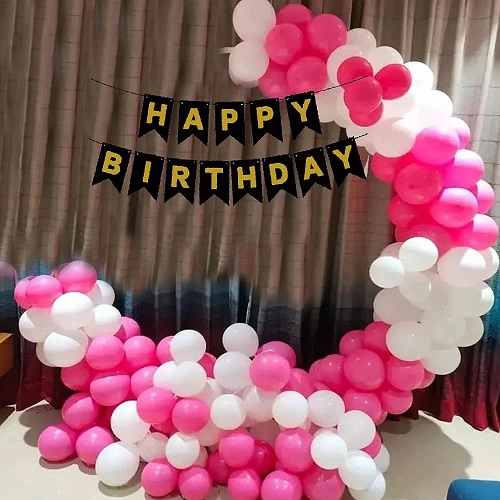 Celebrate your little princess's birthday in style with this enchanting pink and white balloon decoration. The magnificent circular structure, crafted from a blend of delicate medium-sized pink and white balloons, adds a touch of magic to any living room. The brown backdrop, which is the perfect contrast to the balloons, is elevated by adding a festive "Happy Birthday" banner, which will make the day unforgettable for the birthday girl.'
Balloon decoration is an effective way to add a touch of fun and excitement to any event. Even if you can't afford lavish decorations, this blog has subtle decorations for everyone's occasion. So, next time you're planning a celebration or special event, consider incorporating these balloon decoration designs into your decor. Your guests are sure to be impressed!