With the numerous types and models of electric juicer machines, these are perfect for your regular usage. Here we are covering the 10 latest and best electric juicer machines in the world. Check these out!
Top and Modern Electric Juicer Machines In The World 2023:
Here are our 10 simple and best electric juicer machines in the world with product specifications. Let's have a look at them.
1. Breville Juice Fountain Plus Centrifugal Juicer:
The Breville juicers are among the top and most good-selling products in the market today. So, if you are looking for premium-range juicers, there is nothing better than these. We have this incredibly durable and high-quality electric juicer appliance in the centrifugal model. It has 850 watts speed motor, and the juicer is smooth and quick given the micro-mesh filter. Although the juicer takes up quite some space, its efficiency is not to compare, given the premium look, ergonomic design, ease to assemble and disassemble for cleaning and more.
Product Specifications:
13.2 x 16.5 x 18.2 inches; 9.9 pounds.
Speed control modes; LED display to show motor fault; cutting disc feature to extract better juice.
2. Mueller Ultra Power Juicer:
The Mulller's extra power electric centrifugal juicer machine is perfect for your smoothies and health drinks. This juicer can work through efficiently, from greens to hard vegetables like carrots and more. It has two-speed options to work through hard fruits and vegetables and soft ones and lets you have the maximum juice out of it. It runs on 1100 watts and is durable.
Product Specifications:
16.6 x 9.5 x 13.5 inches; 2.2 pounds.
Automatic on and off feature.
3. Omega J8006HDS Dual-Stage Masticating Juicer:
This electric juicer is good for those who want high-end products. The masticating juicer from Omega works only at 80 RPM, which helps extract maximum nutrients from the machine and not let go of nutrients and antioxidants. The electric juice machine has five settings for extraction and can mix up all the hard and tough ingredients you need, such as coffee beans, milk, wheatgrass, sugarcane and more.
Product Specifications:
14.5 x 6.5 x 15.5 of inches ; 13 pounds.
Five extraction settings; Slow juicer and extracts without leaving out healthy nutrients.
4. Kuvings Whole Slow Juicer: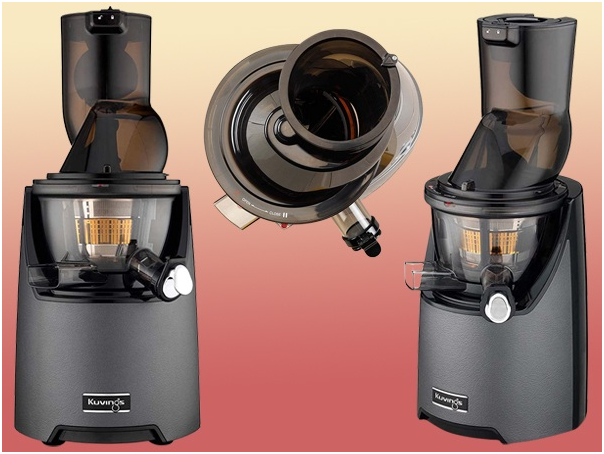 The Kuvings whole slow juicer is specifically designed for your entire fruit droppings in a juicer. This slow juicer works on excellent masticating technology that aids in extracting maximum minerals and vitamins from the ingredients. You can drop any hard ingredient to crush it smoothly under the 240-watt motor. It is powerful yet quiet and also has a great ergonomic design. The juicer is versatile and helps with herbs, fruits, vegetables and more. However, the reviews mention that this electric juicer is good for fruits like oranges, pomegranates, mosambi or even wheatgrass and citrus.
Product Specifications:
8 x 9.5 x 19 inches; 24.9 pounds.
Slow masticating technology.
5. Hurom H-AA Slow Juicer: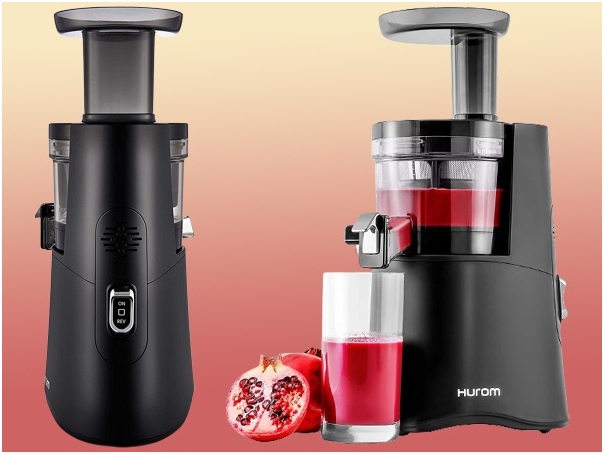 If you have heard of the health benefits of slow extraction and juicer technology, you will go for it! The slow juicers primarily intend to work through all the ingredients with maximum juice without letting go of the complex nutrients built within. In addition, they make sure to retain all beneficial nutrients in the drinks. We have this Hurom slow juicer, among the good sellers in the market. The juicer lets you select between strainers (fine or coarse) and, in turn, gives you the option of how much you want to extract. It is quiet yet efficient and exceptionally long-lasting too. It can work through 500 ml and has 150 watts. This is among the good mini or small-sized portable electric juicer machines on the market today.
Product Specifications:
7.1 x 8.8 x 16 inches; 10.6 pounds.
Options for extraction – slow or fine.
6. Shine Cold Press Slow Vertical Juicer: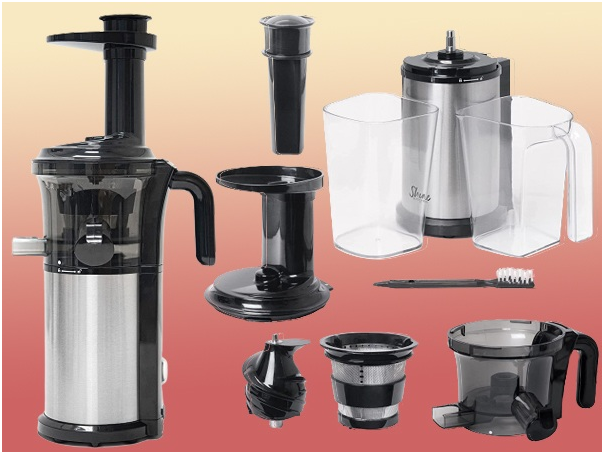 Have you ever come across vertical juicers? If not, this is an excellent choice to check out. The cold press vertical juicer comes from a good-selling brand that works hard to have you the slow 40 rpm machine with stainless steel juice container. It works efficiently on both fruits and vegetables and gives you good healthy smoothies even from the hardest veggies such as beetroots, celery, apple, etc. The machine is very easy to clean and lets you have good smoothies, extracting maximum content. It works on a 200W motor and is long-lasting too. It even comes with a three-year manufacturing warranty. Isn't it cool?
Product Specifications:
5.5 x 5.25 x 19.5 inches; 9.31 pounds.
Vertical juicer design.
7. Greenstar Cold Press Complete Masticating Juicer:
We have yet another masticating juicer, this time from the Greenstar model. This juicer has a unique three-step masticating process that breaks down the ingredients into smooth juicing without retaining any nutrients. It has sharp steel gears that work wonders right through processing. The Greenstar juicer has a 110 RPM motor that works slowly. The juicer also comes with options to adjust the pressure. It is versatile and can help you make wonderful recipes.
Product Specifications:
18.6 x 6.8 x 12.4 inches; 17.2 pounds.
Three-step masticating process.
8. Hamilton Beach Big Mouth 2 Speed Juice Extractor:
The Hamilton Beach's big mouth juicer is yet another top pick of the season. Yet what is special about the product is it is incredibly affordable. The juicer comes with an easy-to-assemble and operates mechanism yet helps you get smooth, fresh, pulp-free juice. In addition, the big mouth chute in the juicer helps you to quicken the time and lets you keep the entire food without much cutting. It also has a powerful 850-watt motor.
Product Specifications:
9 x 15.5 x 15 inches; 9.3 pounds.
Bigmouth chute for quick extracting of whole foods.
9. Nutribullet Slow Juicer: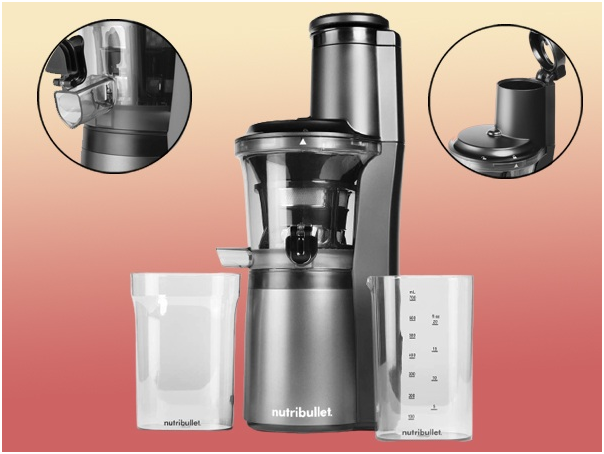 The Nutribullet's slow juicer is an excellent bargain to check out, even for beginners. The low-speed juicer spins only at around 65 RPM and smoothly crushes out the ingredients and whole foods. The large-inch chute lets you do the process quickly without pre-cutting the foods into tiny pieces before dropping them in. the juicer has a good design and comes with an ultra-compact size and a sleek look. It works on a 150W motor base. There is also a separate pulp container for catching the left-out pulp, which lets you have an easy cleaning mechanism.
Product Specifications:
7 x 6.25 x 17 inches; 11 pounds.
Has an extra pulp container.
10. Pure Two Stage Masticating Juicer: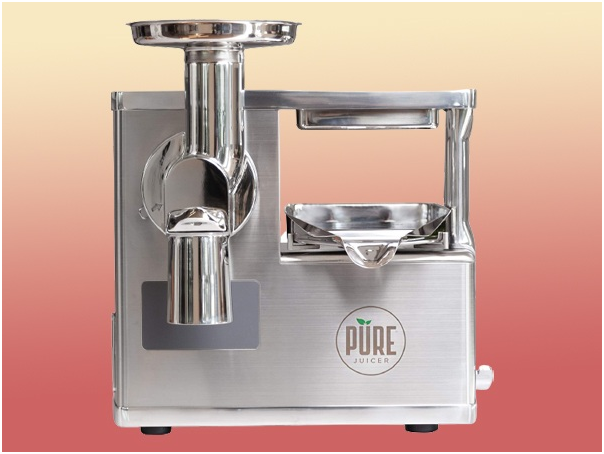 This is one of the very high-end appliances we are keeping right through, especially for those looking for speciality juicers. The Pure two-stage juicer is ideal for very hard vegetables, letting you have the most from whole foods. It works in a two-step process. First, ingredients are grounded by stainless steel auger and later pass through a filter to extract even more juice. It gives your family good healthy drinks and smoothies by exerting 5400 lbs of force for extracting every bit of juice. It has a minimalist design yet works to the maximum capacity. However, the juicer is a bit heavier than others, given the two-step process.
Product Specifications:
15.0 x 12.75 x 16.5 inches; 68 pounds.
Two-step process.
These are the top and best electric juicers in the world. Depending on your preference of daily needs and requirements, you can get hold of any of the above for a good experience.