Diwali is a time to light up the darkness and spread joy and hope. And what better way than transforming your home into a glittering display of festive decorations? From traditional diyas and rangolis to modern LED lights and tinsel, the possibilities for Deepavali decor are endless. So whether you're looking for inspiration or want to jazz up your celebration, this blog is here to guide you on your Diwali decoration journey. So get ready to light up your home and ignite the festive spirit with these creative and fun Diwali decoration ideas!
Simple and Best Diwali Decoration Ideas at Home In India 2023:
For your inspiration, we've compiled a list of 20 Deepavali decoration ideas to turn your home into a palace. So stay with us till the end to find out.
1. Traditional Diwali Decorations: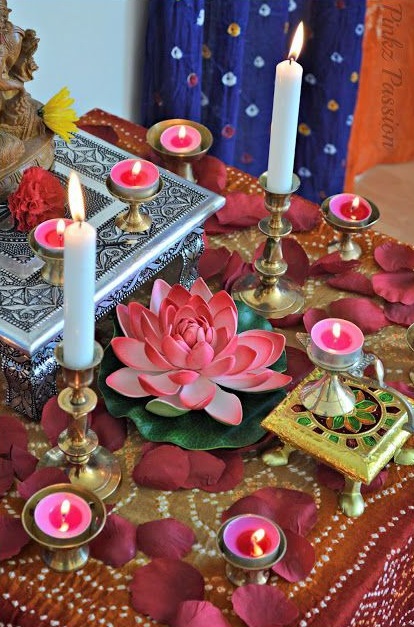 Elevate your Diwali celebration with this easy and beautiful decoration idea. Adorn your prayer area with a beautiful wooden statue of Lord Ganesha displayed on a gleaming silver platter. The attention-grabbing pink candles in elegant gold Diya holders and two delicate white stick candles add to the ambience. Also, pay homage to the goddess of wealth, Laxmi, with a striking big pink rose placed at the centre of the setup, surrounded by delicate rose petals for a touch of sophistication.
2. Diwali Decoration Ideas for Home Handmade: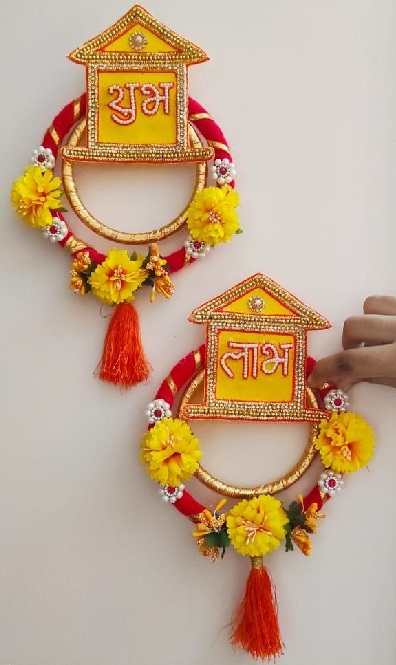 The traditional Diwali greeting "Shubh Labh" symbolizes good fortune and abundance, making this simple decoration the perfect addition to your Diwali decor. The wall hanging is crafted by linking two round bangles, with the inner bangle held in place by a gleaming gold sheet. The outer bangle is beautifully covered in a vibrant red cloth, adorned with white pears and cheerful yellow flowers. The crowning touch of this charming Diwali decoration is a small yellow cardboard house structure, complete with tiny golden beads spelling out the words "Shubh" and "Laabh".
3. Simple Deepavali Decoration Ideas for Home:
Bring the spirit of festivities to your outdoor space with a stunning Diwali balcony decoration idea. Transform your balcony into a twinkling fairyland with lights strung from top to bottom, creating a mesmerizing ambience. A bookshelf, set against a striking red wall, features two glowing light balls at each corner, while white star-shaped lights hanging from the roof add an extra touch of sparkle. The corners of the balcony are further enhanced with small diyas floating in water-filled pots, creating a warm and inviting atmosphere.
4. Diwali Decoration Ideas for Living Room:
Create a stylish entrance in your living room with this Diwali lighting decoration. Use a combination of lace lanterns, floor lamps, string lights, and traditional diyas to cast a warm glow. Add vibrant marigold garlands, scattered rose petals, and loosely arranged flowers for a traditional offset. The carefully curated colour palette adds a touch of sophistication and makes the space feel festive. Ensure your Diwali decorations are neat and eye-catching by using lights as the display's centrepiece.
5. Diwali Light Decoration Ideas for Home: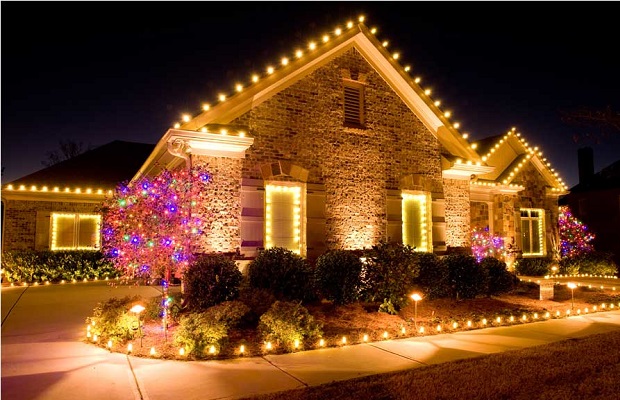 Illuminate your home in celebration with this creative Diwali decoration idea, using a string of warm yellow glow to outline the house's shape and accentuate doors, windows, and the lawn. To add a pop of colour, playful patterns are created with more vibrant lights, adorning trees and other outdoor spaces. This is a charming way to decorate your home for the Festival of Lights and is sure to become a beloved tradition.
See More: Best Wedding Car Decoration Ideas
6. Outdoor Deepavali Light Decoration: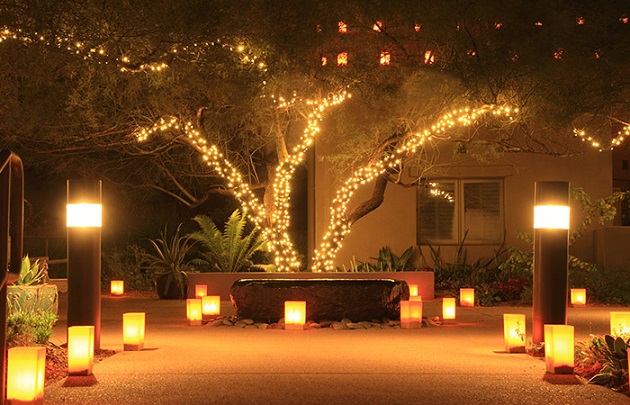 Brighten up your outdoor space and create this inspiring Diwali decoration design by draping delicate string lights over the plants and trees in your courtyard, transforming them into a breathtaking wonderland. Use floor lamps at strategic intervals along driveways or walking paths to add dimension to the decor. Finally, accentuate the space's natural beauty with round pole lights and small lantern lights scattered amongst the branches of the trees. This beautiful Diwali light decoration will indeed become a cherished tradition and the envy of your neighbourhood.
7. Diwali Indoor Decoration: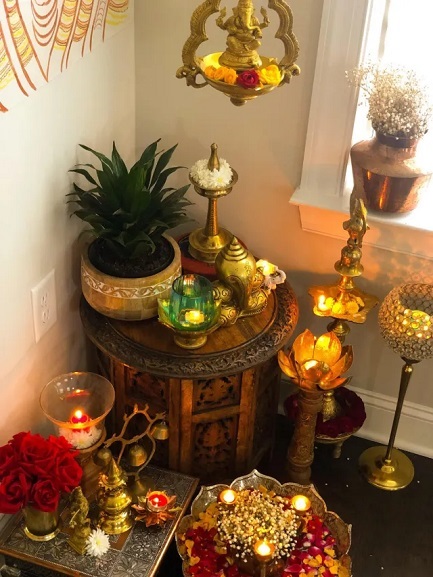 Embrace the festivities of Diwali with this beautiful display featuring the timeless symbol of Lord Ganesha in a rich golden statue. The centrepiece of this Diwali décor is a gleaming copper stand, proudly displaying a captivating rose bouquet and gleaming brass prayer items. The wooden lamp and handbell, both symbolic of Hindu traditions, provide a warm and inviting touch. The window sill is adorned with a charming copper pot filled with delicate white blooms, adding to the overall ambience.
8. Balcony Diwali Light Decoration: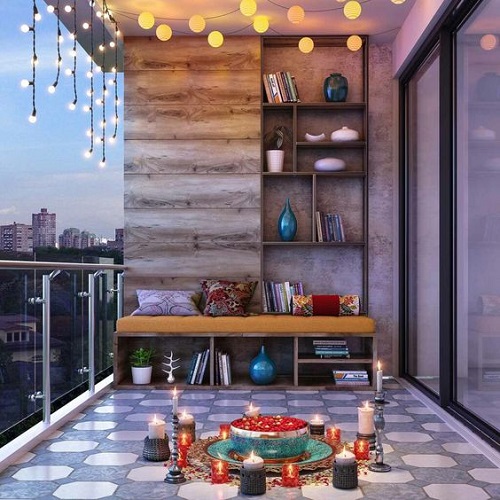 Adorn your home with a radiant balcony Diwali light decoration showcasing a magnificent rangoli crafted from vibrant coloured powders and petals. Elevate the sensory experience even further by choosing a variety of scented candles, each offering a unique aroma. Finally, hang shimmering strings of yellow light balls and thin silver lights from your roof to give a little more magic.
9. Deepavali Room Decoration Ideas: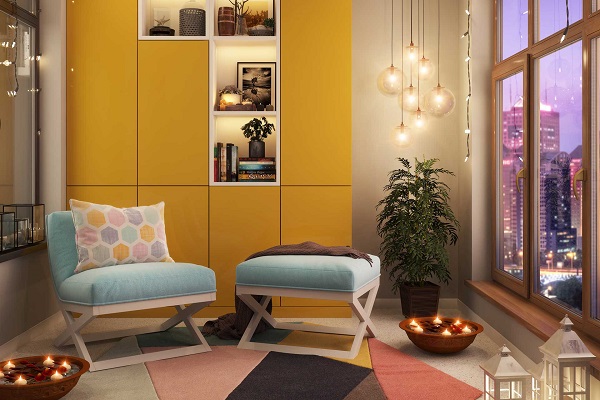 Add a hint of charm to your living room with this captivating Diwali decoration incorporating a lush indoor plant and gleaming brass bowls filled with floating candles and tea lights. Enhance the appeal of your living room with a warm glow of natural light filtering through the window and a beautifully patterned carpet. To make your Diwali decor stand out, add a few bright white light bulbs in strategic corners for a touch of brilliance.
10. Diwali Diya Decoration:
Perfect for adorning your Rangoli designs, these clay diyas are handcrafted with a bright and vibrant palette of colours that will bring life to your home. Each of them is arranged in a set of four, which invokes a unique pattern that will add a touch of elegance and charm to your Diwali decorations. Not only are they beautiful to look at but also serve as a traditional and meaningful Diwali gift to share with loved ones.
See More: Modern Balloon Decoration Ideas at Home
11. Diwali Flower Decoration: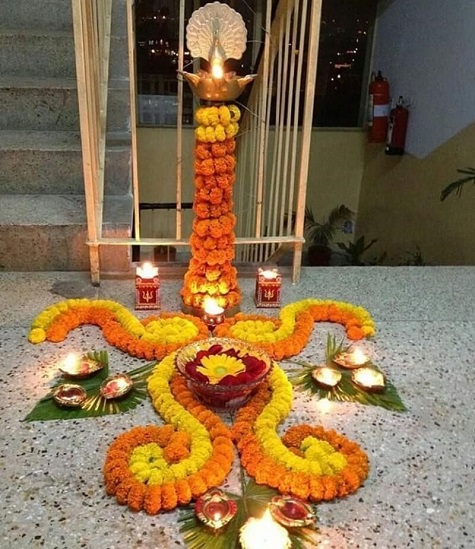 Often used in prayers as offerings to Gods and Goddesses, Marigold flowers are an essential element of Diwali decorations. Adorn your brass lamp stand with lush garlands of marigolds, and create stunning floral designs on the floor for a touch of elegance. To complete your Diwali flower decoration, integrate beautiful clay diyas into the design, strategically placing them in the spaces between the flowers for an eye-catching display.
12. DIY Diwali Decoration Ideas: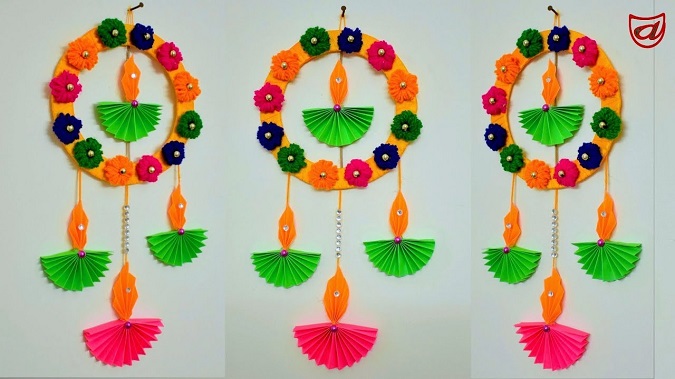 Get ready to create an eco-friendly Diwali decoration with this beautiful Toran wall hanging! Made from simple coloured paper and recycled wool, this unique piece is a perfect addition to your modern Diwali decor. The Toran is crafted from an array of coloured sheets, forming a gorgeous floral wreath highlighted by a stunning set of four paper diyas. One diya takes centre stage while the others dangle gracefully below, adding movement and dimension to the piece.
13. Deepavali Wall Decoration: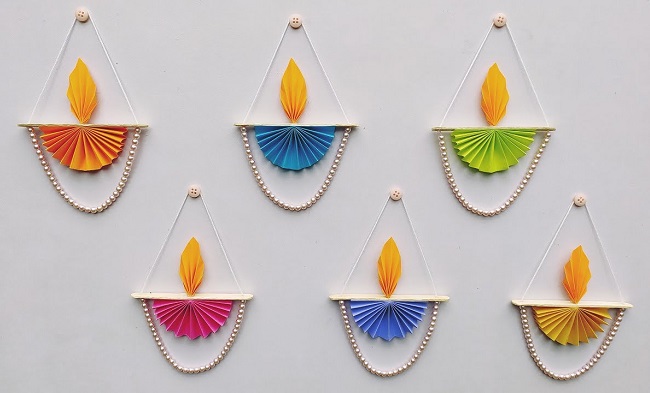 Add a pop of brightness to your walls with these colourful handmade paper Diwali decorations. All you need is a selection of vibrant coloured papers and some basic folding techniques to shape each one into the iconic form of a Diya. Then, with the help of a thread, these miniature crafts are hung on the wall while a series of white beads are adorned to each diya. The result is a beautiful DIY Diwali wall decoration that adds a personal touch to your home.
14. Diwali Door Decoration: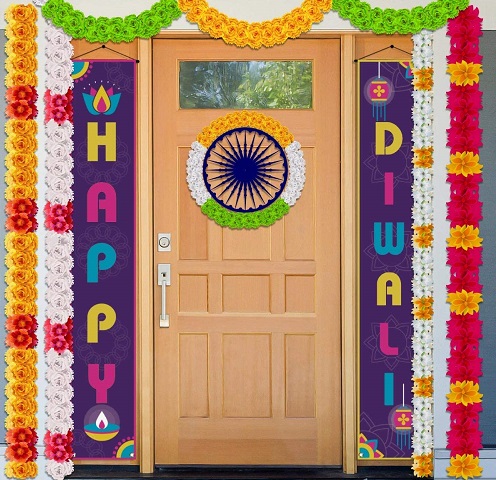 Add a touch of national pride to your Diwali decorations with the colours of the Indian flag. The centrepiece is a bright, three-coloured garland of flowers that is surrounded by cheerful purple banners that say "Happy Diwali" in bold letters. These colourful banners are made from durable polyester oxford fabric, so they can be used again next year. Additionally, brightly coloured garlands adorned on the edges of the door add an extra burst of colour to this patriotic Diwali decoration idea.
15. Diwali Thali Decoration: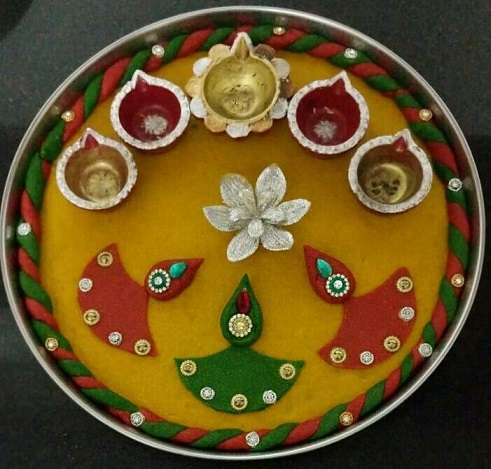 The yellow Diwali thali decoration is made from a silver thali, used as a utensil in many Indian homes. The base is made from a round piece of yellow paper that fits perfectly in the circular thali, whereas the platter is given highlights by a red and green string made of fibres that are dense and flexible to form a spiral shape. Some diya shapes are cut out of different-coloured sheets and decorated with tiny beads and ornaments made of silver, gold, sapphire, etc. In the middle of it is a fake silver flower surrounded by clay diyas used for prayer.
16. Deepavali Decoration in the House: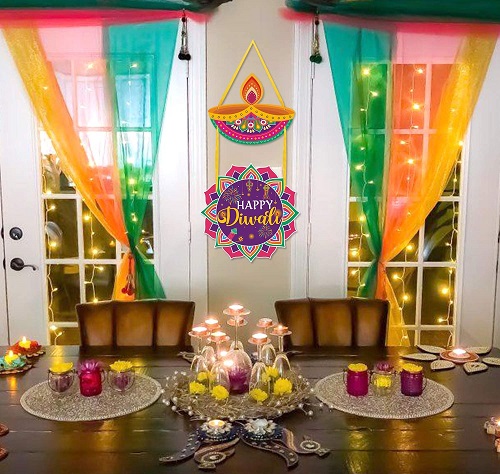 Bring a touch of elegance to your Diwali decoration with this stunning window curtain display. Ditch the mundane drapes and opt for a vibrant dupatta paired with twinkling fairy lights. The colourful diya placed on top of a cheerful "Happy Diwali" banner creates a mesmerizing backdrop that will make your home the talk of the town. The dining table serves as the focal point, beautifully adorned with candles and fresh blooms arranged in stylish glass jars and vases.
17. Diwali Laxmi Puja Decoration at Home: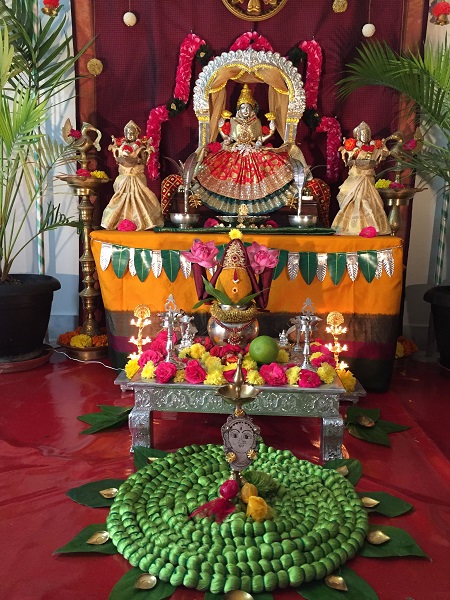 Honour the embodiment of wealth and prosperity with a stunning Laxmi Puja Diwali decoration in your home. The centrepiece is a magnificent statue of the goddess, seated regally on a throne draped in shimmering silver and gold fabric. Two brass statues on either side of the devi add to the scene's grandeur. On a lower level, an auspicious turmeric-coloured coconut stands on a silver stage covered with fragrant roses and marigolds. This holy setup is finished off with a green garland made of lamps.
18. Paper Deepavali Decoration Ideas: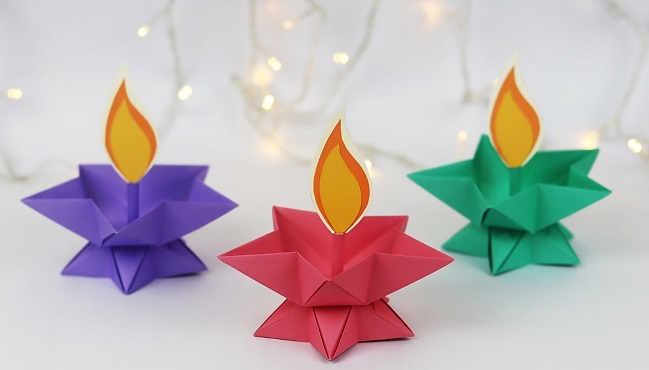 Bring a touch of creativity to your Diwali decorations with these delightful origami paper candles. All you need is a variety of colourful craft papers to accomplish different sizes for the base of the candle. Then, simply cut a flame-like shape from a piece of yellow paper and attach it to the top for a mesmerizing finishing touch.
19. Diwali Candle Decoration: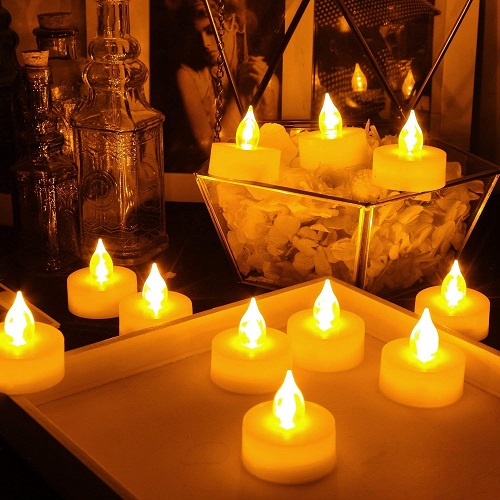 Illuminate your Diwali decoration with the warm glow of LED candles. These modern decor items offer a lasting effect that will set the perfect ambience for your festivities. A collection of round candles, each with a bright yellow bulb flame on top, lend a cheerful touch to the decoration. Additionally, these candles are made of acrylic, so you can place them anywhere in your home without any worries about fire or smoke.
20. Hanging Deepavali Decoration Ideas: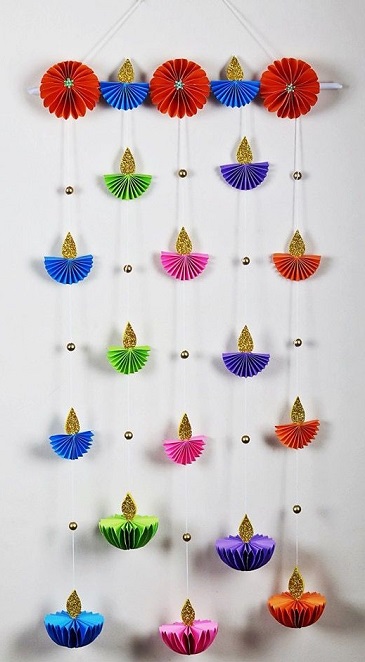 A simple do-it-yourself wall hanging made from coloured papers and some gold glitter sheets for your Diwali decoration. First, take red sheets and cut out three round shapes for the top. Then, use different coloured pieces to make two different designs for the diya shape. To finish this Diwali house decoration, cut out small flame shapes from the yellow glitter paper and glue them on top of the basic diya shape. Hang these on the wall with a white rope, and you're done.
Diwali is a time to come together and celebrate the triumph of light over darkness. Whether you prefer to go all-out with elaborate decorations or keep it simple with DIY projects, the key is to create a warm and inviting atmosphere that spreads joy. From lanterns and lights to rangolis and wall hangings, there are many ways to decorate your home for the festival. Hope this blog inspired you to get creative and make your Diwali celebration unforgettable.