There is no denying that Lord Krishna is one of the most worshipped Hindu gods across the globe. Every year, extravagant Janamashtami decorations take place to celebrate the birthday of our deity. The festival is celebrated with a lot of devotion and energy, from Dahi handi competitions to flower-covered Krishna Jhula decorations and beautifully decorated houses. Let's look at these simple yet unique Janmashtami decoration ideas that would perfectly fit your home and office. Stick with us till the end because we have everything you need to make Janmashtami 2023 a grand celebration.
Best Shri Krishna Janmashtami Decoration Ideas at Home 2023:
Below are the 20 simple and beautiful Janmashtami decoration ideas. Each one brings a unique element and a different perspective to this festival. Take a look at them!
1. Janmashtami Decoration Theme at Home: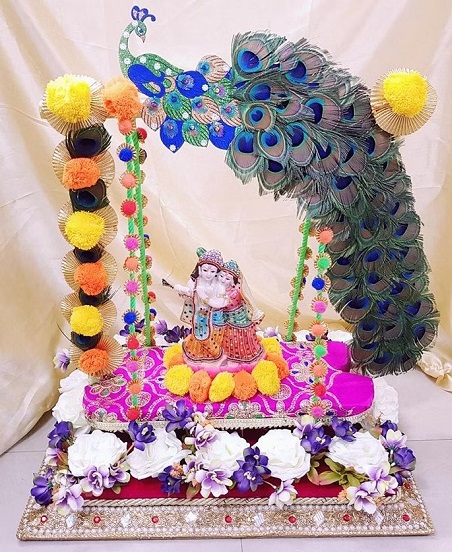 This lovely handcrafted Krishna Jhula decoration with the peacock is absolutely stunning. A wooden frame covered with marigolds and Genda flowers, on top of which stands a gorgeous peacock, exquisitely holds the statue of Radha-Krishna in the centre. The vibrant pink foundation lies over a scarlet-crimson carpet embellished with white and blue flowers, creating an ideal mix for this Janmashtami decoration theme at home.
2. Simple Janmashtami Decoration:
This image says it all if you want a simple Janmashtami decoration with an elegant finish. The backdrop is draped in a translucent yellow net cloth with LED lights. Adding a flute and a pair of handcrafted peacock feathers intensifies this ensemble. The entire Janmashtami decoration stage is built around a wooden structure with chairs and a table carrying food items presented in little dishes as offerings to the deity. At the centre is a statue of Lord Krishna surrounded by two silver lampstands.
3. Krishna Jhula Decoration with Flowers: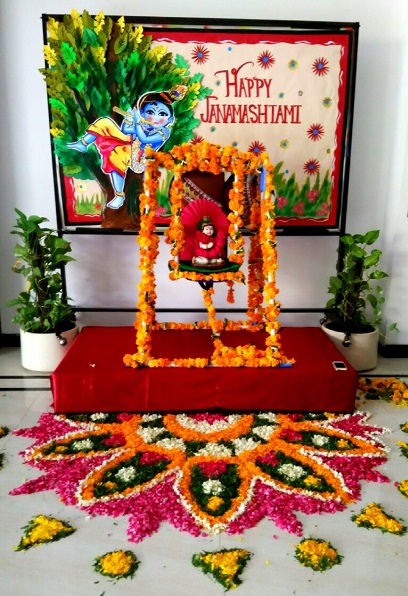 To replicate this Janmashtami decoration, craft a basic Jhula out of a wooden slab and complement it with Genda flowers. A wooden platform draped in a crimson sheet serves as the foundation for the Jhula, surrounded by a gorgeous flower-based rangoli. To amplify the theme of this entire Krishna Jhula decoration with flowers, arrange a billboard with a creative 'Happy Janmashtami' design in the backdrop.
4. Krishna Jayanthi Decoration at Home: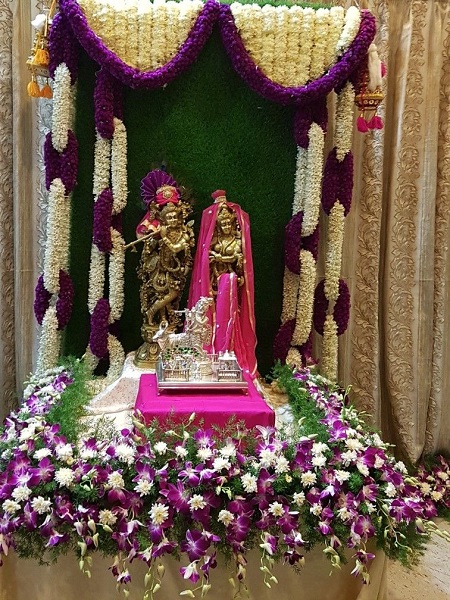 These magnificent garlands from a beautiful blend of purple and white mogra flowers serve as the key elements in this Janmashtami decoration. At the core of this decor are two beautiful brass statues of Lord Krishna and Goddess Radha. The silver statue of Lord Krishna, which rests on a square base draped in pink linen, is a distinctive touch to the overall design. On the boundaries of the stage, purple and white flowers and green grass are used to intensify the colour scheme of this Krishna Jayanti decoration at home.
5. Flower Decoration for Janmashtami: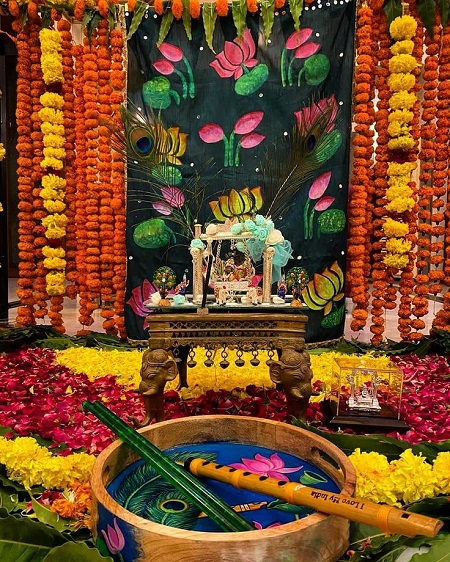 If you don't want to use any fancy elements, opt for this traditional flower decoration for Janmashtami. Make garlands from marigolds, Genda flowers, and torans to embellish the lotus-cloth backdrop. Create a wooden stage in the centre of this Janmashtami décor to accommodate the deity's figure, and finish by laying marigolds, roses, and mango leaves on the ground, complemented by a wooden basket with flute and dandiya sticks.
See More: Flower Decoration At Home
6. Janmashtami Home Temple Decoration: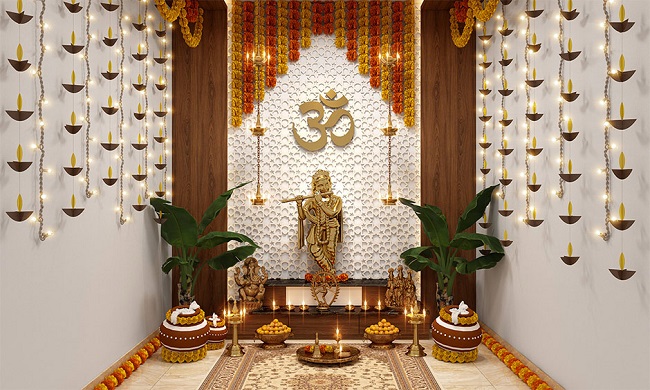 This modern Krishna Janmashtami decoration exudes nothing but elegance. The affection of this design is enhanced with paper Diya wall hangings paired with fairy lights to illuminate the walls of your pooja room. The intricate wallpaper on the accent wall complimented with fresh flower garlands and torans adds to the contrast. Two banana plants on either side, a few hanging oil lamps and some dahi handi complete this exquisite Janmashtami home temple decoration.
7. Best Janmashtami Decoration: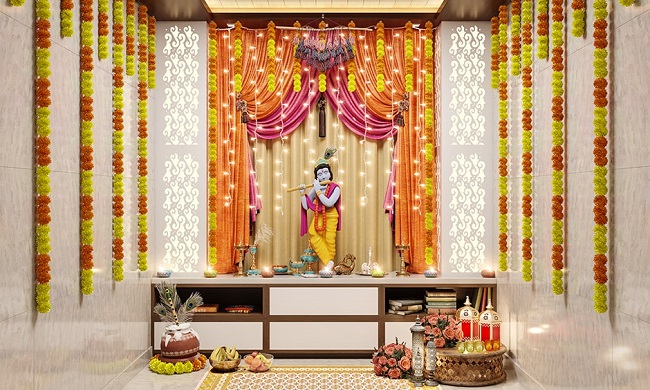 Your Krishna Janmashtami celebrations would most likely seem incomplete without this alluring mandir decoration for Janmashtami. The entire backdrop and accent walls are covered in orange and pink curtains and garlands of marigolds and Genda. The beautiful statue of the Almighty stands in the centre of the stage, surrounded by Diyas, lamp stands, and dahi-handi, all of which add to the attractiveness of this Janmashtami décor design.
8. Homemade Janmashtami Decoration at Home Photos: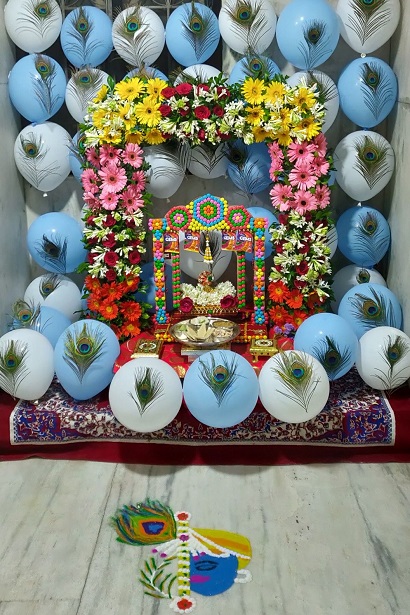 If you think Janmashtami decorations are only about flowers, Jhulas and dahi handis, then this homemade Janmashtami decoration with chocolates will surprise you. This beautiful Krishna Jhula decked up with flowers and gems speaks volumes in creativity. The entire backdrop is decorated with blue and white balloons with peacock feathers on them and a Krishna rangoli on the floor.
9. Latest Janmashtami Decoration: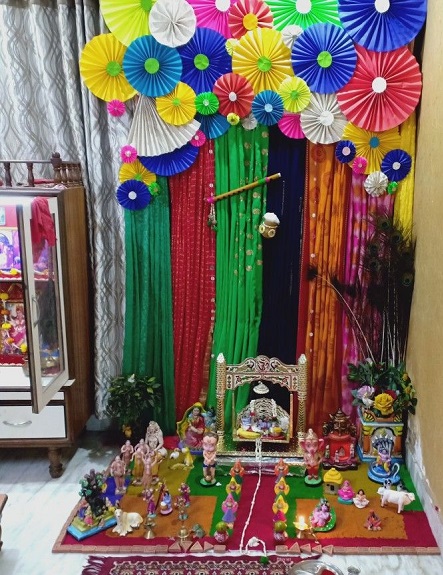 Recreate the Vrindavan ambience in your latest Janmashtami decoration design. All you need are a few colourful sarees to drape the background and compliment them with different coloured wheels to give off village vibes. Then, add a few other clay figurines such as people, animals, homes, gods such as Ganesha and Vishnu, and finally, a Krishna Jhula in the centre to complete this Janmashtami special decoration.
10. Janmashtami Temple Decoration:
If you have a designated room for worship in your home, you can pull off this Janmashtami temple decoration with Lord Krishna's and Goddess Radha's idol in the centre and beautiful floral arrangements around it, along with some silver ornaments. Draped in royal blue silks, complimented with colourful garlands of white, pink and yellow flowers, both the deities stand under the golden shrine in this Janmashtami decoration.
See More: Christmas Decoration Ideas
11. Beautiful Janmashtami Decoration: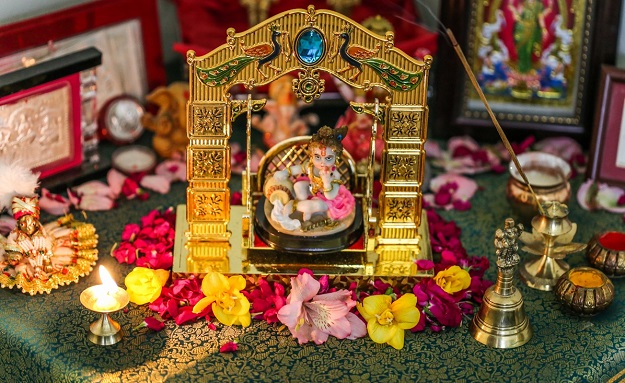 This simple Janmashtami decoration of Lord Krishna in a golden Jhula with exquisite ornaments and elaborate carvings, including two peacocks, is an affordable yet lovely decoration for Janmashtami at home. Add elements like candles, Diyas, flowers and vermilion for the rituals to the pious plate decorated in gorgeous green fabric.
12. Laddu Gopal Janmashtami Decoration: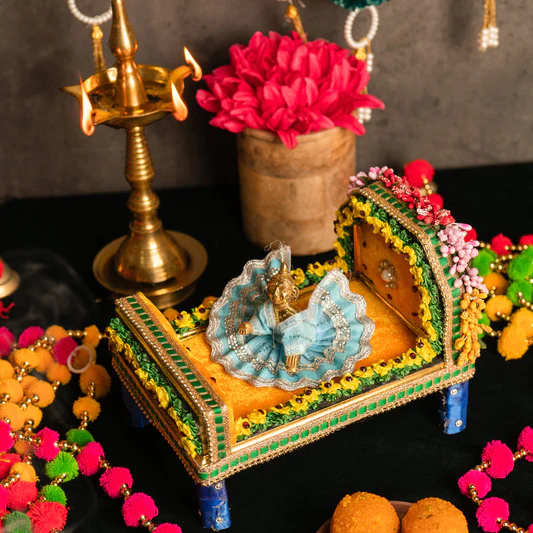 These Janmashtami decoration ideas tend to grow more imaginative as we travel down this list. For instance, this laddu Gopal Janmashtami decoration idea features a tiny bed draped in green satin strips and colourful flowers, which is ideal for a resting Lord Krishna statue dressed in light blue attire. A brass lampstand, a flower pot holder, some garlands, and a dish of sweets for the almighty complete are just a few more things to complete the setting.
13. Janmashtami Decoration with Balloons: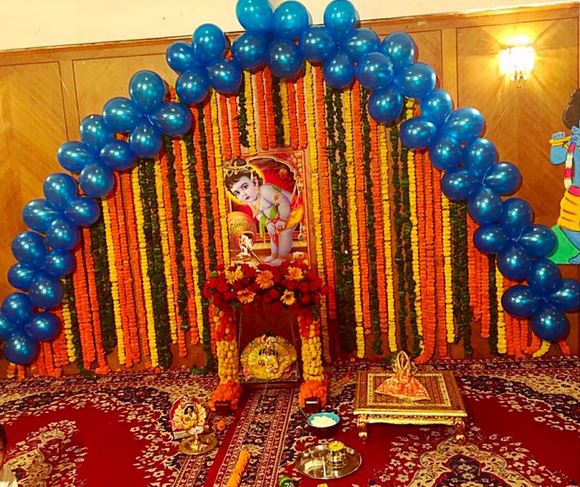 Make a place for this magnificent Janmashtami decoration with balloons and flowers. With a wooden wall and lamp lights as a backdrop, garlands of Genda, marigolds, and torans serve as the initial decorative elements, followed by a layer of blue balloons at the top, forming an arch. The deity's Jhula sits in the centre, with a framed portrait atop the wooden mandap, surrounded by several other elements.
14. Janmashtami Wall Decoration: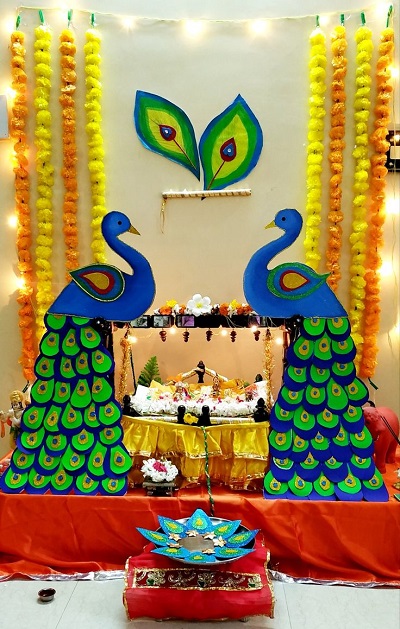 The allure of this Janmashtami decoration with two peacock feathers alongside Lord Krishna's Jhula cannot be overstated. The Jhula, which is swathed in yellow and white fabric, serves to proclaim the appropriate location of the stage's centre. This Janmashtami wall decoration also features a white background embellished with suspended marigolds and Genda garlands, a hand-crafted pair of peacock feathers and a flute. Some sparkling lights are also tucked in the background to provide an illuminating substance to this decor.
15. Krishna Pot Decoration:
No Janmashtami decoration is ever complete without a pot of white butter. This Krishna pot decoration for Janmashtami revolves around handcrafted elements made of clay. The four jars, also known as dahi handis, hold the white butter, which is being stolen away by three miniature representations of Lord Krishna. The entire stage is set on a wooden structure painted in shiny crimson paint inked in white decorations. Of course, you can add more elements to this decoration, like animals, tools, etc.
16. Shri Krishna Janmashtami Decoration: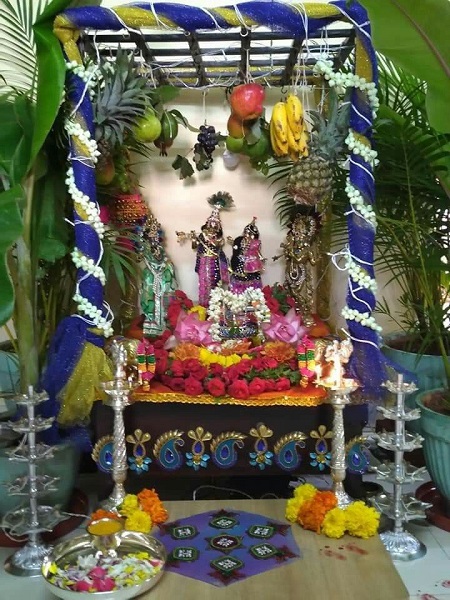 If your home is large enough to accommodate an extravagant Janmashtami decoration, this could be it. A beautiful canopy made of temporary steel constructions houses Lord Krishna's and Goddess Radha's idols. Right from the bottom, the pillars are wrapped in dangling yellow and blue sheets, making their way up to the ceiling, where numerous fruits are suspended as offerings to the almighty. The bottom of this Shri Krishna Janmashtami decoration is a platform draped in pink cloth with extravagant decorations of Lotus and rose garlands, illuminated by the silver lampstands.
17. Background Decoration for Janmashtami: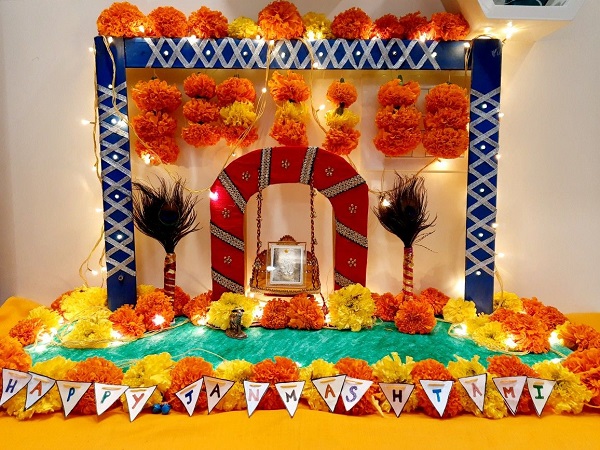 If you prefer to keep your Janmashtami decorations minimal and organic, save this one. A miniature Krishna Jhula is suspended in the centre of the stage by a red cardboard frame with two peacock feathers on either side. Garlands of marigold and Genda flowers embellish the backdrop and surface to keep the overall theme's character. A handcrafted Happy Janmashtami banner is placed in the foreground to charm the children.
18. Janmashtami Thali Decoration: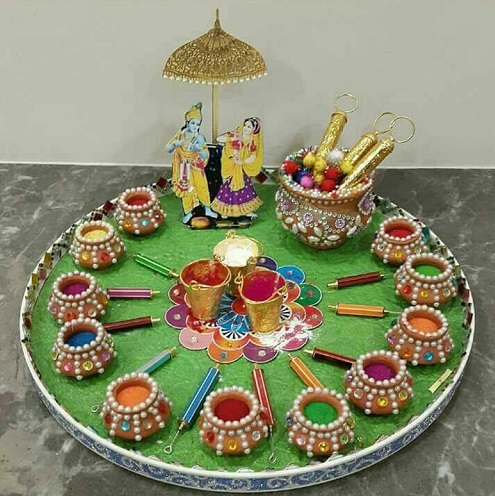 When it comes to Janmashtami decoration ideas, creativity has no bounds, and this one is likely at the top of the list. A homemade Janmashtami thali with multiple little pots filled with dry colours and inlaid with white pears and colourful beads. This Janmashtami thali decoration is inspired by the colourful festival of Holi, featuring components such as Pichkaari and water buckets, as well as a cardboard statue of Lord Krishna and Goddess Radha.
19. Janmashtami Stage Decoration: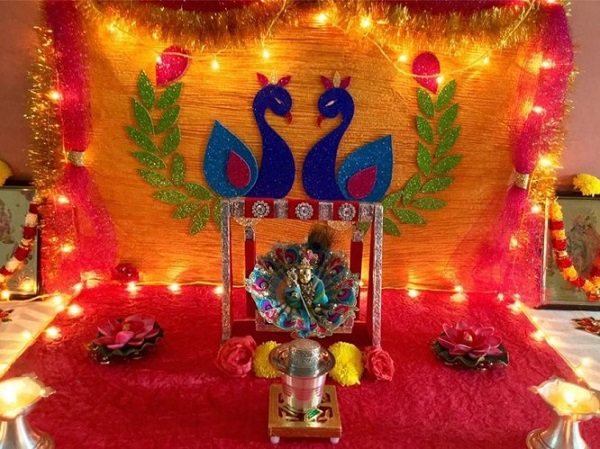 Use Diya and fairy lights to spice up your this year's Janmashtami stage decoration. Handcraft two large peacocks out of a blue and green glitter sheet to place at the centre of the backdrop wall. This is one of the creative Janmashtami decorations which features Lord Krishna in his Jhula, surrounded by flowers and jewels and is complemented with a pink mat on the surface and one on the backdrop.
20. Flute Decoration for Janmashtami: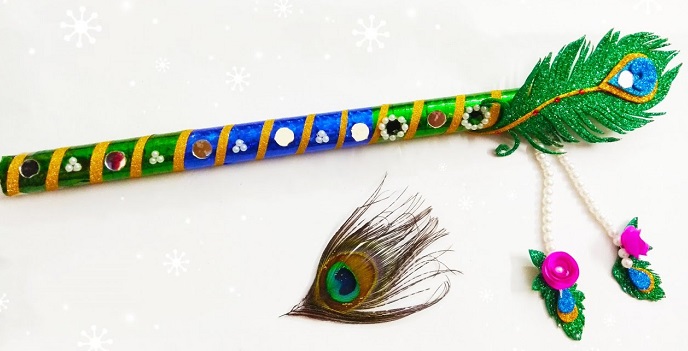 This flute decoration for Janmashtami represents Lord Krishna's love of music, nature, and unvoiced creatures. This sleek design fashioned from a bamboo shoot is draped in gleaming green and blue silk with a spiral roll of a golden strip. All Janmashtami decoration flutes, just like this one, are typically embellished with pearls, flowers, and other ornaments, including a peacock feather at one of the ends.
From modest to lavish decorations, this article has provided you with everything you needed to know about the 2023 Janmashtami decoration trends. From flowers to satin clothes, from decorating Jhulas to flute decorations, the options are endless when it comes to Janmashtami decoration ideas. These decoration ideas are not only useful in-home setups but can also be done in outdoor settings. Try these ideas on Janmashtami this year to prepare and deck your house for the festivities.