Lower belly fat is the most annoying issue of many people these days. It can be occurred due to several factors like lack of exercise and unhealthy diet consumption etc. The only solution is to change your lifestyle and start exercising. Listed below are the 5 easy and best exercises to reduce lower belly fat with pictures. Scroll down to explore!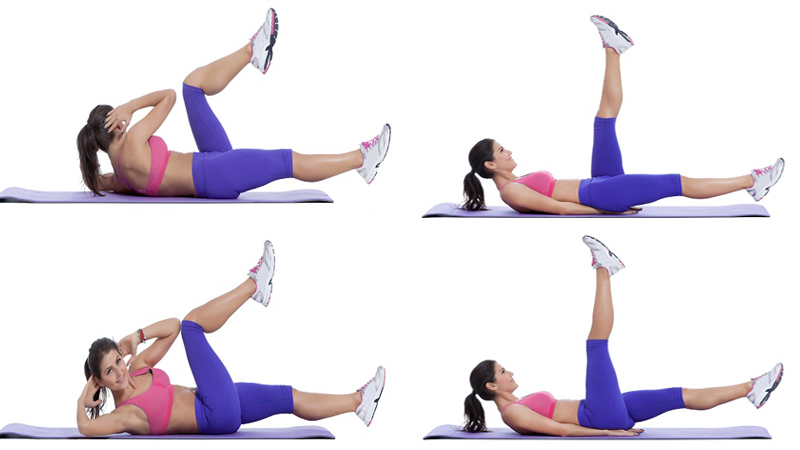 Most Effective Lower Belly Workouts:
Here are our 5 simple and best exercises to lose lower belly fat quickly at home. Let's have a look at them.
1. Bicycle Crunch: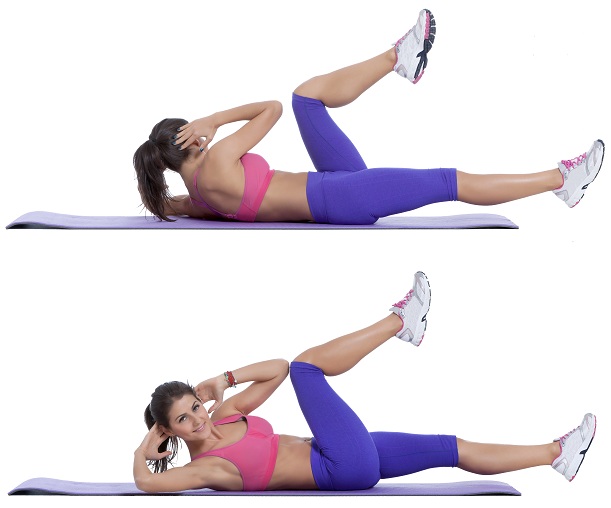 The bicycle crunch is excellent for activating the lower abdominal muscles.
Steps To Perform:
Lie on your back with the legs extended on the floor. Hold your head gently with both hands.
Gently pull your shoulder blades back and raise
Raise your right leg about a 45-degree angle to the ground while turning your upper body to the left and bring your right elbow towards the left knee.
Alternate the crunch by touching the other knee with the opposite elbow.
Return to the starting position to complete 1 rep.
Perform the desired number of sets until you feel the burn.
2. Scissors:
Scissors is one of the most effective low belly exercises. It also engages the abdominal muscles.
Steps To Perform:
Lie down on your back with hands behind your head and legs extended.
Gently lift your head, upper back, and legs off the floor.
Now, lower your left leg just before it touches the floor and raises your left leg while lowering your right leg.
Repeat 10 times to complete one set.
Perform 3 sets of 12 reps each.
3. Dead Bug:
This particular exercise is ideal for getting rid of lower belly fat and strengthening the core.
Steps To Perform:
Lie on your back with your arms at your sides.
Slowly lift your hips and knees off the floor at a 90-degree angle with your palms just above your knees. This is the starting position.
Extend your right leg forward until it is few inches from the floor. Place your left arm straight behind you.
Switch sides and repeat the process.
4. Toe Touch:
Toe touch is the strengthening and flexible exercise for the lower belly and improves the posture as well.
Steps To Perform:
Stand straight on the floor with your feet hip-width apart.
Keeping your hands close together, extend and stretch down slowly to the ground.
Make sure that your legs are straight during the movement and get back to a standing position.
Repeat the movement several numbers of times.
5. V-Sit: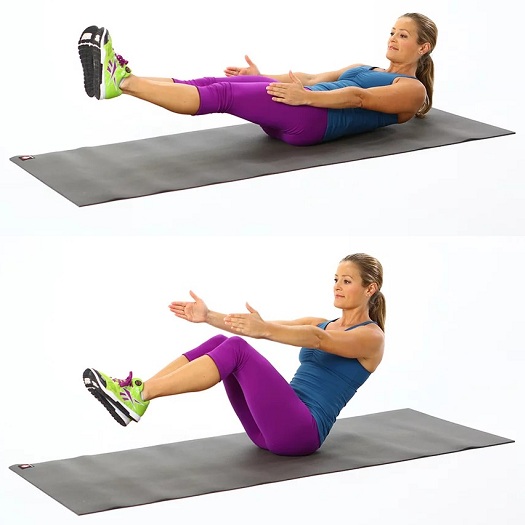 V-Sit position works well in improving the core strength and loses lower belly fat.
Steps To Perform:
Lie on your back with your legs extended and hands by your sides.
Raise your legs up to an angle of 45-degree with hands and shoulders off the floor.
Lift your torso up to form the v-shape and hold this position for several seconds.
Ensure that your core is tight and your abs are engaged.
Get back to the initial position and repeat this entire movement several times.
The above-mentioned are simple and most effective exercises to reduce lower belly fat quickly at home. Perform all these workouts regularly to achieve a flat tummy. If you find this content useful, Share your feedback below in the comment section!