As we enter 2023, the athleisure trend shows no signs of slowing. What better what to update your sporty wardrobe than with a trendy new pair of sneakers for women? These five hot choices for the new year will have you runway-ready in seconds.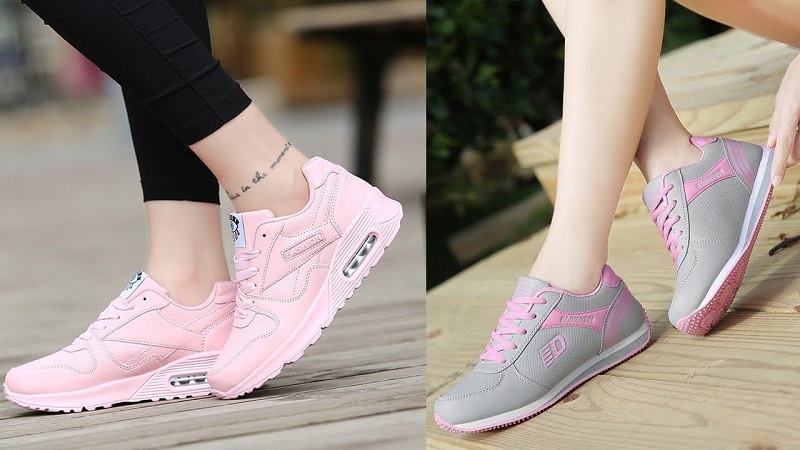 Best Sneakers Types For Women:
The following are the trending sneaker types in 2023. Let's have a look at them.
1. Chunky Retro Kicks:
Going old school looks completely fresh when you pair your favourite leggings with gym-class-style throwback sneakers. Standout styles in this category include the Puma Rise x Charlotte Olympia Lace line and the Adidas Fountain lace-ups. The Fountain comes in your choice of traditional black and white, a feminine blush pink, or an of-the-moment white version with red and animal print accents. The Puma Rise, a collaboration with London-based designer Olympia, features metallic piping and a far-out curvy silhouette. For the best results with this bold trend, pick a shoe that looks like something your dad wore in the early 90s.
2. Color Blocking:
Speaking of bold, some of our favourite women's shoes this year feature contrasting pops of vibrant crayon colours. We peeped this cheery trend on several cool sneaker styles this year. The Diadora Rebound Ace sports a soft red and baby blue palette with paint-splash accents straight from the 90s. If you're set on a pair of Puma sneakers, try the CELL Plasmic Lace-Up Sneakers, which fit this trend with a bold Alert Yellow emblem stripe with blocks of aqua and neon pink. This trend is all about contrast.
3. Fuzzy Textures:
Sherpa has been the sweatshirt material of choice for a few seasons, so it's no surprise that sheepskin-inspired texture has popped up on sneakers for 2023. Check out the Toms Sunset Faux Shearling Slip-Ons, which pair a simple silhouette with a cosy pink shearling outer that epitomizes this trend. We also love the Keds Kickstart Hi Trx Brushed Denim Shearling High Top Sneakers. The denim upper of these sneaks has cushy real shearling accenting the heel, keeping your ankles warm in style until Maydays finally arrive.
4. Neutral Tones:
We've been seeing neon footwear for a while now, and although brights are as hot as ever, we also see a new palette of calm, soothing neutrals for 2023. Go for classic grey or beige, or mix up the definition of neutrals with a muted sage or blush hue. Both Timberland and Hush Puppies have styles available in sophisticated taupe this season. Cool silvery grey is another inspired option, showing up styles available this season from Cole Haan, Skechers, Adidas, SOFFT, and other favourite brands.
5. Platform Sneakers:
Give yourself a height boost with this exciting 2023 sneaker trend. You'll find eye-popping platform styles this season from Puma and Keds, though we also spotted this look on the runways of high-fashion brands like Gucci, Stella McCartney, and Alexander McQueen. Balance this striking look with sleek lines for miles of grown-up style.
When you shop online for your new year sneaker refresh, affordable prices make it easy to stock your closet with every one of these styles on a budget. In fact, cool sneakers are an investment since this trend shows no signs of slowing.