Premature greying of hair is known to be one of the most vexing outcomes of the modern-day lifestyle. One might expect to see those first strands of greys in your 40's, but alas when you suddenly spot them while you are still in your 30's, nothing can be more worrisome as you very well that soon more will follow. It is natural to send one into panic and we start hunting for home remedies for grey hair. If experts are to be believed then today's premature greying is more common than even common cold and cough. Here are some of the most common causes of the premature greying of hair and also some natural home remedies for grey hair.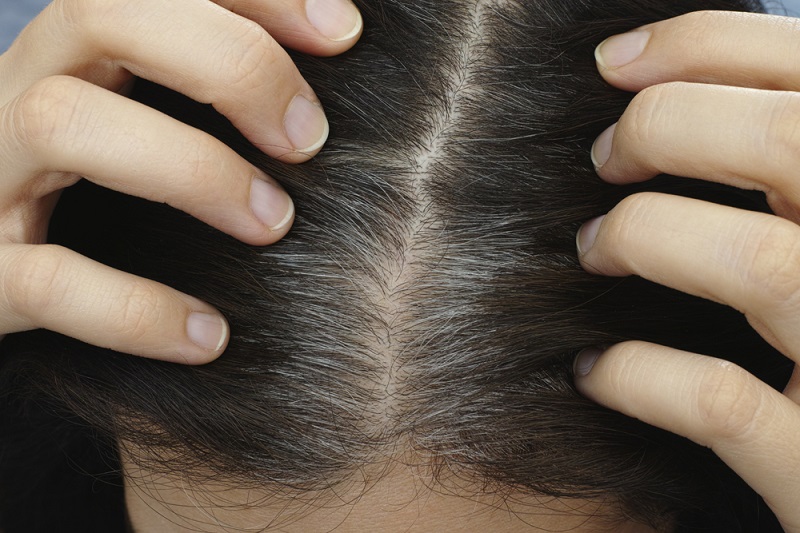 What Leads To Premature Greying of Hair?
The exact cause of premature grey hair is still to be known, but here are some of the main causes that lead to early greying of hair.
Vitamin B12 deficiency: Melanocytes are the cells that are responsible for giving our hair its colour and for them to produce pigment, Vitamin B12 is essential. The deficiency of Vitamin B12 hampers the capacity of melanocytes to produce the colour-producing pigment which results in greying of the hair.
Hydrogen Peroxide: Studies have shown that when our hair produces too much hydrogen peroxide (which it produces naturally), it can lead to greying of hair.
Genes: Heredity has a strong link with premature greying. If your family has a history of premature greying of hair, then there is a huge possibility of you having grey hair sooner with no real fault of yours.
Nutritional deficiency: If your diet lacks the necessary vitamins and minerals required for good hair and skin, then it can lead to early greying of the hair.
Medical conditions: Some medical conditions such as anaemia, thyroid, etc. can also lead to grey hair at a young age.
Stress: A hectic stressful lifestyle can also play a major role in inviting premature greys and making them appear sooner than expected.
Smoking: It has been proven with studies that smokers face a higher chance of developing premature greying than non-smokers.
Usage of certain perfumed oils can also lead to the appearance of premature greying as they contain chemicals which in turn can cause greying.
Loss of pigment in hair follicles can result in grey hair.
Some autoimmune diseases can cause premature greying of hair.
Lifestyle Changes To Prevent Premature Grey Hair:
Bringing certain changes in one's lifestyle will aid in preventing further greying of hair, as well as reverse grey hair as well.
Do's:
Take care of overall health. Too much stress and unhealthy eating habits have an adverse effect on the hair and can show up as what we call premature grey hair.
Protect your hair from the scorching rays of the sun.
Tend to your scalp more often than not.
Don'ts:
Do not swim unprotected. Both saltwater and chlorine create havoc on hair.
Do not overuse appliances such as straighteners, curlers or even hairdryers.
Best Natural Home Remedies For Grey Hair:
There are several ingredients which can easily be found in your kitchen, a combination of which can aid in dealing with premature greys. These are some of the simple and best home remedies for grey hair along with tips that will aid in slowing down the process of greying hair naturally.
1. Curry Leaves and Coconut Oil: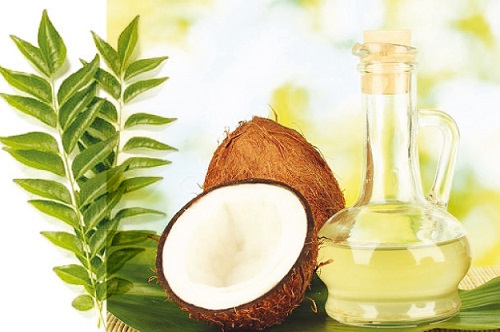 You can hardly find a person who is not aware of the benefits of coconut oil. It is a natural conditioner for the hair that also aids in regrowth of the damaged hair and when you add curry leaves to it what you get is a highly beneficial concoction. This is because curry leaves are rich in vitamin B and also aid in restoring the pigment melanocytes and thereby preventing the hair from further greying. Massaging the scalp with curry leaves infused coconut oil is said to be a foolproof method of maintaining those dark tresses. Here is how you can make the curry leaves infused with coconut oil.
How To Do It:
Take 1 cup of curry leaves and boil it in 1 cup of coconut oil for 6-8 minutes.
Allow it to cool.
Massage this oil into your scalp regularly and within a month you will find your tresses going darker than they were earlier.
2. Ribbed Gourd and Olive Oil:
The ribbed gourd is widely used to restore hair pigment and enrich the hair roots. On the other hand, olive oil offers deep nourishment to the dry and damaged scalp and restores the pH level of the hair follicles and repairs the sun damage to regain colour. A combination of ribbed gourd and olive oil acts as a tonic for the hair. This is how you can make it at home.
How To Do It:
Dice cut the ribbed gourd into small pieces and sun-dry it.
Dip the sun-dried ribbed gourd in olive oil and let it soak for 3-4 days.
Now boil this oil until the colour changes to dark black.
Massage your scalp well at least twice a week to see magical changes in your hair.
3. Onion Hair Pack:
Apply onion juice to hair and leave it for 30 minutes to an hour. Onion juice not only helps in reversing premature greying but also promotes hair growth and improves the general health of the hair.
How To Do It:
Peel and chop onions to small bits.
Juice can be extracted from the onions with the help of a juicer.
Apply this mixture to your scalp and let it sit for 30 minutes to 1 hour.
Wash away with a mild shampoo.
Repeat this process twice a week, and within a month you will begin to notice a difference in your hair.
4. Henna and Egg Pack:
Henna, which is widely used to colour hair also aids in curbing the premature greying of hair. Henna and an egg pack along with curd can help in strengthening the roots as well as checking the premature greying of the hair. This is one of the best home remedies for grey hair.
How To Do It:
Take 2 tablespoons of henna in a bowl containing raw egg.
Add 1 tablespoon of curd into it and whisk it well to make a smooth paste.
Apply this mixture to the strands as well as the roots and let it sit for 30 minutes.
Wash it off with warm water.
Repeat twice a week for best results.
5. Black Seed Oil: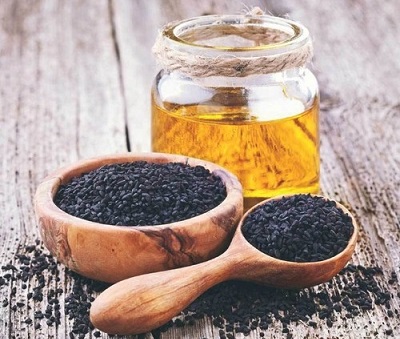 Black seed or kalonji is one of the famous condiments found in every kitchen. This favourite kitchen ingredient is also very effective in preventing premature greying of the hair. The black seed oil also aids in curbing hair thinning and hair fall.
How To Do It:
Warm black seed oil.
Massage it nicely into your scalp.
Cover it with the shower cap and let it stay overnight.
Wash your hair in the morning.
Do this every alternate day to see a magical result on your hair.
6. Mustard Oil:
Used widely in food for its unique flavour. Mustard is rich in antioxidants, healthy fats, and selenium. Its oil gives hair natural shine and strength also nourishes it, darkens the hair and aids in concealing the early signs of premature greying of the hair. Here is how you can use mustard oil for strengthening and darkening the hair.
How To Do It:
Warm the organic mustard oil and massage it thoroughly.
Cover it with a shower cap as the oil can be sticky.
Leave it on overnight and wash it in the morning.
7. Fenugreek Seeds:
Fenugreek seeds are a rich source of vitamin C, potassium, iron and lysine. These nutrients not only prevent premature greying of hair but also makes the hair strong and shiny. It also prevents scalp dryness.
How To Do It:
Soak the fenugreek seeds in water overnight.
Grind them in the morning with enough water to get a smooth paste.
Apply this paste to the scalp and leave it for an hour.
Wash your hair with a mild sulphate-free shampoo followed by a conditioner.
In addition, you can also add fenugreek seeds to your diet to see faster results.
8. Amla or Indian Gooseberries:
Amla is widely known for its innate properties to repair damaged hair. It works as a hair tonic that not only darkens the hair but also brings a lustrous shine to it. The Vitamin C present in it has an anti-ageing property that revitalizes the pigment in the hair follicles. These are the 2 ways in which you can use amla in the hair. Either soak dried amla in water overnight and wash the hair with this water or make a smooth paste with amla powder and lemon and apply it on the scalp regularly.
How To Do It:
Take 3-4 dried gooseberries and mix them in one cup of coconut oil.
Boil this mixture and make an oil solution.
You can store this in a jar for a long time.
Take 2 tablespoons of this solution for every use and massage it nicely on the scalp for at least 15 minutes.
Leave it additionally for another half an hour before you wash it off with a sulphate-free shampoo.
9. Black Tea and Salt:
Black tea is rich in antioxidants that inhibit the growth of white hair. Besides, it also aids in darkening the hair colour and bringing a nice shine to it. This is one of the effective home remedies for grey hair.
How To Do It:
Make a cup of strong black tea and allow it to cool.
Add 1 tablespoon of iodized salt.
Massage this on your hair and scalp nicely.
Let it sit for an hour or so before washing it with a mild shampoo.
10. Cleansing the Hair with Shikakai:
Shikakai is known to be a brilliant hair cleanser. It cleanses the hair thoroughly and prevents premature greying of the hair. This is how one can use shikakai for the hair.
How To Do It:
Take 4-5 shikakai pods and grind them finely.
Add 1 tablespoon of sour curd and mix it well.
Apply this mixture to your hair and let it stay for 30 minutes before you wash it thoroughly.
These home remedies for grey hair mentioned here have been tried and tested over the years and have proved successful in curbing the growth of grey hair at a young age. They are strong enough to reverse the already present grey hair and prevent new ones from turning grey.
Frequently Asked Questions:
Question 1: Why does the hair grow grey at a young age?
Answer 1: There are several reasons why hair grows grey at a young age. Lack of Vitamin B12, lack of various nutrients in food that aid in maintaining the pigmentation, genetics and other medical conditions such as thyroid can lead to the hair growing grey at an early age.
Question 2: What is premature hair greying and how does it form?
Answer 2:   The hair follicles produce melanin that is responsible for maintaining the pigmentation in the hair. Over a period of time, the hair starts losing these pigmentation cells that result in the colour of the hair going grey and ultimately white. Smoking is also one of the reasons that cause of premature greying of hair.
Question 3: Is premature greying of hair reversible?
Answer 3: If experts are to be believed then greying of hair cannot be reversed. However, measures can be taken to curb the exponential growth of grey hair. In many countries around the globe, laser treatments have been carried out by dermatological experts to arrest the process of greying. However, before you opt for such treatments proper consultation must be done, or else it may end up doing more harm than good.
Question 4: Does plucking of white hair result in more white hairs?
Answer 4: It is a myth that plucking of white hair results in more white hairs. It is said that if you pluck one, you will get 2 new grey hairs, but there is no scientific backing to this notion. However, the plucking of hair may damage the follicles and ultimately cause baldness, and hence it is not advisable to pluck your hair.
Question 5: Is there any treatment for grey hair in Ayurveda?
Answer 5: There are various Ayurvedic medicines available that can treat grey hair and curb its further growth. However, it is advised that one should go to a reputed Ayurvedicinstitute to take such treatment and to be sure that there are no side effects.
Question 6: Can stress cause greying of hair?
Answer 6: According to experts greying hair is a genetic problem. However, stress can speed up the process of greying. It is advisable to eat healthy nutritious food and lead a healthy lifestyle to prevent premature greying of hair especially when you have a history of premature greying in the family.
Question 7: Foods that should be eaten to reduce grey hair?
Answer 7: Deficiency of Vitamin B12 is the root cause of premature greying of hair. Hence consuming food rich in Vitamin B12 such as Beef, eggs, pork, meat, lamb and dairy products such as cheese, milk, etc. can curb prematurely white hair.