What
is
House
Elev
ation
?
The process of generating a physical and visual depiction of a structure's façade is called house elevation. A house elevation is a tool used by architects and builders to show a building's size, shape, and other exterior elements like windows, doors, and balconies. Front, back, side, and top are commonly the four angles used to create house elevation designs.
In India, a house's elevation is determined by its location. The elevation in India's northern regions is typically low to medium, while it is typically greater in the southern regions. The topography and the kind of house being built both influence the elevation. Generally speaking, the elevation is higher in hilly locations and lower in flat areas. A house's elevation typically ranges from 1-3 metres.
The attractiveness of your home is specified by the house elevation designs. The house front elevation design is the first thing guests notice when they arrive at your property. Therefore, when creating a home, everyone considers the home's outside designs. Here, we present 25 of India's best and most straightforward house front elevation designs. So keep reading and choose your favourite if you're looking for the best front elevation designs for your house!
Different Types of House Elevation Designs In India:
 Traditional Elevation: A conventional elevation has a symmetrical layout, a central entrance, and uniformly spaced windows. Typically, a gable or hipped-style roof is used.
Modern Elevation: Clean lines, basic materials, and little adornment define a modern elevation. The roof may be flat or have a low pitch, and windows are frequently huge and asymmetrical.
Contemporary Elevation: A contemporary elevation frequently has a flat or low-pitched roof, angular windows, and strong geometric elements.
Craftsman Elevation: A low-pitched roof, exposed rafters and beams, sizable porches, and often clustered windows are characteristics of a craftsman elevation.
Mediterranean Elevation: Stucco walls, terra cotta roofs, arched windows and doorways, and elaborate balconies and courtyards are characteristics of a Mediterranean elevation.
Tudor Elevation: A Tudor elevation includes tall windows with arched or diamond-shaped panes, half-timbering, and steeply pitched roofs.
Latest and Modern House Front Elevation Designs In India:
Are you searching for the best house elevation designs online? Here are our 25 simple and best house front elevation designs with pictures. Let's have a look at them.
1. Simple House Front Design: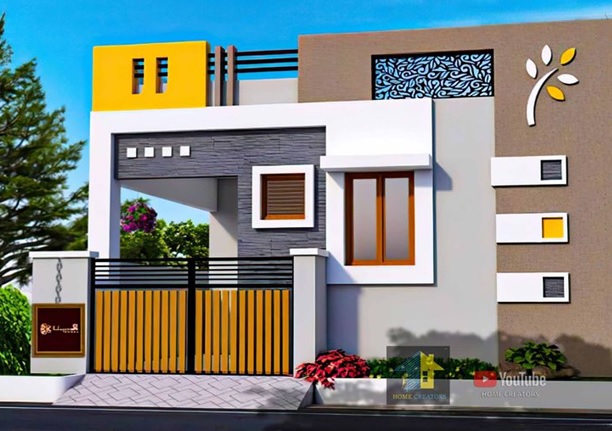 Depending on the home's construction and design, there are numerous ways to create a simple house front. Consider employing straight lines, clean lines, and less ornamentation for a modern appearance. Use brick and stone, wrought iron, and ornamental embellishments for a more classic appearance. Use organic materials like wood and stone for a rustic appearance, and add a little charm with some plants or a garden. Keep your style straightforward and classic, whatever it may be.
2. Indian Front House Design: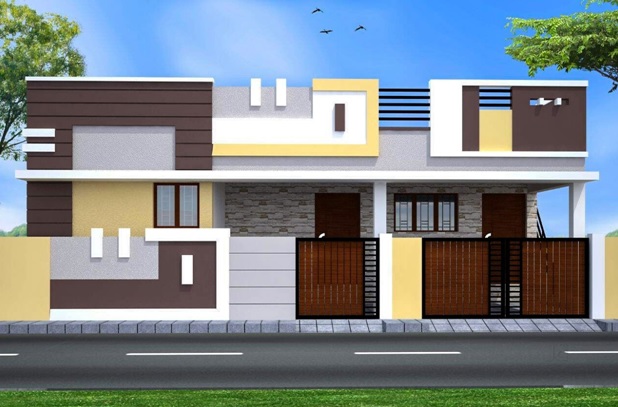 An Indian home's front house design is influenced by the area and the structure's architecture. The entry to traditional Indian residences is frequently adorned with exquisite carvings and decorations, and it is located off of a central courtyard. In addition, many Indian homes have a veranda, terrace, portico, and a sizable balcony. Bright hues like red, orange and yellow are frequently employed in Indian homes' bold colour schemes to create a pleasant ambience. Indian homes frequently include elaborate stonework, statues that have been expertly sculpted, as well as vibrant paintings and textiles to further the style.
3. Latest Elevation Design For House: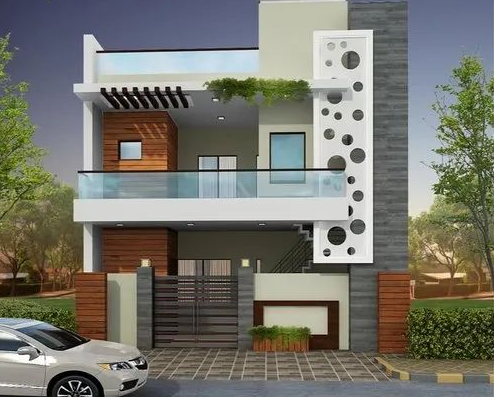 This two-stair house elevation design has a stunning appearance. This is one of the best elevation ideas for your new home if you are considering a front elevation for a two-stair building. It is one of India's most popular elevation designs. Modern elevation designs for homes frequently use a variety of colours and materials to achieve a modern, contemporary look. Large windows, numerous storeys, and an open floor design are typical features. Popular features include balconies, outdoor living areas, and stone accents.
4. Modern Front Elevation Designs: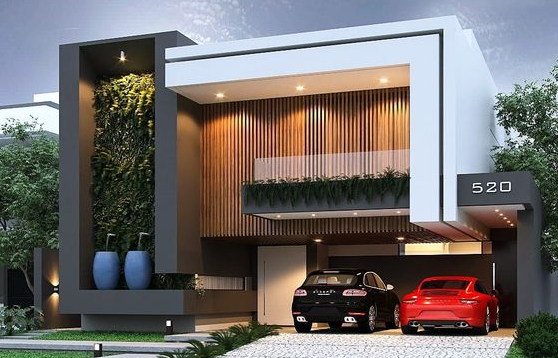 Large windows, no adornment, and smooth lines are common features of modern front elevation designs for residential structures. Bold colours and patterns can lend a distinctive flair, while natural stone, wood, and metal may produce a modern appearance. A flat roof might give off a contemporary vibe, while sharply angled pitched roofs can give off a modern vibe. The modern appearance of the structure can also be enhanced by using large glass expanses, balconies, and decks.
5. Luxury House Elevation Designs: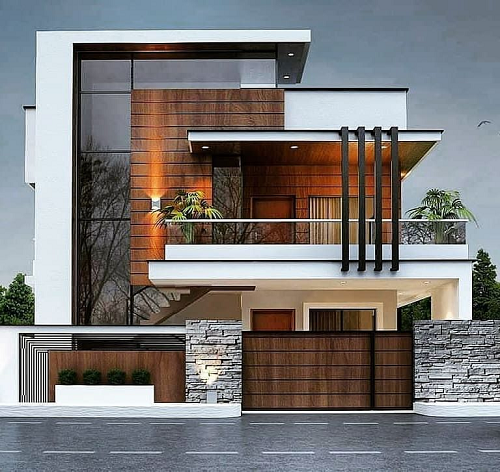 Designs for luxury home elevations can have a variety of styles, from a conventional, classic look to a modern, contemporary aesthetic. Large windows, elaborate embellishments, lofty ceilings, and ornate finishes are a few characteristics of luxury house elevations. Outdoor living areas, such as balconies and terraces, may also be included in luxury elevations. Elevations of luxury homes may also have fireplaces, skylights, and stairs that are specifically made for them. Modern elements like glass, concrete, and steel can be used in luxury elevations as well.
See More: Bedroom Wardrobe Designs
6. Best Elevation Design For Home: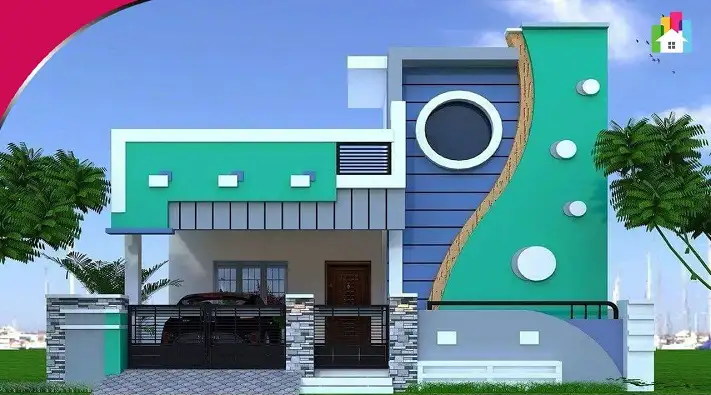 The house's architectural style and the homeowner's preferences will determine the ideal elevation design. Victorian, Mediterranean, conventional, and modern elevation designs are a few of the more common ones. Every style has distinctive qualities and design components of its own. The size of the house, the building materials, and the surroundings should all be taken into account when choosing the ideal elevation design for a house. Make sure the design is also appealing, useful, and energy-efficient.
7. Top Elevation Design:
The technique of constructing a three-dimensional depiction of a structure's top view is known as top elevation design. In order to provide a thorough picture of a structure from the top, top elevation designs are frequently employed in architecture and engineering projects. They consist of things like doors, windows, walls, and roofs. The top elevation design can be used to develop a strategy for the building or to show a picture of the completed item.
8. Single Floor House Elevation Design: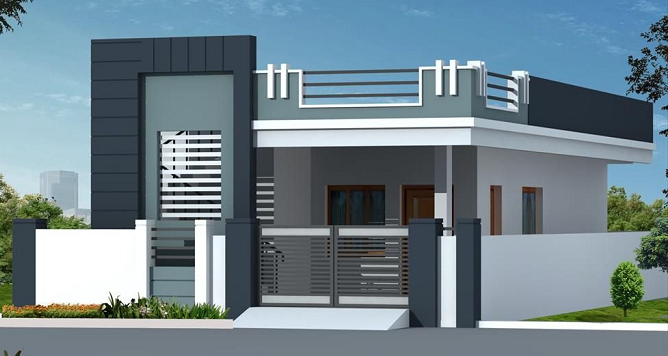 The front elevation of the single-story house has a clean, ultra-modern appearance that permeates the entire structure. This design is ideal for you if you want your new home to have a straightforward appearance. The compound wall complements the colour scheme of the elevation and the structure. Depending on the home's architecture and the preferences of the owner, single-floor house elevation designs can vary substantially. Single-floor home elevations come in a wide variety of styles, including modern, classic, traditional, and contemporary. The design options are unlimited, and each style has its own distinct appearance and feel.
9. Home Elevation Design 2 Floor:
An architectural representation of a two-story residence that depicts the façade of the house from all sides is called a two-floor house elevation. Architects frequently utilise this style of elevation to give a thorough overview of the house's architectural characteristics. Details like the roof line, windows, doors, balconies, porches, and other elements will be included in the elevation. It might also have outside features like landscaping.
10. 3rd Floor House Front Design: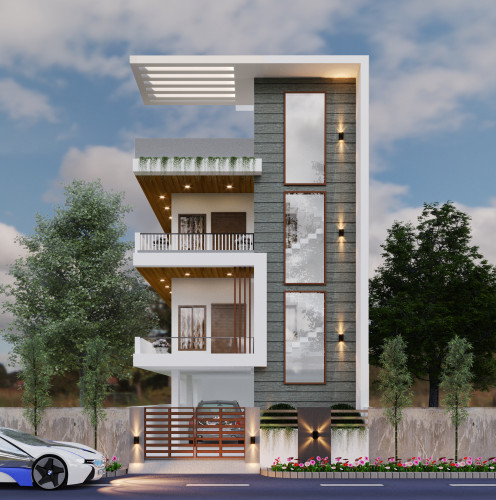 There are several possibilities available if you want to decorate the front of your third-floor home. You might choose a more traditional appearance with a covered porch and awnings or a more modern appearance with a streamlined front and big windows. You might choose a more rustic style with stone walls or a modern look with metal cladding and glass panels, depending on the existing architecture of your home. You have a wide range of options for colours and materials that can help you design the ideal look for the front of your third-floor property.
See More: Car Parking Shed Designs
11. 4 Floor Building Front Elevation Designs: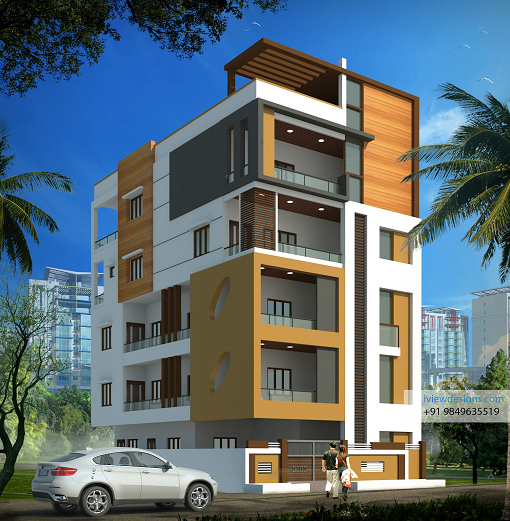 A combination of materials, including stone, stucco, wood, and glass, can be used to create a modern and contemporary front elevation design for a four-story house. With a wide glass door leading into the house, the entrance may be a striking focal point. A modern vibe can be achieved with stone and stucco walls, and a touch of elegance can be added with a dark wood roof. Large windows on each story will let in plenty of natural light, while terraces and balconies outside can add further outdoor living space.
12. 1 BHK Home Front Design:
The elevation of the one-bedroom house is so elegant and straightforward. This front elevation design is ideal for your new home if you are considering a straightforward 1 BHK house layout. A tile and window are included in the elevation design for a unique appearance.
13. House Tiles Design Front: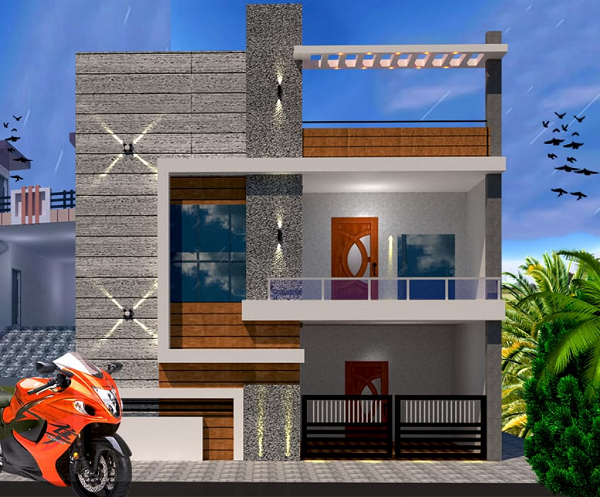 There are numerous alternatives available when it comes to creating the front of a house using tiles. Terracotta tiles, slate tiles, and ceramic tiles are a few common options. To accommodate every budget and design taste, these materials are available in a variety of colours, shapes, and sizes. Consider using glass tiles in a variety of colours for a more contemporary appearance. Brick and stone tiles might be the best option if you want a more rustic appearance. No matter what kind of tile you select, be sure it is installed correctly and sealed to keep the elements out.
14. Bungalow Elevation Design: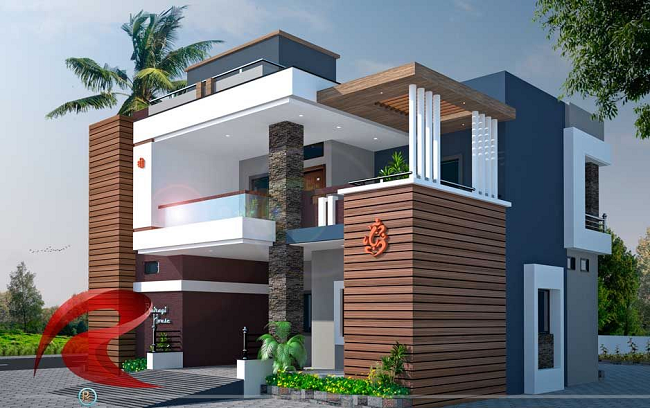 The design of the roof, the facade, the windows, and the doors all go into a bungalow's elevation. For a timeless appearance that is simple to maintain, the roof should be shaped with a straightforward, low-pitched gable. For a classic appearance, the facade should be created with brick, stone, or wood. Large, rectangular windows should be used in their design to provide a contemporary, open atmosphere and an abundance of natural light. Large, welcoming doors with a traditional double- or single-door arrangement are best. The overall aesthetic should be straightforward, timeless, warm, and contemporary.
15. Balcony Elevation Design:
The balcony elevation design with two floors is stunning. The elevation features two UPVC windows for a striking appearance. It's the ideal design for you if you want a two-story elevation with a balcony. An innovative technique to give your house a distinctive appearance is through balcony elevation design. You may come up with a variety of ideas that will improve the overall appearance of your house depending on the size and shape of your balcony.
16. Front Elevation Wall Design: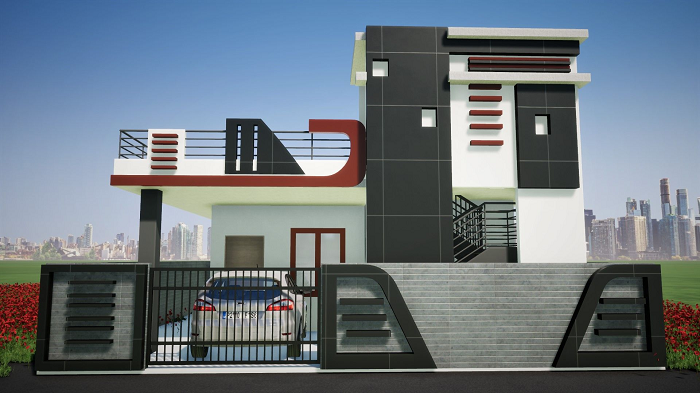 A building's front elevation wall design frequently uses components like brick, stone, concrete, wood, metal, and glass. The design must blend in with the neighbourhood's architecture and complement other elements like windows, doors, and balconies. Aesthetic appeal and compliance with local construction requirements should also be features of the design. In addition to producing a stunning facade that stands out and reflects the style of the building and the neighbourhood, the wall design should be functional, long-lasting, and secure.
17. Villa Elevation Design: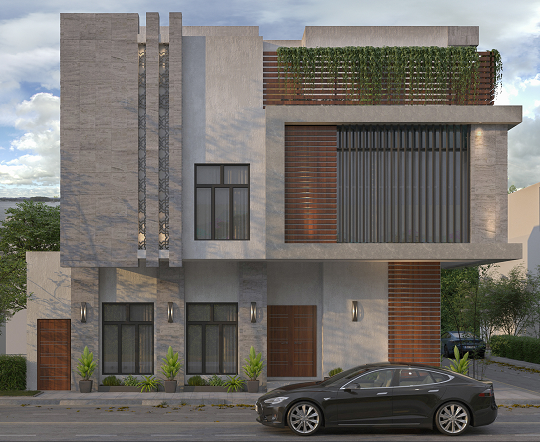 The architecture of the property, the neighbourhood, the surrounding scenery, and the preferences of the homeowner are only a few of the variables that affect the design of a villa elevation. A villa elevation often has a massive, symmetrical façade that is frequently broken up by accents like big windows, arched doorways, and elaborate balustrades. Alternately, the elevation might have a more modern appearance, like a sleek, minimalist façade with big windows, current fixtures, and clean lines. The elevations of villas can be made out of stucco, stone, brick, wood, or metal. Additionally, many villa elevations combine several types of materials to give them a distinctive and striking appearance.
18. Duplex Elevation Design: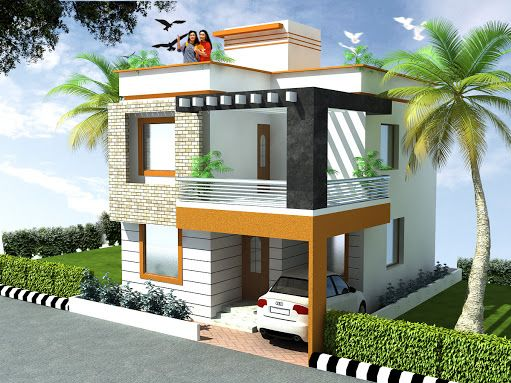 The outside of a duplex is designed with a duplex elevation. When planning a duplex elevation, it's crucial to take the facade, roofing, and other components into account. The design must be aesthetically beautiful and resistant to weather conditions including wind, rain, and snow. For a duplex elevation design, a variety of materials, including brick, wood, stucco, stone, or metal, may be employed. When choosing materials, it's crucial to keep the overall design concept in mind as well as the budget. When creating an elevation, it's also important to consider the duplex's size and shape.
19. Contemporary Elevation Design:
Different types of materials, colours, and shapes can be used to create a home elevation that is contemporary in style. Choose elements like metal, glass, stucco, and concrete to give a space a sleek and modern appearance. White, black, and grey are the most frequently utilised colours, although any bright, strong colour can produce a more distinctive appearance. To add extra visual interest, incorporate lines and geometric shapes into the design. To allow for an abundance of natural light and to provide a link to the outside environment, think about including wide windows in the design. Add outside lighting, landscaping components, and furniture to complete the aesthetic to bring the idea to life.
20. Farmhouse Elevation Design: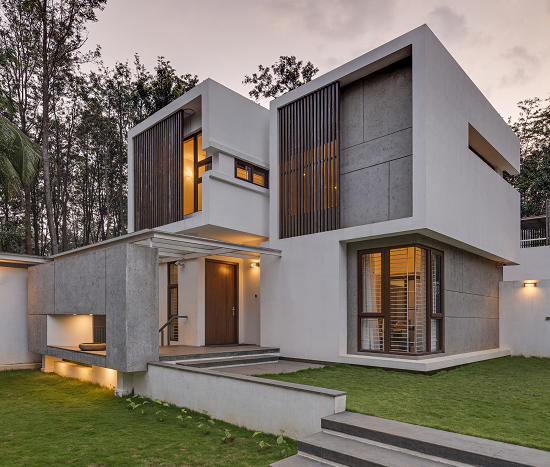 Large windows, a wraparound porch, and rustic charmers like cedar shakes, board-and-batten siding, and stone accents could all be included in a modern farmhouse elevation design. The design should be uncomplicated, spotless, and welcoming overall. Open room layouts, wood floors, and exposed beams are typical interior characteristics, as are contemporary comforts like stainless steel appliances. To create a classic yet welcoming design for the outside, utilise an earthy palette of neutral colours like taupe, white, and grey.
21. Flower Design For House Elevation: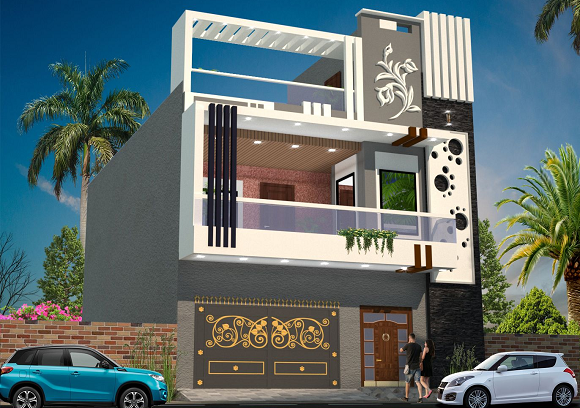 By including floral components in the overall design, one can create floral designs for house elevations. This can be accomplished by including floral designs on the exterior of the house and by including blossoms in the landscaping plan. A vivid flower garden, for instance, can give the house's façade a happy, upbeat feel. Consider adding colourful trailing plants or hanging flower baskets to your wraparound porch for a whimsical appearance. For a more lush, natural appearance, you can also add flowerbeds with perennials, annuals, and shrubs around the outside of the house. Last but not least, think of including flower-inspired architectural elements in your home, such as a large rose window or a stone archway.
22. Minimalist Elevation Design: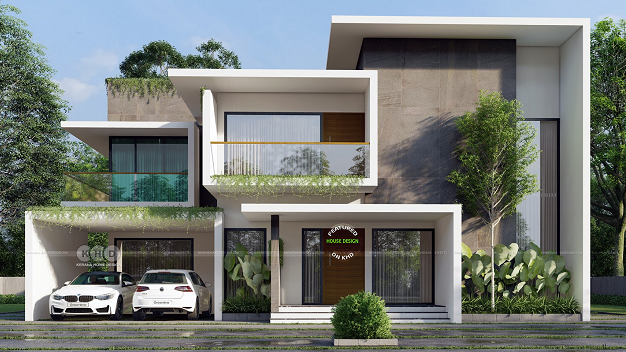 Modern aesthetics, clean lines, and simplicity are the main goals of minimalist elevation design. The objective is to design a room that is minimalistic but still feels balanced and cohesive. Large windows, contemporary materials, and a neutral colour scheme all contribute to the space's uncluttered and welcoming appearance. A place can be made to feel open and airy or more formal and elegant by using minimalist house elevation ideas.
23. Front Elevation Designs For Small Houses: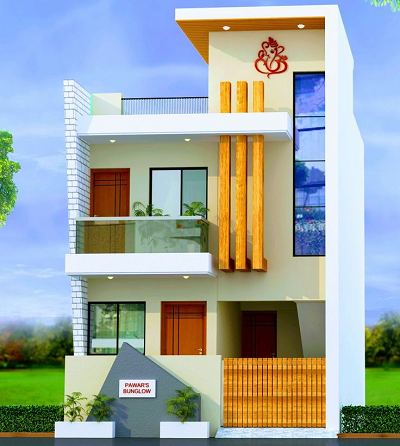 Small house front house elevation designs can use a variety of textures and materials. Beautiful front elevations are frequently made from materials like stone, brick, wood, and stucco. To create a distinctive appearance, you can also combine several materials. To bring in natural light and make the room feel more open, think about installing one or two sizable windows at the front of your home. To offer shade and privacy to a small porch or doorway, think about installing a trellis or an awning. To create a cosy outdoor area, you can also add a porch swing, patio furniture, and planters. To keep the room light and airy, pick basic, light-coloured curtains or blinds for the windows and doors.
24. Building Elevation Design: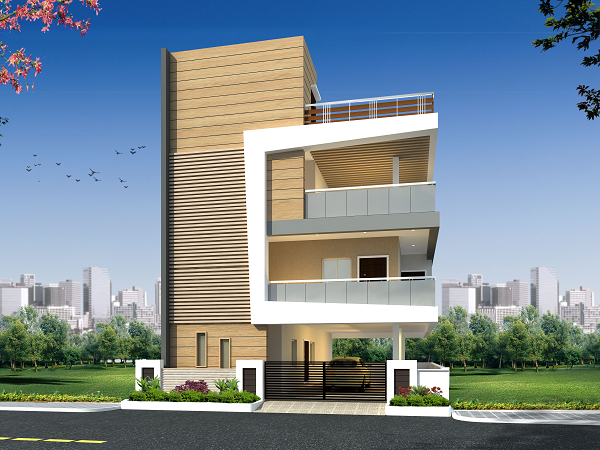 The size, form, and general appearance of the structure should all be taken into account while creating the elevation. The building's purpose and the surrounding area should be considered in the design. In addition, it's crucial to take the building's safety, energy efficiency, and structural soundness into account. The entryway, windows, and other exterior features of the structure should all be considered in the design. The building's overall appearance and visual appeal should be improved by using materials and colours that will do so.
25. 3D House Design Front:
Depending on the type and size of the house, the front elevation of a 3D house design can change. While a more traditional style would have a steeply pitched roof with smaller windows, a contemporary design might have a flat roof and huge windows. The front elevation of the house will be influenced by the overall design and the materials used to build it.
Here are our picks for the 25 simple and best house front elevation designs in India for 2023. There are numerous models available, though. Choose the appropriate one based on your house plan. I hope this essay was informative. Post your comments below.