Women these days prefer to wear gold-plated jewellery which is high in demand. Like any other ornament, the bangle also plays a prominent role in offering a traditional look. We have a variety of trendy gold-plated bangles in the online market. Here are the 5 best designer gold-plated bangles under 1000 rupees on amazon.in 2022.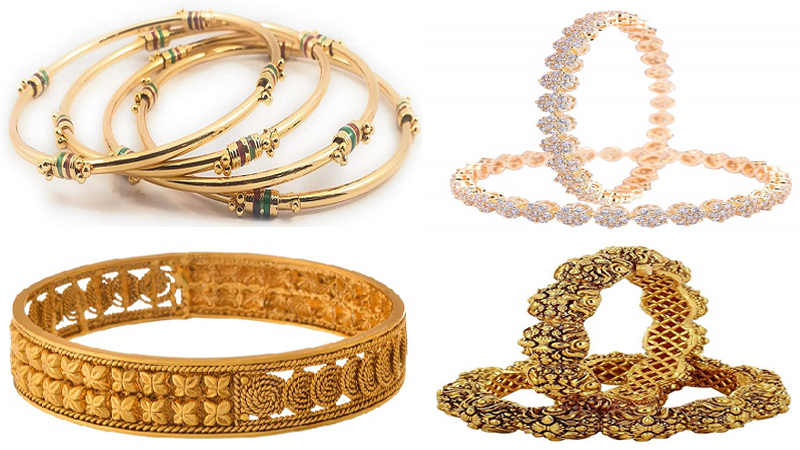 Best Gold-Plated Bangles Under 1000 Rupees In India:
Following is the list of 5 latest and best gold plated bangles under 1000 rupees, available on amazon.in. Try out!
1. Gold Plated Wheel Bangles Design: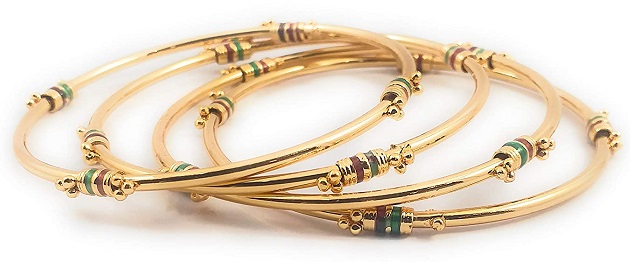 If you are looking for simple daily wear bangles, this is a perfect choice. The gold-plated bangle looks beautiful with a simple finish on its four sides. These bangles are lightweight and ideal for daily usage.
2. CZ Studded Gold Plated Bangle Design: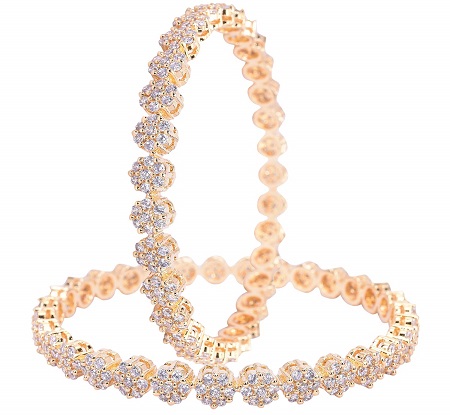 CZ diamonds in any ornament are the newest trend. The classy CZ bangles are beautifully done with heavy-studded stones. These heavy gold-plated CZ bangles are well-suited as party wear for a rich look.
3. Gold Plated Spiral Designer Bangle: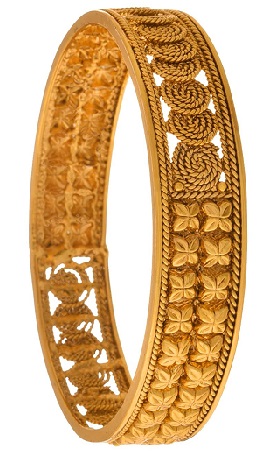 Single bangles are high in demand and are mostly preferred by teenagers. Here is one such gold-plated broad bangle. The antique work bangle features florals and spirals to offer a traditional look. This can be the perfect choice for occasions.
4. Designer Multi-Coloured Gold Plated Bracelet Design:

Here is the beautiful designer zirconia bracelet. This multi-coloured leafy bracelet is layered with two rows of Swiss zircons on a rose gold plated base. The trendy bracelet is best suited for special occasions.
5. Gold Plated Antique Bangles Design: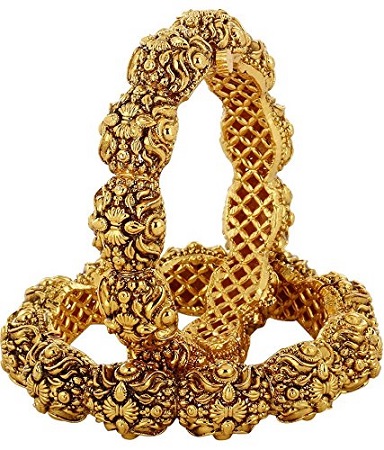 Antique Jewellery will never go out of trend. Here is the set of 2 royal bangles with an all-over floral work of antique finish. The traditional bangle comes with an opening screw for an easy fit. This offers a royal look at your special occasions.
As we discussed above, gold-plated bangle designs are available in various patterns. This list of the 5 latest gold-plated bangles under 1000 rupees helps you to select the best one. Choose your beloved design among these for a glamorous look!