Paint has the capability to dramatically change the appearance of your room, making it a significant design element. So, it's crucial that the colour scheme you select complements the design of your room. Also, because your living room is the first area of your home where visitors will view the colour scheme of your hallway so it must be ideal in order to set the tone for the remainder of your space. We're going to look at some incredible hall colour combination ideas to assist you and inspire you. Here is a list of the 10 simple and latest hall colour design ideas.
Simple and Best Hall Colour Design Ideas For Home 2023:
Here are our 10 latest and best colour combinations for hall with pictures. Let's have a look at them.
1. Trending Hall Colour Design: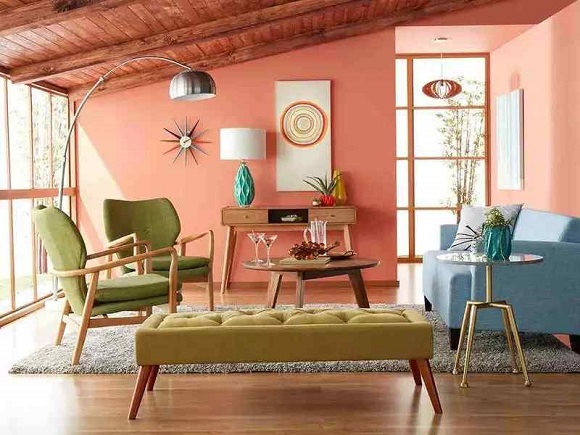 A lot of thinking and creativity are needed to create the best rendition of your ideal design when painting your home. Colours are crucial for establishing a coherent environment as well as controlling people's general moods. Who wants to come home to a living area that looks drab after a long day? Even if you favour muted hues, adding some preppy accent walls and furniture will help you keep the space looking warm and welcoming. See some of these hall painting designs and colours.
2. Hall Colour Combination: White and Orange:
Orange gives a bright impact, while white signifies purity and helps to convey a sense of sophistication. Your living room and other rooms in the house, including bedrooms, would benefit greatly from the usage of the colours orange and white. For the walls, you can utilise orange to create a dynamic appearance.
3. Cool Hall Colour Design Idea: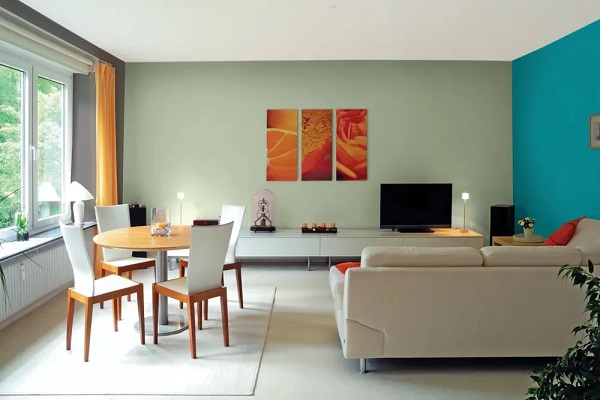 The Japanese colour scheme Soul Code creates a vision of self-discovery. There are countless colour possibilities for hall walls with this palette of greens. Understanding one's traditions begin with asking oneself the crucial question, "Who am I?". Green colour schemes, which range from turquoise to teal, may energise your space.
4. Grey With Deep Blue – Colour Combination for Hall: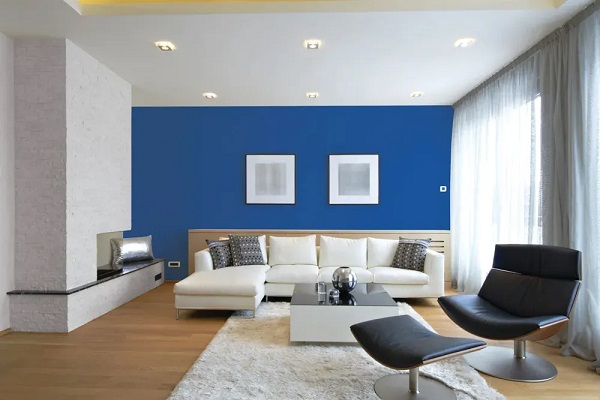 These living room colour schemes are centred on the celebration of all facets of life, with heartwarming tales woven throughout each group. If you want to wind down your day in a serene setting, Purpassion (a Japanese colour scheme) is the way to go. This cool colour scheme for the walls creates the ideal setting for unwinding with a hot cup of tea. Beautiful hues of blue and grey represent both calm and dedication to one's work.
5. Green Hall Colour Design: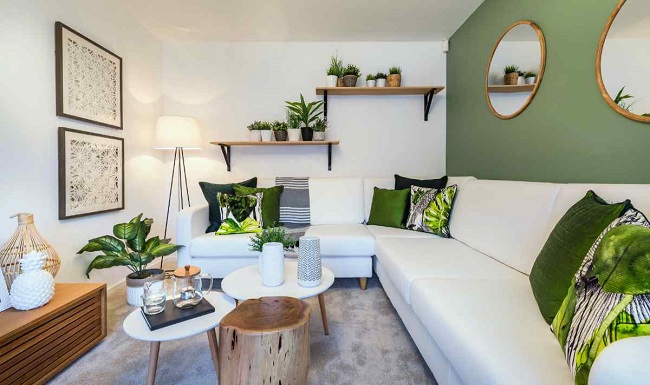 This living room layout can be ideal for you if you enjoy spending time in nature peace and quiet. The green accent wall draws attention to the striking mirrors, while the rest of the decor is kept simple with a few potted plants scattered about. Furnishings with a wood or rattan motif can enhance this style even more.
See More: Modern Crockery Unit Designs
6. Beige Hall Colour Design: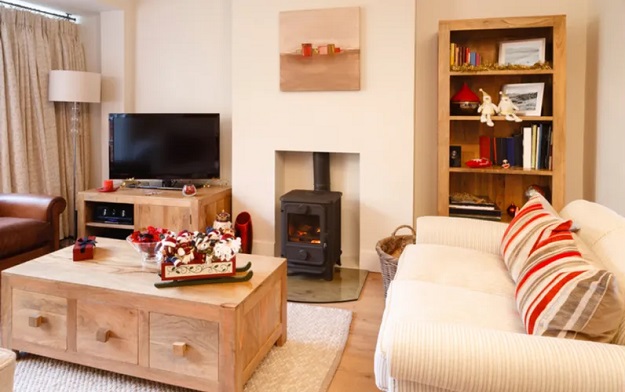 Strong hues like red, fuchsia and beige can be employed because the living room is a place to relax and have fun. The greatest beige colours can be found at Asian Paints, Shalimar Paints, and Indigo Paints.
7. Deep Blue Hall Colour Combination:
With Flawsome, another Japanese colour scheme, we're here to honour one's own personal power. This specific wall colour scheme inspires DIY projects with hues ranging from dark purples and blues to pastel greens and yellows. It simultaneously represents personal development and aids in soothing the atmosphere in the space. Hence, if this colour scheme for the hall appeals to you, use your imagination to the fullest. We advise you to experiment with this wall colour combination in your bedrooms and home offices in addition to the living areas. This combination of wall colours works well in other areas for the same reasons that make it appropriate for living rooms.
8. Pink and Olive Hall Colour Design: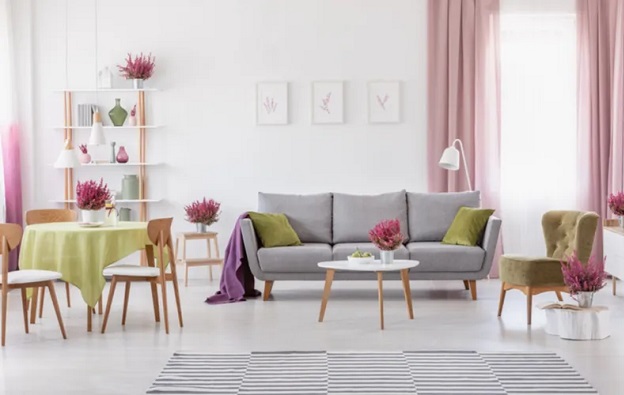 To bring out the vibrancy of olive green, combine the complementary hues of red and pink. The rich autumnal colours of golds and reds, including wines and burgundies, look fantastic with the green. At Shalimar Paints, Nerolac Paints, or Berger Paints, you may get the silk emulsion-green Olive.
9. White and Grey Hall Colour Design:
A traditional two-colour combination for the living room wall is grey tones with white furnishings. You can never go wrong when decorating your sitting area with these two tones because they are a sophisticated and rich colour combination.
10. Red Hall Colour Design Idea: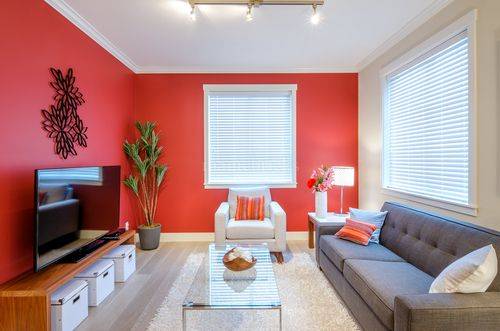 Who said your living room décor couldn't make a strong statement? Choose a wine red or crimson red hue for the walls of your living room, and watch the magic happen. Make sure you choose smart ambient lighting or even a stunning chandelier to enhance the mood of the space. It's a great idea to complement the red wall paint with black or golden accents.
See More: Latest Safety Door Designs
11. Yellow and Blue – Hall Colour Combination: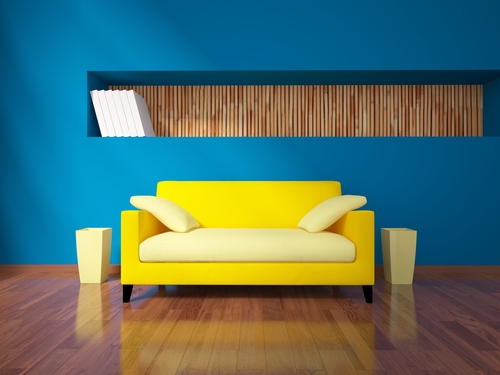 This colour scheme offers a bold décor choice for a hallway or living area. Your home will be energetic and eye-catching with the colour combination of brilliant blue and soft yellow. The colour yellow can improve your mood and increase focus. So, it is a great option for furnishing your study space.
Different Colour Combinations For Hall:
Colour combinations for a hall or living room depend on personal preference, the style of the room, and the amount of natural light that enters the space. However, here are some trendy colour combinations that you might find inspiring:
Navy Blue and Gold: This luxurious combination creates an elegant and sophisticated look.
Sage Green and Blush Pink: This soft and delicate combination creates a calming and peaceful atmosphere.
Grey and Yellow: This bold and cheerful combination adds a pop of colour to a neutral room.
Cream and Beige: This classic and timeless combination creates a warm and inviting atmosphere.
Terracotta and Dusty Blue: This earthy and serene combination creates a relaxed and comfortable vibe.
In India, choosing the ideal colour scheme for a hall is essential for establishing the mood of the house. Also, the enormous variety of Indian hall colour designs gives us the freedom to express ourselves. You should now have a basic understanding of how to choose the ideal colour scheme and texture for a hall in India. If you want to know what will work best for your personal style, feel free to look at the images given above. By doing so, you can steer clear of the errors that others make when selecting colour schemes at random.
You no longer need to consider remodelling ideas because you have all the knowledge you need to choose the ideal colour scheme for your living areas.