Our homes serve as our safe havens, keeping us protected from trespassers and other dangers. Nonetheless, there has been an increase in thefts and break-ins recently. A safety door design is ideal to provide an additional level of security as a result. Choose one of these safety door models for your homes from the collection we have provided in this article. Depending on a number of variables, including budget and other criteria, the market offers a variety of safety door designs for homes. Here are the top 10 best and most modern safety door designs with images in 2023.
Different Types of Safety Door Designs:
Modern safety door designs incorporate both aesthetics and functionality, providing security and peace of mind without sacrificing style. Here are some popular types of safety door designs:
Steel Doors: Steel is one of the strongest materials used for safety doors. They are highly durable and can withstand forceful entry attempts.
Glass Doors: Glass doors can be made with laminated or tempered glass, which is highly resistant to break-ins. They provide a sleek and modern look to your entryway.
Aluminum Doors: Aluminum is a lightweight material that is highly resistant to rust and corrosion. They come in a variety of designs and colours, making them a popular choice for modern homes.
Wooden Doors: Wooden doors are a classic option that can be made to look modern with the right design. They can be reinforced with steel or other materials to make them more secure.
Combination Doors: Combination doors are made with a combination of materials like steel, wood, and glass to provide the best of all worlds. They offer both security and style.
Biometric Doors: Biometric doors are high-tech security doors that require a fingerprint or retina scan for entry. They are popular in luxury homes and commercial buildings.
Smart Doors: Smart doors come equipped with advanced features like remote control, motion detection, and automatic locking. They can be controlled through a smartphone app or voice assistants.
Simple and Best Safety Door Designs For Home In India 2023:
Here are our 10 latest and modern safety door designs with pictures. Let's have a look at them.
1. Safety Door with Grill:
Choosing doors with built-in grills is common. These added security by allowing staff to screen guests without having to open the entrance. These doors are often composed of wood, with grills made of iron, steel, or aluminium. The grills may come in different sizes. You might also consider using stylish sliding panels to completely close the grill to provide privacy. In Mumbai and other major cities, wooden safety door designs for apartments frequently feature these.
2. Collapsible Safety Door: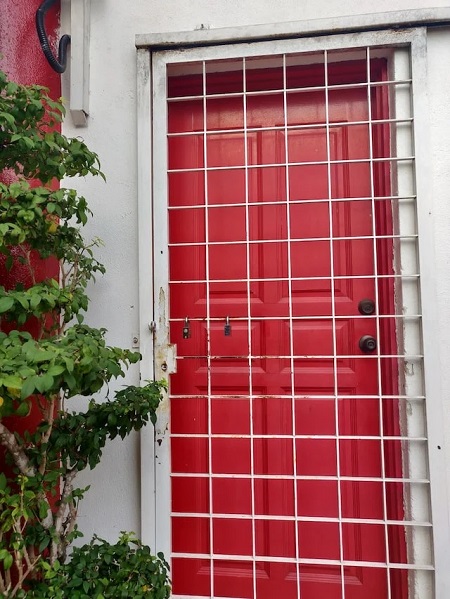 You've probably seen folding doors being utilised to close shops and other commercial buildings. When it comes to the design of safety doors for apartments, these are also an option. Collapsible doors are typically an addition to the main door. When safety is a concern, such as at night, they are closed and locked. Collapsible doors typically have a side opening and are made of steel. The steel tubes should not become blocked with frequent use, thus, homeowners should take care.
3. Wooden Safety Door Designs: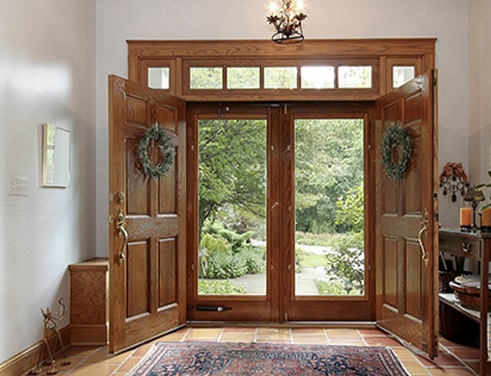 The design of the wooden safety door can be customised using various patterns, colours, and designs, whether the material is the durable teak, Sheesham, oak, or the lighter option of plywood. You could choose a safety door with panels or a more elaborate model. Do take wooden safety door designs' seasonal expansion and contraction into consideration.
4. Double Safety Door Designs For Home: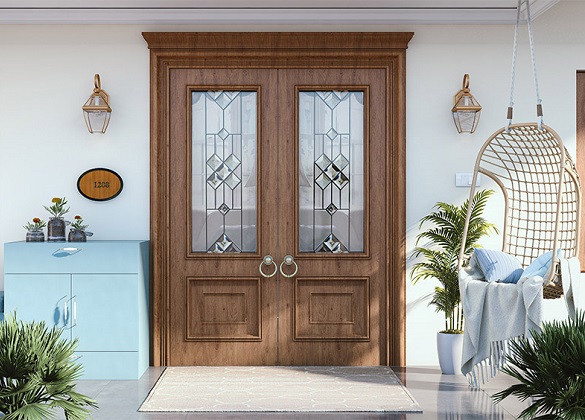 Although single safety doors are the most popular option for apartment owners, people who own row homes or larger residences might choose a double-door safety door design. They provide more room for entry and exit, are physically appealing, and give off an air of wealth. To add more variety to the door design, you can utilise more than one material.
5. Triple Lock Attached Wooden Safety Door Design: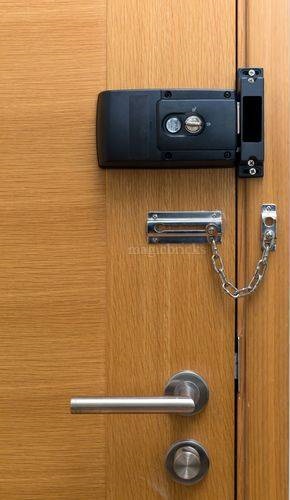 The wooden door itself is a safe material choice to ensure a home's security. But a wooden door with a triple lock attached is a design that will guarantee that your house is completely secure. There are three locks on the door: the standard lock, one in the middle, and one at the top.
See More: Crockery Unit Designs
6. Metal Safety Door Design:
This kind of safety door design adds an extra degree of security to your property and is robust. The solid metal gate is challenging to breach. The gate's slender railing provides better security against theft and incursions while making it challenging to access the inner bolt. When at home, maintain your privacy by only closing the metal safety door and leaving the main entrance open.
7. Latest Wooden Safety Door: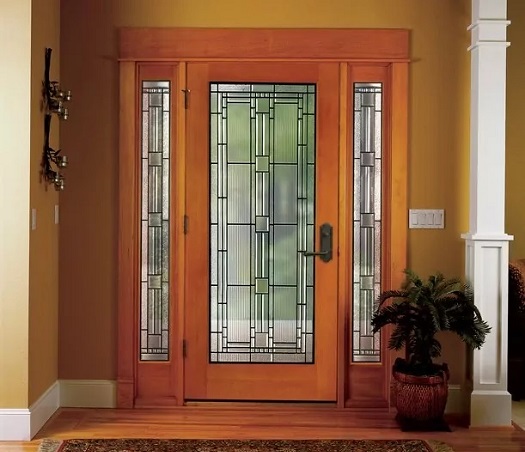 Your entryways take on a more natural character when bright wood tones are combined with vivid wall colours. Here, the area stands out due to the greenery that can be seen through the frosted glass and the standalone planter, which further contributes to this warmth.
8. Ornamental Wooden Safety Door Design: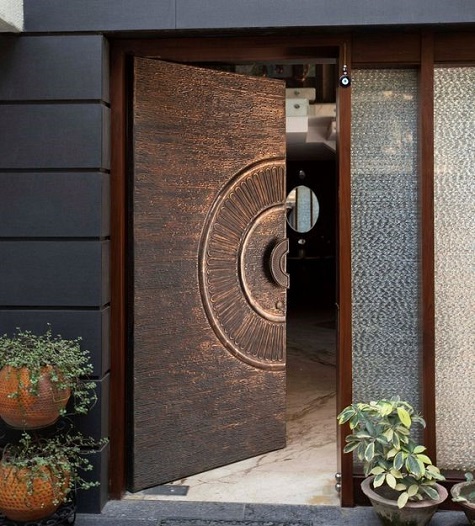 This wooden safety door design will draw attention to your style and appreciation for beautiful things. Obtain a wooden front door with intricate flower adornment. A wooden grain and some gold colour accents complete the appearance.
9. Traditional Wooden Safety Door Design: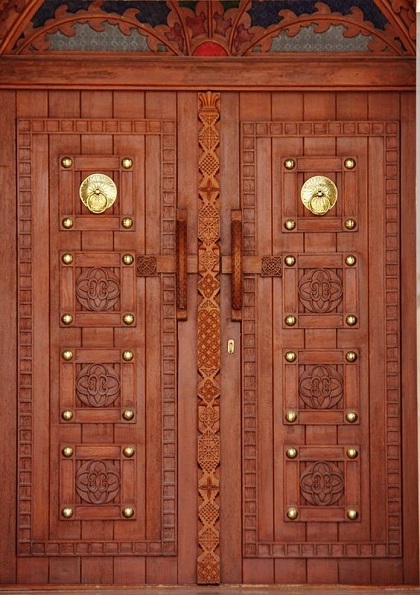 Regardless of the sort of home you reside in, you can get a classic Indian wooden safety door design. This two-panelled wooden door has small, regular holes that give it an Indian appearance as if it were covered in mirror work. To make your entryway cohesive and Instagram-worthy, if you have the chance, accent the door with a tall, hefty wooden cabinet and a seat.
10. Decorative Safety Door Design: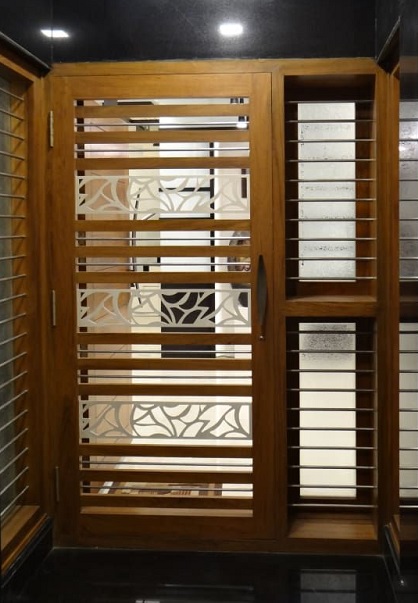 The visual value of your home is increased by this style of main door safety door design. This kind of original concept is intended to complement your entrance. By doing this, you may maintain both your safety and your sense of flair. Even better, you can have this created to order according to your requirements.
See More: Best Hall Colour Designs
These are the list of 10 unique and modern safety door designs that prioritize security without sacrificing style. With a wide range of materials, styles, and features to choose from, you can find a design that meets your security needs and complements your home's aesthetic.