Most women suffer from stretch marks post-pregnancy. However, this is only one of the reasons why stretch marks occur on the body. Whenever our body suddenly gains or loses weight, the dermal layer under our skin gets damaged leading to skin stretch marks. So, even men get stretch marks and so do women who are not pregnant — wondering how to remove stretch marks from the most common areas – tummy, shoulder, and hips? A lot of beauty treatments are being promoted to get rid of those ugly-looking stretch marks. But how safe are they? Instead, try these chemical-free home remedies for Stretch Marks, which are not only safe but also useful.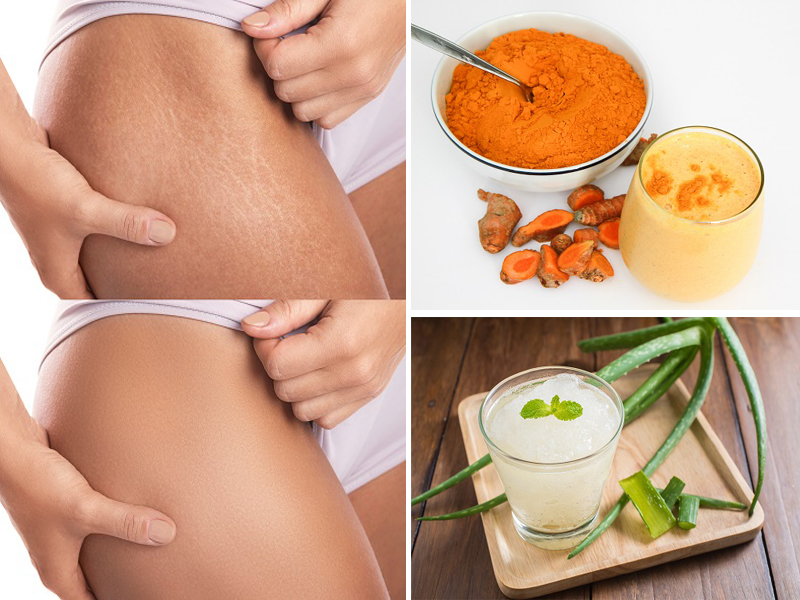 Best Tips To Prevent Stretch Marks:
The indented red and purple streaks on your skin are known as stretch marks. Even if a person is most susceptible to stretch marks, the following tips will aid in reducing the risk of getting the stretch marks and treating the already formed ones.
Keep your weight under good control.
Drink an ample amount of water and always stay hydrated.
Eat a balanced diet full of nutrition. Make sure your diet includes Vitamin C, Vitamin E, proteins and Zinc which are vital for good skin.
Vitamin D is essential for the well-being of one's skin.
Start treating the stretch marks in the initial stages, thereby preventing them from becoming permanent.
Include Omega-3s in one's diet.
Anabolic steroid usage must be avoided.
Avoid smoking as they play a vital role in breaking down collagen and elastin fibres in the skin.
Add food rich in zinc to one's diet.
Sudden quick loss or gaining weight can also lead to stretch marks.
Best Home Remedies For Stretch Marks:
Removing stretch marks needs patience and regularity. Here are a few home remedies along with their application tips that will aid in removing or at least reducing the intensity of stretch marks.
1. Aloe Vera:
Aloe Vera is a wonder plant with miraculous healing properties. It can regenerate the skin tissues. The compounds gibberellin and glucomannan present in Aloe Vera increase the rate of collagen synthesis in our body which is vital in fading away stretch marks. Its combination with Vitamin A and Vitamin E speeds up the recovery process. Here are the steps to use Aloe Vera for treating stretch marks speedily.
How To Do:
You will need 5 Vitamin A and 10 Vitamin E capsules along with fresh Aloe Vera Gel.
Cut open the capsules and empty their contents into a bowl. Add Aloe Vera gel and mix well.
Apply this mixture to stretch marks and massage well until it is absorbed completely by the skin. Leave it overnight. Do not wash it.
Continuous daily use on the stretch marks will aid in it fading away within 15 days.
Continue its application until you get the desired result.
2. Vicks Vaporub:
Vicks Vaporub is a surprise package. Apart from treating cold, Vicks Vaporub has many other magical uses. One of them is treating stretch marks. Vicks Vaporub contains essential oils such as Eucalyptus Oil, Cedar Leaf Oil, and Turpentine Oil. Besides it also contains petrolatum and camphor. All these ingredients when mixed together work like magic to make the skin soft and smooth. And while there is no scientific backing for this remedy, people across the world have seen a noticeable difference in the stretch marks with its application. For using Vicks Vaporub on stretch marks follow the following steps:
How To Do:
Apply the Vicks Vaporub to the stretch marks and massage for a couple of minutes.
Cover this area with a cling wrap and leave it overnight.
Repeat this process every night before hitting the bed until your stretch marks fade away.
3. Castor Oil:
Castor oil has been widely used as a home remedy for dandruff, hair fall, and various skin diseases. Castor oil is known to be a rich source of ricinoleic acid, a skin conditioning agent which expedites the healing process of the stretch marks. Regular use of castor oil will make the stretch marks appear lighter.
How To Do:
Take castor oil and warm it slightly.
Massage this warm oil on the stretch marks for 15-20 minutes until all the oil is absorbed by the skin.
Leave it overnight.
Do this every night, and the stretch marks will start fading in 15 days.
4. Vitamin E Oil Capsules:
Vitamin E is the most common ingredient used in most of the creams and lotions available which help in fading stretch marks and prevent skin from ageing. This is because of its antioxidant and anti-inflammatory properties that keep the skin healthy and also nourish the same. Besides, it also protects the skin from UV radiation to a certain extent. Vitamin E heals the scars and stretch marks.
How To Do:
Take a few Vitamin E capsules.
With a pin make a small hole and squeeze out the oil in your hand.
Apply this oil to the stretch marks and massage it for a minute until the oil is completely absorbed into the skin.
Repeat twice a day until the stretch marks start fading away.
The results can be visible in 15 days.
5. Olive Oil: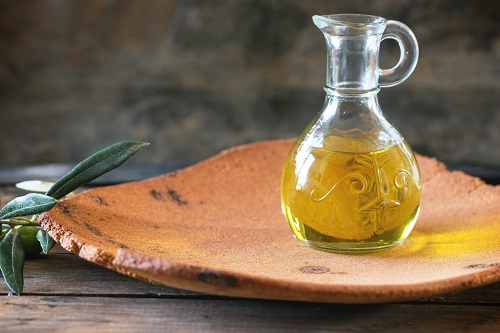 Olive oil is known to be a rich source of various vitamins and nutrients. It is known to possess antioxidant and anti-inflammatory properties. All these properties make it a healthy oil for treating various skin problems including stretch marks. Following is the method to use olive oil in treating stretch marks.
How To Do:
Take some extra virgin olive oil in a bowl and warm it.
Apply this warm oil to the stretch marks and massage it for a few minutes until all the oil is absorbed into the skin.
There is no need to wash the skin.
Leave it as it is and repeat after 12 hours.
6. Coffee Scrub:
Coffee is rich in caffeine due to which its biological activity is very high. It can easily penetrate the skin. Coffee contains antioxidants which stimulate the degradation of fats below the skin. Scrubbing the same in a circular motion will also enhance the blood flow. All these factors together aid in the lightening of the stretch marks.
How To Do:
Take some coffee beans and grind them coarsely.
Mix it with water to make a paste.
Apply it to the stretch marks and rub nicely in circular motions for 5 minutes.
Wash the area with warm water and then moisturize.
You can also mix this coffee powder with olive oil or Aloe Vera gel instead of water for better results.
7. Baking Soda:
Exfoliators are skin smoothening and perfecting treatments for the skin. Baking Soda acts as a perfect exfoliator that exfoliates the dead skin making the skin very smooth and bright. It thus lightens the stretch marks. You can use the baking soda in the following manner to treat the stretch marks.
How To Do:
Mix 1 tablespoon of baking soda with 1 tablespoon of lemon juice.
Stir it nicely to make a thick paste.
Apply this paste to the stretch marks and cover it with a cling wrap.
Leave it on for 20 to 30 minutes.
Remove the cling wrap and wash the area with lukewarm water.
Repeat every day and see magical results in just a week.
8. Lemon:
Lemon is the simplest way to reduce stretch marks. Lemon is naturally acidic. Its application on the skin helps in removing stretch marks, treating acne and reducing scars among other benefits. Thus lemon can be used easily on stretch marks in this simple manner.
How To Do:
Take 1 lemon and cut it into 2.
Rub the cut lemon piece in circular motions on the stretch marks.
Continue for at least 10 minutes making sure that the juice is absorbed by the skin.
Wash it with warm water and apply a good moisturizer.
Alternatively, you can also take the juice in a bowl and add a teaspoon of gram flour to make a smooth paste by
Stirring it continuously and applying it to the stretch marks.
Let it remain for 10 minutes before you rinse it with warm water.
9. Apple Cider Vinegar:
Apple Cider Vinegar is a rich source of enzymes, vitamins, and minerals vital for rejuvenating the skin. The acetic acid and the malic acid contained in the Apple Cider Vinegar aid in lightening the stretch marks and the scars. Continuous use of apple cider vinegar can reduce stretch marks within 15 days.
How To Do:
Take a spray bottle and fill it with apple cider vinegar.
Spray on the stretch marks at night before going to bed and allow it to dry.
In the morning wash it thoroughly and apply moisturizer.
Do this daily at night and within 15 days you will find the stretch marks fading away.
10. Turmeric Powder: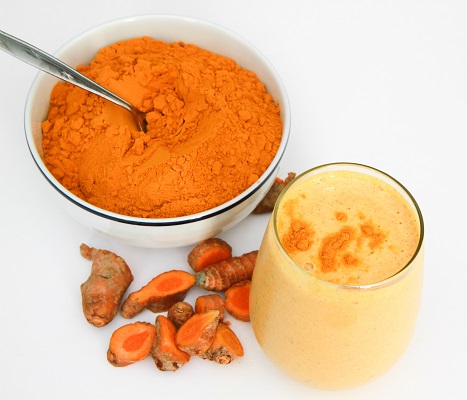 Regular use of turmeric powder is the best way to deal with stretch marks. Turmeric is known to be a rich source of antioxidants and contains anti-inflammatory as well as skin-lightening properties. With the regular application, you will notice a remarkable change in your skin as well as stretch marks. Even the deep stretch marks and dark stretch marks can be easily dealt with turmeric. This is how you can use turmeric to do away with the stretch marks.
How To Do:
Take 1 tablespoon of turmeric powder.
Mix it with 1 tablespoon of yoghurt or fresh cream.
Apply this mixture to the stretch marks and let it stay there for 15 minutes.
Rinse the area with water and moisturize.
Repeat it at least 2 times a day to see the stretch marks fading away.
The remedies mentioned above are some of the best tried and tested home remedies to get rid of the skin stretch marks. By including them in one's daily routine, one will surely be able to see the difference in stretch marks and scars and this will also prevent any new stretch marks from emerging. If you have found our home remedies helpful, please do share them. If you have any other home remedies which can effectively fade away the stretch marks, kindly share them in the comments below.
Frequently Asked Questions:
Question 1: What causes Stretch Marks and how can I get rid of the same?
Answer 1: Stretch marks as the name suggests are permanent marks left on the skin due to excessive stretching. When our skin is stretched without our body being prepared for it due to reasons such as pregnancy, excessive weight gain or loss, it ends up tearing the dermal layer of our skin, in turn leading to stretch marks. These stretch marks can be removed through clinical treatment as well as home remedies. While the clinical treatments come with built-in side effects, it is always safer to use home remedies to get rid of stretch marks. Even though it takes time in fading the marks away, there are no untoward side effects with these home remedies.
Question 2: What are the other treatments available for the removal of Stretch Marks?
Answer 2: The home remedies mentioned above are the best and safest solutions for stretch marks. However, the other treatments for stretch marks include:
Laser Treatment: Laser treatment is one of the latest treatments available for reducing stretch marks.
Pulsed dye lasers are used to improve the appearance of the stretch marks and improve the production of collagen in the long run.
Platelet-Rich Plasma therapy: These days the PRP treatment has gained popularity to revive the skin's collagen. In this procedure, platelets are taken from a person's own blood before the process.
Plastic Surgery: In this procedure excess skin is removed from the body which eliminates the stretch marks.
Question 3: Are Stretch Marks a curable skin problem?
Answer 3: The best treatment for stretch marks is prevention. Taking proper care of the skin and supplying the body with sufficient nutrients will go a long way in preventing the stretch marks from appearing. The stretch marks can be cured through various home remedies mentioned above, but only if they are followed regularly. These treatments take time in showing results; hence patience is of prime importance here. Following a disciplined skin routine will inevitably reduce the appearance of stretch marks.
Question 4: Home Remedies vs. Creams. Which is a better solution to get rid of Stretch Marks faster and permanently?
Answer 4:
Home Remedies: These are inexpensive ways of treating stretch marks. All the ingredients required for home remedies are readily available at our home, and generally, no additional cost is incurred with it. Besides, these remedies do not possess any side effects in the long run.
Creams: The creams explicitly made to treat stretch marks do show a positive result but have adverse effects over a period of time and are also very expensive.
In my opinion, home remedies are a safer bet to provide lasting results.
Question 5: Do Stretch Marks really go away?
Answer 5: There are various home remedies and creams available that help to improve the appearance of the stretch marks and make them fade away but the stretch marks never completely go away. Only surgery can remove them forever which should be the last option due to the associated complications and natural side effects.
Question 6: Are pregnancy Stretch Marks different from the usual stretch marks?
Answer 6: Pregnancy stretch marks are different from the usual stretch marks in 2 ways. One is that pregnancy stretch marks mainly occur in the abdominal area. As the pregnancy progresses it causes the skin to stretch causing stretch marks. Secondly, there are several hormonal factors related to stretch marks.
Question 7: What do the different colours red, purple and white Stretch Marks mean?
Answer 7: Studies show that the stretch marks change in colour over time. The newly-formed stretch marks are reddish, and they are itchy. The scar darkens and thickens as it matures giving it a purple-coloured look. However, the only heartening news is that over the years, these stretch marks fade away or become white or silver in colour.