Pimples are a common skin condition found all over the world. The study says at least 85% of people are affected by pimples at some point of time in their lifetime. The Internet is flooded with home remedies to get rid of pimples, but are they really effective? The conventional methods for acne cure might prove to be expensive as well as prone to side effects such as redness, and skin irritation while there are hundreds of home remedies that might not be as effective or prove suitable for your skin type. In this article, we have brought to you the 10 best home remedies for Pimples cure, which are effective for most and do not cause any irritation to the skin.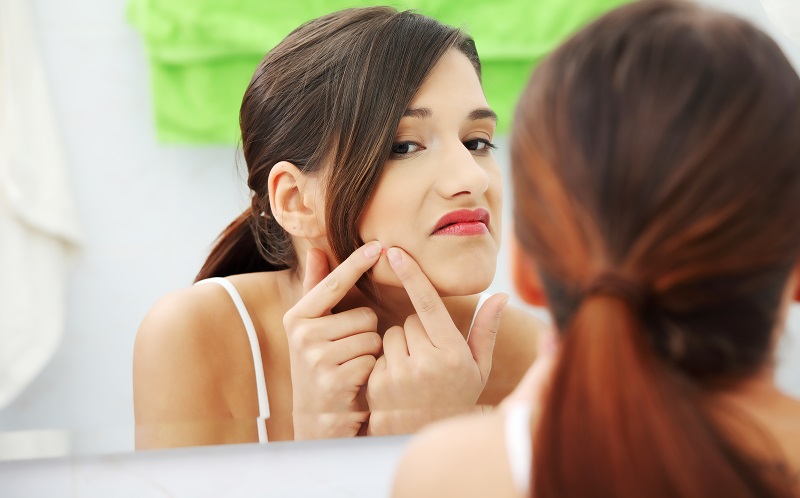 How To Avoid Pimples from Erupting?
It is better to prevent and prepare than to repent and repair. So before we start with remedies, let's go through some of the preventive measures just to try and make sure that one does not fall prey to painful acne. A pimple is an inflamed area on the surface of the skin with pus, which is caused when it is infected with bacteria. Acne on the other hand is a result of the oil glands of the skin getting clogged. A pimple is a small pustule or papule and can also be said to be a part of acne.
Keep your face clean.
Avoid touching your face.
Never ever pick or pop your pimple. This will end up in multiplication as well as scarring.
Avoid going out in the sun. Avoid dairy products, greasy food, and foods with a high quantum of processed sugar.
Exercise regularly.
Avoid stress as it may lead to a breakout.
Best Home Remedies For Pimples On Face:
Finding the best home remedies for pimples is not as simple as one might think. In fact, it is mostly on a trial and error basis. What works on one skin may not work on another, cure is based on your skin type and will depend on which home remedy will suit you. There is no ultimate home remedy that will work for all in all situations. Out of the hundreds of home remedies available, we have shortlisted and presented the top 10 home remedies for pimples that have proven to be effective in most cases.
1. Apple Cider Vinegar: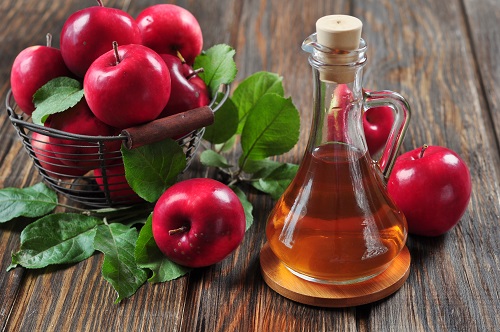 Apple cider vinegar is rich in various organic acids which are very effective in pimple cure. The succinic acid present in the Apple Cider Vinegar suppresses the inflammation caused by the pimples thereby preventing scarring which is very common with pimples. Besides, the lactic acid present in Apple Cider Vinegar is known to improve the appearance of the pimples on the face. Most importantly ACV dries up the excess oil in the skin which is the basic reason for the appearance of pimples in most cases.
Ingredients:
Apple Cider Vinegar
Water
How To Do:
Mix Apple Cider Vinegar and water in the ration1:3 and stir well.
Apply this mixture to the skin gently using a cotton swab.
Rinse with warm water after 15 minutes.
Repeat twice a day until the pimples become lighter and disappear.
The Apple Cider Vinegar is very strong, and hence it must be diluted adequately with water before applying it to the face.
Conduct a patch test by trying it on a small portion of skin and observe for irritation else it can cause burns.
Result Time:
You will see your pimples fading out within 2 weeks of using this remedy.
2. Honey-Cinnamon Mask:
Both Honey and Cinnamon are great sources of antioxidants. Studies have shown that antioxidants have a better effect on acne as compared to retinoid and benzoyl peroxide. Honey and cinnamon have antibacterial properties and their anti-inflammatory properties highly benefit acne-prone skin.
Ingredients:
2 tablespoons of honey
1 teaspoon of cinnamon powder
How To Do:
Mix the 2 ingredients to make a smooth paste.
Clean your face and apply this mixture.
Let it sit for 10 minutes.
Rinse this mask with lukewarm water, and pat dry your face.
The anti-bacterial, anti-inflammatory and antioxidant properties of honey and cinnamon have shown to have a positive effect on acne.
Result Time:
You can see the difference within a week's time with this remedy.
3. Tea Tree Oil:
The essential oil which is extracted from the leaves of the Melaleuca alternifolia tree found in Australia is known as Tea Tree Oil and is known for its anti-inflammatory and anti-bacterial properties. Research has shown that applying 5% Tea Tree oil on the face can cure acne. The tea tree oil has fewer side effects such as irritation, dryness and burning when compared to benzoyl peroxide. However, Tea Tree Oil is advised to be diluted carefully before applying to the face as it is very strong.
Ingredients:
Tea Tree Oil
Water
Cotton swabs
How To Do:
Dilute the Tea Tree Oil by adding 9 parts of water to it.
Apply this mixture using cotton swabs.
Rinse with warm water after 15 minutes and moisturize the skin if required.
Do it twice a day for 15 days or as needed.
The antibacterial – anti-inflammatory properties of Tea Tree Oil have shown a positive impact on the pimples.
Result Time:
Tea tree oil has the power to cure acne and pimples within 2 weeks of usage.
4. Applying Green Tea:
It is a well-known fact that drinking green tea is good for health. Green tea is also known to have a positive effect in reducing inflammation by placing a green tea bag on a pimple. Green tea contains flavonoids and tannins which fight the bacteria and also reduce inflammation thereby treating the 2 major causes of acne and pimples. Besides EGCG antioxidant in green tea reduces sebum production which ultimately inhibits the acne growth on acne-prone skin.
Ingredients:
How To Do:
Put 1tsp green tea in 1 cup boiling water and let it simmer for 3-4 minutes.
Let the tea cool down.
Dip a cotton swab in the green tea and apply it to the pimples.
Let it dry before you rinse.
Additionally, mix the leftover green tea leaves with honey and make a face mask to cure acne.
Result Time:
Rinsing with green tea and putting mask with its leaves can help you in getting rid of pimples and acne in less than 3 weeks.
5. Aloe Vera: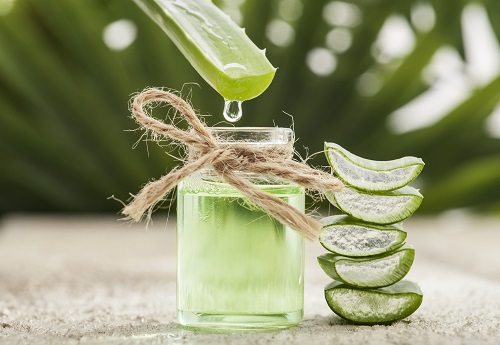 There will hardly be a person who is not aware of the numerous benefits of Aloe Vera, especially when related to skin and hair care. Aloe Vera gel can treat wounds, reduce hair fall, make hair grow long and strong, reduces inflammation, etc. Apart from this, it is a rich source of salicylic acid and sulphur both of which are known for treating acne. The anti-acne benefits of Aloe Vera are amazing and are worth giving a try to treat stubborn pimples and acne.
Ingredients:
How To Do:
Remove the outer skin of Aloe Vera and scrape out the gel using a spoon.
Apply this gel directly to the face and let it dry for 15 minutes.
Repeat 1-2 times a day, and one will be surprised to note that besides reducing the acne, the Aloe Vera gel will also make your skin soft, supple and stay hydrated.
Result Time:
Aloe vera is one of the most trusted natural ingredients for treating pimples and acne within a week's time!
6. Fish Oil Supplement:
Omega-3 Fatty Acids have incredible health benefits, and fish oil is a rich source of the same. Fish oil is rich in 2 main types of Omega-3 fatty acids namely EPA and DHA. High levels of DHA and EPA are known to decrease inflammation significantly and thereby reduce acne. Though there is no specific recommendation for exact intake of Omega -3 fatty acids it is advisable to take 250 mg to 500 mg of Omega-3 Fatty Acid supplement every day.
Sources other than fish oil supplements that are rich in Omega-3 Fatty acids are walnuts, Chia Seeds, Salmon, anchovies, and sardines.
Result Time:
With the intake of Omega 3 fatty acids through Cod liver oil supplements, you can treat pimples and acne in less than 4 weeks.
7. Exfoliate The Skin Regularly:
Exfoliation is the process of removing the top layer of skin. Exfoliation can be done manually by scrubbing or chemically using chemical peels. With exfoliation, the dead skin is removed, and the pores are opened. As there are no clogged pores, the chances for the occurrence of pimples are reduced to a great extent. Besides the treatment for acne also becomes more effective on exfoliated skin as there is a deeper penetration of the remedy used.
Ingredients:
Sugar or salt
Coconut Oil
How To Do:
Mix equal parts of salt or sugar with coconut oil
Apply this mixture to the face and gently rub the skin in circular motions
Do this often to keep your pores clean and unclogged. You can do this as regularly as once daily.
Result Time:
Sugar and coconut oil scrub can cleanse your skin and remove the pimple-causing bacteria resulting in clear skin in 4 weeks.
8. Reduce The Consumption of Dairy Products:
Dairy products expose the body to hormones which lead to hormonal changes in the body the outcome of which is seen in the form of pimples. Reducing the intake of dairy products most importantly milk can reduce the occurrence of acne.
Research shows that milk and acne have a direct correlation and hence reducing the intake of milk and other dairy products by the ones having an acne-prone skin may help.
Result Time:
Unless you are lactose intolerant, start consuming fat-free milk products to see your pimples vanishing in 3 to 4 weeks' time.
9. Apply Witch Hazel:
Witch Hazel is an extraction from the barks of the Witch Hazel shrub found in North America. It has anti-inflammatory and anti-bacterial properties and also contains tannins. Due to these amazing properties, Witch Hazel is used to curing many skin diseases such as eczema, varicose veins, dandruff, bruises, burns, scars and also acne.
Ingredients:
1 tablespoon of Witch Hazel
1 cup water
How To Do:
Mix 1tablespoonof Witch Hazel with 1 cup of water in a small pan and let it soak for 30 minutes.
Now turn on the gas stove and bring this mixture to a boil. Simmer it for 10 minutes.
Let it cook for another 10 minutes.
Strain this mixture and store it in an airtight container.
Apply this mixture to the face using cotton swabs twice a day.
It is important to note here that Witch Hazel prepared at home is the best for pimples. Because the commercially prepared ones may not contain tannins which are vital for treating pimples as it is lost during the distillation process.
Result Time:
Use homemade Witch Hazel and watch your pimples disappear in 3-4 weeks.
10. Regular Exercise:
Exercising regularly has numerous health benefits. Reducing pimples is an additional benefit of exercising regularly. Regular exercise improves blood circulation. With proper blood circulation, the skin gets nourished and internally healed. Also, exercising leads to sweat and sweat opens the pores which again closes the doors for pimples to appear. Besides, exercise plays an important role in regulating hormones. Hence whatever reasons the pimples might be appearing on your skin, good exercise has solutions for all.
It is highly recommended that one must exercise 30 minutes a day for at least 5 days a week. Exercising, be it in any form such as walking, running, hiking, yoga, Pilates, weight lifting, Zumba or any other form must be a part of your daily routine.
Result Time:
Regular exercising will help in activating the sweat glands and cleanse the pores on the skin. With a systematic exercise regime, you can achieve pimple-free skin within 4-8 weeks' time positively.
Acne is one skin problem faced by all age groups and it is only the reason for its occurrence that may vary. The conventional treatment may aggravate the problem by causing redness, irritation, drying, and scarring. Home remedies are the best for the long-term resolution of the pimples problem. All skin types are different and not all the aforesaid natural remedies work for you, but it is definitely worth a try as there are no side effects attached to it. One fact that cannot be denied is that though it may not improve, it will never ever worsen the existing situation.
If however, you have severe acne, it is always advisable to consult your dermatologist before venturing into home remedies. Please share your experience of using the aforesaid home remedies for pimples as it might go a long way in helping others with similar problems. Also, share any other home remedies for pimples in the comments below.
Frequently Asked Questions:
Question 1: Why do Pimples form on the face?
Answer 1: Pimples are the emergence of inflamed or infectious sebaceous glands in the skin. When hair follicles on the face get clogged due to dirt, dead skin cells or excess sebum, then it results in pimples forming on the face.
Question 2: What is Acne and how does it form?
Answer 2: There are tiny pores on the skin which get blocked due to various reasons such as dead skin cells, oil, bacteria, dirt, hormonal changes, etc. When these pores get blocked, you may get small boils on the face, which are called acne.
Question 3: What are the various Pimple stages?
Answer 3: The following are the different stages of pimples.
A pimple first appears as small red bumps.
When these bumps get infected, they become filled with pus and are referred to as pustules.
A cystic acne is a severe form of acne where the pimples are large and are filled with pus. These are sometimes so severe that they can leave deep scars.
Question 4: How can I prevent Pimples from forming?
Answer 4: Here are some simple tips that will help you keep the pimples at bay:
Wash your face frequently so that there is no clogging of the pores.
Exfoliate the skin regularly to remove dead skin that forms on the skin.
When you see a pimple appear avoid the urge to pop it at all costs.
Apply a topical antibiotic.
Use any one of the home remedies mentioned above.
Question 5: What are the best Minerals and Vitamins to cure Acne?
Answer 5: The 7 Best Vitamins and supplements that have a magical effect on the acne are as follows:
Vitamin A as it is a wonderful antioxidant
Zinc
Vitamin C
Selenium
Magnesium
Omega-3 fatty acids
Vitamin E
Question 6: What are the different types of Pimples?
Answer 6: Pimples can be classified into 6 different types:
Whiteheads: These are the little baby groups of build-up that sit on the skin. In short, they are dead skin cells and sebum in one tiny package.
Blackheads: They are the plugs of sebum and bacteria. They are similar to whiteheads, but where the oil has oxidised, and the comedo is open which makes it darker in colour.
Papule: Technically a papule means any small bump on the skin. It is a bump that is red in colour with inflammation. They are more painful.
Pustules: They are zits that form on the face and appear as white pus-filled bubbles on the top.
Cyst: They are the worst forms of pimples as they lie much deeper in the skin, and are very painful. They also take a long time to heal. They are mostly caused due to hormonal changes in the body.
Nodules: Like a cyst, the nodules are also one of the most severe types of pimples. However, they are not filled with pus as in cysts. On the contrary, they form a hard bump deep under the skin and are painful at the surface. Treating nodules needs intensive treatment and must be countered with antibiotics.
Question 7: How to get rid of Pimples on the forehead?
Answer 7: To get rid of pimples on the forehead follow a good skincare regime. Wash face regularly with a gentle face wash. This will remove the excess oil and open the clogged pores. If this doesn't work then use the home remedies mentioned above to treat forehead acne.