The cafe seems to be the most relaxing spot to enjoy a sip of coffee. In that case, a good cafe with a peaceful ambiance becomes the most refreshing spot. There are many beautiful cafe designs around us, and we need to find out the best one. So here we have gathered 15 simple and best cafe designs with images. Continue reading and choose the best one.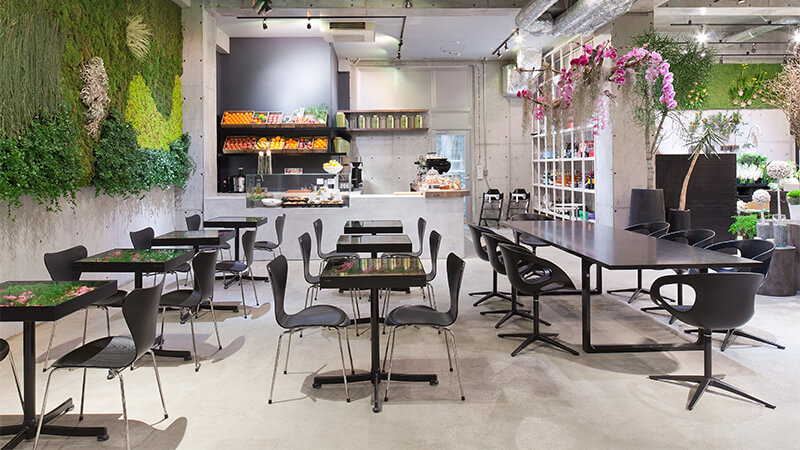 Modern Cafe Designs In India:
Here are our 15 cool and cute cafe design ideas with pictures. Let's have a look at them.
1. Cafe Interior Design: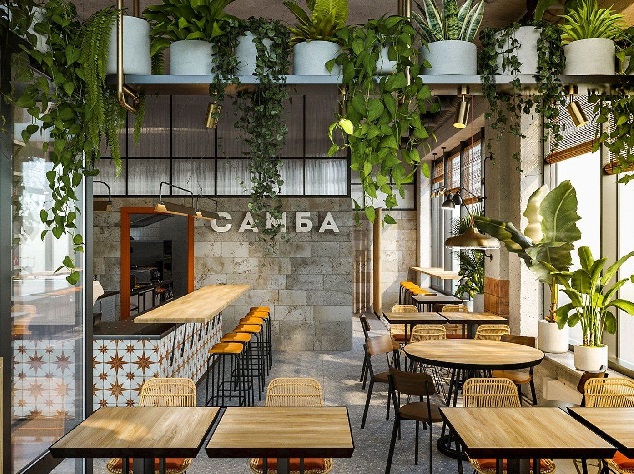 This Camba cafe is located in the US. The café is designed with minimal furniture and has used some planters and creepers to elevate the look. It is a moderate-spaced cafe which is perfect for any small gatherings.
2. Small Cafe Design:
The café interior is clutter-free with many decorative elements like ceiling bulbs and china dishes for serving. It uses a combination of wood and stone to elevate the look. The café has a warm, inviting atmosphere with linear seating.
3. Modern Cafe Design Idea: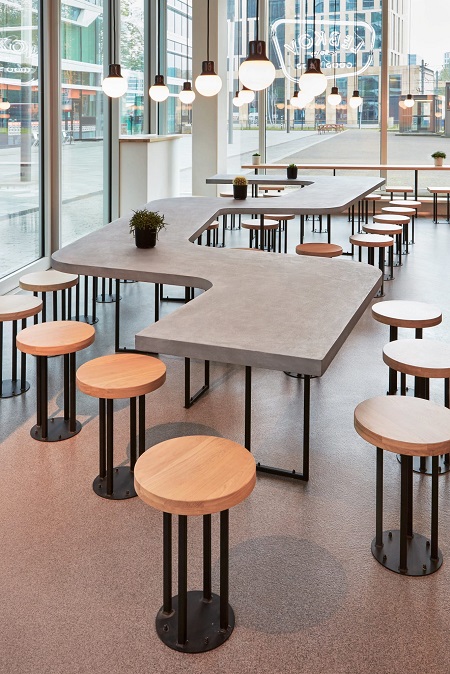 This is a modern cafe with different seating patterns and glass lamps. It has smooth surfaces, bookshelves, and hanging chandeliers. The unique cafe is the perfect option for social gatherings.
4. Minimalist Cafe Design: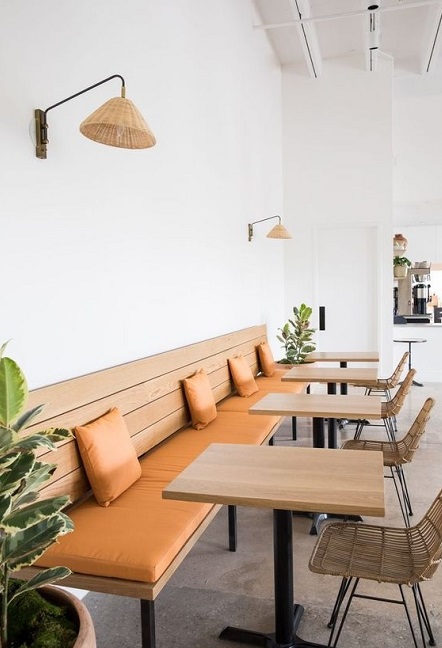 Choose this cafe design for a minimalistic look. The cafe has light tones of wood furniture and cushions for comfortable seating. Wall lamps and plant pots are used randomly for a sophisticated appearance.
5. Best Cafe Design:
Here is the simple cafe design with an industrial theme. The cafe has a bright-coloured couch and light beams hanging from the ceiling. Small plant pots are placed on the table, and white chairs are arranged.
See More: Salon Designs
6. Wooden Cafe Design: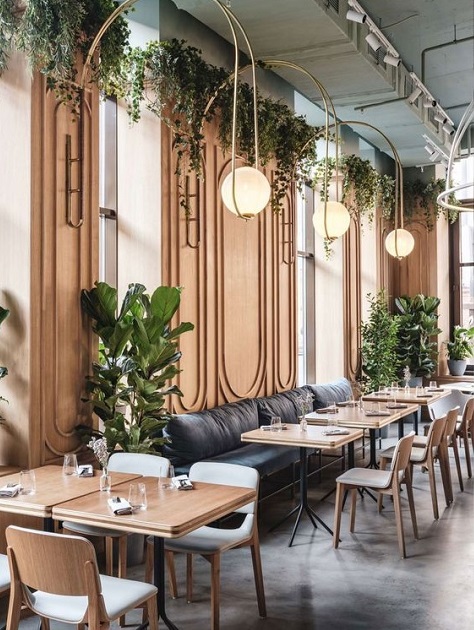 This is one such cafe completely furnished with wood. The cafe utilizes the space with a dark colour sofa and planters and creepers to offer a natural atmosphere. Random seating is ideal for family get-togethers.
7. Bamboo Cafe Shop Design: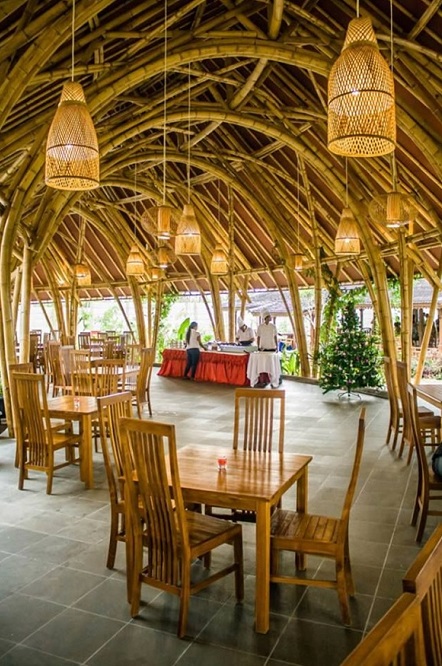 This particular cafe uses bamboo to form a hut. It has used light beams, hangers in between, and wooden furniture. The seating is randomly arranged, which is a great choice for student gatherings and team lunches.
8. Simple Cafe Design Idea: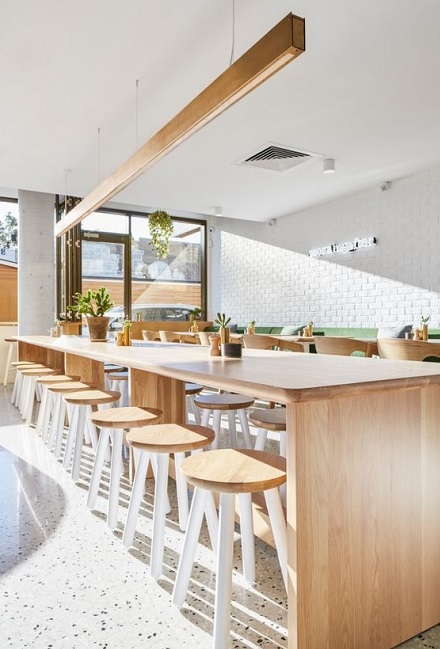 Choose this simple cafe design in a moderate space. The cafe uses a few plant pots to enhance the overall look. It has a linear seating arrangement with a shared table ideal for team lunches.
9. Garden Cafe Design:
Here is the cafe that is filled with greenery. The décor resembles a garden full of planters and creepers. The seating pattern is quite organized and comfortable, with fluffy cushions. The cafe is large enough for family gatherings.
10. Coffee Cafe Design Ideas: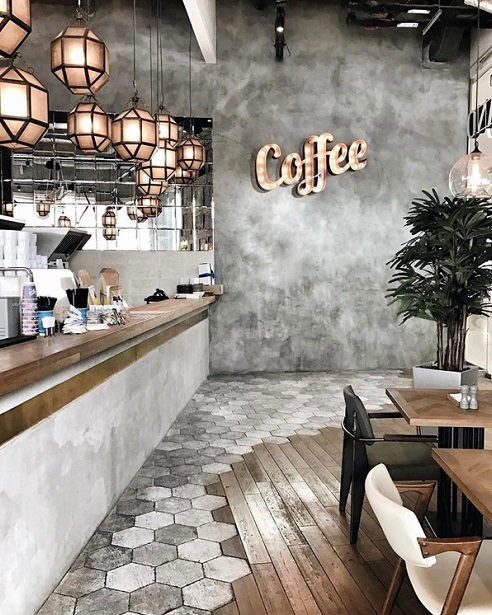 The coffee house is designed with a rustic theme. It has beehive pattern flooring and Chandeliers. It has a seating space with minimal furniture, ideal for small meetings.
See More: Best Steel Door Designs
11. Creative Cafe Design:
If you are looking for natural and creative café ideas, this would be the right option. Interiors accompany the cafe. This colourful cafe is ideal for student gatherings.
12. Rustic Cafe Design:
Here is another cool cafe design with minimal bare-brick walls and wooden furniture. The cafe interior is filled with floral accents like planters.
13. Office Cafe Design: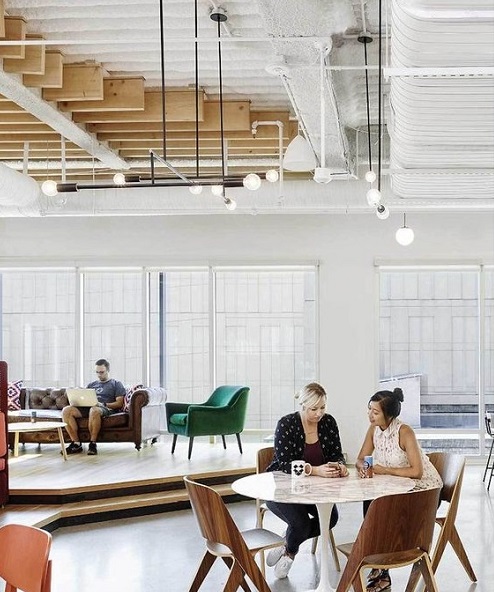 As we can see, this café design is the best option for offices. It uses round tables with wooden chairs, which are randomly organized. The café can be arranged anywhere with minimum furniture.
14. Contemporary Cafe Design:
This contemporary cafe shop design makes us feel that we are at home. It has chairs with intricate patterns in an organized manner. It can be arranged in any space to get a homey effect.
15. Cafe Decoration Design:
A rustic interior design features organic, natural elements, including planters, plant walls, and flowers. It utilized farmhouse decor and furniture for a natural look. The cafe shop design is ideal for grand occasions.
These are the 15 different themes of cafe design ideas in the world. You can customize the coffee shop as per your desires and facilities. I hope you find the article informative. Choose the best one among these themes as guidelines before designing a cafe. Please share your feedback with us!