Many times you see a woman with make-up correctly done, not a hair out of place, bags and clothes matched, and think how perfect and organized she is but when you look at her feet, you cross your opinion. We have always tried to make people understand that skin and hair care are not sufficient and that one needs to nurture and nourish each and every part of their body. Our feet carry the burden of our daily lives from the moment we wake up to sleep and keep in mind that we have the best remedies for cracked heels right in our homes. Just as we need to nourish our face and hair, we need to nourish and hydrate our feet. Here are the 10 effective and best home remedies for cracked heels at home.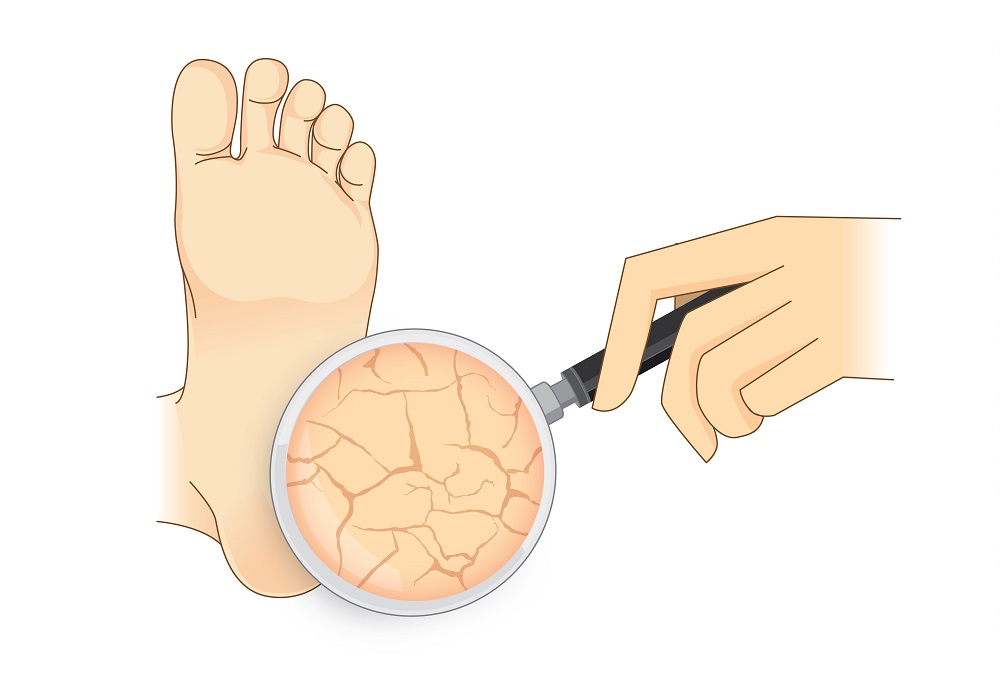 Best Tips To Prevent Cracked Heels At Home:
Dry cracked heels can look bad and make you uncertain about publicly exposing your feet, making us shy and lowering our confidence. We rarely find time to take care of and nurture our feet in our busy daily life. This is how we can include heel care in our regular skin care system.
Cracked Feet Diet: The diet of a person plays a vital role in the appearance of his skin. To get rid of the dead skin on the feet, you should eat these foods.
Water: Drink enough water every day to prevent your feet from cracking.
Essential Fatty Acids: In nuts and seeds such as sesame seeds, pumpkin seeds, sunflower seeds, avocado and olive oil, these can be found.
Vitamin A: Goat milk, carrots, vegetables and citrus fruits.
Vitamin E: Whole grains, nuts and greens.
Vitamin C: Cauliflower, guava, papaya and berries.
Zinc: Shellfish, cheese, beef and sardines.
Stay Moisturised: Whether you try to prevent or heal cracked heels, the solution is the same: Stay moisturised. Use at least once a day, perhaps more, a good moisturiser. The feet must be moisturised daily – once in the morning and once at night before bed. This will help you keep your skin fluids, minimise loss and even attract more from the underlying tissues (or even the surrounding environment!).
Wearing Cotton Socks To Bed: After applying petroleum jelly to the heel, wearing cotton socks to the bed helps keep them moisturised and allows the skin to breathe. After this routine is repeated for a couple of days, the skin on the heels should soften.
Paraffin Wax: If you are looking for faster treatment with longer-lasting results, try to treat your feet with a pair of warm paraffin wax boots! In contrast to cold or room temperature lotions, the heated component helps circulate, reduces inflammation and hydrates. After just 10 minutes of treatment, your feet will be silky smooth.
The easiest way to prevent heels from cracking is to wear comfortable shoes, avoid excessive walking and avoid exposure to pollution.
You can keep your heels clean and soft by regularly scrubbing with pumice stone and dipping them in warm salt water or water with added lemon juice.
Relaxing your feet and massaging your foot with oil also prevents dryness and thereby cracked heels.
10 Effective and Best Home Remedies For Cracked Heels:
Most of us are every day on our feet in today's fast-paced lifestyle, making us prone to skin problems. The skin in the foot area is much drier than any other part of our body by direct exposure to dirt and the absence of oil glands. Dropping winter temperature adds to the problem and causes skin flaking. It can also cause pain and discomfort in cracked heels. Here are our 10 natural and best home remedies for cracked heels at home.
1. Tea Tree Oil:
Tea tree oil cleanses and softens the skin after regular use. Tea tree is very common in foot scrubs and lotions, fungal medicine and deodorant. You can mix rosemary oil to hydrate cracked heels and relieve any present pain. Another way to achieve better results on cracked heels is to combine this oil in a warm foot bath with lavender and rosemary before soaking the cracked heels. You can then massage olive oil or almond oil and cover the heels through the night with cotton socks. Remember that tea tree oil can irritate sensitive skin so remember to dilute before using. Essential oils can be very beneficial if used correctly. To enjoy the results one should select high-quality oils and follow instructions for use.
Method:
5-6 drops of tea tree oil, 1 tablespoon of coconut oil or olive oil and a pair of socks are required.
Mix the oil from the tea tree and the coconut oil.
Apply for a minute or two to cracked feet and massage. Cover it with socks overnight.
Do this before going to bed each night until your cracked feet heal.
Result Time:
Within a week of regular massage with tea tree oil, you will experience smoothness in your feet.
2. Epsom Salt:
Epsom salt softens your skin and soothes your feet. In contrast to sodium table salt, Epsom salt is a magnesium sulfate compound. Epsom salt has been used as a healing agent and pain relief for hundreds of years. However, as a detoxifying agent, it is most often added to hot baths and foot soaks and reduces stress. Epsom salt can remove inflammation and body pain from your body. For foot health, this can also be beneficial. Supporters claim that Epsom salt can be dissolved in warm water to reduce gout inflammation, eliminate odour and help treat infection, as well as reduce pain symptoms and promote healing.
Method:
Fill your bath or basin with warm water until it is sufficiently deep to cover your feet.
In the warm water, add 1/2 cup of Epsom salt. Soak your feet twice a week for 30 – 60 minutes.
For an increase in aromatherapy, add a few drops of essential lavender, peppermint or eucalyptus to your foot bath. After soaking, thoroughly moisturize your feet.
This type of soak can cause dry skin on your feet in particular.
After an Epsom salt foot soak, be sure to moisturize your skin to prevent cracked skin and irritation.
Result Time:
Within 15 days you will experience a difference in the smoothness of your feet.
3. Baking Soda:
Your feet are likely to suffer from dryness and cracking after a summer of wearing flip-flops and running barefoot on the beach. If the lotion is not often used to restore baby softness to your feet, opt for baking soda. Baking soda is a reliable method to remove odours from refrigerators and cat litter boxes, but it also plays a role in personal care. The best thing about baking soda is that it is cheaper in the market than conventional beauty products. Baking soda possesses anti-inflammatory properties that help to create ideal pH for the feet, and it will also help to exfoliate the skin.
Method:
Fill with warm water, 2/3rds of the bucket and add 3 tablespoons of baking soda.
Mix well until the baking soda in the water dissolves.
Soak your feet for 10 to 15 minutes in them.
Remove your feet and gently scrub them with a pumice stone.
Rinse clean with water.
Result Time:
You can experience a major relief in your deep cracked heels within 15 days of regular soaking.
4. Oatmeal and Honey:
Oatmeal has anti-inflammatory and hydrating properties to remove dead skin cells and soften the skin. Because of the presence of antioxidants, vitamins and minerals, the excessive dryness and the accumulation of dead skin will be eliminated.
Method:
Use 3 tablespoons of oatmeal, and 2 tablespoons of honey, and mix well.
Use it and rub it. Cover your feet for better results and keep it for an hour.
Rinse and repeat the process, at least 3 times a week.
Result Time:
Within a month you will notice a considerable difference in the feel of your heels.
5. Banana and Avocado Foot Mask:
When you try to get rid of dry and cracked skin, this mask is the best combo. Avocados are rich in vitamin E, protect the skin from sun damage and combat the effects of UV damage such as oxidative stress and photoaging (from which your wrinkles come). Bananas are packed with vitamin C, which protects the skin against nasty UV damage when combined with vitamin E. Both are excellent sources of vitamin B6, which can treat different skin conditions and dermatitis, making this really good news for your tired feet.
Method:
Mix a ripe banana and half an avocado.
Apply this thick, creamy paste to your heels.
Keep it for 15 to 20 minutes and then wash your feet with lukewarm water.
Result Time:
Within 15 days of applying this foot mask experience soft and smooth heels.
6. Rice Flour Scrub:
Rice flour helps a lot in getting rid of dead skin cells, avoiding the drying and cracking of your heels. Rice flour re-mineralizes the skin and exfoliates and purifies dead skin which makes it satin-soft. This is how you can use rice flour scrub to treat severely cracked feet.
Method:
Take 2-3 tablespoons of ground rice and to this add a few drops of honey and vinegar from apple cider to make a thick paste.
You can add a teaspoon of sweet almond oil or olive oil if your heels are extremely dry and cracked.
Soak your feet for 10 minutes in warm water and gently scrub them to remove dead skin.
This foot scrub can be used twice a week.
Result Time:
Even the deepest cracks can wither away in a month's time.
7. Glycerin, Lemon and Rose Water:
These 3 ingredients combined are one of the most effective natural treatments to reduce the presence of dead cells and impurities, while the hydrating properties help repair damaged skin. The acidic properties of lemon juice help to heal raw and dry skin, thereby preventing cracking of the feet sole. The combination of rosewater and glycerin, together with the acidic properties of lemon, is an effective treatment for cracked heels. Glycerin softens the skin (which is why most cosmetic products use it). Rosewater has anti-inflammatory and antiseptic properties to heal cracks.
Method:
Take warm water in a bowl and add raw salt, 8-10 drops of lemon juice, a tablespoon of glycerin and a teaspoon of rosewater.
Soak your feet for about 15 – 20 minutes in this water. Using a pumice or foot scrubber, scrub your heels and sides of the feet.
Mix 1 teaspoon of glycerin, 1 teaspoon of rosewater, and 1teaspoonof of lemon juice.
Use the mixture on the cracked heels. Since it is a sticky mixture, you can wear a pair of socks and leave them overnight.
Wash with lukewarm water in the morning. Repeat it for a couple of days until your heels are soft.
Result Time:
Heal cracked feet using this home remedy within just 15 days.
8. Honey and Sugar Scrub:
The antibacterial properties of honey and the exfoliating properties of sugar are excellent treatments for moisturizing dry and cracked heels.
Method:
Mix 2-3 tablespoons of honey with 4-5 tablespoons of sugar. Massage the scrub gently over the heels and soles.
You can also make a foot bath by adding a cup of honey to a hot water tub.
Before going to bed, soak your feet in the bath for 20 minutes and then scrub them with a stone of pumice.
You can follow these 2 methods twice a week.
Result Time:
This scrub is one of the best-cracked feet remedies, the results of which can be seen in just a couple of days of use.
9. Neem Paste:
Neem's fungicidal and antibacterial properties help to combat infection and relieve cracked dry and irritated skin.
Method:
Wash a handful of leaves from the neem and crush them into a fine paste. Add a pinch of turmeric and a couple of honey drops to the mix.
Generously apply and leave for 30 to 40 minutes. Wash your feet with hot water and clean them dry. For immediate results, use this daily.
Result Time:
Experience baby-soft feet in just a week's time with regular use of neem paste.
10. Essential Lavender Oil:
Lavender is one of the best, as it has regenerative, antiseptic and anti-inflammatory properties that help to eliminate dry, cracking skin.
Method:
In warm bath water or your hydrating lotion, you can add a few drops and apply them to the heels when you go to bed.
Remember to wear cotton socks and take some time to massage the oil to absorb the oil effectively. You'll get the added advantage of better sleep.
Result Time:
Experience the difference in just 15 days with regular use of essential lavender oil.
You can accelerate your cracked feet' healing process in many ways. The most effective ones are to keep your feet well hydrated, not expose them to pollution, relax your feet, take essential oil foot massages, soak your feet in warm water with some added lemon juice and treat medical conditions, skin problems and obesity. What are you waiting for now that you know how to get rid of cracked heels? For cracked heels, try these home remedies and see the difference. Share your views and experiences in the following comment box.
Disclaimer: All the home remedies for cracked heels described above are assembled from the experiences of people around the world and hardly have any side effects, but every skin is different. So please try the remedy on a small portion of the skin before applying it to the whole area. If some reaction or irritation occurs then kindly discontinue the use and consult your doctor.
Question 1: What are cracked heels?
Answer 1: Cracked heels are a common problem and can arise from a variety of factors. From the climate in which you live to genetic problems and poorly fitting shoes, few people live without suffering, while most of us suffer at one point or another from cracked heels.
This condition also known as heel fissures is a common condition of the foot, and if untreated, the cracks can range from uncomfortable to painful, to cases where cracked feet may even begin to bleed in more extreme cases. Usually caused by dry skin, cracked heels become harder to treat when the skin around the heel is thick.
Question 2: What causes cracked heels?
Answer 2: The dry, cracked heels are responsible for many factors. In the skin of your heels, there are no oil glands, therefore they get dry if proper care is not taken, causing the skin to crack and bleed. Other reasons why heels are cracked are:
Skin conditions such as psoriasis and eczema.
Medical conditions such as thyroid, diabetes and hormonal imbalance.
Exposure to pollution.
Excessive walking and long standing on hard floors.
Cracked heels can be cured with proper care and hydration.
Question 3: What are the symptoms of dry cracked heels?
Answer 3: The symptoms of dry and cracked heels are:
Dryness around the area of the heel and in the area on the underside of the feet, just below the toes.
Red and flaky skin patches.
Peeling of the skin into thin strands.
Cracks and ridges on the surface.
Itchiness and bleeding from the cracks.
Discharge from the cracks due to infection.
Question 4: How to prevent cracked feet?
Answer 4: It is better to prevent than cure. There are many home remedies and tips on lifestyle changes to prevent heels from cracking. The first step in avoiding dry heels is proper moisturization. Wearing comfortable shoes is the easiest way to avoid cracked heels, avoid excessive walking and avoid exposure to pollution. You can keep your heels clean and soft by regularly scrubbing with pumice stone and dipping them in warm salt water or water with added lemon juice. It also prevents dryness and cracked heels from relaxing your feet and getting foot massages with oil.
Question 5: How long is it going to take to cure cracked feet?
Answer 5: It takes about 7 – 14 days to see the first signs of healing with proper care and relaxation. This depends on how cracked your heels are, skin problems such as psoriasis and eczema, or medical issues such as diabetes and hormonal imbalance. There are many ways to accelerate the healing process. The most effective ones are to keep your feet well moisturized, not expose them to pollution, relax your feet, take massage based on natural oil, soak your feet in warm water with some added lemon juice and treat medical conditions, skin problems and obesity.
Question 6: Does Diabetes cause cracked feet?
Answer 6: Yes, one of the causes of cracked heels is diabetes. Uncontrolled levels of blood sugar damage the feet's nerves, leading to dry skin. Since the surface of the feet has no oil glands, they are usually dry. The thick dry skin on the heels, called callus, may develop fissures in the heel. If it is too dry; it cracks and bleeds. Diabetes control can also cure cracked heels. People with diabetes are prone to severe infections from hard-to-heal cracked heels. It is advisable for people with diabetes to take good care of their feet and to treat cracked heels in the initial phase.
Question 7: Why do only heels crack but not other parts of the foot?
Answer 7: Since the skin of your feet has no oil glands, this area tends to become dry. The skin on the heels is thick and dry and tends to bleed and crack with excessive activity. Some of the reasons why heels crack are standing on a cold or hard floor for long, intensive walking and being overweight. Hollow and well-secured is the middle part of the foot. The heels carry most of the body's weight. They tend to crack easily because they are dry and bloated. These cracks sometimes go deep and begin to bleed.