Are you worried because of the dull skin on your face? Your skin sheds off dead cells over a period of time and making it look dry and lifeless. This phenomenon occurs because the natural skin cycle slows down with ageing, leading to the creation of dead cells on the face, giving it a dark and dull appearance. Cleansing your skin with soap and water is not enough, you need to exfoliate your skin regularly to get the soft and smooth skin back. For all skin types, exfoliation is fundamental. You should peel your skin and the rest of your body, in particular areas such as elbows, knees, and feet that are likely to become dark. Natural ingredients are accessible in the kitchen cabinet that will help you to get rid of your dead skin and get back that lost glow. These home remedies for dead skin will assist you to get rid of dead skin cells.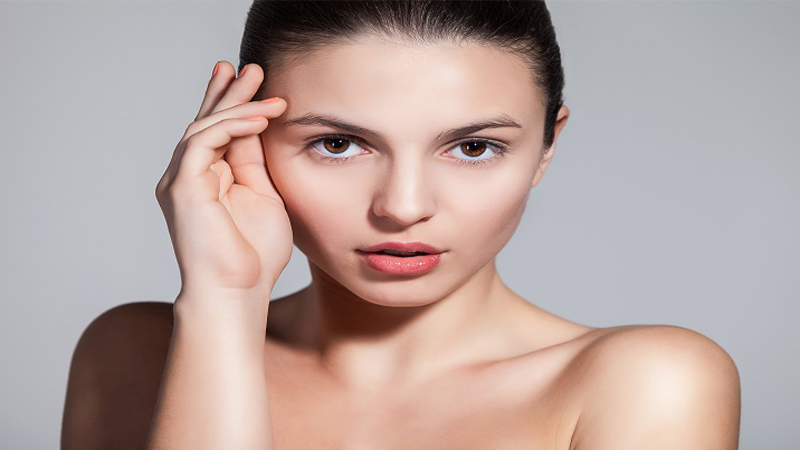 Some Tips To Keep Dead Skin At Bay!
Building up of dead skin cells is an area of widespread concern among both men and women, causing complications like dull skin tone and a sallow taint to breakouts or blocked pores. While there are many ways to get rid of it, being aware of what causes these dead skin cells to build up first is one of the best bets to consider. Below, we are sharing some of the most popular causes of dead skin cell buildup and some tricks to achieve healthy-looking radiant skin.
Keep yourself well hydrated: We should drink lots of water regularly which not only catalyses the metabolic process of our body but also detoxifies the blood. Indirectly this assists in getting rid of dead skin cells and helps to maintain youthful skin.
Eat Strawberries: Being rich in alpha-hydroxyl acid, strawberries help to get rid of dead skin cells. Berries have benefits such as providing an increase in collagen production and decreasing fine lines and wrinkles by the presence of vitamin C. Strawberries help to lighten the skin tone because of the omega-3 fatty acids present in them.
Experiment with Masks: Facial masks can provide hydration, thus penetrating deep within to draw out excess oils, and it also clears away dead skin and boosts moisture levels in the skin.
Keep your Face Clean: Whether you have acne or not, it is essential to wash the face twice daily in order to initiate the removal of impurities, dead skin cells and extra oil from the surface of your skin. Excessive washing of the skin, more than twice daily can do more harm than good. Use warm water and a mild face cleanser. Do not use very hot water as it is detrimental to the skin. The use of harsh soaps (such as deodorant body soap) can hurt, cause inflamed skin and further irritation. Do not scrub your skin harshly. For removing the extra oil, impurities and dead skin cells from the skin surface, it is vital to wash your face twice a day.
One of the easiest ways to get rid of dead skin is exfoliation.
Make lifestyle changes to avoid dead skin.
Be gentle while handling one's skin during cleansing and leave no trace of the cleanser behind.
Washing the face with warm and then cold water aids in opening and closing pores keeping the skin healthy.
Always pat dry skin after cleansing.
10 Best Home Remedies For Dead Skin on Face:
Skin, which can be considered our body's largest organ, sloughs off dead skin cells constantly. It renews the skin and replaces it with fresh, healthy cells on the skin's surface. However, this natural process of cell regeneration is not sufficient by itself. Exfoliation is also necessary to achieve good results. Now let's find out which home remedies for dead skin are effective in removing dead skin cells.
1. Olive Oil and Sugar:
When sugar and olive oil are combined together, they work as an incredible scrub for your skin. The particles of sugar effectively remove dead skin cells on the face, and the olive oil moisturizes your skin thoroughly. Follow the below procedure and use olive oil and sugar on your skin to get rid of the dead skin.
How To Apply:
Take 1/2 cup fine sugar, add about 3 teaspoons of honey, to this add 2-3 teaspoons of extra virgin olive oil, and finally add a little lemon juice. Mix these ingredients well.
Apply this and massage it into your face in circular motions.
Leave in for about 15 minutes.
Wash with lukewarm water, and pat dry your face gently.
We can apply this fantastic scrub on all parts of the body, including the lips.
However, be slow while massaging the lips with it.
2. Papaya:
Papaya is one of the best fruits to incorporate into your skincare system because it has an enzyme called papain, which is responsible for skin whitening, reducing unwanted hair, exfoliating dead skin, repairing skin ageing, etc. This papain enzyme is present under the peel of unripe papaya in maximum concentration. Papaya provides nourishment to the surface; with the help of vitamin A and papain enzyme present in it, besides it helps remove inactive proteins and dead skin cells from the surface, thus rejuvenating your skin. You can use it this way.
How To Apply:
Take the required quantity of mashed papaya and massage it onto the skin for 5 minutes.
Next, wash the skin with milk and then water.
See how soft your skin feels in minutes.
3. Almonds:
Almonds are rich in vitamin E, which is a powerful antioxidant. Furthermore, almonds help in nourishing the skin from the inside. The healthy fats in almond help in moisturizing the skin and keep it healthy and youthful. Milk is a great exfoliator and cleanser for our skin. The lactic acid in milk exfoliates and also removes dead skin cells. The vitamins and minerals in milk help in softening the skin and make it glowing.
How To Apply:
Take 10-12 almonds and soak them overnight in milk.
Remove the skin from the almonds the next morning and grind them with milk to form a granular paste.
Add 2 teaspoons of honey.
Combine all ingredients and apply throughout the face and neck.
Massage the skin for a few minutes and naturally let it dry.
To wash it, use lukewarm water.
Use twice or thrice a week for the best outcome.
4. Oatmeal Scrub:
Your morning staple's grainy texture can work as a great exfoliator. The oatmeal's grainy texture works well on all skin types to get rid of dead skin. It will eliminate not only the built-up dead skin but also excess sebum and other impurities. It also moisturizes the skin.
How To Apply:
Add 2 oatmeal cubes, 2 yoghurt cubes, and 1 honey cube and mix well in a bowl.
Now take this paste and apply it with circular movements on your face.
Wash it with cold water after 10 to 15 minutes.
Dry the face with the use of a towel and apply a hydrating agent.
We can use this once or twice a week.
5. Orange Peels:
After eating oranges, do not throw away the peels. Dry the peels of oranges in the sunlight for a few days. Use a mixer to grind them into powder form, which can be used in your regular skin-care routine. The slightly abrasive nature of the powder works as a natural exfoliating agent. It assists in the removal of dirt and dead skin cells from your skin. Additionally, it is rich in antioxidants and vitamin C that help rejuvenate your skin, making it vibrant and youthful.
How To Apply:
To form a smooth paste, mix an equal amount of orange peel powder and plain yoghurt.
Apply to the area of your neck and face.
Allow it to dry for 15 to 20 minutes.
Rub the paste gently with wet hands using circular movements.
Repeat every week.
6. Coffee and Honey Mask:
Coffee has excellent skin rejuvenation properties and can efficiently clear dead cells without ripping off the skin's essential moisture layer. This face pack is ideal for removing dead skin cells.
How To Apply:
Mix 1 tablespoon of coffee with 1- 2 teaspoons of honey and make a paste.
For this pack, it is best to use coarsely grounded coffee beans instead of powdered ones.
After mixing the 2 ingredients well, apply the paste with a brush using an upwards motion.
Leave it on for at least half an hour.
Then add some water and rub your hands lightly.
Wash with water and pat dry.
7. Green Tea Scrub:
A perfect solution for removing dead skin cells is the use of this scrub once a week. This exfoliating mask not only removes dead skin but also makes your skin healthy and improves the elasticity of your skin.
How To Apply:
Take 1- 2 used bags of green tea and add 2- 3 teaspoons of honey.
Use the mixture as it is, else add baking soda if required.
Mix the ingredients until the paste is thick.
Apply the mask to the whole face and gently scrub with wet fingers after 10 minutes.
8. Avocado Seeds:
Avocado seeds are great for the skin, and help to eliminate dead skin cells. The seeds prevent wrinkles and other signs of ageing from showing up. It is loaded with flavonol and antioxidants. Avocado seeds help to increase the production of collagen. The avocado seed can also be used as an exfoliator to remove dead skin cells. It also helps to remove excess skin sebum from your skin.
How To Apply:
Wash and remove the skin of Avocado seeds and grind them into a powder.
Take Avocado powder and mix 1 tablespoon with 1 teaspoon of olive oil and honey.
Mix all ingredients and rub the mixture on the face, neck, hands and other parts of the body.
Leave the paste for approximately 15 minutes and then wash your body.
Use this every week.
9. Wheat Bran and Yoghurt:
Wheat bran can be used to remove dead skin as an effective scrub. You can get the best skin nutrition by using it with yoghurt. This scrub can give your skin a glow.
How To Apply:
Take 2 teaspoons of wheat bran, add a teaspoon of yoghurt and mix well.
Use this mixture as a scrub on the face and body.
After 2 minutes of scrubbing, let it dry and then scrub again before washing it with water.
10. Gram Flour:
Gram flour is an ingredient that can easily be found in the kitchen. It acts as a fantastic exfoliator by softening your skin. If your skin is oily, gram flour removes all the excess oil. Gram flour thus helps to prevent problems such as pimples, blackheads, and acne and to remove dead skin cells effectively.
How To Apply:
Prepare a paste by mixing gram flour and rose water or regular water.
Apply the above paste on your face and allow it to dry.
Now massage gently with your wet fingers using circular movements and wash with cold water.
Wipe your face using a soft towel followed by a light moisturizer.
The home remedies for dead skin mentioned here have been tried and tested worldwide with positive results. The content of these remedies is a natural source that is rich in minerals and compounds that make the skin healthy and luminous. Steaming helps your scrub work more efficiently as it opens the skin pores and removes all impurities. So steam your face for 15 minutes or more before applying a scrub to remove dead skin cells effectively. Were these tips useful? Then share them for the benefit of others. Also, share with us in the comments below your other tried and tested home remedies to get rid of dead skin.
Disclaimer:
All the home remedies described above are brought together from various people's experiences around the world and have hardly any side effects. Each skin is different, though. Before applying it to the entire face, try the remedy on a small portion of the skin. If there is any reaction or irritation, please stop using it and consult your doctor.
Question 1: What causes dead skin?
Answer 1: Skin cells usually exfoliate (shed) every 28 days. The dead cells are replaced by new cells during this process. Our natural exfoliation process continually sheds dead cells in a healthy manner and new skin and replaces them with new fresh cells. If dead cells accumulate on the skin's surface and are not renewed, problems such as blocked pores, blackheads, breakouts, etc., there is the appearance of larger pores and dull skin.
Question 2: How do you know if you have dead skin cells?
Answer 2: Your skin looks sluggish and feels dry and lifeless. If your skin lacks lustre and feels dry, it may be time to remove dead skin cells. Then just remove the dead, dry skin cells from your skin surface by exfoliating with the right exfoliator.
Question 3: What is exfoliation?
Answer 3: Exfoliation involves removing the skin's outermost surface from the oldest dead skin cells. During microdermabrasion, the skin tone and texture can be improved. Mechanical or chemical means can be used to exfoliate.
Question 4: How to exfoliate your skin safely at home?
Answer 4: Dermatologists recommend the following tips to prevent skin damage during exfoliation:
Consider the products you already used for skin care.
Select a skin type- appropriate exfoliation method.
Be gentle with your skin.
Follow up with a moisturizer.
Find the right treatment for you.
Question 5: Home remedies vs. Chemical peels. Which is a better remedy to get rid of the dead skin faster and permanently?
Answer 5: Chemical peels leave your skin dry, parched and highly sensitive. Easy to figure out the cause as your skin is bombarded with a high level of harsh acids, which removes its protective oils and hydration and leaves it defenceless.
Today, more and more people have become aware of the advantages of natural skin care. Some natural ingredients in your refrigerator can help you achieve at half the price and almost no risk of the same results as a chemical peel. These same ingredients can be your skin's natural and friendly option when used in your skin care products in their purified and concentrated form. The way to achieve radiant and youthful skin without chemical peels is a natural skincare routine with exfoliating products. One can safely bid adieu to repeat appointments and costly treatments.
In my opinion, home remedies are better and safer to have long-term results.
Question 6: Can we use a face scrub daily?
Answer 6: The main task of a scrub is to remove the surface layer of dead cells accumulated over a while as a result of pollution, hard water, exposure to the sun, etc. Yes: if you're using cellulose- or jojoba-wax-based scrub which is mild. You can use it every day because the scrub particles are gentle and do not over-exfoliate. No: If you use a scrub based on walnut/apricot or dermabrasion, it is recommended to use it once a week. For slightly mature skin, you can scrub twice a week since the process of cell renewal slows down with age and cleaning aids the process.
Question 7: Why is exfoliation important?
Answer 7: Your skin regenerates every 27 days, so this means all your skin cells die and new cells form, giving you a fresh, healthy skin layer. One must make sure that these dead skin cells do not stay on your skin for long. If one does not slough off the dead skin cells, it can lead to blocked pores, hair fall, and breakouts. Exfoliation is therefore very important for the overall health of the skin.