Holi, the vibrant and festive celebration of colours, is just around the corner, and what better way to celebrate than by hosting a lively Holi party in the comfort of your own home? Decorating for a Holi party can be an exciting venture, as it allows you to infuse your space with the same exuberance that the festival embodies. In this article, we'll guide you through a variety of creative and colourful Holi party decoration ideas that will set the stage for an unforgettable celebration.
Best Holi Event Decoration Ideas At Home 2023:
Transform your home into a riot of colours with these vibrant Holi party decoration ideas. From eco-friendly options to traditional elements, discover creative ways to infuse your space with the joyous spirit of Holi. Get expert tips on colourful backdrops, lighting, DIY decorations, and more!
1. Creative Holi Decoration:
Elevate your Holi celebration with a burst of creativity in your decorations. Splash vibrant hues and infectious energy across your space with our innovative Holi decoration ideas. From enchanting eco-friendly arrangements to captivating traditional elements, let your imagination run wild as you craft a unique ambience that embraces the true essence of this festive occasion.
2. Holi Decoration Ideas:
Ignite your Holi festivities with these captivating decoration ideas. From adorning your surroundings with an array of vibrant colours to incorporating traditional elements that resonate with the spirit of the festival, our Holi decoration ideas will infuse your celebration with a lively and joyous atmosphere. Whether you're looking for eco-friendly options or creative DIY accents, discover ways to transform your space into a captivating canvas of festive delight.
3. Holi Decoration Ideas For Office: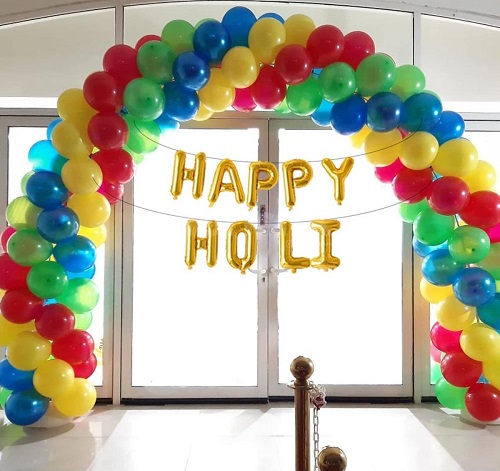 Energize your office environment with spirited Holi decorations that spark joy and camaraderie. Our curated Holi decoration ideas for the workplace will transform mundane cubicles and meeting rooms into vibrant hubs of celebration. From tasteful splashes of colour to subtle nods to tradition, these ideas ensure a festive atmosphere while maintaining professionalism. Explore creative ways to uplift spirits, foster team unity, and create lasting memories with coworkers during this joyful festival.
4. Holi Decoration Items:
Explore a diverse array of Holi decoration items that will bring the essence of this colourful festival to life. From vibrant rangoli stencils and eco-friendly flower petals to radiant string lights and colourful banners, our collection encompasses a wide spectrum of choices to suit every taste and theme. Elevate your celebration with these carefully curated decoration items, each designed to illuminate your space with the vibrant spirit of Holi and create lasting memories for all.
5. Holi Decoration Ideas For Home: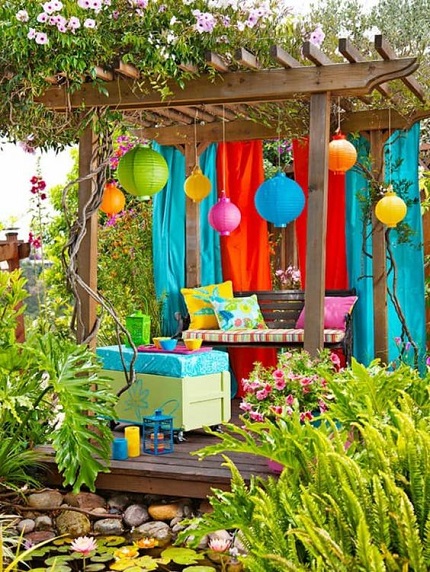 Elevate your home into a canvas of joy and exuberance with our Holi decoration ideas. Whether you prefer a traditional touch or a modern twist, our suggestions will infuse your living spaces with the vibrancy of this festive occasion. From using colourful drapes, vibrant flower arrangements, and creative DIY crafts, to incorporating eco-friendly elements, we offer a spectrum of choices to help you create an enchanting Holi ambience that resonates with the spirit of togetherness and celebration.
See More: Sankranthi Decor Ideas
6. Holi Party Decorations At Home: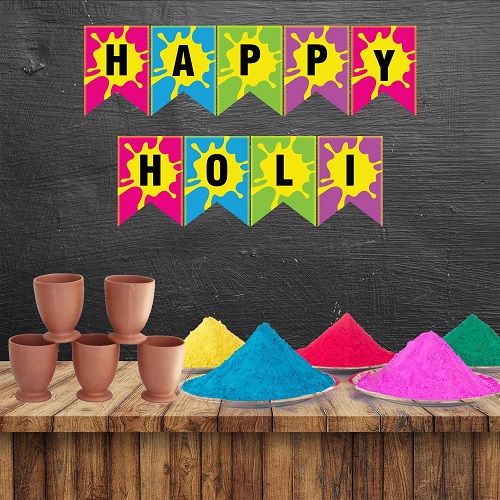 Turn your home into a radiant haven of festive delight with our Holi party decorations. Celebrate this joyous occasion with a splash of colours, traditional elements, and creative accents that embody the spirit of Holi. From adorning your space with vibrant backdrops to incorporating eco-friendly and safe decor, our ideas will help you curate an unforgettable Holi celebration right within the comfort of your home. Get ready to immerse yourself in the hues of happiness and create cherished memories with friends and family.
7. Holi Theme Decoration Ideas: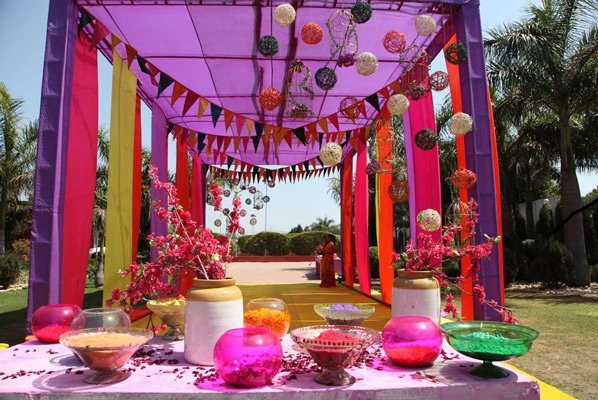 Embark on a journey of vibrant creativity with our Holi theme decoration ideas. Whether you're planning an intimate gathering or a grand celebration, our curated themes will add a unique charm to your festivities. From a traditional 'Rangoli Radiance' theme that embraces intricate designs, to a playful 'Color Carnival' theme that exudes fun, our suggestions will help you transform your space into a captivating canvas of Holi joy. Dive into the world of themed decor and let the spirit of Holi shine through every corner of your celebration.
8. Holi Table Decorations:
Elevate your Holi celebration to new heights with captivating table decorations that harmonize with the festive spirit. From vibrant tablecloths adorned with splashes of colour to intricately designed rangoli-inspired centrepieces, our Holi table decoration ideas will set the stage for a memorable feast. Embrace the season's vitality by incorporating fresh flower arrangements, colourful utensils, and thematic placeholders that will leave your guests in awe. Delight in the joy of shared meals while surrounded by the vibrant hues of Holi-themed table decor that celebrate togetherness and merriment.
9. Board Decoration For Holi: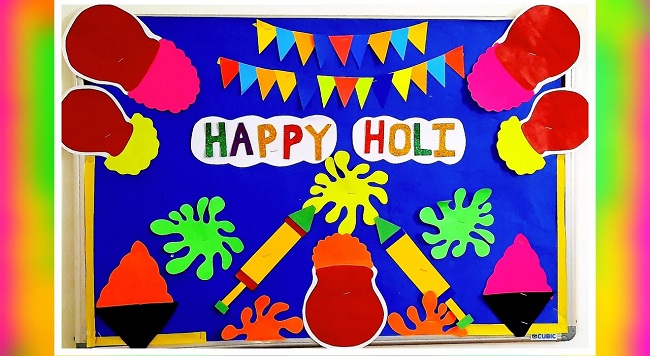 Unleash your creativity and adorn your boards with the spirit of Holi! Whether it's for a classroom, office, or community event, Holi-themed board decorations can transform any space into a vibrant canvas of celebration. Capture the essence of this festival by incorporating colourful rangoli patterns, playful splashes of powdered hues, and artistic renditions of traditional symbols. Let your imagination flow as you infuse your boards with the joyful energy and unity that define Holi, creating an eye-catching display that inspires and uplifts all who see it.
10. Holi Decoration Outdoor: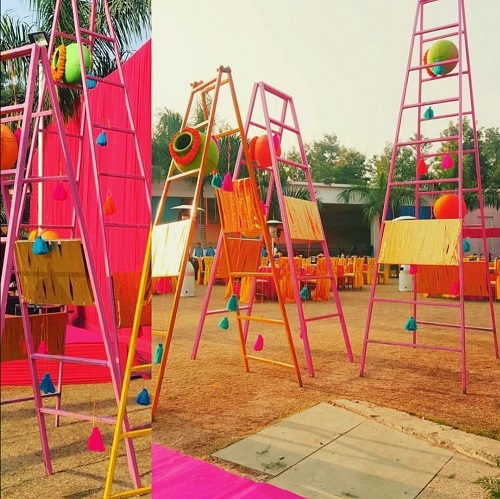 Elevate your outdoor space into a vivacious Holi haven with our enchanting decoration ideas. Transform your garden, patio, or backyard into a colourful paradise that embodies the spirit of the festival. From draping vibrant fabric canopies to adorning trees with colourful lanterns and flower garlands, our outdoor Holi decoration suggestions will infuse your surroundings with joy and vibrancy. Scatter flower petals, arrange seating areas, and let the outdoors come alive with the exhilarating energy of Holi, creating a picturesque setting that beckons friends and family to celebrate under the open sky.
11. Holi Event Decoration: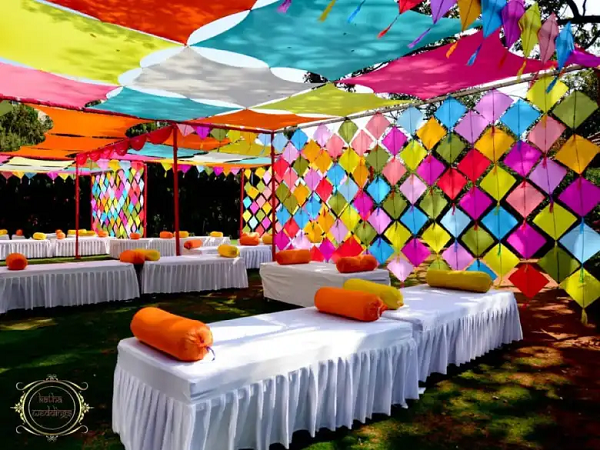 Unleash the festive spirit with our captivating Holi event decoration ideas. Whether you're organizing a community gathering, a corporate event, or a family celebration, our suggestions will help you create an ambience that radiates the vibrancy of the festival. From dazzling light displays and vibrant backdrops to interactive DIY stations for guests, our Holi event decorations cater to every taste. Infuse traditional elements and modern aesthetics to craft an atmosphere that embodies the joy of togetherness and the colourful exuberance that defines Holi. Let your event be a dazzling showcase of artistry and celebration that leaves a lasting impression on all attendees.
12. Diy Holi Decoration At Home: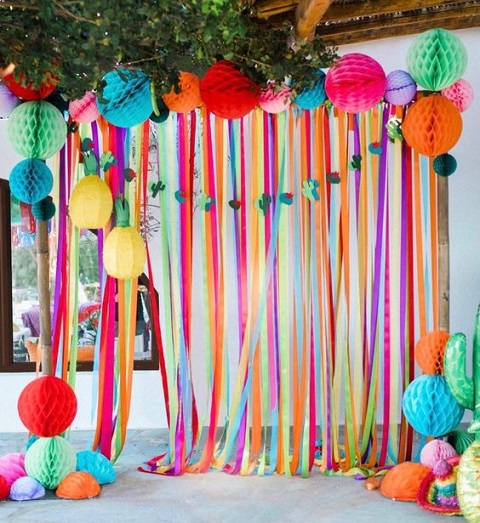 Immerse yourself in the joy of creating a colourful spectacle with our DIY Holi decoration ideas for your home. Infuse your space with a personalized touch by crafting vibrant rangoli patterns using eco-friendly flower petals and coloured powders. Elevate your home's ambience with handcrafted paper lanterns, colourful bunting, and custom artwork that resonate with the festive spirit. Let your imagination run wild as you engage in hands-on activities to adorn your space with the essence of Holi. With our DIY decorations, you'll not only showcase your creativity but also embrace the joy of the festival in a unique and unforgettable way.
13. Holi Decoration Ideas With Paper: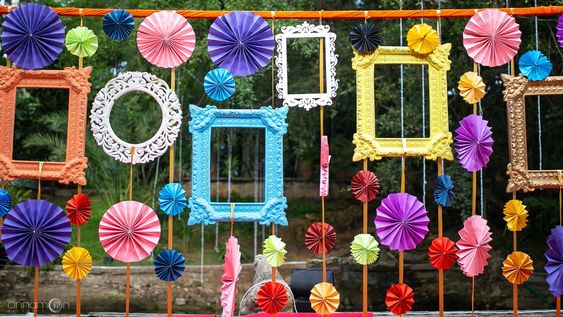 Unleash your creativity and celebrate Holi with a twist by incorporating paper into your decoration scheme. Our Holi decoration ideas with paper bring a playful and eco-friendly charm to your celebrations. Craft vibrant paper garlands, origami flowers, and colourful paper lanterns to drape across your space. Personalize each element with splashes of colour and intricate designs that capture the essence of the festival. Whether you're decorating walls, tables, or ceilings, these paper-based decorations will infuse your surroundings with a whimsical touch that delights both young and old, making your Holi festivities truly unforgettable.
14. Simple Holi Decoration Ideas:
Elevate your Holi celebration with simple yet impactful decoration ideas that effortlessly capture the festive spirit. Embrace the essence of the occasion by adorning your space with vibrant flower arrangements, traditional diyas, and colourful rangoli patterns. Incorporate multi-hued fabric drapes, cushions, and tablecloths to infuse your environment with a joyful atmosphere. With our simple Holi decoration ideas, you can create a warm and inviting ambience that brings family and friends together to revel in the beauty and significance of this vibrant festival.
15. Holi Wall Decoration Ideas:
Revamp your walls into a mesmerizing canvas of festive delight with our Holi wall decoration ideas. From intricate rangoli-inspired murals to vivid wall hangings and colourful tapestries, these decorations infuse your space with the vibrant spirit of Holi. Create a stunning focal point with a colourful backdrop adorned with flower garlands or paper lanterns. Let your walls tell a story of celebration and togetherness as they come alive with the essence of this joyful festival. With our Holi wall decoration ideas, your walls will become a captivating backdrop that sets the stage for an unforgettable celebration.
Hosting a Holi party at home is a wonderful way to celebrate the spirit of the festival with friends and family. By incorporating these creative and festive decoration ideas, you can transform your space into a colourful haven that captures the essence of Holi while ensuring a joyful and memorable celebration. Embrace the traditional, the eco-friendly, and the innovative to create an ambience that truly embodies the spirit of this vibrant festival.
Q1: How can I create a colourful backdrop for my Holi party?
A1: One of the simplest ways to create a colourful backdrop is by draping vibrant sarees, dupattas, or fabric in various hues across a wall. You can also hang strings of colourful paper lanterns or garlands to add a playful touch.
Q2: What are some eco-friendly decoration options for a Holi party?
A2: Embrace eco-friendly options by using natural flower petals and leaves for decorating tables, and floors, and even creating rangoli patterns. Opt for biodegradable balloons and reusable decorations to minimize waste.
Q3: How can I incorporate traditional elements into the decor?
A3: To infuse traditional elements, consider placing brass diyas (oil lamps) around the party area. You can also use terracotta pots for centrepieces or as holders for flowers and colours.
Q4: What lighting ideas can enhance the Holi party ambience?
A4: String lights in vibrant colours can instantly add a festive vibe. You can also use coloured light filters or gels on your existing lights to create a colourful glow throughout the space.
Q5: How can I incorporate a water element without making a mess?
A5: Instead of using water balloons, opt for watercolour-themed decorations like hanging watercolour paper lanterns or creating watercolour table runners. These elements evoke the essence of the festival without causing a mess.
Q6: What creative ideas can make my dining area Holi-ready?
A6: Cover your dining table with a bright and colourful tablecloth. Use multi-coloured plates, glasses, and cutlery to create a visually appealing dining setup. You can also place small bowls of coloured powders as table decor.
Q7: How can I involve guests in the decoration process?
A7: Set up a DIY decoration station with bowls of colourful powders, stencils, and brushes. Encourage guests to create their own artwork on white fabric or paper, adding a personalized touch to the decor.
Q8: What role can flowers play in Holi party decorations?
A8: Flowers symbolize the arrival of spring during Holi. Use flower garlands to drape across doorways, hang on walls, or even wear as accessories. Flower arrangements can also serve as stunning centrepieces.
Q9: Are there any unique outdoor decoration ideas I can consider?
A9: If you have an outdoor space, hang colourful umbrellas upside down from trees or create a canopy of fabric for a vibrant outdoor seating area. Scatter flower petals on the ground to enhance the festive atmosphere.
Q10: How can I ensure the safety of decorations during the Holi celebrations?
A10: Safety is essential. Keep decorations away from fire sources, ensure no tripping hazards, and avoid using materials that could easily catch fire. Also, consider using non-toxic and washable colours for any decoration involving colours.