Amongst the must-have clothing items for women, dresses play an important part. Be it an evening out with friends or a formal event, dresses can be the go-to clothing option. Finding the ideal dresses for women may appear difficult at first, but if you understand a few basic rules, finding your dream dress will be done in a snap. It's also a good idea to look at women dresses online to get a sense of what's available.
There are a few pointers to consider before you decide to buy a dress. And we are here to help you out! 
Consider the occasion:
Consider a full-length ball gown or a full-length dress for formal events with a specific dress code or that are more ceremonial, such as a charity ball or a banquet. A full-length flowing gown or a knee-length cocktail dress is appropriate for more casual occasions such as award ceremonies or a night at the opera. You can't go wrong with a knee-length dress, a maxi dress, or a multipurpose dress for everyday situations. You can also modify the length for such occasions.
Budget consideration:
Your budget should also be taken into account. You can choose from a choice of exclusive designer gowns for high-end buyers. You can also have it custom-made, which allows you to have many fittings to ensure that the dress fits you precisely and has a comfortable and elegant cut.
If you're on a tight budget, try purchasing during the off-season or during a seasonal discount. Online shopping can help a lot with cost-cutting. Also, consider purchasing multipurpose ladies dresses that can be worn for a variety of situations.
Take into account the shape of your body:
Your body form should also be considered, as not all gowns are suitable for all body types. Choosing the correct dress for your body shape will highlight your greatest qualities while concealing your flaws. With that in mind, here are the most prevalent body types and some advice on how to make them work for you.
Pear-shaped: The hips and thighs of a pear body type are usually larger than the rest of the body. Pear-shaped people tend to have narrower shoulders, which means their hips are generally wider than their shoulders. Pear forms are characterized by a definite waist and hip curve, as well as a bigger, rounder bottom.
Dresses to wear;

Maxi dress

Shift dress

A-line dress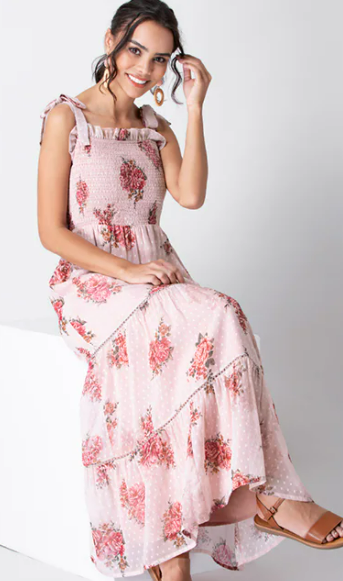 Image Source: FabAlley
Hourglass-shaped: The bust and hip measurements of women with this form are usually quite equal. They have a
symmetrical form (their legs and torso are about the same length).
Dresses to wear;

Bodycon dress

Wrap dress

Mermaid dress
Image Source: FabAlley
Apple-shaped: The apple body form is typically well-proportioned. They'll have a bigger chest and a fuller midsection, and they'll be more thin or curvaceous across their hips. They also tend to carry their weight in the middle or top portion of their body.
Dresses to wear;

Flowy tunics

Midi dress

A-line dress
Image Source: FabAlley
Rectangular-shaped: Equal hip and bust measurements characterize the square or rectangle shape. Their waist is not as sharply defined as those with an hourglass shape, despite the fact that their bust and hips are about equal. With a flatter bottom, their weight is more evenly distributed throughout the body.
Dresses to wear;

Asymmetrical dress

Halter dress

Wrap dress
Image Source: FabAlley
Take note of the color of the dress
When it comes to your dress, don't overlook the importance of color. Remember, those dark hues make you appear thinner, whereas light colors, particularly white, add volume. The color of your dresses will be determined by the hue of your natural skin tone. Choose greys, white, black, and jewel tones if your skin has a blue undertone. However, if your skin tone is warmer, reds, oranges, yellows, and browns are the colors to choose.
Keep in mind that basic colors like white, grey, and navy blue are timeless and appear to complement any skin tone.
Don't forget the size!
It should go without saying that you should try on any outfit you intend to buy. Make sure to choose a store that offers a size chart. Avoid ordering your usual size without first examining the size charts and taking your own measures, as you may be purchasing from an international retailer with measurements and size charts that differ significantly from your own.
Ladies dresses come in different shapes and sizes. Hence, when it comes to picking the perfect dress, keep in mind that you want something that will highlight your greatest features while concealing your flaws. Keep in mind your favorite color and style, as well as how to distinguish your body type, so you can select the right outfit.
Read Also – Download This Checklist Before Shopping for Women's Dresses Online