Indian silhouettes are elegant, charming and graceful, and they accentuate a women's beauty like none other. Hence, it is not surprising that Indian wear has become a cult favourite for women across the globe. More so because these outfits are now available in not just their regular, traditional avatar but also a variety of modern, uber-cool styles that are fun to wear.
Whether you are attending an engagement party, going to a wedding or dressing up for the festive season, you can always find the perfect Indian attire in your preferred style – conventional or contemporary. Such is the beauty of Indian traditional wear.
MODERN AND TRADITIONAL STYLES OF INDIAN CLOTHING FOR WOMEN
#1. Saree
The saree is a classic Indian draped outfit worn by women for centuries. Traditionally, sarees are paired with a long underskirt and blouse. Lots of care and attention goes into draping the saree over the underskirt but once done, no other outfit makes a woman look quite as elegant and charming as the saree.
Fast forward to today, and the traditional saree takes on a contemporary feel with options like pre-stitched saris, ruffled-sari skirts, tiered-sari skirts, and belted sari tunics, etc. The humble blouse is replaced with peplum tops, cold-shoulder tunics and off-shoulder tops, etc., making it a fashionable pick for cocktail parties, weddings, reception, and sangeet nights.
Image Source: HouseOfIndya
Get festive ready in this fuchsia peplum sari tunic. It comes with an attached sari drape and can make you look casual to glam within seconds!
#2. Lehengas
Another popular Indian traditional wear that women love is the lehenga or the Ghaghra choli. Available in many fabric choices, colours, designs and embellishments, lehengas have a flowy silhouette and a fairy-tale feel. Give them a modern twist, and the lehenga turns into a maxi lehenga skirt paired with a crop top, a sleeveless top, a buttoned shirt or even a fancy cape!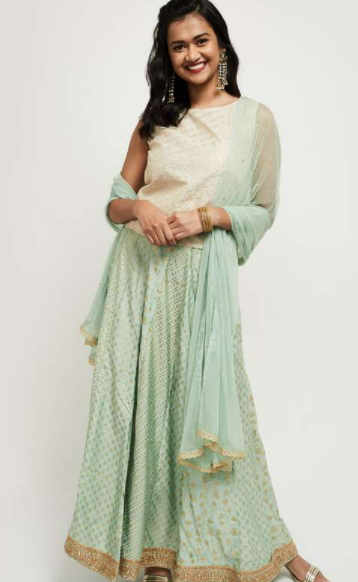 Image Source: MaxFashion
This maxi skirt with bold foil print and tassel tie-up detail is subtle yet eye-catching. It is a light and effortless pick for festivities, get-togethers and special occasions.
#3. Dhoti Pants
The dhoti is an Indian wear outfit worn around the waist in a wrap-around style. Traditionally, dhotis were only a man's attire. Over the years, the dhoti has evolved into a more modern outfit for women. Dhoti pants look chic when paired with a tie-blouse, pre-draped sarees or even a cape.
Image Source: Tjori
This beautiful baby pink satin dhoti pant exudes ethnic charm. A stunning blouse and embroidered drape dupatta complete the look. Easy to carry and stylish to the core!
#4. Anarkali Suits
Since ancient times, women have been wearing Anarkali Suits. Usually worn with churidars, these kurtas are fitted at the waist with a long and flowy, flared silhouette. In its contemporary look, the Anarkali tunic features design tweaks such as high-low design, sleeveless Anarkali and belted versions with an attached dupatta.
Image Source: HouseOfIndya
Give your wardrobe a modern upgrade with this beige Anarkali Tunic with a high-low design. It features a sequined yoke and three-quarter sleeves. Pair it with matching cigarette pants, net dupatta and gold heels to complete the look.
#5. Sharara Pants
Sharara suits are a style of conventional Indian wear that has been around for a long time. Nowadays, Sharara Pants have become a popular choice as they can be styled in many different ways and present a well-put-together look for the fashionista in you!
Image Source: azafashions
These flared Shararas come with a red pre-draped saree and embroidered blouse to create a stunning ensemble. The embroidered belt adds exquisite finishing touches.
#6. Kurtas and Tunics
The traditional kurta set gets a modern upgrade as it is paired with cigarette pants, palazzos and other fashionable bottoms for a more trendy look.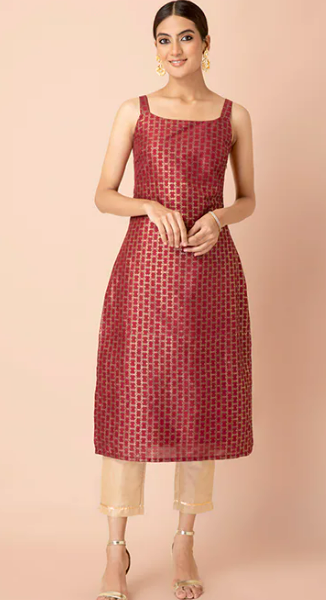 Image Source: HouseOfIndya
This contemporary kurta was a strappy neckline, and fitted pants look great on all occasions.
This season, try out our six recommended Indian wear outfits in their traditional and modern styles. You are sure to find the perfect picks for all kinds of casual and formal settings!
Read Also – 5 Types of Indian Dresses That Every Girl Needed